The Ultimate Guide to Customer Activation for SaaS: Strategies, Tools & Examples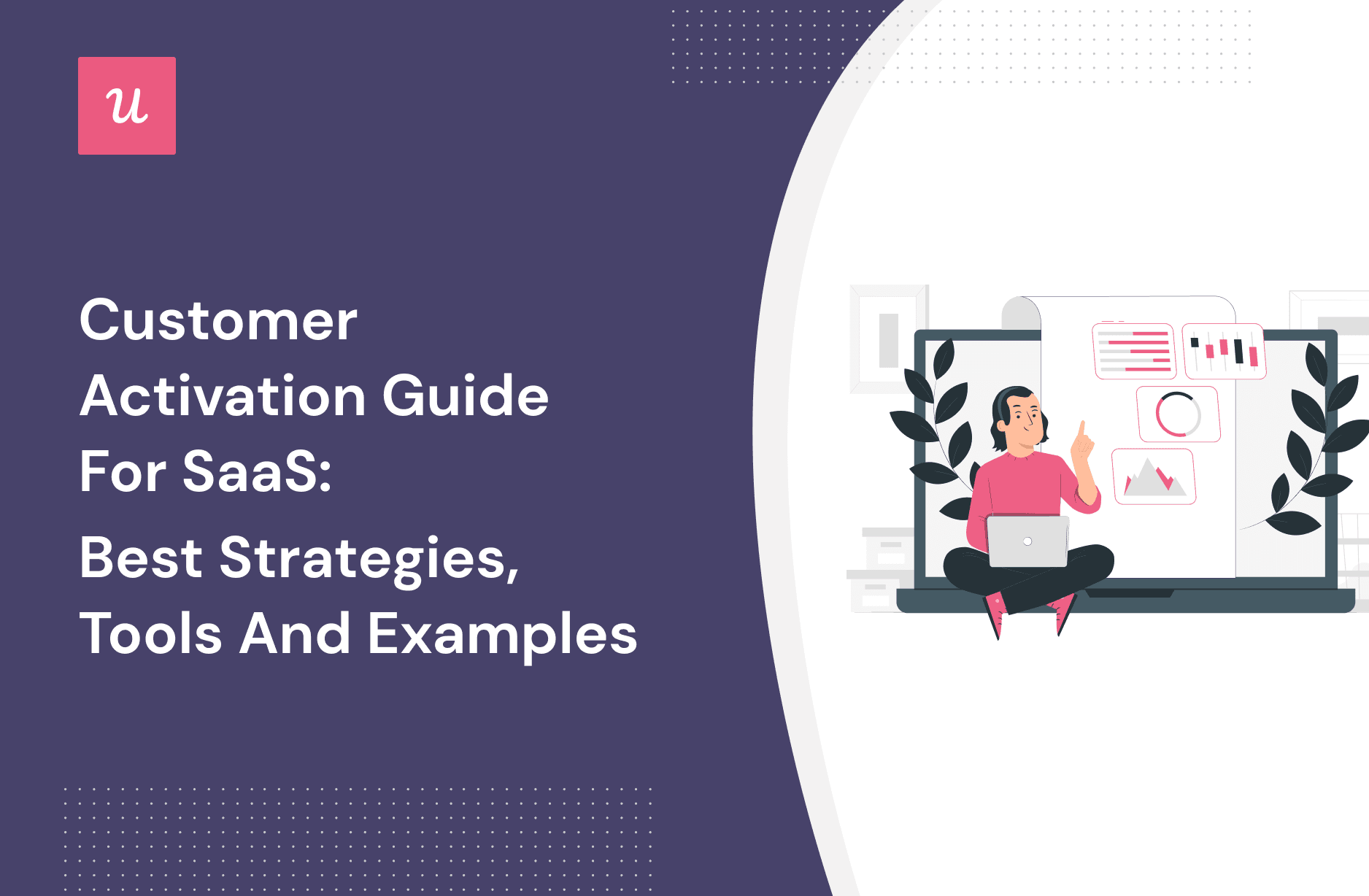 If there's one critical skill for product managers to nail, it's customer activation.
In this comprehensive guide, we'll break down underlying customer activation strategies and actionable strategies, specific onboarding tools, and techniques, and tangible examples to learn from.
All of that will help you nail customer activation in your own SaaS.
What are you waiting for? Dive in and let's get going!
TL;DR
What is customer activation?
Customer activation describes the touchpoints in the customer journey- typically during the primary onboarding process – where your users begin to experience value from your product.
The key driver behind any customer activation strategy is this: how do you devise the most effective customer journey in pursuit of releasing value?
Customer activation vs AHA moment
You might be familiar with the term 'Aha moment'.
It's an important part of customer activation: it describes the moment a user realizes the value they could get from your product. The key distinction here is between the expectation of value and actually delivering on that expectation.
Customer activation vs minimum viable onboarding
If activation is all about value realization, then minimum viable onboarding is the strategy or playbook for getting there.
"The essence of strategy is choosing what not to do."
It focuses on the various angles of customer engagement. From the very beginning of the in-app journey for new customers, changing customer interactions and customer behaviors, all the way through to the activation point.
You can watch our quick workshop on building a minimum viable onboarding below.
Why is customer activation important?
But let's refocus.
SaaS owners and product managers are busy people. Why should you build a customer activation plan? Because it has a massive impact on a range of metrics:
Boost revenue: Customer activation is proven to have the highest overall impact on earnings than any other KPI.
Drive adoption: Higher activation leads to increased product adoption and greater usage.
Keep hold of users: An effective activation strategy will help you boost product retention.
Capture new customers: Activation will demonstrably lower the cost of acquisition.
Lifetime value: Demonstrate value consistently and watch your customer lifetime value skyrocket.
Upsell and grow: Activation gives you more opportunities to upsell appropriate features to valued customers.
How to create an effective customer activation strategy?
We know activation is important. So now let's get into the crux of the article.
How can you craft an effective customer activation strategy (and start motivating customers)? You can't just hope you'll transform new customers into repeat customers.
You need a plan.
Know your target audience
You'll struggle to demonstrate value to your customers unless you have a deep, robust understanding of their needs, pain points, and jobs to be done.
Conduct interviews, analyze surveys, and create buyer personas: these will help to map out the distinction between different user groups (and tailor your customer activation strategy accordingly).
Define new customer activation points for each persona type
It's a mistake to treat your customers as one homogenous group. Each distinct persona will need to engage with a different combination of your product's key features.
You'll need customer touchpoints for each persona, that closely map and align with their individual jobs to be done.
Build personalized customer activation roadmaps
The best way to map that course to value is through a proven playbook, setting out your desired outcome, specific tasks, and the UX patterns you'll look to deploy along the way.
Here's an example of an Activation Playbook you might want to adapt to your use case.
Customer activation metrics to track the success of your activation strategy
We've covered how you might go about building an effective customer activation strategy.
But if you fail to map and understand the in-app and online behavior of your customers, you're leaving a huge amount on the table.
Measuring results is critical to evolving your activation strategy.
You'll want to start with the user activation rate itself. Sometimes known as product activation rate, this vital metric will help you understand the proportion of users who've reached a specific activation milestone.
Here are some other metrics to consider:
Visitor-to-trial sign-up rate: This metric will help you understand the ratio of current customers who've visited your site and decide to sign-up for a trial.
DAU (Daily Active Users) to MAU (Monthly Active Users) ratio: A useful proxy for customer stickiness.
Trial-to-paid conversion rate: How many of your customers are successfully completing trials and choosing to upgrade to a paid account?
Feature adoption rate: Similar to the product adoption rate, but helping you dive into adoption for a specific feature.
Customer activation strategies to implement for your SaaS
Now we've broken down what customer activation is all about, we're going to unpack how to build one within your SaaS (and create engaged, loyal customers).
Prompt customer engagement from the start
Engagement is the lifeblood of your business. If you can't spark your users' interest, what chance do you have of building a product they'll love (and want to pay for)?
A great way to do that is to populate empty states. You can shorten the time to value by personalizing screens with user details or offering relevant content to get started with.
Encouraging users and prompting them to take action is key here. You don't want them starting at an empty page.
Loom uses educational videos to showcase the product and prompts users to take action with a relevant CTA.
Use a welcome screen to collect customer data for personalization
When it comes to personalization and trying to target onboarding flows to specific buyer personas, you're probably thinking: where do I get this customer information from in the first place? Welcome screens are a great place.
Surveys provide a seamless mechanism to collect data without appearing intrusive throughout the customer's lifecycle. And any customer activation strategy will benefit from a greater degree of personalization.
Use onboarding checklists to drive new customers to the activation point
Use checklists to clearly set out the specific activities a user must complete before moving on to the next phase of onboarding.
And in doing so, hopefully, they'll start to see the value of your product. Checklists are a proven way to influence customer online behavior.
Use interactive walkthroughs to enhance customer engagement
Activation is all about tilting the customer experience and creating interactions that boost value.
There's no better way to do that than to take them – step by step – through the exact process they'll need to follow. It's a surefire way to help your users reach the activation point at greater velocity.
Track product engagement to identify and remove friction
Without data, you'll be powerless to make effective product decisions.
Track engagement and product usage to help understand trends in behavior – you can drill down into specific pages and identify friction points.
Ask for customer feedback and act on it
There's no such thing as bad feedback. Even if it hurts to hear at the time, it's only going to help you improve in the long run.
Collect it in-app (making sure you only ask for it when appropriate, not in the middle of a critical business interaction).
Offer self-service support to provide on-demand help
Helping customers reach the activation point is never going to be completely smooth sailing. There'll always be issues to tackle and problems to solve.
That doesn't mean they all need to land with your support team.
You can implement a knowledge base and provide on-demand support to help your customers solve their own problems.
Best customer activation tools for SaaS
Of course, none of this is possible without the right tool for the job. Let's explore some of the options at your disposal.
Userpilot -best value for money for customer activation
Userpilot is a powerful product adoption platform that enables you to quickly build personalized, flexible, contextually relevant in-app experiences targeted to different user segments.
Here's what you'll get when you start using Userpilot:
Forget about coding in-app experiences: Userpilot is a no-code solution. It only requires your dev to install a line of Javascript inside your app and for you to download a chrome extension that opens up the visual builder.
Build in-app flows using the largest range of UI patterns (modals, slideouts, tooltips, hotspots, banners) and in-app onboarding experiences (using checklists, microsurveys, NPS surveys, in-app resource center etc).
Get access to a built-in NPS tool for collecting and analyzing user sentiment so you can improve your onboarding process based on real data.
Create and track combinations of in-app events like clicks, hovers and form fills, and then analyze all these interactions under your own custom events.
Use advanced product analytics (monitoring online behavior) and in-app flows analytics to identify where users need help and create granular user segments to trigger in-app experiences contextually.
Enhance the onboarding experience with in-app help by launching a Resource Center. Add in-app guides, and video tutorials, and give users access to search the knowledge base or reach out to support. Self-service has never been easier.
What users think about Userpilot
Users love the range of features and the fantastic team:
"Userpilot is simple to set up, use, and does not require any dev – which means instant publishing. This is critical for us as a SaaS company that releases new features frequently; we need the ability to inform our customers of changes quickly, and doing this in our platform through Userpilot allows us to reach the right audience, at the right time, in the right place. The customer service is excellent, from sales, CSM through to support – everyone has been friendly, quick to respond, realistic and very helpful. Thanks guys! It is very much appreciated."
Userpilot pricing
There are several tiers of Userpilot pricing available:
Traction: For up to 2500 users, this plan is $249/ mo.
Growth: For up to 10,000 users, this plan is $499/ mo.
Enterprise: These plans begin with $1000/mo for large-scale businesses.
Appcues- best for mobile customer activation
Appcues is another no-code user onboarding platform that helps non-technical teams track and analyze product usage.
They used to provide onboarding templates, but they've recently removed them – without really replacing them with another solution.
That makes it harder to justify the higher price tag.
Here's what you'll get when you start using Appcues:
Access to an easy-to-use UI that anyone on the team can handle for building in-app flows without coding.
Building a product tour in Appcues is relatively easy. You just need to open their chrome extension on top of your application and start building your in-app experiences: simply select a UI pattern and customize it 'live', or point to the elements you want to e.g. append your tooltips to.
You can also create checklists with Appcues (NOT available on the Essentials plan) and prompt users to take action. These have limited functionality (i.e. can't trigger JS functions, or add gamification elements) compared to alternatives, such as Userpilot.
Track UI engagement with Events explorer which allows you to tag elements without coding.
Build custom user segments based on user properties, flows, interactions, or events you set up in the events explorer.
What users say about Appcues
"The best part of Appcues is the guided tour features which they call flows. Especially on a team with limited resources, it allows you to improve your activation and engagement overnight by using this feature to guide your users around your product. What I love even more is the design and UX features are modern unlike other tour tools we've researched, and the software is easy-to-use with the need for a developer after the initial install."
Appcues pricing
All things considered, Appcues does not offer the best value for money compared to other tools. If your product has 2,500 active users, the costs for different plans are:
Essentials: $249/month (Up to 3 user licenses)
Growth: $879/month (Up to 10 user licenses)
Enterprise: Custom (Unlimited user licenses)
Chameleon – best for advanced integrations
Chameleon is a digital adoption platform with a difference: while the other tools discussed are mostly no-code, Chameleon does require some developer involvement.
Nevertheless, it's a powerful and effective tool that works in a similar way to Userpilot and offers similar features: styling, analytics, templates, goals, A/B testing, and checklists. However, it doesn't offer a resource center, or dedicated NPS.
With that in mind, the value for money – given the limited features on the basic plan – leaves something to be desired.
Here's how Chameleon's main functionality helps with user onboarding:
Chameleon's product tours help you build flows for guidance. You can use several UI patterns: modals, banners, tooltips, and hotspots.
You can customize the styling (font, color, opacity, etc) of your product tours and even add in some CSS styling if you want advanced branding.
Launchers are where Chameleon is different compared to its competitors. These are in-app widgets that can open checklists, small help widgets, or notification centers. The downside is that you can't have one launcher with multiple types of content.
You can target content to different user segments based on multiple data sources including event triggering.
Ability to use microsurveys with great customization and question-and-answer types. On Growth Plan and higher, you also get access to more functionality like A/B testing, multiple environments, localization (Enterprise plan only), and advanced integrations like Hubspot.
What users say about Chameleon
"I really like how easy it is to build updates and announcements on our own platform using Chameleon, I was able to get started building within a day! I also LOVE the inspiration page so I can see what how others have done what I'd like to do successfully."
Chameleon pricing
Chameleon split their pricing options primarily by the number of monthly active users, but you should keep in mind that the Startup plan also has limited features and might not be enough for interactive user onboarding and adoption for SaaS products:
0 – 2500 MAUs: Startup plan from $349/mo, Growth plan from $899/mo
2000 – 3000MAUs: Startup plan from $419/mo, Growth from $899/mo
3000 – 5000 MAUs: Startup plan from $489/mo, Growth from $899/mo
5000 – 10,000 MAUs: Startup plan from $517/mo, Growth from $999/mo
Best customer activation examples
How Kontentino increased new user activation by 10%
This example demonstrates exactly why customer activation is so important.
Kontentino is a social media management tool. Their two main activation points for Kontentino buyer personas are 1) linking social media accounts and 2) scheduling their initial posts.
Building an interactive walkthrough and a checklist with Userpilot caused both metrics to increase by nearly 10% in a single month, demonstrably boosting user engagement.
How Sked Social tripled conversion with a checklist
If you can't convert your customers, you'll struggle to keep your SaaS afloat. Sked Social used checklists to help drive users toward the next tangible action. Checklists are a proven method to boost activation – and the sooner customers start to experience value from your product, the more likely they'll be willing to start paying for it.
Conclusion
That just about wraps things up!
Hopefully, this comprehensive guide to the world of customer activation has left you better equipped to craft an effective customer activation strategy in your own SaaS.
Get a Userpilot Demo and see how you can build engaging in-app experiences to help your loyal customers reach the activation point quickly today.