The Top 8 Appcues Competitors of All Time [In-Depth Guide]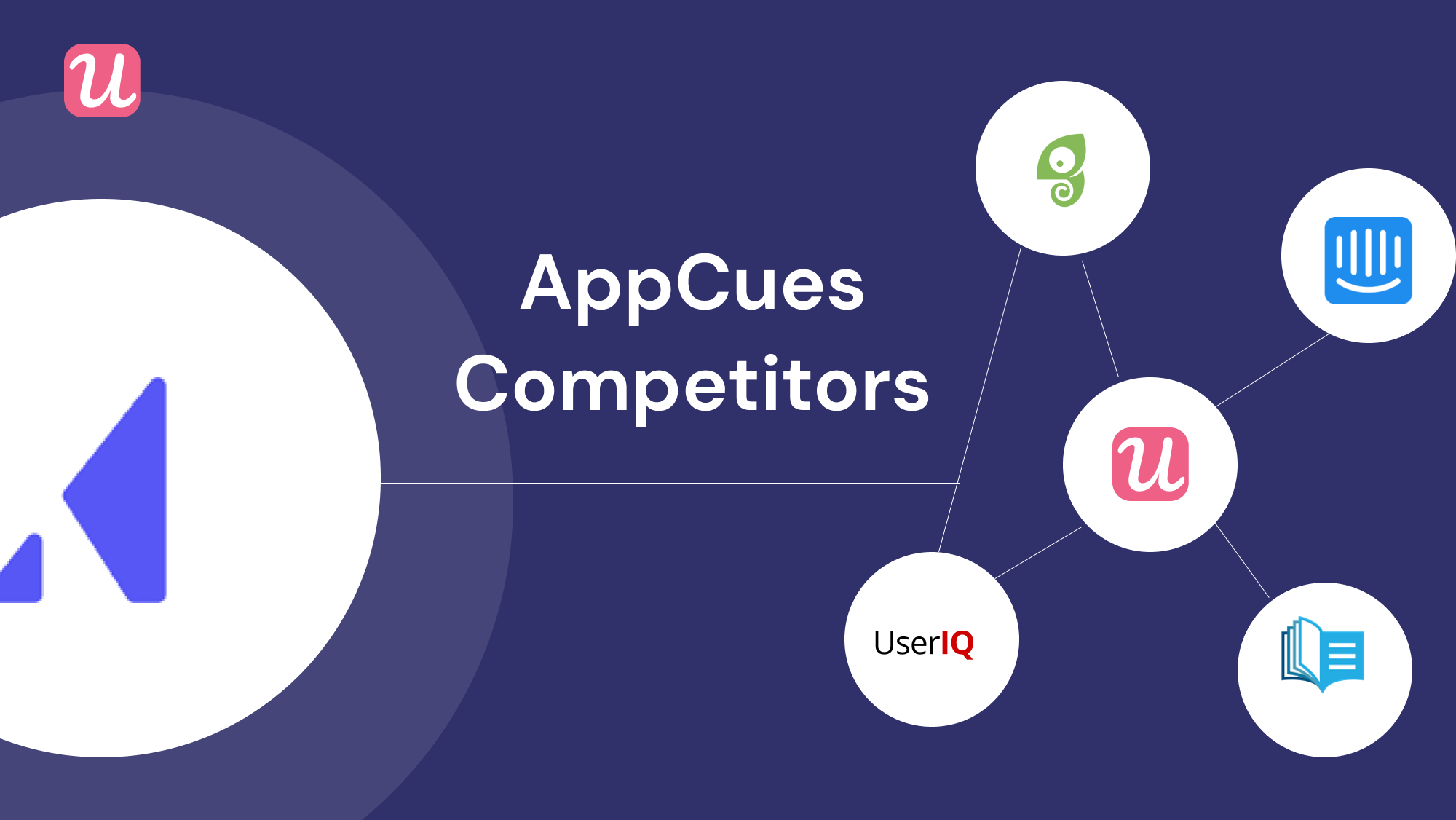 Appcues is a good product when it comes to user onboarding, but is it the right fit for your company? The answer isn't always obvious.
Today we're taking a look at the top Appcues competitors.
The five products we looked at were:
Userpilot

Intercom's Product Tours

UserIQ

Inline Manual

Chameleon

Pendo

Userguiding

Walkme
These tools all offer a range of user onboarding elements, UI customization and are designed to help improve your product experience.
However, each of these Appcues alternatives also has its own unique use case. These different use cases will suit some companies more than others. Hopefully, by the end of this article, you'll have learned which is the best fit for you.
We have years of experience in SaaS, UX, and product adoption here at Userpilot. For this breakdown, we took every factor, including price, customer service, and usability, into account!
Before we delve into each of the competitors, let's take a look at Appcues itself.
About Appcues
One of the first companies to help revolutionize user onboarding was WalkMe. They focused on product tours and walkthroughs and helped improve a lot of product experiences.
[Related: you can check out our list of top WalkMe competitors here.]
Then, in 2013, Appcues came along and changed everything. They realized that walkthroughs could only get you so far. As a result, they pioneered the "product experience layer".
This was a whole new way of onboarding users. They introduced tooltips, checklists, slide-outs and more. No doubt you'll have experienced these for yourself in products you've used in the past.
It's safe to say Appcues paved the way for the competitors we discuss in this article, including ourselves, and with good reason.
Here's a list of what Appcues does well:
+ Different UI Elements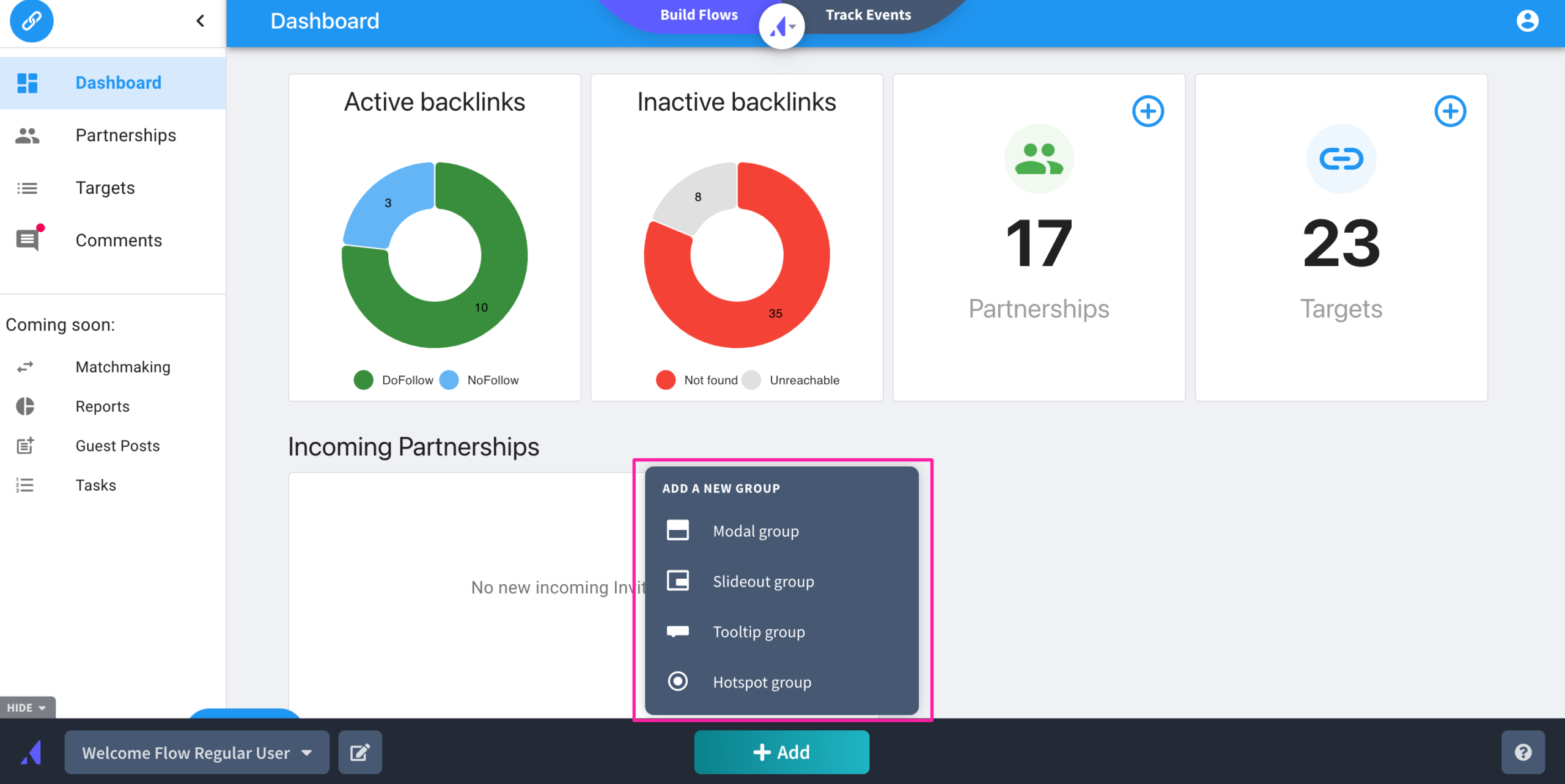 As we mentioned, Appcues offers a range of different UI elements. These include tooltips, modals, hotspots, and practically any UI element you can think of. This means you can craft the perfect onboarding experience, combining the various elements into one user experience.
+ Tried and Trusted
Appcues has been around for a while, so you know you can trust them. Thousands of companies use Appcues to build better user experiences, so there's no doubt you can too.
+ They Know Their Stuff
Appcues practically provides a library of informative content for SaaS companies. They can teach you everything there is to know about onboarding. We always think a good blog is a sign of a good company.
It seems Appcues is clearly tried and tested when it comes to user onboarding. Having said that, it isn't perfect.
There are some reasons why it might not be the right fit for you…
– A Little Bit Confusing
Appcues isn't the easiest product to use. Years of adding new features has left it a little bloated. Something as simple as creating a new experience requires a lot of fiddling round. You have to close "Builder", switch to "Navigate", pick up the element, and switch back to "Builder". Confused? You and us both.
– Questionable Element Detection
Part of what makes Appcues great is that you can add different onboarding features without coding. Unfortunately, Appcues doesn't always detect all of the elements within your app. If, for example, you wanted to place a tooltip on a dropdown item, Appcues might not realize the item is there. This means you can't always achieve the exact experience you want.
– Limited Element Styling
If you want to create a truly great onboarding experience, the elements you use need to match the look of your app. While Appcues offers some customizability, a lot of design changes require CSS coding. If you don't want to do any coding you might find it difficult to use Appcues.
Okay so there are the pros and cons. Let's dive into the competitors list!
Appcues Competitors #1 – Userpilot: For contextual onboarding & on-demand help
But the thing is, Userpilot is by far the best and closest alternative to Appcues. It offers a very similar User Experience and features, a wider range of UI patterns and actions to build truly interactive experiences, better support, and a better value for money. Where's the catch then? Userpilot does not offer as many integrations as Appcues does. 
The biggest difference between Userpilot and Appcues (and most other competitors) is that Userpilot focuses on contextual onboarding. 
This means that you can place triggers in your app that appear as and when your user needs them.
To put it as simply as possible: We make sure the right user sees the right message at the right time.
Moreover, you'll get all features in one package, and no limits based on plans. You only pay more as you grow – per number of MAUs. In Appcues – you pay both for the MAUs and for access to more features:
Appcues Essentials plan – $249 monthly (billed annually), up to 2,500 MAUs, and up to 5 user segments, 10 in-app events and 10 goals. It also offers no onboarding checklists or launchpads (triggering the experiences from in-app notification center)
Userpilot's basic plan – $249 monthly (billed annually), up to 2,500 MAUs, and unlimited user segments, in-app events, and goals. This includes checklists and a launchpad equivalent.
Limited user segmentation in the basic Appcues plan makes it pretty useless when you want to seriously work on user adoption. So Appcues will quickly force you to upgrade to their Growth plan, which costs $879 (!) per month, billed annually! So essentially – you will need to fork up $ 10,548 upfront if you want to go down the Appcues path. 
Userpilot offers more functionality than Appcues
Unlike Appcues, Userpilot also has native tooltips and on-demand help widget (Resource Center) that can power your reactive onboarding.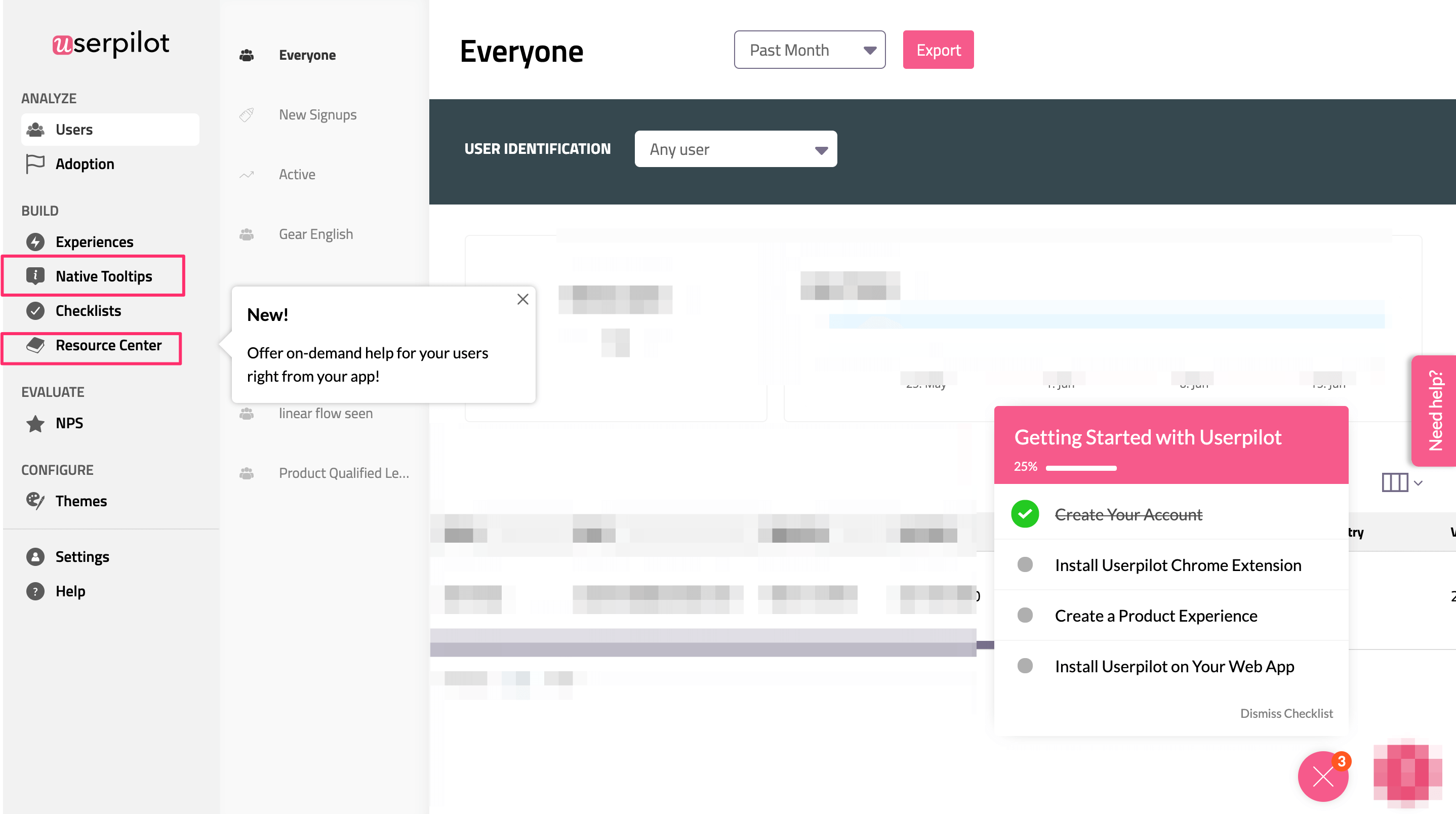 Contextual onboarding works really well. It essentially personalizes the onboarding flow for each individual user, ensuring it works for them.
Don't believe us? Well, see how Albacross were able to improve their activation rate by over 33% in only 14 days by using contextual onboarding.
Why Userpilot may be the best Appcues alternative
Due to the contextual onboarding it offers, Userpilot is one of the best Appcues alternatives. Not only that, but it offers full element customization with ZERO coding knowledge, it recognizes EVERY single in-app element, oh, and it's also built exclusively for SaaS products.
Sure, it might not have been around as long as Appcues, but Userpilot is well worth your time. Book a demo with us by clicking the banner below and we'll show you!
What Appcues does better than Userpilot 
As of summer 2021, Appcues still offers more integrations than Userpilot: i.a. with Hubspot and Salesforce. These integrations, however, are also available only in higher plans. So unless you absolutely can't do without them and can afford spending $10,000 + on your onboarding solution, don't go with Appcues.
Appcues Competitors #2 –
Chameleon: For employee onboarding
Chameleon is very much in the same vein as the other Appcues alternatives. It enables you to create amazing user onboarding experiences, offers basic customization options, and provides a wide range of UI elements to work with.
In fact, it offers more elements than any of the other Appcues alternatives. You can choose from modals, slide-outs, checklists, and their unique launchers. Launchers are in-app widgets that prompt a user to act. An example would be a message announcing a new feature and asking the user to try it out.
Where Chameleon really shines, however, is its employee onboarding. This enables you to teach your new employees everything they need to know about your product.
This is especially useful for customer-facing teams who will need to thoroughly understand your product in order to do their job.
Summary
In terms of user onboarding, Chameleon offers a wide selection of UI elements, but it's a little lacking when it comes to customization. If it's employee onboarding that you're after, however, then Chameleon would be a great choice.
Appcues Competitors #3 –
Intercom's Product Tours: For customer support capabilities
Intercom are primarily recognized as being one of the most popular customer messaging platforms. Recently, however, they launched their "Product Tours" feature.
Intercom's Product Tours enables you to drive adoption and onboard new users by creating walkthroughs and tours inside your product.
As it isn't Intercom's main focus, Product Tours is lacking when it comes to UI elements. You don't have much choice, meaning you can't use checklists, modals, or any other key UI element.
If, on the other hand, you're equally interested in Intercom's messaging widget, then Product Tours is a great choice. If you're already using Intercom's messaging, then it's really simple to add Product Tours on.
It's also very simple and easy to use, and so is particularly suited to early-stage startups.
Summary
As far as Appcues alternatives go, Intercom's Product Tours isn't the strongest and most developed. It has limited functionality when it comes to user onboarding.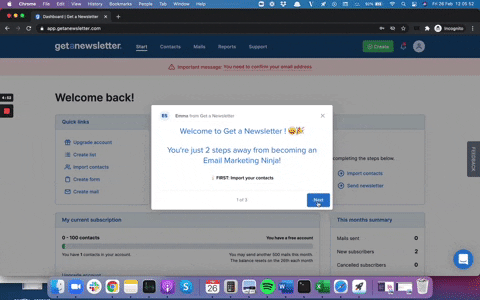 That being said, Intercom shines when it comes to their customer messaging platform. If you're wanting to use that, then Product Tours may be the easiest solution so you can kill two birds with one stone.
Appcues Competitors #4 –
UserIQ: For in-depth analytics
UserIQ has established itself as one of the best Appcues alternatives, mostly because of the in-depth analytics it offers.
Much like Pendo (which we cover here), UserIQ prides itself on providing key insights with the data you collect. It enables you to track how your users are engaging with your product, and measures customer health scores. This provides you with the information you need to improve your UX.
This data also provides another useful ability. It enables you to segment your users and then create different onboarding flows for each segment. This provides greater control and personalization over your onboarding.
It's also worth pointing out that UserIQ works very well with mobile apps, not just SaaS products.
Summary
Out of all the Appcues competitors we've covered in this article, UserIQ has the most in-depth analytics. If that's what you need, then it's a great choice.
The user segmentation is an extremely useful feature, but be aware that the onboarding tools it offers are relatively limited compared to other Appcues alternatives we've covered.
Appcues Competitors #5 –
Inline Manual: For internationalization
If you have a product that is used in countries all around the world, then chances are that internationalization is high on your list of priorities.
Your user onboarding needs to support the same languages that your product does, and that's where Inline Manual comes in. In fact, they claim to support every possible language. (We aren't sure whether that includes Dothraki…)
Inline Manual contains the same detailed analytics as UserIQ, including health scores and user tracking. It also has a wealth of UI elements to choose from.
They also claim to have the best customer service, providing even the lowest paying customers with high-touch support.
Summary
Inline Manual has a lot going for it in terms of UI elements and analytics. However, the support for every language in the world is what sets it apart from the other Appcues competitors.
It's a little more pricey than some of the other products, and if you're only wanting user onboarding functionality then others do it better. For multilingual support, however, this should be your choice.
Which of These Appcues Alternatives is best for you?
Each and every business has its own requirements when it comes to user onboarding. Rather than trying to decide which of these Appcues competitors is the best, you should focus on which is the best fit for you.
In other words, which product helps solve the issues you're facing?
The summary below gives you a quick overview to help you decide.
And here are some final conclusions for each of the Appcues competitors…
Userpilot:
Userpilot should be your choice if you're interested in contextual onboarding. This means your onboarding is personalized to every individual user. This improves the user activation rate far better than your standard product walkthroughs can.
Chameleon:
Chameleon is a fantastic choice if you want to onboard your employees as well as your users. This is particularly important when it comes to training customer-facing teams, who will need to have complete mastery of your product before they interact with your users.
Intercom's Product Tours:
Intercom's Product Tours is your go-to if you want to use Intercom's top of the range messaging platform. It's easy to use both aspects of Intercom in conjunction in order to provide a cohesive product experience for your customers.
UserIQ:
UserIQ is a fantastic pick if you want more in-depth analytics than what the other Appcues alternatives provide. It enables you to delve into your customer health scores and track product engagement so that you can work on delivering a product your users love.
Inline Manual:
Inline Manual should be your number one choice if you have a product which is used in many different languages around the world. They support every language, meaning you can provide the same great product experience no matter where your users are.