Best Customer Feedback Software for SaaS Businesses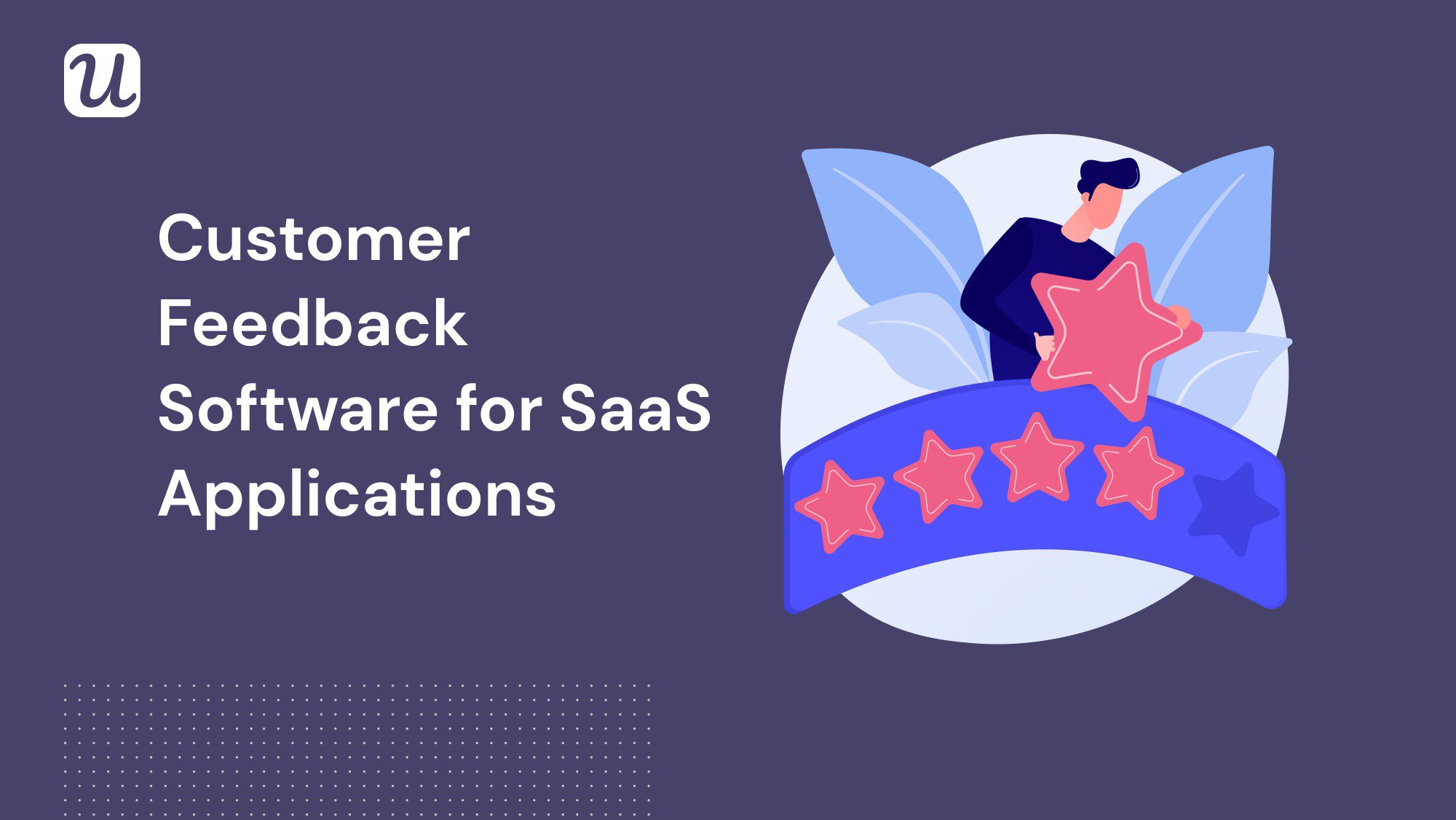 Are you looking for customer feedback software for your SaaS business?
Look no further! We've compiled this list of the best customer feedback tools and sorted them by the key business criteria you'll need to consider when making your decision.
TL;DR
Customer feedback software is an essential tool in the arsenal of SaaS businesses for keeping track of user sentiment.
Choosing a tool that allows you to categorize and follow up on feedback is essential. The exact tool you want will vary according to the size of your business, and whether or not you want to receive feedback in-app or by email.
If you need an email tool to measure customer feedback, choose from Delighted, Feedier or Promoter.io.
If you need a tool that measures customer sentiment in-app, choose from Userpilot, Wootric or Hotjar.
If you need a tool that's strong on categorization or follow-up, choose from Qualtrics, UserReport or Canny.
If you're looking for a cheap tool that still delivers value, choose from Refiner, Satismeter or Typeform.
What is customer feedback software?
Customer feedback software allows you to collect, sort, and analyze feedback from your users. By improving their understanding of user behavior, SaaS teams can create better product experiences, ultimately reducing churn and increasing lifetime customer value.
Why is having customer feedback software important?
In the product-led era, listening to customers has never been more essential. Customers expect companies to be receptive to feedback, and are ruthless when they come across businesses that don't care. Here are some sobering facts:
Market research experts Dimensional Research asked consumers which factors impact their level of trust in companies the most. The number one answer is? Customer service.
A study by consulting firm Experience Dynamics found that 79% of users are prepared to search for another site if your business isn't able to provide them with what they want.
Another study by Microsoft suggests that 52% of people think that businesses should act on feedback from their customers.
For SaaS companies, in particular, customer feedback is the single most valuable resource you have at your disposal when it comes to growing your business. Ultimately, it's your users that you're building your product for. If those user relationships start to fall apart, your business will likely crumble with it.
What to look for in customer feedback software
With so much customer feedback software on the market, it's important to take a step back and establish your key decision-making criteria before testing out different tools. You should consider the following:
SMB or Enterprise? The size of your business will dictate how much budget you have available for customer service software, as well as the number of seats you'll need to buy. Larger enterprises tend to have in-house customer service teams, and if each team member needs an account, the costs can rack up quickly.
Email or in-app? Would you rather work with a tool that allows you to solicit feedback by email, or would you prefer a tool that automatically collects user data in-app? Email might be perceived as a little less intrusive during the customer's product experience, while in-app feedback is normally easier to automate.
Can you follow up if you need to? Whichever tool you select, you must have the ability to follow up with users after receiving their feedback and act on it. One good example of a successful follow-up is sending a qualitative survey to gather further data.
See the example of Userpilot's NPS follow up below:
Can you categorize your user feedback? The more customer data you collect, the more essential it becomes to be able to stratify and organize it. A new user will have different needs than a long-term one, so should be categorized separately. Likewise, it would make little sense to store minor issues in the same place as severe ones with a direct impact on revenue, since the speed at which you will respond to those two categories will vary so much.
Keep all of these criteria in mind as you explore our list of tools.
Best Email Tools to measure SaaS Customer Feedback
Delighted
Delighted is a customer service tool owned by Qualtrics that specializes in NPS surveys.
Main features
Wide variety of different survey formats, including NPS, CSAT, and CES
Feedback options include Five Stars, Thumbs-up and Emojis
As well as email, you can send surveys by SMS or link
Embed surveys onto your website, or create a native mobile survey on iOS
What we like
Delighted offers a huge range of different survey options to cover every possible SaaS use case. Better still, most of these can be trialed for free!
What we dislike
$224 per month is pretty pricey, so if your business needs to survey more than 1000 people per month, this could get expensive quickly.
Pricing
$224 per month for their regular plan.
Feedier
Feedier is a tool for creating gamified surveys. It also comes with a suite of analytics tools to process the customer feedback you receive.
Main features
Multiple interactive survey templates, with 12 different question types
As well as email, surveys are shareable via SMS, embed codes, web widgets, and even APIs
Comprehensive analytics suite with multiple dashboards
Multi-language support
What we like
Feedier is best known for its gamification, and this doesn't disappoint. Their interactive feedback forms create a playful user experience.
What we dislike
The biggest turn-off here is that you have to pay extra for a custom domain as an add-on. Given this feature is a must-have for most SaaS businesses, this makes their pricing feel a bit deceptive.
Pricing
$180 per month for their regular plan.
Promoter.io
Promoter.io is an NPS survey tool that is regularly rated as one of the easiest to use on the market.
Main features
NPS Dashboard allows users to track NPS progression over time
Responding to feedback is built into the app, which makes for a seamless user experience
Integrates via API with a large range of existing tools, such as Zapier, Slack and Intercom
Multi-language support
What we like
Promoter.io is best known for its intuitive UI, which is easy on the eye and simple to use. Compared to other tools on the market, this makes it straightforward to keep track of different user segments.
What we dislike
Promoter.io advertises its Salesforce integration front and center on the main navigation of its website. After further research, we were a bit disappointed to learn that this integration is only available if you pay at least $479 per month for their "Scale" package.
Pricing
Starts from $199 per month.
Best In-app Customer Feedback Tools for SaaS Products
Userpilot
Userpilot is our tool, but we honestly think it's the best in-app customer feedback tool on the market right now.
Main features
We've created a powerful product adoption solution that combines a product experiences builder with a comprehensive analytics suite.
Userpilot has pioneered what we call "microsurveys" as a way of seeking feedback on specific aspects of SaaS products. These are short surveys that pop up in-app, generally taking no longer than a minute or two to complete.
Since microsurveys don't demand as much from your customers as regular surveys, users can quickly fill them in and then get back to what they want to do — using your product.
Here's an example of a microsurvey build in Userpilot, embedded in a welcome screen: a very common use case that allows SaaS businesses to segment their new users by role or JTBD right after the registration:
One survey type that we see lots of our customers using at the moment is NPS surveys. Userpilot excels at NPS microsurveys because of its ability to segment users based on their in-app behavior:
Put another way, you can send your users a survey based on the specific features they have interacted with.
That way, you can e.g. gauge what impact a specific feature launch had on your user sentiment – because you will be only collecting feedback from users you know have actually used this feature, based on the custom events!
Once you've received responses, Userpilot will give your team unparalleled flexibility in terms of organizing them. Here are some example use cases:
The simplest way to organize NPS responses is to structure them by score.
A custom tagging feature allows you to tag responses by keyword (such as a bug or a broken link) or theme:
You can sort users into promoters, passives and detractors and assess commonalities in each user segment.
If you're interested in what a particular large enterprise account thinks of your product, you can even sort responses by company email in order to search for common themes. This feature alone is potentially worth 4 or 5 figures per month!
You can immediately launch a follow-up experience to address the complaints from the qualitative follow-up survey answered by your detractors: e.g. imagine a user of a social media scheduler complained about the lack of direct Instagram scheduling, and you have subsequently launched this feature. Sending them a relevant notification about it could change their NPS completely!
In each case, you'll be able to understand which positive and negative factors are contributing the most to NPS score, and take specific action accordingly.
If you want to dig even deeper into an NPS score with qualitative data, Userpilot has got you covered there as well! Rather than following up manually with each user via email, you can add qualitative follow-up questions to your in-app microsurveys.
What we like
Short, intuitive microsurveys that don't detract from the user's product experience
NPS surveys that are customizable according to where a user is on their individual product adoption journey
Unparalleled flexibility in categorizing responses to surveys, including custom tagging
Qualitative follow-up questions that can be easily added to user flows
All features 100% customizable to your individual UI and branding
What we dislike
We're still working on making aspects of our experience flow UI a bit more intuitive for new users. But give us a few months and this will be fixed!
Pricing
Starts from $249 per month for 2500 active MAUs. Enterprise packages are also available for companies that require custom features and priority support.
Would you like to learn more about Userpilot? Click here to book a free demo today!
Wootric
Wootric is a customer feedback tool that allows you to add NPS, CSAT and CES surveys to your product.
Main features
In-app surveys
Send surveys by email or SMS
Integrations with Slack, Intercom and other tools
Dedicated analytics suite
What we like
Adding surveys to your SaaS product is fairly straightforward. Wootric have been in business for some time and have perfected this feature of their product.
What we dislike
If you want to trigger survey popups in Wootric which are based on in-app user behavior, you will need to have some knowledge of coding.
Note: This is different from Userpilot, which allows you to create segmented user experiences without requiring developer time.
Pricing
Starts from $89 per month.
Hotjar
Most of you will know Hotjar for its famous heatmapping feature, but you might not be aware that it also includes excellent in-app surveys.
Main features
Variety of in-app survey formats that can slide in via a widget, including NPS and multiple choice
Top-quality behavior analytics, including heatmaps and session recordings
Conversion funnels that help businesses figure out where site visitors are bouncing
Form analysis that is useful for product marketers and product managers
What we like
Hotjar's behavior analytics needs no introduction. For in-app customer feedback specifically, we like the form analysis feature that identifies fields that users are taking too long to fill. This is an intelligent way to reduce friction in the customer adoption journey.
What we dislike
Segmenting is limited compared to other tools like Userpilot.
Pricing
From $39 per month.
Best Customer Feedback Tools for Follow-up & Categorization
A quick note here first of all on why it's important to categorize and follow up after receiving customer feedback.
Different users have different needs and want, so it makes no sense to lump them all together. Consider sorting by the following categories:
How long has the user been with you? Are they a new user or a power user that has become a brand advocate?
What type of issue is being reported? Common types include bugs, usability issues, feature requests, and billing issues.
How severe is the problem? Issues relating to payments or security are much more important than someone saying "nice job" to a minor feature that is hardly used.
Is the customer feedback largely positive, largely negative, or neutral?
Putting these categories together, you would react to the following two scenarios very differently:
An enterprise customer who has been with you for a year and referred 5 other businesses reports a major security issue with your payment system.
A new customer who is exiting your product comments neutrally on a minor feature that you've just released.
Once you've categorized the feedback, it's essential to follow up with the customer and address their issue. Otherwise, the whole exercise was a waste of time and resources!
As mentioned earlier, Userpilot makes this really easy by allowing you to add qualitative follow-up questions to your microsurveys. These follow-ups are in-app, so super easy for your customers to find and interact with.
Qualtrics
Qualtrics is an experience management company. We already covered one of their brands, Delightly, earlier in this article.
Main features
Powerful experience management tools with separate products for design, customer retention, brand — and even employees
Unlimited scope: gather feedback from 27 different channels and more than 125 data sources
Predictive AI that will tell you how to retain customers
Enterprise-level security features
What we like
All of Qualtrics' products send recommended actions to teams automatically. These actions are sent by AI to whatever other tools that your team is already using. This makes following up on user feedback extremely straightforward.
What we dislike
With so many software options that each has so many features, it's hard to know where to start using Qualtrics unless you're an enterprise with multiple stakeholders.
Pricing
All pricing is custom depending on enterprise needs.
UserReport
UserReport is a suite of user engagement tools that help SaaS companies understand who their users are and what they want to achieve.
Main features
Intuitive survey widget that uses NPS
Feedback widget for collecting ideas and fixing bugs
Can be customized according to your language and brand colors
Google Analytics integration
What we like
The feedback widget has a neat feature that makes it easy to categorize and prioritize customer feedback. Users can vote on each other's ideas and the most popular ones rise to the top.
What we dislike
Significantly fewer features and survey types than most of the other tools we've reviewed. UserReport is gambling on being able to do one or two things well.
Pricing
UserReport's main two widgets are available for free. Pricing for their Premium package is not disclosed on their website.
Canny
Canny is a platform for collecting user feedback and integrating it into your product roadmap.
Main features
Users can request features on a board and vote the most popular ones to the top
Powerful user segmentation feature
Product changelog to announce new features to users
Easy-to-use product roadmap board
What we like
When reviewing these tools, we found Canny's UI incredibly straightforward to figure out. This is especially true of the categorization feature, which is neatly divided into segments, boards, and tags.
What we dislike
The analytics feature is rather sparse compared to most of the other tools on this list.
Pricing
Starts from $50 per month.
Customer Feedback Tools offering the most Value for Money
Refiner
Refiner is an affordable survey widget tool designed specifically for SaaS companies.
Main features
Microsurveys in a wide variety of formats, including NPS, CSAT, star ratings, and multiple choice
High flexibility in terms of the types of questions that you can ask users
Dynamic CTAs on surveys that are based on customer responses
All surveys are fully customizable to your brand
What we like
For a low monthly price, you can ask a huge variety of questions in-app. This makes Refiner a great choice for startups without much of a marketing budget.
What we dislike
Refiner lacks a sophisticated analytics suite, making the insights you get from customer feedback less immediately obvious than if you used another tool.
Pricing
Starts from $29 per month.
Satismeter
Satismeter is a feedback platform that gives SaaS businesses real-time insights into customer satisfaction.
Main features
Surveys in multiple formats, including NPS, CSAT, and CES
Excellent user segmentation options
Feedback data can be sent directly to external product roadmap tools such as ProductBoard
Lots of integration options are available, including Webhooks and Zapier
What we like
The ability to schedule interviews with customers is part of the tool. This makes it really straightforward to acquire qualitative feedback to complement your survey data and adds a lot of value at a low price point.
What we dislike
There's no phone support option available, which means this probably isn't a good tool for an enterprise buyer.
Pricing
Starts from $49 per month.
Typeform
Typeform is one of the best tools on the market for creating long-form customer surveys.
Main features
Long-form surveys
Logic jumps within surveys
Multiple integrations, including Mailchimp and Airtable
Payment collection embedded into forms
What we like
Typeform's logic jumps set it apart. Users can be taken down alternative paths according to how they answer questions. The amount of flexibility this gives SaaS businesses for analyzing complex user segments is outstanding.
What we dislike
You can only remove the Typeform branding from survey forms on their most expensive package, which is a little disappointing.
Pricing
You can create an unlimited number of Typeforms for $35 a month, which is a steal for the power of this tool.
Conclusion: Which customer feedback tool is right for you?
The customer feedback tool that is right for you will depend on your individual business needs. Have another look at the section on what to look for in customer feedback software, and read over this article a few times with your individual use case criteria in mind.
Whatever you choose, make sure that you can categorize the feedback you receive and can follow up with users if you need to. At Userpilot, we recommend in-app surveys (that's what we use in our tool), so do consider picking a tool that has that feature.
If you want to give Userpilot a spin, go ahead and book a demo. It's free, so you have nothing to lose!