How to Collect In-App Feedback – 4 Ways That Will Change Your SaaS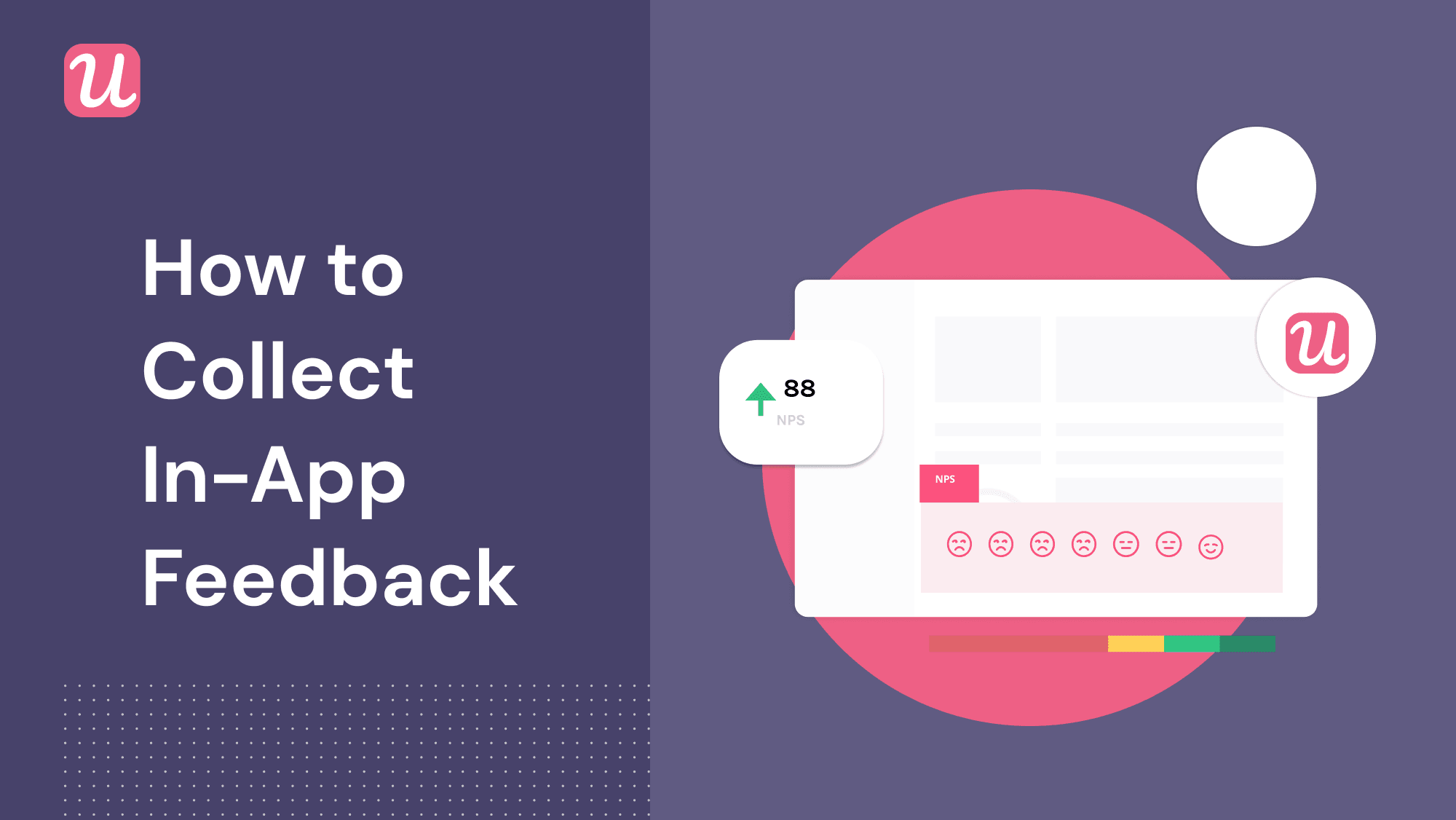 Collecting feedback from customers is an integral part of product development. While there isn't a lack of apps to help you collect feedback – the best and most useful course of action is always to start where your users are: in your product. In-app feedback can help close the gap between what you're building and how your customers are interacting with what you're building.
In a world of build-measure-learn, the fastest way to tackle the "learn" and figure out if you're working on the right stuff is to ask the people you're building things for. But how do you go about it, and where do you even start?
In this post, we'll go through all the questions you may have about collecting user feedback in-app!
Key Takeaways
If you're in a rush and want the quick TLDR, here are the main takeaways from this article:
Understand where your users are in their adoption journey.
Take their user persona into consideration so you can prompt feedback cues that make sense to their particular experience.
There's no such thing as good or bad feedback – all feedback helps you build better products.
Consider how and what you are asking for: general vs contextual in-app feedback.
Make your feedback submission forms easy to find! Don't hide behind clicks and submenus. Create engagement in as many ways as possible.
When to Ask for Feedback
There isn't really a wrong time to ask for feedback, but context does matter.
When gathering in-app feedback it's always important to understand where in the user journey the person you're targeting is at.
A few things to keep in mind when asking for feedback:
Do you understand their user persona?
Is this a product champion or a secondary user?
Are they on trial or are they an advanced user?
What areas of your app is the user most proficient with?
If they aren't proficient or experienced with a particular area of your app, what has held them back?
Now let me be clear, one piece of feedback isn't more valuable because it comes from a particular type of user. All feedback is valuable. Don't buy into the notion that there is such a thing as 'good' or 'bad' feedback either – at the end of the day, feedback is there to help you improve what you're working on. Value the fact that someone took the time to interact with you.
General vs Contextual In-App Feedback
Just like user context is important, product context is as well. Feedback can be classified into two categories: general and contextual.
General Feedback
General feedback is a bit of a free-for all. What you're doing is allowing the user to give you feedback on anything and everything, no restrictions or strings attached.
This approach can provide you with a few benefits:
You may get feedback you wouldn't otherwise receive.
It creates added engagement with the user.
It makes you transparent and open to listen to what your customers have to say.
It provides added insight into how your users are interacting with your product.
Contextual Feedback
This type of feedback is more precise and guided. With contextual in-app feedback you're asking very specific questions within the context of what the user is experiencing.
This type of feedback is handy when looking to make improvements to an area of your product, or to further understand how someone's maturity level with your product can be enhanced. Likewise, if you've just released or updated a new area of your app, contextual in-app feedback can help you understand how the improvement is being perceived.
While general feedback is broader in its condition, contextual in-app feedback is more nuanced. It really is about guiding the conversation with the customer to find out certain specifics. You do want to be careful and not drop in your own bias with this though, so how you ask a question is very important.
One way of doing this is to ask questions like:
How was your experience with this new improvement been?
Did this improvement/feature meet your expectations?
Is there anything missing from this experience you didn't get?
Did this feature help accomplish your goal?
While you are guiding the user to answer a more specific question regarding a feature or improvement you may have just released, it's important to be careful about how you frame those questions. You still want the user to talk about their own experience without setting the tone that you're expecting a positive or negative review.
💡Top Tip: If you're looking for more insight into how to run product research and ask all the right questions, product leaders C.Todd Lombardo and Aras Bilgen have just released a great book titled Product Research Rules. Recommended read!
Create Visibility for In-App Feedback
Regardless of the method (and hopefully, you've chosen to use both!) – the most important thing to remember is this: make it easy for people to give you feedback.
The more silos you create and the harder you make it for users to give you feedback, the less willing they will be to give it to you, even when you do request it. It's also likely that if you make it difficult for them to give you feedback, when you finally open a small door, they'll be giving you feedback out of context they've likely been trying to give you for awhile.
Whether you're using a portal, surveys, tool tips, or even asking the user to join you on a product research call – make the CTA easy to find. Don't bury it under menus and clicks and submenus.
What do you do with the In-App Feedback Collected?
There are a variety of things you can do with the in-app feedback you collect, but the most important thing to do is to send it over to your product team so they can start finding problems to solve.
With so many user feedback tools out there, managing feedback has become a breeze, and product teams are now able to leverage that insight to build better products.
Feedback is also useful for creating additional product experiences that will leverage what the user has said to then expand on their own growth.
Let's say that you had a user that told you they were struggling with a particular area of your product. A couple of quick wins you can do to improve their experience would be:
Trigger helpful articles or videos that support their journey and helps them see the value and benefits of the particular area or module in your app.
Set up a walkthrough to help users navigate through that area.
Once the module or feature is improved by your team, let them know you've listened to their feedback and show off the new improvements.
Let's take an example:
Postfity, a social media scheduling app, asked its users what they thought about their social media planner – the core functionality.
Since at that point the tool did not have direct Instagram scheduling, and used a (somewhat cumbersome) workaround involving the mobile app, a lot of users complained about it:
"All good apart from Instagram. Remembering about the mobile notifications for IG is really annoying"
"Disappointed there's no publishing to IG from desktop"
"Instagram publishing doesn't work"
Postfity pulled all the users who gave them negative feedback about Instagram into a segment 'negative feedback – no direct IG publishing' and waited for the better times when Instagram opened its API and they could tap into this feature. Once that day arrived, they rolled our an in-app slideout notifying the specific users who complained about the lack of this feature!
They even used personalization (the user's name) to give it an extra touch.
By showing that you're taking in user feedback and creating experiences in response to what you're receiving, the only possible result is you looking like an absolute superhero. 😎
Want to create in-app surveys and follow-up experiences like that code-free? See how to do it in Userpilot!
How Userpilot Helps
The Userpilot Resource Center acts as a central place for all user contact. Whether it is to start a chat, pointing users to your portal, or having a quick form to gather in-app feedback, consider this your go-to hotspot.
Most importantly, it frames feedback based on their needs and makes it exceptionally easy for anyone to connect with your team.
The best part? You can adapt the Resource Center to be contextual to a particular user role, status, and even the page they are on! This adds to the overall product experience and caters it to their specific user needs.
But here's the real crème-de-la-crème: once you've released an update to your product and want to collect feedback based on the user's experience, Userpilot can trigger contextually after a given interaction (or set of interactions) have happened.
And what's more, you can then trigger certain experiences either based on a set of pre-defined responses, goals and previously captured feedback, so you can continue to enhance their experience with your product.
If you're ready to take your product to the next level 👉 book in a demo with the Userpilot team today! 👈