[CASE STUDY] Aha! Moment Before Signup as a Marketing Tool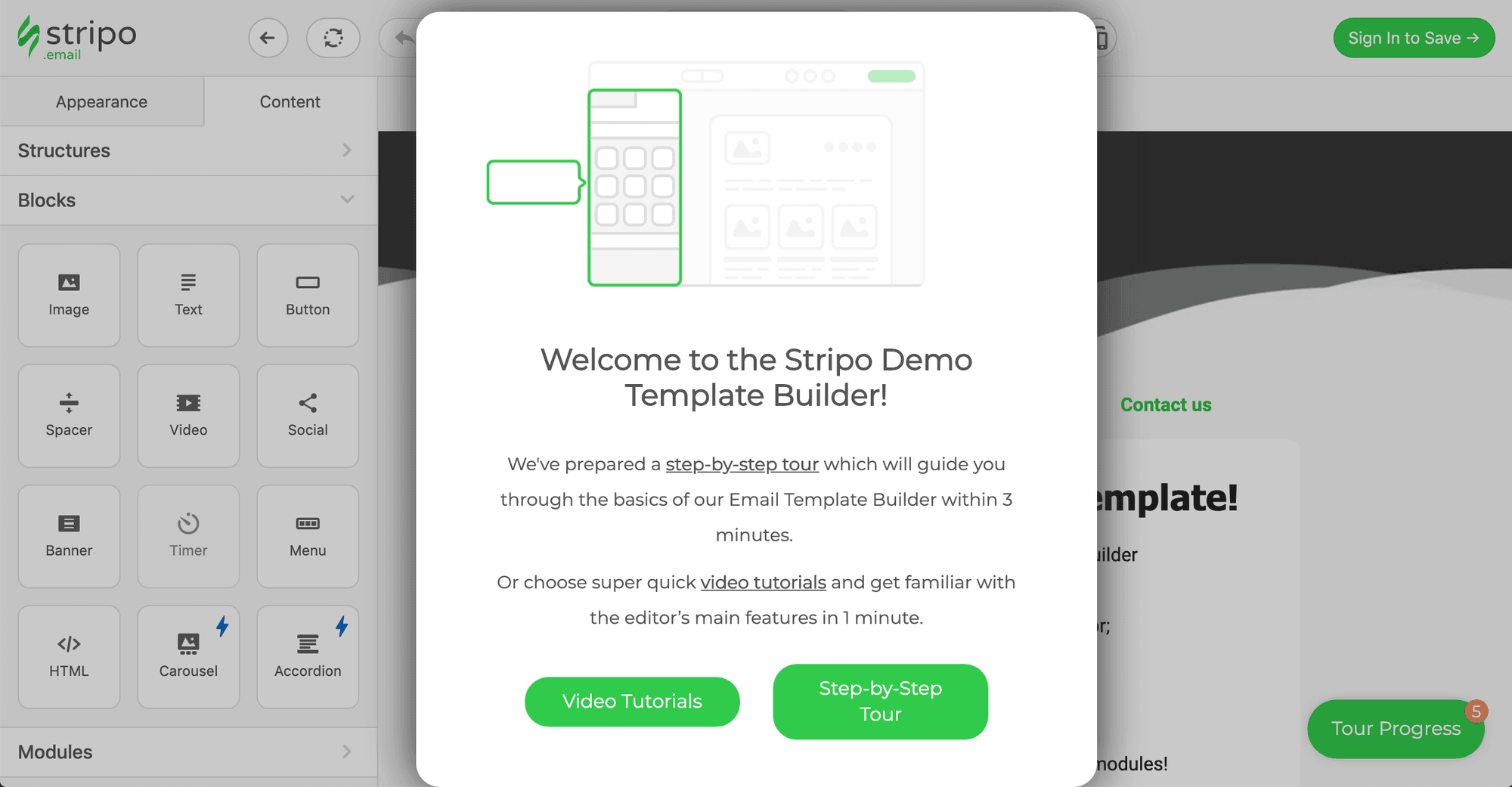 We've always said that the key to successful onboarding is to guide your users to your product's Aha! Moment as soon as possible.
It's something we encourage all of our customers to do. Why? Because that Aha! Moment is when everything clicks into place. It's when your users realize how much value they can get from your product.
One of our customers, Stripo Email, have used this to great effect. Stripo provides users with the Aha! Moment before they've even signed up. In other words, the Aha! Moment is used as a marketing tool!
We love Stripo's onboarding flow, and so we thought we'd share it with you here…
How Stripo Onboards New Users
When you head over to Stripo's home page, you have a choice of two CTAs. We're going to focus on the right-hand one.
Notice that you are able to try out a demo of Stripo with 1 click, and without having to register. That's pretty much as frictionless as you can get.
When you click to access the demo, you're greeted with this welcome screen. It sets expectations (it'll take 3 minutes) and explains that you can choose between an interactive tour or videos.
Providing users with a choice means that they can opt for whichever approach suits them best.
Stripo's onboarding flow starts with a brief product tour. It's designed to show you around the product, so you can start familiarizing yourself with the UI.
Once you complete that first tour, you're presented with a checklist. If you're thinking of adding a checklist to your own product, then this is the perfect example.
It doesn't have too many tasks on, as that would overwhelm new users. It also provides a progress bar so you can see how close you are to finishing. Finally, it uses something called the "Endowed Progress Effect". This is where the user has already ticked an item on the list, so they see themselves as making quick progress.
RELATED: 6 Tips to Create the Perfect User Onboarding Checklist
The next step in Stripo's onboarding is to show you how the product actually works. It does this by guiding you through an interactive tour.
Rather than simply showing you how the product works, it asks you to actually use it to complete various tasks.
This way users learn by doing, and can experience the value first-hand.
Once you've completed everything on the checklist, you're shown a final modal. It congratulates you on completing the tutorial, and thus makes you feel good about yourself. It then asks you to sign up to the full product.
Why does it work?
The reason this approach works so well is simple:
By showing users value from the start, and by letting them experience the product's Aha! Moment, Stripo is able to convince people that the product is a good one.
Imagine if Stripo didn't offer this tutorial. Instead, users would have to read through the site, and then decide whether they wanted to sign up or not.
But this way, Stripo provide a completely frictionless approach to onboarding. There's no sign-up form, no email verification. Just pure value from the start.
What do the numbers say?
Stripo have managed to turn the Aha! Moment into an actual marketing tool, and in doing so have managed to drastically improve signups and conversions.
Out of over 31,000 visitors to the site, 32% of them were engaged by the prospect of a 1-click demo. 5% of them went on to complete the tutorial.
Most importantly, 1500 users completed the whole tutorial before they signed up. They were effectively activated right from the start. On average, 38% of users completed the final interactive tour (out of all 6), giving them a thorough understanding of Stripo's product.
Check out their full flow 👉here