Best User Analytics Tools for SaaS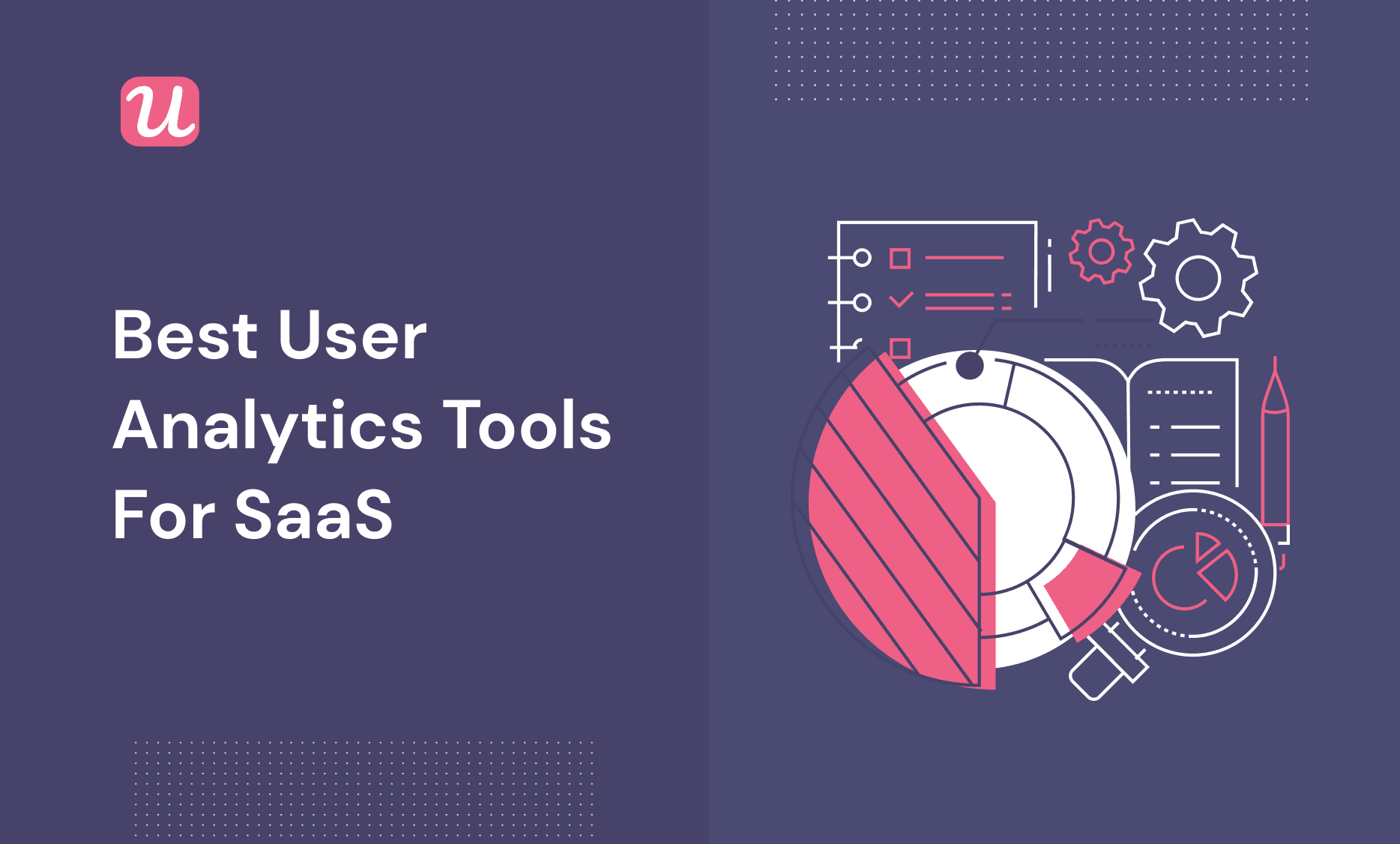 When it comes to boosting your product growth, user analytics tools can make your life a lot easier. These tools offer insights into what your users are doing inside your product and why they are doing it.
But how do you know you're picking the right tools?
In this article, we offer you key insights on user analytics tools based on their use cases, allowing you to pick the right set of tools to help you build more successful products.
TL;DR
User analytics is a type of analytics that focuses on user/customer behavior inside a product/on a website.
User data reveals how user engagement with your product impacts retention, conversion, revenue, and the outcomes you care about.
Understanding user behavior is necessary to increase engagement, retention, lifetime value, conversion rates, and ultimately, revenue.
The user actions (behaviors) users take within your product are measured by firing custom events or clicks on the front-end (feature tags).
User analytics can be divided into 3 types: Segment Analytics, Funnel Analytics, and Cohort Analytics.
Google Analytics helps you understand your website audience better by tracking key metrics, including acquisition and behavioral metrics.
Hotjar collects data using multiple tools, including session recordings, and analyzes them to generate a range of useful user behavior insights.
Fullstory recreates user sessions by combining user data with the session recording to give you an accurate picture of user behavior and tracks user interactions, and lets you create funnels.
Mixpanel offers great functionality in terms of tracking and collecting user data in real-time but requires you to set up events before tracking them.
Userpilot is a code-free platform that allows you to instantly act upon user analytics by building in-app experiences.
Heap is a comprehensive user analytics suite that tracks all sorts of in-app user interactions and requires no prior definition or configuration of events.
Amplitude helps you create a holistic user journey by offering valuable insights into the user experience.
What is user analytics?
User analytics focuses on user behavior inside your website or product.
It records user activity, groups them into behavioral segments, and analyzes key metrics such as engagement and conversion.
User data helps you track how engagement with your product is related to increasing engagement, retention, lifetime value, conversion rates, and ultimately revenue. You can measure user actions or behavior by firing custom events or clicks on the front end (feature-tags).
User analytics can be divided into three categories: Segment Analytics, Funnel Analytics, and Cohort Analytics.
With the right tools, user analytics can offer insights to understand the perceived value of your product. These user analytics tools can provide identifiable data (e.g., Userpilot) or non-identifiable data (e.g., Google Analytics).
Why is user analytics important for SaaS?
Understanding your users in SaaS is a must if you want to create better products, more effective marketing strategies, streamline your ad spend, and most importantly – improve your retention.
But user data has no meaning without user analytics.
User analytics can help you improve your customer acquisition efforts, identify bottlenecks in the conversion funnel, and optimize your strategies to boost conversion. It also allows you to find out where users are dropping off in the onboarding flow.
This, in turn, improves user activation through product marketing by optimizing your onboarding process to get more users to reach the activation point.
User analytics plays a key role in understanding how your users are interacting with your product. You can understand the user journey better by assessing the user behavior that happens across all touchpoints in the user journey.
This helps you to identify the issues they are facing and improve your UI and UX design naturally.
If you notice users failing to adopt a feature even after requesting it, it might mean that the feature is not in an intuitive place in your product or they need help with more secondary onboarding.
Building reactive in-app experiences based on user analytics insights can help you tackle this issue promptly.
You can also measure user engagement in real-time and iterate on product implementations. Most importantly, you can utilize user analytics to improve the crucial SaaS metric – customer retention, including Day One retention.
With website user analytics tools, marketers can:
Look for bottlenecks that can impact your website conversion rates.
Analyze user insights from user behavior during checkout to improve the checkout experience of users.
Monitor a user's journey to conversion, and measure user engagement in real-time.
With product user analytics tools, product managers can:
Identify "positive" and "negative" user behavior patterns throughout the stages of the user journey.
Utilize the insights from User Analytics to build in-app experiences that reinforce positive behavior.
Improve user onboarding flows and experiences for multiple personas, which can help them boost day one retention and improve FTUX (First Time User Experience).
Maximize retention by understanding how the most successful users interact with your app and build more experiences to foster the adoption of the "winning habits".
Push users further in their user journey by building secondary onboarding experiences.
Push for upsells at exactly the right time in the user journey, allowing them to drive more expansion revenue.
How to choose the right user analytics tools
A range of factors can come into play while choosing the right User Analytics tools, including your product and business goals.
Your business goals will act as a guide while identifying the KPIs you need to improve. This will help you create your data taxonomy, which will act as the base for the analysis done by the User Analytics tools.
Apart from these, here are some of the criteria you should consider while choosing User Analytics Tools:
What does it measure?
How does it collect and measure data?
Does it measure website user activity or in-app user activity? Pageviews or all clicks?
Does it measure identifiable data (e.g., so you can identify the user by unique ID, email, and more) or anonymized data (which is impossible to identify)?
What type of analytics is it? Quantitative event-based analytics or qualitative session recordings?
How easy is it to set up?
How does it fit in with your existing tech stack and technology?
Once you've decided what criteria you're prioritizing, you can go through the list we've compiled for you to help you find the right User Analytics tool for your SaaS business.
Best web user analytics tools for SaaS
Google Analytics
Google Analytics is a must-have web analytics tool for any SaaS business. It allows you to track key metrics (including acquisition and behavioral ones), which help you gauge your website performance better.
You can even track the source of each conversion once you've set up your conversion points. Besides, you can track traffic source and medium, which helps you identify the acquisition channels bringing the most traffic.
But you should note that Google Analytics cannot be used to perform cohort analysis, as the data is not identifiable. However, it is still great for time-based analytics.
You might want to go deeper and use Google Analytics to track conversions and "Events". For example, you might want to track which buttons on your site get clicked.
This is possible but will take a little more advanced skills on your part. The functionality doesn't come out of the box; you need to figure it out yourself.
The best part about Google Analytics is its brilliant free version, which offers enough functionality for small to medium-sized businesses.
Hotjar
Hotjar is another robust user analytics tool that comes with a brilliant heatmapping feature and can be a great option for implicit in-app feedback.
This platform allows you to record the browser actions of your users while they are on your website. This includes clicks, scrolls, and mouse movements. Its session recording functionality can open a whole new world of insights into user activity.
You can identify areas of friction in your customer adoption journey, which you can promptly fix to reduce Time to Value and increase your retention rates. You can also improve user experience by finding out where your UX is broken or buggy.
Moreover, you can optimize your marketing funnels by figuring out where your users are bouncing. When you put all these insights together, you can effectively map out the entirety of your user life cycle, from the moment they come to your website to the moment they become a power user.
Besides, nothing is stopping you from revisiting your session recordings multiple times to deepen your level of analysis.
Hotjar offers you reliable qualitative data, which can work together with the quantitative data you get from its in-app surveys like NPS to offer you a unique look into user engagement with your website.
You don't even need to stretch your budget too much for these powerful in-app customer feedback tools. Hotjar's pricing starts at $39 per month, and you also get a generous free plan that comes with a lot of features.
FullStory
FullStory is a session recording tool that can come in quite handy if you want to track user behavior within your website accurately.
Its session recording functionality helps you capture page views, mouse movements, and clicks that visitors make on your site. Session replay has been around for more than a decade, and it can enhance traditional web analytics tools by displaying a complete picture of the user on a website or app.
Fullstory combines user data with the session replay, which offers you an even more accurate picture of user behavior.
You can opt for a restricted free plan with up to three seats and 1,000 sessions per month. Although the pricing information for its paid plans is not disclosed on its website, you can sign up for a 14-day free trial to test the features.
Best in-app user analytics tools for SaaS
Mixpanel
When it comes to in-app user analytics, Mixpanel is a powerful solution that offers great functionality in terms of tracking and collecting user data in real-time.
But if you're a beginner in user analytics, Mixpanel can be quite a complex tool for you. Mixpanel requires users to define any event before capturing it. Although it excels in tracking and collating real-time user data, Mixpanel can be quite hard to implement.
Setting up reports is necessary to make the best use of the collected data. But this is quite a tricky and time-consuming process with Mixpanel.
Surprisingly enough, Mixpanel also lacks support for account-level tracking. This is a basic feature that you'd expect to be included in a powerful tool like Mixpanel. But you should be able to figure out a workaround by adding all users from one company into a custom segment.
Despite all its shortcomings, Mixpanel can be a great option for large companies with in-house data and analytics teams. These organizations usually have complex data analytics needs that feed on a vast collection of data that require a highly technical tool like Mixpanel to generate actionable insights.
Mixpanel doesn't come cheap. Although its Growth package is just $17 per month, you're more likely to be disappointed with it. This is a tool that offers the most to enterprise users.
Userpilot comes with a brilliant in-app User Analytics solution that integrates with both Amplitude and Mixpanel and is completely code-free!
This tool allows you to track user behavior based on predefined goals. This offers you complete flexibility on which aspects of product usage you want to focus on – making it much easier to interpret and track user analytics.
Unlike with Mixpanel, you don't need expert-level skills to get results.
Userpilot's analytics are based on what users do within the app. It's based on custom events (passed by the devs) or feature tags (that allows you to 'tag' a feature on the front end of your web app).
This medium-term analytics lets you build user segments and funnels based on your user activity in an intentional way.
For instance, you might want to look for users who:
Signed up less than 3 days ago
Are using the product for themselves
Have more than 3 web sessions
Speak German, and
Have seen the first onboarding experience
This allows you to see who is doing what in your app. You can instantly act upon these analytics by crafting in-app experiences that help struggling users proceed further down the user journey.
But that's not the only incredible thing about Userpilot.
Its real value lies in creating secondary onboarding experiences that ultimately help users unlock more and more value along their user journey.
At times, you might notice that basic users don't discover certain features themselves after activating. If not resolved, this issue can increase your churn rates.
Kommunicate, a chatbot tool, had the same problem. They noticed that their customers kept asking for features that already existed in the product.
Kommunicate launched their onboarding experiments in Userpilot, which increased their percentage of signup-to-chatbot integration by 15 percentage points in 7 months.
Next, they noticed that their paying customers were adopting 5-7 key features. So they took all of these and plugged them into Userpilot's product adoption feature.
After Kommunicate released small product adoption cues, its reach increased from 28% to 41% in 5-7 months.
Another "AHA moment" for Kommunicate was the "chat widget customization". This is a very important cue for Kommunicate's users to turn into paid customers.
Its introduction led to 86% of people completing the chat widget customization goal, which then translated to a 3% increase in the feature's usage. This, in turn, had a substantial impact on Kommunicate's MRR.
Wanna start creating similar experiences without a line of code – and boost your feature adoption? Sign up for Userpilot for FREE now and start increasing your product usage today!
Heap
Heap tracks all sorts of in-app user interactions and offers a comprehensive user analytics suite.
Unlike Mixpanel (which requires an extensive setup before tracking data), Heap starts tracking user activity from day one. You don't need to define or configure any events beforehand.
Moreover, you get user and account-level tracking and create custom events. You can use these custom events in funnels and cohorts. Besides, you can combine tracked data into your own custom "virtual events".
Heap also enables analysis along multiple axes and behavioral segments. You can use its mobile app to stay updated on the go.
So, what's the catch?
Heap doesn't come cheap. Its free package is fairly restricted in usage terms, and the pricing of its paid plans starts from $1,000 per month.
Amplitude
Amplitude is another popular user analytics tool, which is more focused on actionable analysis. It also comes equipped with a wide range of two-way integrations with other platforms.
If you're looking for an analytics solution to track single-user tracking across different products, Amplitude can be a good option for you.
Amplitude's focus on data security is also worth mentioning. Its robust data governance and security features can be attractive to users given the increasing concern about data security in recent years.
However, similar to Mixpanel, Amplitude requires you to configure certain events before you start tracking them.
But one aspect where Amplitude stands out from the rest is its generous free plan, which allows you to track up to 10 million actions. This is a lot by any standards. Apart from this, Amplitude's paid plans aren't quite affordable and can get increasingly expensive at an alarming rate.
FullStory
FullStory is a brilliant session recording platform, but it can also be quite handy as a user analytics tool because of its ability to track user interactions and create funnels to analyze user behavior.
With FullStory, you don't need to configure events to track user behavior. You can even track and measure "rage clicks" – which lets you know when a user is venting their "rage" on their mouse.
You can cross-reference the quantitative data you've collected across multiple platforms users with the qualitative experience of what real users actually did by using session recordings.
This combination of qualitative data and quantitative analysis offers a unique take on user analytics. This allows you to better understand why users take certain actions when compared to isolated quantitative data analysis.
FullSory's brilliant AI and machine learning features can help you extract valuable insights from your data.
But… is there a catch?
Well, yes – you can only get a price quote from FullStory upon request, which leads us to suspect that it might be rather high.
Final thoughts
It might take a good amount of effort on your part to just pick the right set of user analytics tools. To sum up the process, you need to identify your business and product goals, set the criteria according to your needs, and pick the tools that meet these criteria.
You can use web analytics tools like Google Analytics, Hotjar, or FullStory to track user actions on your website. For tracking app user actions within your app, you can use tools like Mixpanel, Userpilot, Heap, Amplitude, or FullStory.
Want to get started with User analytics? Get a Userpilot Demo and see how you can get actionable user analytics and insights for your SaaS product.
[/vc_column_text][/vc_column][/vc_row][/vc_section]