8 Best Product Roadmap Tools of 2023 [FREE & PAID]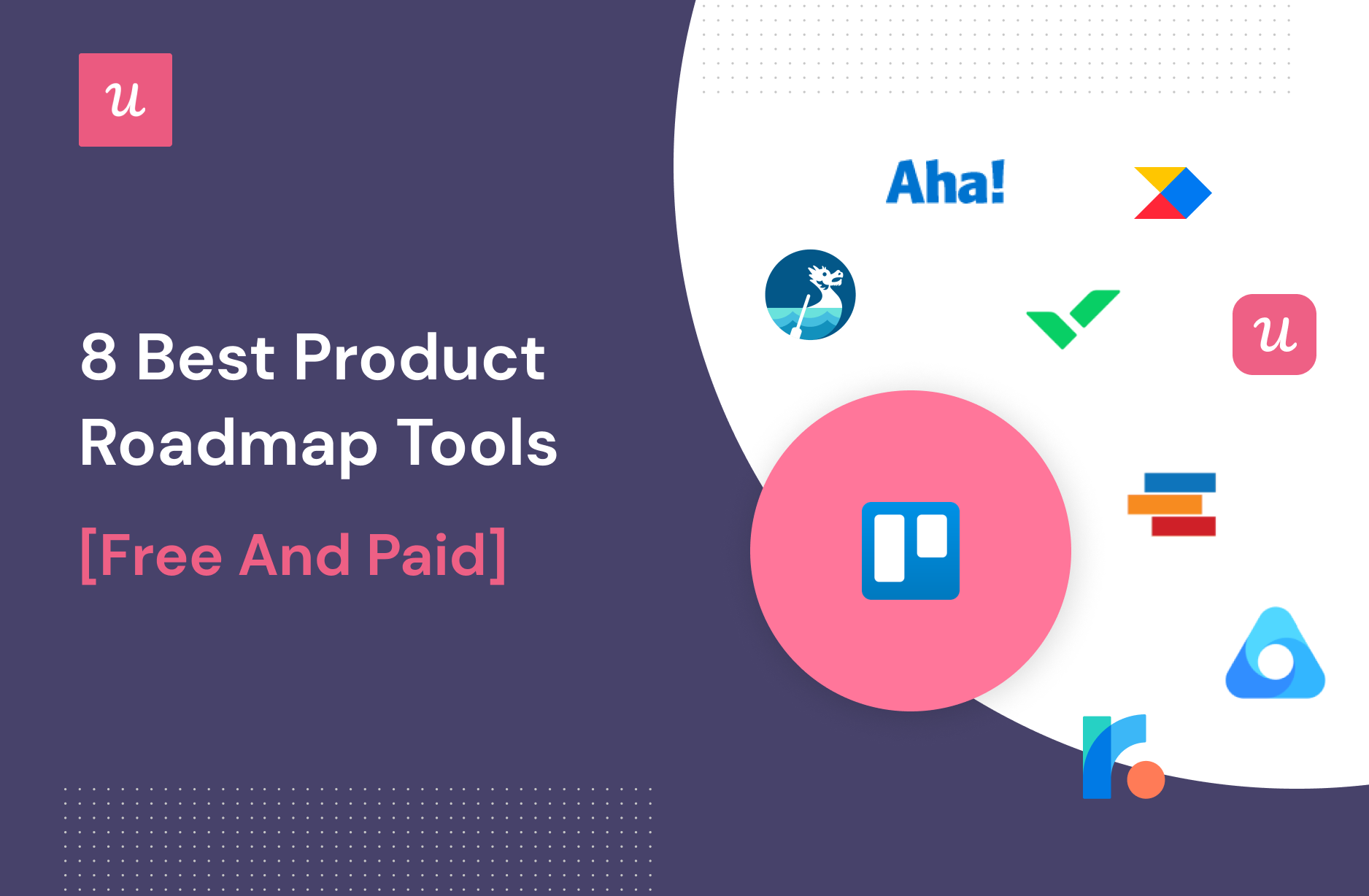 Roadmapping is a crucial part of every product manager's role, but it's safe to say a lot of PMs don't particularly enjoy it. Luckily, there are some excellent product roadmap tools out there to help make it more bearable.
Let's start with…
What product roadmap tools should do:
When it comes to creating a product roadmap, there are several things you need to consider:
Who will maintain your roadmap?
What will the roadmap show?
Who will access the roadmap?
Let's look at each of those in turn.
Who will maintain your product roadmap?
Roadmaps are generally owned by the Product team. More specifically, the Product owner will oversee the roadmap's construction.
In smaller teams, the Product manager can essentially be a team of one. In this case, they will be tasked with building and updating the roadmap.
In larger teams, however, there may be several people tasked with maintaining the roadmap. That might include other Product managers, and also people from different teams, such as Customer Success managers.
It's important to consider this when choosing a product roadmap tool.
If one person is looking after the roadmap, then you don't need to worry about collaborative tools as much.
If, however, several people need editing access, then you need to choose a more collaborative roadmapping software that enables that.
What will the product roadmap show?
Roadmaps can serve different purposes to different SaaS companies, and even different teams within one company.
Some roadmaps are extremely detailed, providing a granular view of what is planned for the product. Others, meanwhile, are simple, high-level glimpses of what the future may hold.
Deciding which type of roadmap is right for your company is an important step. We could (and probably should) write a whole blog post about this one decision.
Ultimately, it boils down to this: What is your goal for your roadmap? How does it serve your organization? Is it simply a way for your Product team to keep their ideas in one place, or is it a way to show stakeholders exactly what to expect? Perhaps it's both.
Once you know why you're building this roadmap, and the form it's going to take, then you need to choose an appropriate tool. It's no good using a high-level roadmapping tool if you want the added detail.
Who will have access the product roadmap software?
While the roadmap often provides most value to the product team, other teams can find a use for it.
Your Sales team, for example, may use your roadmap to inform prospects who ask about future releases. Your Customer Success team may want to check on the status of a customer's feature request. Each team may require a different view of the roadmap altogether.
It's important that your product roadmap tool facilitates this if you feel it's something you'll need.
There's also another group of people who you might want to give roadmap access to: Your customers. Sometimes, the best approach is to be transparent and provide a roadmap for your customers and prospects to look at. This way they know what you have planned for your product.
Not every roadmapping tool enables customers to view the roadmap. If you do want your customers to have access, then make sure you choose a tool that lets you do this.
The best product roadmap tools for SaaS
So, now you know what to consider when it comes to choosing between the different product roadmap tools.
With that in mind, let's take a look at what we think are the best product roadmap tools for SaaS companies in 2023…
Dragonboat – For outcome focused roadmapping
Dragonboat helps align product roadmaps to company, business and customer goals by connecting OKRs and product initiatives.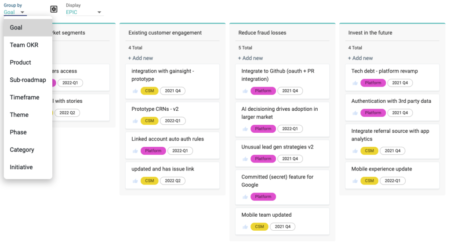 Dragonboat understands that equally as important to creating a beautiful roadmap is the confidence and ability to deliver on it. That's why it's not only a roadmapping tool, but an end-to-end product portfolio platform tying OKRs, roadmapping, customer insights, portfolio planning, tracking, and delivery all in one. 
Its advanced, two-way integrations with engineering tools such as Jira, Azure DevOps, and Shortcut means engineering teams don't have to change anything about how they work, while progress gets rolled up into Dragonboat, providing visibility on the status, health, and delays of product initiatives. 
Users of Dragonboat highlight that it gives them more context and confidence in their prioritization, planning and delivery by having a holistic view of the roadmap, allocation, dependencies, and resources across the portfolio. Product managers can choose between 5 roadmap formats including Kanban, Board, List, Gantt, Swimlane and 3D Dynamic with multiple prioritization methods including RICE, MoSCoW and any custom fields. 
Dragonboat licenses start at $49/ month per editor with an unlimited number of free view-only users.  
"We are growing fast and need the right solution for portfolio management to connect roadmaps with OKRs and run our quarterly planning and tracking. After I evaluated 25 tools, I finally found Dragonboat – the only tool that suits all our use cases and is flexible to fit our ways of working, not forcing us to follow the predefined framework. Finally, we can get rid of tons of tools and formats to keep all our product portfolio data transparent and up-to-date."-Anton Zhvakin, Senior Manager of Product Dev Ops at Miro (Source)
Get started with Dragonboat for free or book a demo.
Airfocus — For a quick and easy product roadmap tool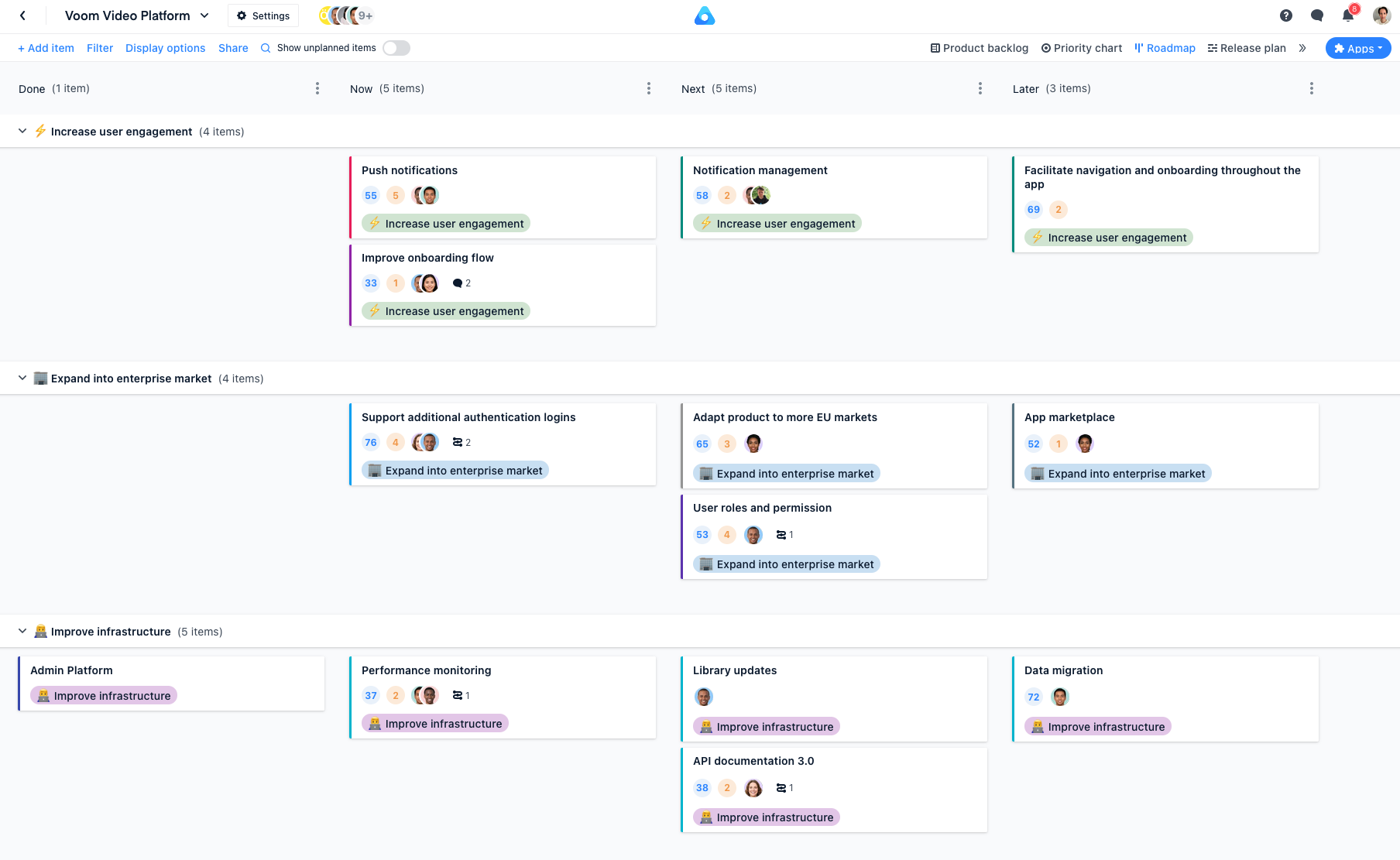 airfocus is a roadmapping tool that focuses on getting you up and running with your roadmap as quickly as possible.
Thanks to its integrations with JIRA, Trello, Github, and more, you can start creating your roadmap within minutes. Airfocus uses a drag-and-drop interface so you can easily construct your roadmap.
You can choose between different views, including the standard Kanban Boards, Tables, Timeline, Inbox, Priority chart, and also a multidimensional chart, showing your priorities.
While airfocus mainly concerns itself with creating and sharing roadmaps (it's worth noting you're allowed unlimited viewers), you're also able to create custom scoring and weighting for ideas and feature requests. It helps you determine which items make it to your roadmap.
However, despite the attempt to make roadmapping as easy as possible, a lot of airfocus users suggest that it can still take a while to get up and running. They also suggest a lot of minor improvements that could be made, suggesting the product could benefit from some polishing.
Airfocus lies on the lower end of the pricing spectrum, coming in at $15 per user per month. That seems a fair price, given that airfocus is similar to market-leading products in terms of functionality, and has really good reviews on G2. That's worth keeping in mind for early-stage startups.
Their unique feature is called Priority Poker that brings all stakeholders to play feature prioritization independently. Priority Poker is an interactive, collaborative, and fun way to group prioritize and make decisions in the most time-efficient manner. Learn more about this feature here.
"Airfocus has been really helpful in helping us prioritize what we build and promoted better product management practices in our business." — Evan D.
Wrike — Product roadmap tool for managing tasks and projects
The first of our product roadmap tools is Wrike. Wrike is a tool aimed at all kinds of industries, including SaaS. As a result, it's a product that can feel a little overwhelming at first.
However, once you adapt Wrike to your workflow, you'll find that it's a powerful way of aligning your Product team, and keeping track of who is doing what.
In Wrike, your roadmap is visualized as a Gantt chart. Though you can also see it in a list or Kanban view. In this sense, Wrike is similar to other project management tools like Monday or Asana.
Perhaps Wrike's biggest selling point over the competition is that projects and tasks can show up in different locations at once. This means relevant members of each team can have access. This is a really useful feature. You could, for example, have your Product team work on a new feature while your Marketing team start designing the landing page.
For collaboration across teams, and for keeping everyone aligned internally, Wrike is a great tool.
It does fall short, however, when it comes to customer access. You're also limited in terms of how much detail you add to your actual roadmap.
Wrike does have a free plan for up to 5 users (with limited functionality). The lowest price plan is $9.80 per user per month. This means it's a little cheaper than Monday and Asana, its two direct competitors. That makes it a good option for early-stage startups.
"Wrike has allowed the workflow, management and collaboration to have improved positively because it is much easier to distribute the tasks, be aware of important dates and carry out a much fairer workflow since several people can be assigned a task so that work is accelerated and projects can be completed earlier than planned." — Rebecca R.
Aha! — For more than just product roadmap software
Aha! claims to be the #1 roadmapping tool in the world, with over 250,000 Product teams using it.
In terms of roadmapping, Aha! enables you to create your roadmap using six different templates. You can choose the one that suits your needs. You can then drag and drop your goals, initiatives, and features onto your roadmaps.
You can share your roadmaps with whoever you like, however you like. You can send it as a pdf or an image, or host it on a secure web page. This makes sharing it with customers and stakeholders extremely easy.
But Aha! goes a little further than roadmap building. It also encourages you to set goals and initiatives, which are then threaded into your final roadmap.
You can also use Aha! to surface customer insights and feedback. You can then create user stories using the feedback, before adding them to projects and features on your roadmap.
Aha! essentially enables you to tie everything together. It's great for Product teams that want everything in one place.
Having said that, the sheer scope of the product means that it can be hard to get up and running. There's simply so much to do that you'll need to take time to learn how it works before creating your roadmap. If time isn't on your side, then other simpler tools may be required.
As for pricing, it starts at $59 per user per month (when paid annually). This gives you access to basically every feature you need. If you're thinking of using Aha! for everything, then that seems a fair price to pay compared to other product roadmap tools.
"I particularly like how Aha! allows the PM to link the features/tasks the team are working on to the reasons why these features have been defined and prioritized over others. It gives a clear direction to the entire team." — Geraldine C.
Productboard — For prioritizing your SaaS roadmap
Productboard is similar to Aha! in that it offers a complete overview of the product management cycle.
You can collate feedback from all your different sources (social media, CRMs, email, etc.). Once you've got it all in one place, you can start prioritizing your backlog, and deciding what you want to work on next.
Once you have certain features or ideas in mind, you can start building your roadmap. Your roadmap on Productboard will end up looking a little like a Kanban board, with a mainly high-level view.
However, you are able to click into each item on your roadmap for more detail. If you've been using Productboard's other features, then you will see the strategy behind the roadmap, and even the feedback that generated the ideas in the first place. This gives complete transparency and visibility to your team.
You can share the roadmap with customers and stakeholders, but currently only as a pdf file. This could prove cumbersome as you would have to update the pdf every time the roadmap updates.
The roadmap is also limited to one type of view (Kanban). For teams that prefer Gantt or a list view, this is a big limitation.
Like other tools that present an all-in-one solution, Productboard can be difficult to use at first, and so requires time before you start seeing value from it.
Productboard's pricing starts at $49 per user per month. If, however, you want access to more advanced features, such as prioritization drivers, custom fields, and JIRA integration, you need to pay $99 per user per month.
"We had an alignment and communication problem that we had to solve. Plain and simply, productboard gives us a clear way to communicate and collaborate on our product roadmap. And gives our team insight into how we think about and prioritize initiatives." — Eric P.
Try ProductBoard for free today.
Roadmunk — For completely a customizable product roadmap tool
Roadmunk is a tool designed to help you build versatile roadmaps to suit any requirements you may have.
It's built around three main types of roadmap. The first is the "Timeline", which looks like a traditional roadmap. You can see initiatives, objectives, and projects.
The second view is the "Swimlane". This is essentially a Kanban board, giving your teams a more streamlined view. It's perfect for Agile teams.
The third view is the "Master". This is a really high-level view which enables you to combine multiple roadmaps into one master roadmap. This gives a birds-eye view of your product's future.
The ability for multiple teams to build their own roadmap, and then bring them all together in the master view is unique to Roadmunk, and offers a lot of potential.
As for sharing your roadmap, you can create different views of the same roadmap and then share it with different stakeholders. You can publish it as PNG slides, or host it online.
This also means you can easily share your roadmaps with your customers. In fact, you can create a specific customer roadmap, only showing the level of detail you're comfortable with.
However, because Roadmunk focuses exclusively on roadmapping, it does mean you'll need to use other tools to collect feedback and form strategies. For larger companies, this may not be a problem. Early-stage companies, however, may not be able to justify multiple tools.
Reviewers also suggest the UI can be a little confusing at first, and so it may require a degree of training.
The most popular price plan is $49 per user per month. This gives you access to nearly every feature. If you want the two-way JIRA integration, you'll need to pay $99 per user per month.
"We have several different roles wanting to know where different projects/initiatives are at. Roadmunk gives the power to the product team to create a view of the roadmap for everyone. From swimlanes to gantt chart style roadmaps – it's great!" — Brent J.
ProductPlan — For sharing beautiful roadmaps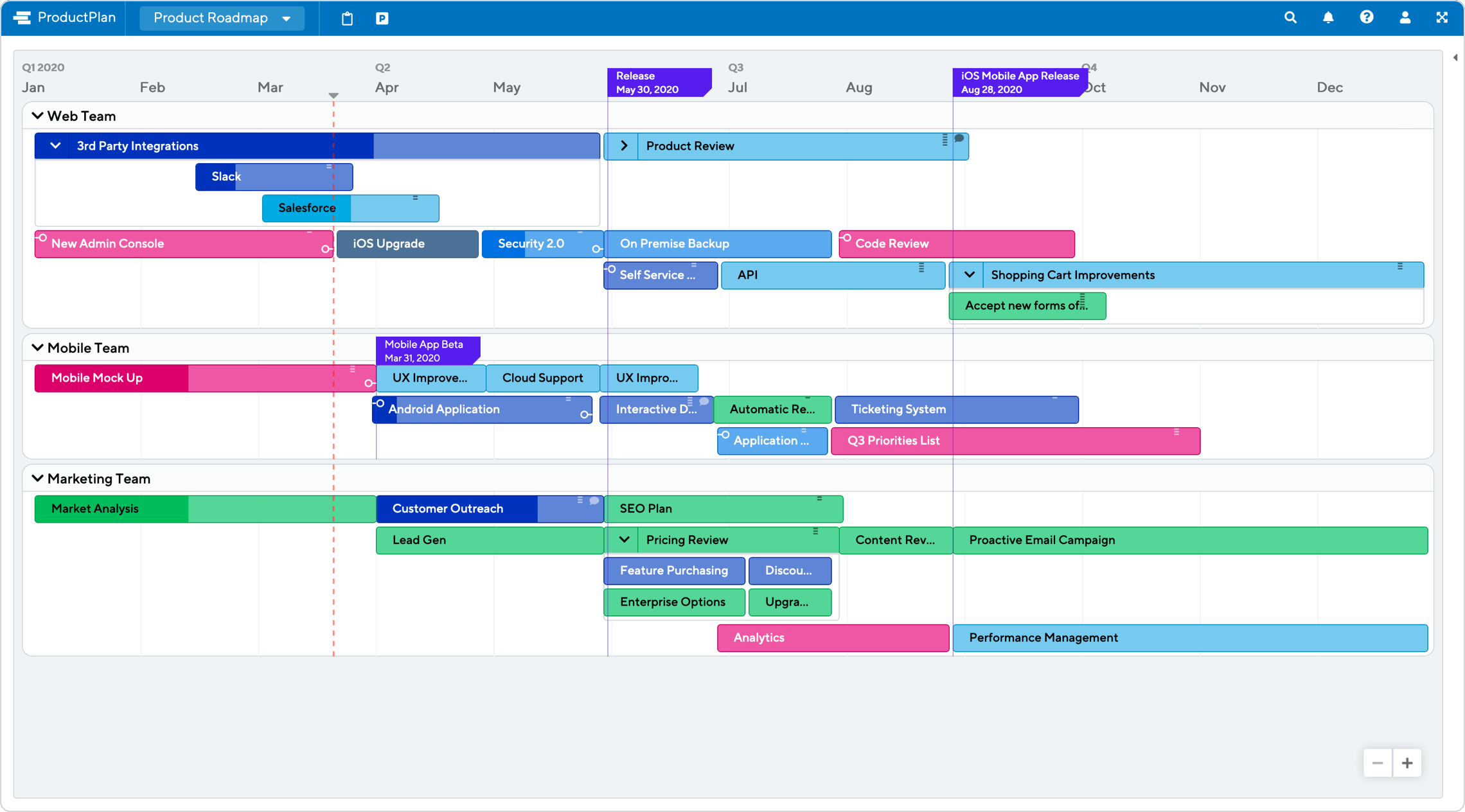 ProductPlan understands that if you're going to share your roadmaps they need to look good. A scrappy spreadsheet or basic Trello board isn't always going to cut it when presenting to stakeholders or customers. You need one of the product roadmap tools.
ProductPlan enables you to easily build your roadmap, using a drag-and-drop interface. From there, you have complete control over your roadmap. You can choose how granular your timeline is, or even remove it completely. You can color-code items, connect related items together, and add milestones.
Once your roadmap is ready to share, you can create different versions, each with different levels of detail. That means you can share a high-level roadmap with your stakeholders, and a more granular roadmap with your Dev team. But you don't have to worry about creating multiple roadmaps.
You're given unlimited roadmap viewers, so you don't have to pay for the privilege of sharing it with stakeholders. You also have the ability to create master plans, which group different roadmaps together for a bigger picture view.
ProductPlan's users claim that all of the functionality can be a little overwhelming at first. It also serves to distract users who only need to access certain parts of the product. ProductPlan is also completely web-based. While that might not be the biggest issue, it does mean you can't update your roadmap offline.
ProductPlan's pricing starts at $39 per user per month (when billed annually). This gives you access to most of the core features. If, however, you want better access to Customer Success and Support, you'll need to upgrade. Overall, though, its low cost makes it an enticing choice for smaller teams.
"With this software it has been possible to carry out the work flow management much faster and easier, in addition to the planning, collaboration and presentation of each of the business projects has been directed thus achieving deliveries without delay, as well as a great savings of time and money." — Caroline S.
Try ProductPlan for free today.
Trello — For simple product planning and roadmapping
Trello is a popular tool for managing projects, but the customizability of Trello boards means you can create a rudimentary roadmap. As such, it deserves a place on our list of product roadmap tools.
You can create a board with different columns for "Now", "Next", and "Future" (or whichever time lanes you want). You can then add cards to the board. Each card represents a different feature or idea. You end up with a simple Kanban roadmap.
Trello's strength lies in its collaborative functionality. It's easy to share your Trello roadmap with other team members or stakeholders. They can then move items around, or add in extra detail by commenting on the cards.
You can also connect Trello to a range of different product management tools, including Airfocus and Github. Or you can collect all the data about project progress and deadlines in one place with Trello Google Sheets connection. This way you can easily integrate Trello into your existing workflow.
However, Trello isn't specifically designed for roadmapping. As a result, there's a lot of missing functionality. It's hard to prioritize, and you can't choose between different views. Plus, the only way to share your roadmap is to add people to the board. If you wanted a higher-level view for stakeholders, you'd have to create a new board.
Trello offers a free version that may well provide everything you need when it comes to creating simple, internal roadmaps. If you want access to the integrations and different views, you'll need to pay. The lowest pricing plan starts at $9.99 per user per month, so still won't break the bank for smaller teams.
"This product is very useful for the users who want to organize their team working. The schedule and the team meetings. The user who are planning to organize sprint should use this software as it is very useful for sprint planning. I used it as Scrum Master to design product backlog." — Aman S.
Portfoleon – for roadmapping with quick resource planning
Portfoleon – for roadmapping with quick resource planning
Portfoleon is a tool aimed at product managers who need to interact with team leaders and resource managers to get the job done. You can design your roadmap using various types of boards, including timelines, spreadsheets, kanban boards, and pivot tables.
Once you make your roadmap, you can share it with your stakeholders, which is easy thanks to the unlimited viewer accounts included in every plan.
The unique feature of Portfoleon is that it does not only enable you to create and share roadmaps, but also ties them with lean resource management. Having a high-level resource distribution helps communicate costs and feasibility and improves team buy-in. You can summarize resource information and build charts, for example to show SAFe lean budget guardrails.
Reviewers of Portfoleon indicate that the product can be difficult to use at first, and the user interface can be simplified for users who don't need all the features of the product.
"Portfoleon helps us to have a lot of control and insight on the many projects, which are happening simultaneously within our medical department. The tool is visually very strong and helps to create clarity and transparency during meetings. ", – Ken B.
Portfoleon has a free plan for 10 users with limited functionality. Commercial pricing plans start at $19 per user per month.
Register your free Portfoleon account today
Which product roadmap tool is right for you?
There are a lot of product roadmap tools to choose from. We always recommend trying them out for yourself and deciding which you prefer. Most will offer a free trial or demo.
We've also put together a table so you can quickly compare the different product roadmap tools:
Hopefully, you now have a better idea of which product roadmap tools are best for you! Visit the Userpilot blog for more product management and planning resources.