Pendo Free: A Thorough Review + Better Alternatives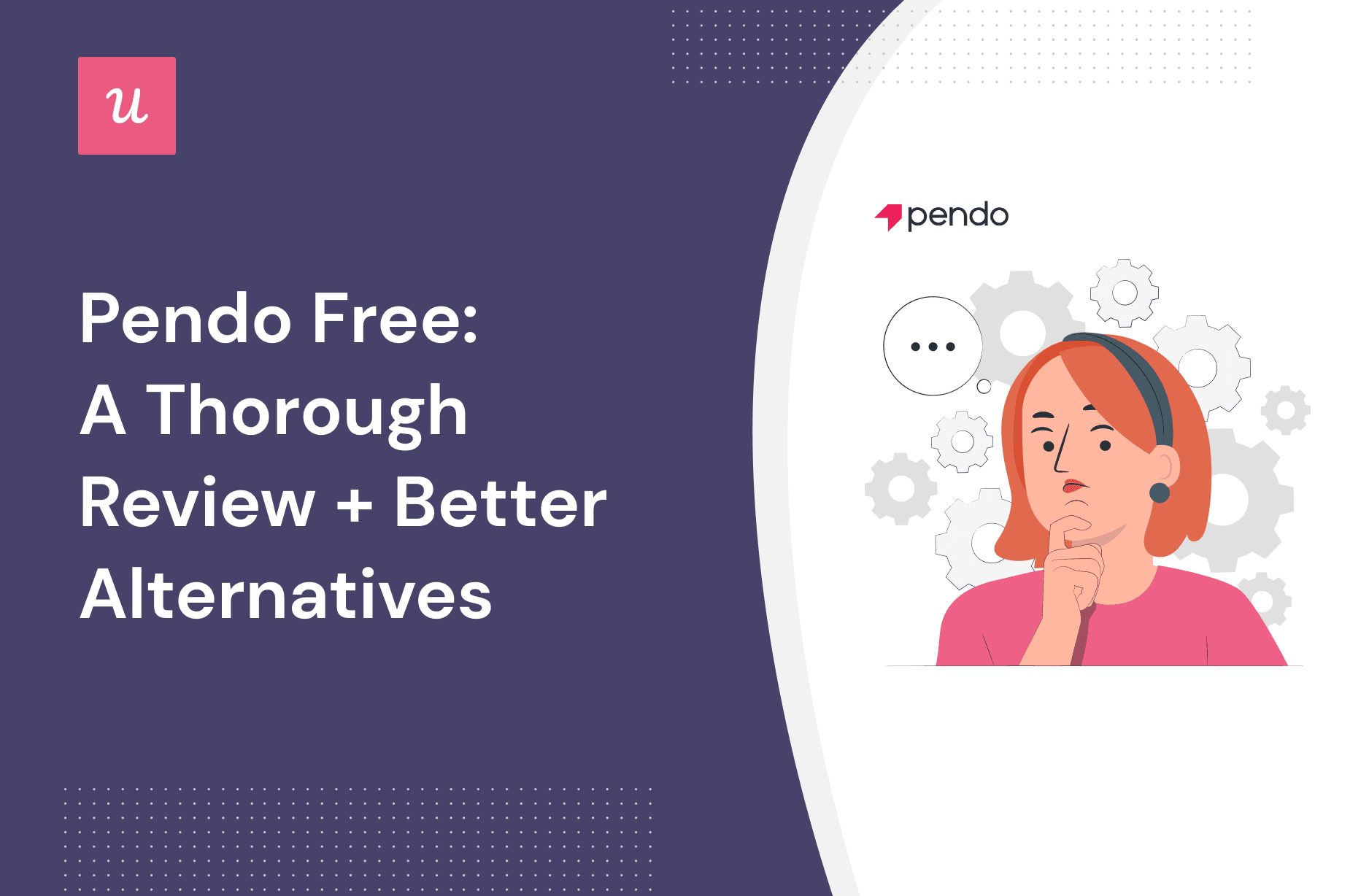 Pendo Free sounds like an attractive option. After all, you're getting access to a user onboarding tool with a reputation for quality analytics without having to spend a cent. But does the free plan live up to the expectations?
That's exactly what we explore in our review. We look at the functionality available in the free plan, its strengths, and its' limitations. We also have a look at a couple of alternative tools that might give product managers more bang for their buck.
Let's get right to it!
TL;DR
Pendo Free is the free plan offered by a well-known product adoption platform.
The plan gives users access to product analytics. This includes unlimited no-code features and page tagging, user segmentation, and behavioral analytics.
With user behavior analytics, you can map out how users navigate the product (Paths), track their progress toward activation (Funnels), and keep a pulse on Retention.
You can also easily create in-app guides and customize them in the Visual Design Studio.
The in-app guides included in the free plan are banners, lightboxes, tooltips, and walkthroughs. Note, the list doesn't include checklists or the resource center functionality.
The free plan doesn't include experimentation to test your guides.
You can use Pendo Polls to collect basic feedback but surveys and NPS tools are not covered.
The free plan is capped at 500 MAUs, so you won't enjoy it for free forever.
Appcues is a better option than Pendo for mobile apps. Its lowest plan is cheaper than Pendo's Starter plan and offers all its analytics and sentiment tools as well as integrations.
Userpilot is a more competitive tool for web apps. Its Traction plan gives access to checklists, resource center, NPS surveys, advanced segmentation, integrations, and webhooks.
What is Pendo Free?
Pendo Free is simply the free version of the Pendo product adoption platform.
The free plan offers the core features that allow product teams to track user behavior in-app, and design and trigger in-app messages to drive product adoption.
Pendo Free is available for one web application, plus one iOS and one Android mobile app. You can track up to 500 monthly active users (MAUs), and there is no time limit to the free plan.
What features are offered in Pendo's free version?
Product managers and their teams can use Pendo Free for product usage analytics and in-app communication (Guides).
Guides also enable them to collect basic feedback, but this aspect is fairly limited in the free version. To access more feedback features, like NPS tools, you will need to upgrade to at least the Starter plan or purchase the standalone Pendo Feedback package.
Product analytics
Product analytics is where Pendo shines. The free plan offers a number of Pendo's key features that allow you to track and analyze user engagement with your product.
Retroactive analytics
Retroactive analytics enables non-technical product teams to track user behavior data without any coding.
With Pendo you can easily tag unlimited pages and features you want to track without installing any tracking code. Once you tag them, Pendo tracks every click and screen or page load.
The free plan offers unlimited page and feature tags.
Behavioral analytics
The free Pendo plan gives you access to its flagship analytics tools:
Paths – this feature enables you to map out every sequence of events leading up to or following a user action. This can help you identify the happy path to conversion or activation, or build funnel charts.
Funnel analysis – it provides you with information about users who have completed specific actions leading to an activation event. It's invaluable when it comes to identifying friction points and boosting conversions.
Retention analysis – it allows you to learn how many users stay with you and keep engaging with your product regularly over time. This gives an idea of your product's perceived value. With Pendo, you can collect retention data and present it in interactive charts. You can filter the data using a range of criteria and get detailed insights about retained and dropped customers.
User segmentation
Pendo segmentation functionality enables you to categorize your users by a whole host of criteria:
Product usage and user behavior data, like tagged feature clicks, or guide views.
Visitor and account data, like demographic data.
Mobile-specific data, for example, the OS version.
Segmentation is essential to gain actionable product insights. You can also use it to personalize user onboarding experiences and for targeted communication with Pendo Guides.
In-app guides
Pendo Guides are in-app messages and prompts that provide tips on how to get the best out of the product and guide users to activation.
Thanks to the Visual Design Studio, you can build banners, lightboxes, tooltips, walkthroughs, and polls. This doesn't require any coding as you get access to a WYSIWYG editor that enables you to fully customize your in-app messages.
You can then save them as Themes so that you can reuse them again and save yourself work.
The in-app guides come with localization support and accessibility features to improve the inclusive design of your product.
The key drawback of the free plan is that it doesn't include the resource center and checklist functionality, both of which are essential for successful product onboarding. You won't be able to run experiments on your onboarding flows either, unless you upgrade.
What other pricing plans does Pendo offer?
Apart from Pendo free, the company offers three paid plans:
Starter
Starts at $7000/year
Up to 2000 Monthly Active Users
NPS functionality
Data retention for 2 years
Growth
Custom pricing and MAU limit
Customizable reports (Data Explorer)
Product Engagement Score (PES)
Resource center
Guide experiments
Customer success support
API access
Webhooks
Data retention for 7 years
Portfolio
Custom pricing and MAU limit
Everything offered in the Growth plan
Cross-app journey reports
Cross-app executive dashboards
1 integration
What are the pros and cons of using Pendo Free?
While Pendo itself is a very capable (and overpriced) tool, Pendo Free offers fairly limited functionality. This may give you a taste of the product value, but it won't satisfy all your needs if you're serious about delivering data-driven onboarding experiences.
Pros of using Pendo Free
Works on both web and mobile apps.
Impressive analytical features.
Cons of using Pendo Free
What do users say about their experience with Pendo Free?
G2 reviewers give Pendo an average rating of 4.4 out of 5, which is very decent. However, this doesn't necessarily apply to Pendo Free.
While there are plenty of positive comments regarding the free plan, users also mention its limitations, like the MAU limit:
What do you like best about Pendo? I love that we were able to start on the free version of Pendo as we built and scaled our product. We've been able to see clients click patterns and make quick discernments regarding cumbersome click-flows and opportunities for improvement.
What do you dislike about Pendo? I wish they hadn't changed the free pricing structure to have a lower MAU, but at the same time, we can add it to Mobile environments now. We plan on moving to paid as soon as our client base scales, so I feel confident this won't be a long-term issue.
Users seem to rate highly the in-app guides but they've also encountered some bugs with the demo content:
What do you like best about Pendo? I like the guided tour and tooltip features the most, but I can't figure out how to use them with the free version and I haven't spent a lot of time digging into the app yet.
What do you dislike about Pendo? Right after setting up my free account, the app encountered a glitch and the screen kept refreshing in a loop. This may have something to do with the dummy data that are preloaded into the system.
Are there better alternatives than Pendo Free?
While you don't have to pay for the lowest Pendo plan, its limited functionality means you are not able to collect and analyze in-depth user feedback or use a full range of engagement tools like the resource center or checklists.
Even upgrading to the Starter plan doesn't seem like a good idea because there are tools out there that are more competitively priced and offer more features.
Userpilot vs Pendo Free
Userpilot may not give you a free plan, but the lowest Traction plan, which starts at $249/month, delivers more than Pendo Free:
2500 MAUs vs Pendo's 500 and 2000 in the Free and Starter plans respectively.
Real-time product usage data display.
Checklists.
Resource center.
NPS surveys and tools, including tagging and analyzing qualitative responses.
More advanced segmentation for detailed analytics and personalized in-app messages.
A/B testing for in-app guidance.
Integrations and webhooks.
API access.
Userpilot doesn't support mobile apps but it's a better alternative for web applications, hands down.
Userpilot pricing
The Traction plan includes:
Up to 2500 Monthly Active Users.
People & Tracking.
Engagement Layer (In-app guides).
Checklists.
A/B testing for in-app guides.
Resource Center functionality.
User Sentiment (NPS surveys).
Engagement Reporting.
Integrations.
Localization of up to 5 Languages.
20 Feature Tags.
1 Application.
The Traction plan comes with a 14-day trial and you can book a demo to help you understand how to deploy Userpilot for your use cases best.
Userpilot reviews
On average, Userpilot has got higher G2 ratings than Pendo – 4.6.
Customers value Userpilot for intuitive UI and ease of implementation:
I've been using Userpilot for about 2 months now and the experience has been amazing. From the ease of implementation to the intuitive UI to the friendly, responsive support by the lovely Elise! I've looked at other adoption software and I'm glad we went with Userpilot. It has just the right amount of features for our B2G software to help our users and it's really easy to use. And the best part, it's affordable
In addition, Userpilot customers highly rate its reliability, and quality of support.
There are a few core reasons we're fans of Userpilot:
1. At its core, it's a well-designed product that is easy to grow quickly.
2. Great support and account management. We quickly reached someone and received detailed information to help us level up.
3. It does the job reliably! I've never encountered an issue with it bugging out in any way.
4. Pricing is unbeatable for capabilities in the space.
Appcues vs Pendo Free
Appcues is another highly-rated adoption platform. Just like Userpilot, it has no free plan but its lowest Essential plan offers better functionality. While it's still less competitive than Userpilot, it's a solid alternative for mobile apps.
What's included in the Appcues Essentials plan that you can't find in Pendo Free?
More in-app guidance patterns
All analytics features (limited by usage)
Surveys and NPS tools
Integrations with dedicated analytics tools (Amplitude, Mixpanel, Heap, Kissmetrics, and Fullstory).
A/B testing for onboarding flows
Note there are no checklists included though.
Appcues pricing
The Essentials plan starts at $249/month and it offers:
3 user licenses.
Standard pattern library, including Pins and Branded Themes.
NPS surveys.
Events Explorer.
Flow Reporting.
User segmentation.
10 Track Events (click-to-track).
Integrations with analytics tools.
Flow A/B testing.
Email support.
Appcues reviews
The Appcues platform gets positive reviews from its users and its current G2 rating is sitting at 4.7!
G2 reviewers mention that it's incredibly easy to design in-app flows code-free and highly rate its user behavior analytics.
For the most part, Appcues is pretty easy to implement. Once installed, it takes no time to use their templates to create your first flow and publish it for customers. They've also just released a few features called click to track that now allows you to track clicks and hovers on anything on your site. This is super helpful if you're trying to understand if the flow you created actually worked or not.
The positive reviews refer to all the major Appcues functionalities:
Appcues has been an excellent tool for us here at Pixelz in communicating major feature announcements, facilitating customer onboardings, and analyzing user behavior on the platform.
Conclusion
Pendo Free would be a great option for startups embarking on their PLG journey if it expanded its functionality and MAU limit. However, even if it offered all the features included in the Starter plan, it might struggle to keep up with some of the competing tools.
If you want to see how Userpilot can help your team drive product adoption, book the demo!