What is Customer Perceived Value in SaaS and How to Improve it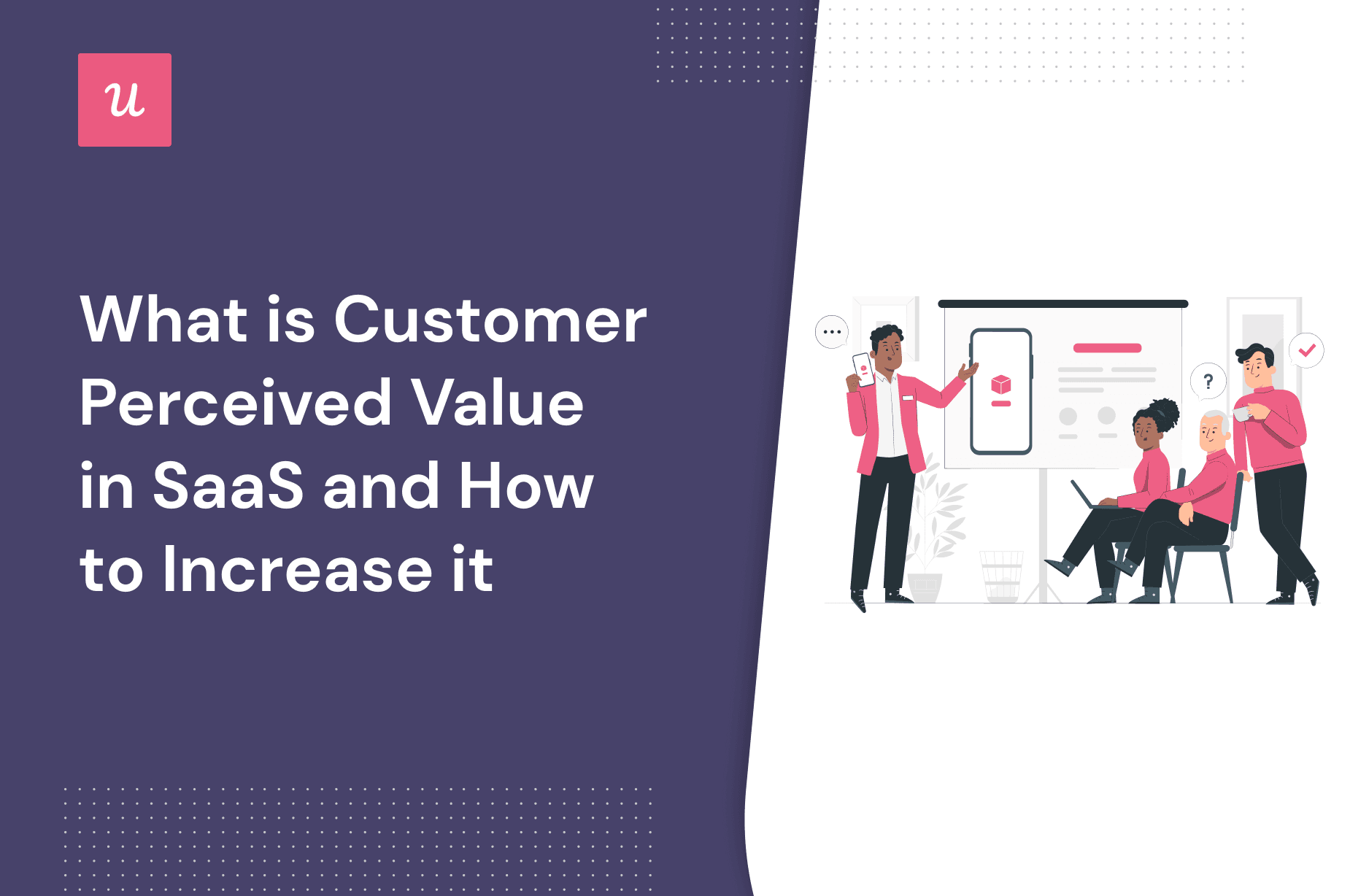 Understanding customer perceived value in SaaS is the gateway to nailing down your pricing and value prop – boosting revenue and customer success.
In this article, we cover what exactly customer perceived value (CPV) is, how to calculate it, and the best strategies to increase perceived value and skyrocket product growth.
Let's get started.
TL;DR
Customer perceived value (CPV) is a customer's perception of how valuable your product is to them – both in monetary value and the impact it will have in their life.
Understanding CPV is important because it helps you nail down your pricing range. For example, if your customer's perceived value is higher than you thought, your business can reasonably charge a higher price for the same product.
Here's how to calculate your CPV: customer perceived benefit – customer perceived cost = customer perceived value.
Bad UI product design negatively impacts your CPV. Customers subconsciously associate a bad aesthetic design with low product value.
Improve your overall user experience to get high perceived value. According to Fogg Behavior Model, if the customer's perceived effort is lower, they'll find your product more valuable and useful.
An emotional connection to your business will increase your customer's perceived value. Lean on the emotional benefits that your service will provide.
If a product's price is too high or too low, that can skew CPV. Customers may be hesitant to try a product whose price is either too high or too low.
Potential customers read reviews and customer testimonials before purchasing. Actively encourage loyal customers to leave positive reviews. Positive reviews = better brand perception.
Customer support should be top-notch across the entire customer journey. Invest in an excellent support team for a better customer experience.
Write a unique value proposition that reflects the same language your top-performing customers use to describe your business.
Explore different free trial methods that show off the full value of your service. For example, a SaaS reverse trial gives new users the chance to check out premium features. If they don't upgrade after the trial, they're bumped down to a limited free plan.
Leave a great first impression with a seamless onboarding experience. How? Personalize the onboarding flow depending on your customer's use case and lean on interactive in-app experiences to encourage feature adoption.
Product education should be constantly accessible. Give customers the option to learn in multiple formats with knowledge base articles and video tutorials.
Use FOMO to your advantage by leveraging limited-time deals. Appeal to users' emotions by making their personal values the core of your marketing.
Constantly collect user feedback and use those insights to make product improvements. As your business gets better, so does the customer's perceived value.
Avoid the dreaded value gap that happens when you overpromise and underdeliver. Don't exaggerate and don't make promises you can't keep.
What is customer perceived value?
Customer perceived value is a customer's viewpoint of how much a product is worth to them, in terms of how much it helps them achieve or fix something.
Why is knowing your customer's perceived value important?
Knowing your customer's perceived value is important because it can help you decide on the best product price.
Maybe you're undercharging since your customers value your brand more. If they're willing to pay higher prices for the same quality, you're leaving money on the table.
How do you calculate customer perceived value?
To calculate customer perceived value, take your customer perceived benefit and subtract your total customer cost. Like this:
customer perceived value = customer perceived benefit – total customer cost
Factors affecting customer perception of your product
Tons of factors affect how customers perceive products at SaaS companies, including:
The product's UI design.
The customer's perceived effort to get value from the product.
Whether or not the customer has an emotional connection to the product.
Product pricing – if it's too high too low, or just right.
Your brand's reputation – is there a positive sentiment around the brand?
Customer support quality.
UI product design
A bad product design can leave customers wondering if the entire experience will be subpar.
Improving the aesthetic design of your product can increase perceived value for customers. If the UI looks on-brand, professionally designed and easy to navigate, your customers will subconsciously assume the functionality of the product will be top-notch too.
Customer perceived effort
On top of an aesthetic UI design that leaves a great first impression, the perceived value goes up if the product experience is seamless.
Customer perceived effort is how much work that a customer thinks they have put in to get value.
Make the customer experience effortless to get better product adoption, customer success, and customer satisfaction.
Emotional connection
An emotional connection is the strongest motivator. Testing a new service can be daunting, but an emotional connection makes the hard task worth it.
To spark an emotional connection with your product, lean on the benefits and how it will make a direct impact on your buyer's life. Maybe they'll get more time back in their day to do something more meaningful to them. Maybe you donate a certain amount of profits to charity.
Product pricing
Pricing is another aspect of a product or service that can affect a customer's perceived value. Customers may be hesitant to try a product whose price is either too high or too low.
You may be wondering – too low? How could that be a problem? Well, low prices subconsciously say "basic" or "low quality". If that doesn't describe your product, your prices should reflect that.
On the other hand, consumers may be more likely to purchase something if the pricing communicates that they're getting a little more value than what they're paying for. Discounts and sales are great tools for creating budget pricing that appeals to customers.
Brand reputation
Most customers first read online reviews and ratings about businesses before deciding to buy. So, to get a positive perception, you need to nail down your customer advocacy efforts.
Customer support quality
Quality customer support should be prioritized across the entire customer journey – pre-purchase, during onboarding, and long after they've become a loyal customer. It's a core factor that customers use when determining perceived value. Great support experiences can win you more customers, while bad ones might shoo away even your most loyal fans.
Strategies for increasing customer perceived value and converting more users
Here are eight strategies to help increase perceived value.
Write a unique value proposition
A value proposition is a marketing statement that summarizes why a customer would choose your product. A great value proposition should showcase what makes you different from competitors, but it should also focus on how customers define your value.
Reflect on the language that your customers actually use when describing the value of your product. Check out your positive testimonials or customer reviews on sites like G2 or Capterra to see what words they're actually using to describe your product.
Prove your value and reduce entry risk with free trials
Free trials are a common SaaS technique that minimizes customer risk and gives the customer a "proof of concept". It demonstrates that the product delivers as promised.
It's an opportunity to prove to potential customers that you deliver value before they hand over their credit cards.
Try a SaaS reverse trial, where customers get full access to your product, premium features and all, for a limited time. If they don't upgrade after the trial period's over, they're downgraded to a free plan with limited features. Prospective customers will see the value exchange you're providing and will be less hesitant to pay the product's price.
First impressions matter – provide effective customer onboarding
In the SaaS world, around 23% of customer churn results from poor onboarding because customers are unable to identify the value proposition of your product.
Be mindful of your customer's individual needs and deliver the value you promised to each user. Segment users and personalize the onboarding process and in-app experiences from the start. Here's how:
Use the welcome screen to ask customers want they want to achieve with your product.
Guide your users through the shortest path to achieving value, specific to their use case (the one they told you about in the welcome screen).
Use interactive in-app experiences to gently push customers to try important features that are relevant to their needs.
The more engaged that people are going through your onboarding process, the more value they'll get from your product. That all leads to a higher conversion rate from free to paid.
The more engaged people are when going through your onboarding process, the more value they'll get from your product. That all leads to a higher conversion rates from free to paid.
Boost engagement, deliver quick wins, and shorten time to value with onboarding checklists.
Trigger in-app experiences and use in-app guidance to motivate your prospective customers to complete essential actions.
You can see here that Asana uses tooltips to guide people through their onboarding process, pointing out their most vital features.
Close the consumption gap with product education
The SaaS consumption gap happens when users don't utilize the full capabilities of the product they paid for.
Users miss out on tons of value they could have experienced if only they used your app to its fullest potential. As a result, they perceive your app as less valuable.
Constantly educating customers about your app and its features will help solve this issue. They'll discover new features and their use cases, instead of only sticking to the ones they already know.
The best way to deliver product education is to create a resource center with multiple ways to learn, such as having knowledge base articles and video tutorials.
Use FOMO to your advantage and appeal to users' emotions
FOMO is a powerful emotion. People instinctively think about how it will feel emotionally if they don't end up buying your product and miss out.
Spark the feeling of FOMO by offering limited deals. The sense of exclusivity makes the product more desirable to them, and they'll feel like they have to act fast so they don't miss out.
Another way to increase perceived value is by appealing to their personal values. Try to foster an emotional connection with your customers based on your brand's mission and values.
Collect user feedback and understand what brings value to your customers
Put a process in place to gather user insights regularly. That way, you'll understand what customers find valuable so you can do more of it.
Run in-app microsurveys to collect regular feedback and get actionable insights that will help you build a better product. Customer perceived value naturally goes up as your product quality improves.
Encourage loyal customers to leave reviews and testimonials
Leverage the power of social proof. When customers see others interacting with your brand, they perceive it as more valuable.
One of the best ways to build social proof quickly is to scale up your reviews and customer testimonials.
To do this, segment loyal customers and invite them to give you a review on a 3rd party platform using an in-app slide-out.
And finally, don't overpromise and underdeliver – that will lead to a value gap
A value gap essentially refers to the difference between the actual value and the perceived value of a product. Simply put, it's when users expect one thing but experience another.
Although your #1 marketing goal is to increase the customer's perceived value of your product and show how it will benefit the customer, make sure you don't exaggerate things and make promises you can't keep. Users will instantly churn once they realize they've been lied to and your product doesn't help them reach their goals.
There is also a chance they'll leave unfavorable comments and reviews on 3rd party platforms which will negatively affect your potential customer's perceptions of your product.
Conclusion
Understanding your customer's perceived value and making efforts to increase it will do wonders to your bottom line revenue and brand reputation.
Start by understanding where your CPV is at now, and take steps to improve it by:
Getting your pricing strategy right.
Investing in customer success (especially during onboarding).
Improving your overall user experience.
Get a Userpilot Demo and see how to increase your customer perceived value with better onboarding and product education.