SaaS Conversion Rate- Industry Average and 10 Tactics on How to Improve Yours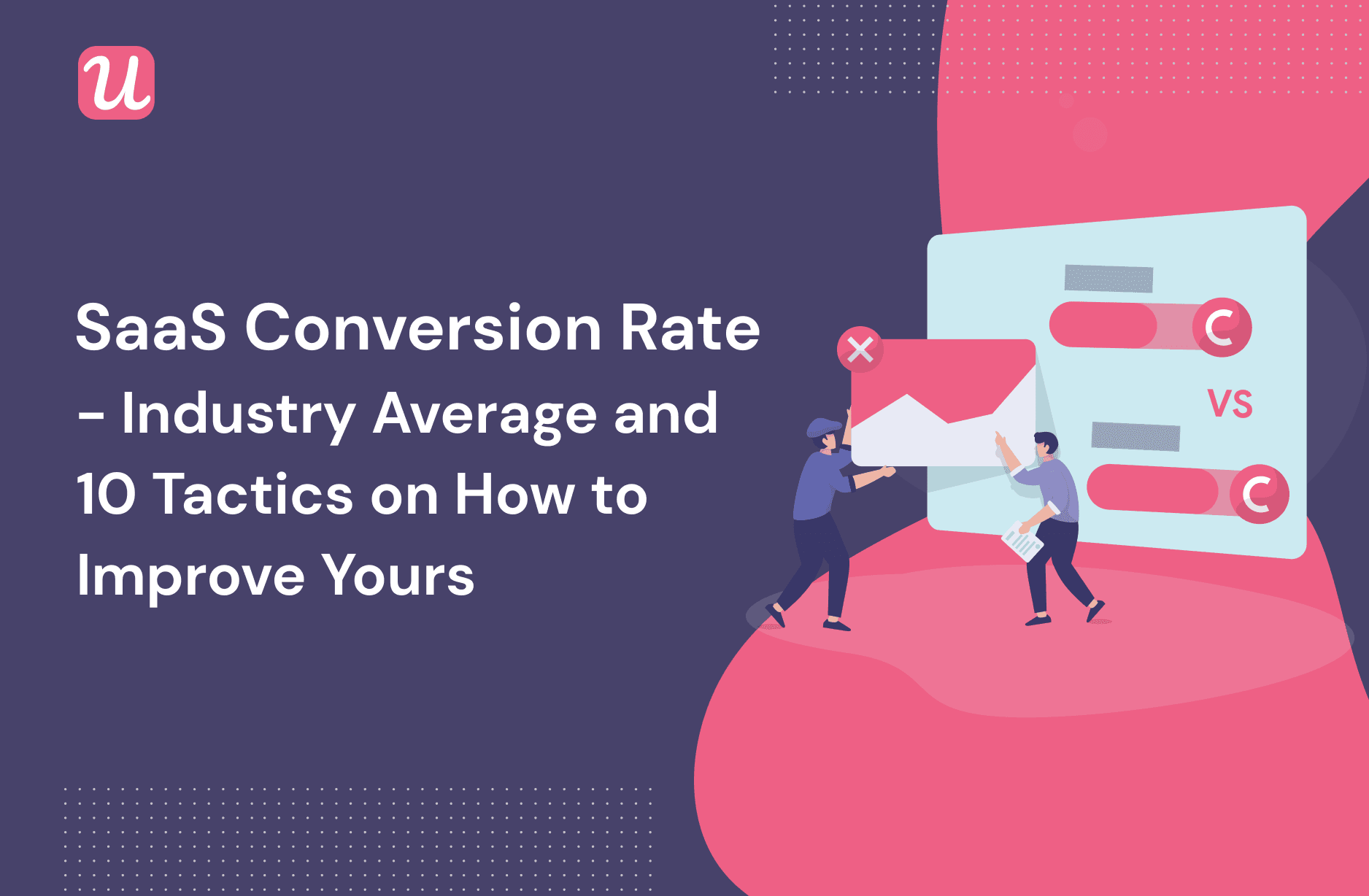 Looking for SaaS conversion rate benchmarks?
Finding a good conversion rate to compare your performance to can be tricky. But sometimes we make it too complicated without realizing it.
In this article, we'll talk about types of SaaS conversion rates, the industry benchmarks for each of them, and 10 conversion rate optimization tactics to help you grow your SaaS business steadily.
TL;DR
SaaS Conversion rate usually means the percentage of trial users who become paying customers (free trial conversion rate).
SaaS companies should be tracking and looking to improve their website conversion rate to free trial/demo, free trial to activation stage conversion rate, and Free trial/freemium to paid conversion rate.
The benchmark figure for Visitor to lead conversion is 7%, while the qualification rate stands at 36% and the closing rate at 27%.
As the user activation point varies for different SaaS products, you cannot set a single benchmark to compare your SaaS conversion rate.
The industry benchmarks for Free trial to paid SaaS conversion rates are 25% for opt-in trials (credit card required) and 60% for opt-out trials.
To improve the trial conversion rate ask for only the necessary information on the sign-up page, and try to make the sign-up flow as frictionless as possible.
To improve the free trial conversion rate to paid there are several tactics to try:
Replace empty states with personalized content to help users get value from your product faster.
Use welcome screens to collect information that can help you personalize the onboarding process.
Get rid of product tours and use interactive walkthroughs to offer contextual guidance to your users.
Use onboarding checklists to drive users to the activation point.
Help users discover more features using the right in-app messaging.
Gamify the onboarding process, but don't expect it to solve product quality issues.
Use micro surveys to collect feedback and consistently improve user experience.
Use a product adoption tool and build in-app guidance to help users adopt your product and improve your free trial conversion rate.
What is a conversion rate in SaaS?
In simple terms, the conversion rate is the number of conversions divided by the total number of visitors. "Conversion" might have a different meaning for different types of businesses.
But for SaaS businesses, it usually means the percentage of trial users who become paying customers.
What is a reasonable pipeline conversion rate in SaaS companies? Industry benchmarks
SaaS companies should be tracking and looking to improve on these three important conversion rates:
Website conversion rate to free trial or demo, depending on your acquisition model.
Free trial to activation stage conversion rate.
Free trial or freemium to paid conversion rate.
Not all SaaS businesses are the same. So conversion funnels look different for each of them. You need to first determine what action defines the conversion at each step.
Let's check out some of the most important conversions rates you should be tracking.
Website visitor to free trial sign-up SaaS conversion rates
This SaaS conversion rate considers the percentage of website visitors who sign up for your free trial. For SaaS businesses, a ballpark figure for visitor-to-lead conversion is 7%.
This may include both sales qualified leads and marketing qualified leads. The qualification rate stands at 36%, and the closing rate at 27%.
Free trial to activation stage SaaS conversion rates
User activation is the moment when your user takes the actions within your product that leads them to experience the value of your product in a way that caters to their needs. So without activation, users won't get the value from your product and eventually churn.
But can you really put a number on this?
Activation point varies widely for different SaaS products, and it's nearly impossible (not to mention impractical) to set a benchmark for you to compare your activation rates.
But we were still curious about it and asked some Saas owners for their numbers. As you can see in the image below, when asked about their average activation rates, two ranges clinch the top spot with 19% responses – 15-20% and 46-55%.
This proves what I mentioned earlier – there's no one single activation benchmark that applies to all SaaS products.
So your best bet would be to compare it with your own historic data.
Free trial to paid SaaS conversion rates
Free trial to paid conversion happens in SaaS when the user first pays for a subscription after engaging with your product during a free trial.
Your conversion rate will vary based on your trial length and type of trial. It can be anywhere between 25% and 60%. I'll cover more on this later in this post.
Freemium to paid SaaS conversion rates
Freemium is a type of account that is a mesh of free and premium accounts.
In a freemium account, users are allowed to use the product with a limited set of features (think Asana) or all features with capped resources (think Slack).
The typical conversion from freemium to a paid account is between 1% or 10%.
What is a good free trial conversion rate in SaaS?
You will find different benchmark figures for free trial conversion rates depending on the type of trial you are using. You might want to take these numbers with a grain of salt, as these largely depend on your industry and product complexity.
Lower numbers don't necessarily mean a bad thing for your SaaS business model and you should keep in mind that your customer acquisition cost will vary based on the type of trial you offer.
You should always compare to your own product, and try to improve based on your own conversion rates.
Opt-out free trial average conversion rate
Opt-out free trial requires credit card information while signing up for the trial.
The user gets automatically charged if they don't cancel the trial by the end of the trial period. Amazon Prime offers an opt-out free trial.
Klipfolio reports an average conversion rate of 60% for opt-out trials.
Opt-in free trial average conversion rate
Opt-in free trials are easier to sign up for. Unlike opt-out trials, you don't need any credit card to start the free trial.
Once the trial period ends, users need to consciously extend it to purchase a plan.
Useproof reports an industry benchmark of 25% free trial conversion rate for opt-in trials.
How do I increase my SaaS conversion rate? Conversion rate optimization tactics
You need to first map out the user journey and identify dropout points. You can't improve if you don't know where the problem is, right?
Once you've identified the areas where your dropout is high, you can consider some of the following tactics.
Increase SaaS conversion rate tactic #1: Simplify the sign-up page form
The best way of simplifying the signup page form is to only ask for what's necessary. You need to reduce the number of fields on your form as much as possible.
Don't worry about missing out on user information.
You'll have plenty of other opportunities to collect more data once the user takes the first step. You can collect useful data during the signup flow or by using a welcome modal.
We'll get to this in a bit.
In the signup phase, think of what's the minimum data you need from your user to create the account and ask for only these.
Increase SaaS conversion rate tactic #2: Remove friction from the sign-up flow
With a frictionless signup flow, you make it easy for users to get inside the product as effortlessly as possible. This involves not having to spend time filling up a lot of information, no installation and/or payment walls, and in most cases, no email verification.
Ask for a minimum time investment from the user. And make it worth it for them.
For example, ask them to personalize the product for their needs. This, in turn, increases the chances of the user returning and trying out the product since they already invested time to customize the product for their own needs.
The trick is to make it both fun and useful, don't overcomplicate it. Take Userpilot for example, we not only showcase our product during the signup flow we also prompt users to personalize the appearance to match their brand.
Increase SaaS conversion rate tactic #3: Replace empty states with personalized content
One of the main reasons users stop engaging with your product after they've signed up for a free trial is an empty state. That blank, empty screen they see the first time they login which makes them freeze, not knowing what to do next.
Meaning they do nothing. No engagement equals no value, which in turn leads to no conversion.
To fix this, replace empty states in your product with personalized content that not only welcomes the users but shows them how the product looks in action.
Todoist is a great example of this.
They use personalized content to showcase their product positioning and reduce time-to-value. Not only do they guide users by adding instructions, but also give them a glimpse of the experience of using their app.
Increase SaaS conversion rate tactic #4: Personalize the onboarding with welcome screens
Welcome screens are not just for welcoming users.
You can use them for collecting more information on your users, allowing you to better understand their needs and job-to-be-done.
You can then use the data you collected to personalize their onboarding path and get them to experience the value your product offers, faster.
Tailoring the onboarding process based on the customers' needs helps you get them to the activation point faster and increases the chances of converting to a paying customer.
Not to mention it offers a great customer experience.
Increase SaaS conversion rate tactic #5: Remove product tours
Let's face it. Everyone hates product tours. Product tours are long, boring, and annoy users, as they try to show every feature of your product in one go.
If you're looking to improve your SaaS conversion rate of free trials, you should seriously consider creating something better than a product tour.
Replace them with more contextual guidance in the form of interactive walkthroughs. Let's see what these are.
Increase SaaS conversion rate tactic #6: Guide users with interactive walkthroughs
An interactive walkthrough guides users to discover and engage with one feature at a time, in a contextual way. When it's relevant for where the user is in the journey.
Think of walkthroughs as guides that offer additional information and point the user step by step into adopting a specific feature or part of your product.
This, in turn, shortens the learning curve and removes friction, resulting in a better customer experience overall.
Here's an example of how Kommunicate uses interactive walkthroughs to guide users with a series of tooltips.
Increase SaaS conversion rate tactic #7: Drive the user to the activation point with checklists
Checklists are great when trying to guide users to activate, as they help users take action.
How?
Checklists are short to-do lists that group together actions we must take in order to reach a goal. Pair each task in a checklist with an interactive walkthrough and the user will not only know what to do but also how to do it.
Plus, if you add a few tasks that are completed by default (e.g. create an account) you make it easier for the user to take action and engage with the unfinished tasks on the list since they fell much closer to the finish line.
It's just in our nature to do so.
These already completed tasks are called dummy tasks and you can easily set them up using a no-code onboarding tool like Userpilot.
Want to start building checklists that drive up your conversion rates? Get a Userpilot demo and get started!
Increase SaaS conversion rate tactic #8: Encourage secondary feature discovery and adoption with in-app messages
Primary onboarding isn't enough if you're looking to boost your conversion rate.
Don't forget about what comes after –secondary onboarding (secondary feature adoption).
Secondary onboarding means introducing users to features that add additional value to the user once they've reached the activation stage.
With the right use of in-app messaging, it helps users see more value in paid accounts over a free one, and drives repeated value over time.
If the user has already converted to a paid plan secondary onboarding can drive account expansion or upgrades to a higher plan.
Focusing on secondary onboarding and showcasing relevant features to existing active users is a great tactic for increasing conversion rates for freemium accounts too.
For example, Asana offers free trials to their freemium users to try out premium features. When the trial ends and the free version is restored, users inevitably miss the added perks of the premium plan and are likely to pay for it.
Increase SaaS conversion rate tactic #9 Gamify the onboarding experience
You can find a lot of ways to gamify your user experience, including the onboarding process.
One thing to keep in mind is that you can't replace a bad product or a bad UI with gamification and hope for the best.
If your product doesn't deliver value and help the user get their job done in the most frictionless way possible, no gamification technique will help you.
If you have a great product with a good UI then gamification will help boost your free trials conversion rate.
Here's how Prodpad gamified their trial experience.
They allowed users to get more free trial days when they engage with the product.
This creates a win-win situation:
For Prodpad: Users get to see the value and invest more time in using the product, making it harder not to upgrade.
For users: Get more free days of benefiting from the product.
Increase SaaS conversion rate tactic #10: Use micro surveys to collect feedback and improve
In-app micro surveys can be of great value for any SaaS company. By continuously collecting customer feedback you will know exactly what's stopping users from converting to paid customers.
You can collect both quantitative and qualitative data to give you good insights into where you need to take action and improve.
To increase your free trial conversion rate you can trigger a micro survey before the trial ends and automate personalized responses based on each answer. For example, if a user says they are still evaluating, consider offering a trial extension.
If someone can't justify the price it means they haven't yet experienced the value that can be gained from the product. In cases like these, you could offer a free demo call or try some of the tactics discussed in this article and guide them towards their activation point.
Conclusion
At times, you might find your SaaS conversion rate well away from the industry average. But this shouldn't hold you back.
As we mentioned earlier, the best way to gauge the performance of your conversion rate is by comparing them to your previous ones. You can follow the ten conversion rate optimization tactics discussed in this article to maximize your chances to improve your conversion rates.
Want to boost your conversion rates by engaging your users? Get a Userpilot Demo and see how you can leverage product-led growth techniques to boost your conversions in no time!