How to Provide Proactive Help to Your Customers to Increase Customer Loyalty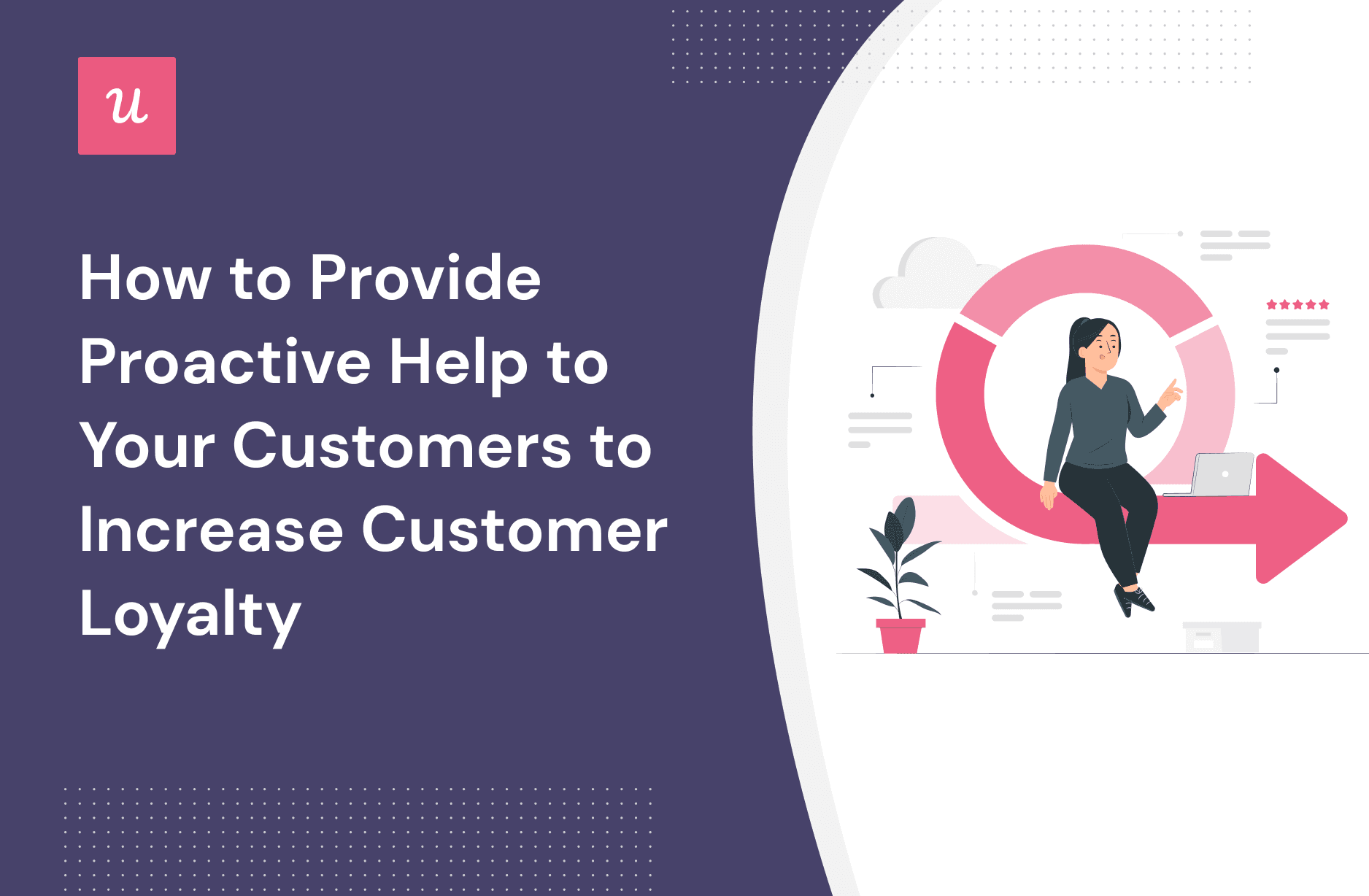 Proactive help may be what is setting the bar for successful SaaS companies.
Nowadays, it's not enough for SaaS companies to provide their users with the necessary features and services and help them out when they have questions.
Customers now expect personalized experiences and timely assistance, meaning that in order to win customer loyalty you need to identify and address potential issues before they even arise.
Implementing proactive support enhances experiences, fosters loyalty, and drives business growth. This article will show you some practical ways you can implement proactive support in your SaaS.
TL;DR
1. Learn about customer pain points with in-app surveys and resolve them.
2. Use in-app guidance such as tooltips, checklists, or knowledge bases to assist customers if they need help with any features.
3. Follow up on low NPS scores instantly with automated responses to discover what caused customer dissatisfaction. Then focus on solving the issues of these customers.
4. Create a resource center with different educational resources based on the user's jobs to be done. Add different types of content, such as webinars, guides, or video tutorials.
5. Segment users who failed to adopt a feature to provide additional help, such as a modal with a video tutorial.
6. Offer proactive customer support by educating users on new features that are relevant to them.
You can use Userpilot to help with proactive customer support by creating different UX patterns, segmenting your customers, and surveying them to identify friction points. If you want to learn more, book a demo now.
What is proactive help?
Proactive customer support is a customer support approach where businesses anticipate and address customer needs and concerns before they even arise.
Instead of waiting for customers to reach out with issues or questions, proactive help involves actively identifying potential pain points and providing timely solutions or assistance.
Proactive customer service vs reactive customer service
Proactive customer service is when you identify potential issues that customers might have before they happen. Then implement a solution to address that problem before a customer has to contact the support team for help.
Meanwhile, reactive customer service is when you wait for them to contact the customer service teams when they encounter a problem, and only then help them fix the issue.
Why should you provide proactive customer service?
Realistically, providing exceptional customer service is easy to do when offering proactive customer support (you'll find out later in the article some ways that make it easy for you). Here are some benefits of proactive customer service.
Positive customer experiences: Proactive customer support helps create better customer experiences as you deal with issues before the customer realizes there could be issues.
Less customer support tickets: Proactive support deals with customer issues by removing/improving what could have been a pain point for a customer. All of which reduces the customer's need to contact the support team.
Improved customer loyalty and satisfaction: Proactive customer support helps to increase customer satisfaction as there are fewer times they have to experience something negative, leading to happier and more loyal customers.
Increase customer retention rates: Proactive support can help to provide exceptional customer service, which will keep customers using your product for longer.
Implementing a proactive customer service strategy in your SaaS
The benefits of proactive customer service can make a big difference in your SaaS, improving customer satisfaction and dealing with fewer customer service issues. Here are some ways to implement proactive customer service in your SaaS.
Learn about customer pain points from the customer service team and work on fixing them
Your customer support agents are on the frontline of your SaaS. They deal with any issues customers run into when using your SaaS.
It would help if you took the time to talk to your customer service department to find out about customers' frequent pain points.
It could be fixing a bug, creating a feature for an unmet need, or simply pointing a customer in the right direction to what they need.
You should always circle back and let your users know that you've fixed the issue, as it makes them feel valued and heard.
Offer in-app guidance to remove friction and decrease the need for support
In-app guidance helps to guide users through your product, showing them how it can solve their pain points. Examples of in-app guidance can include tooltips, onboarding checklists, and knowledge bases.
In-app guidance helps to remove any friction a user might be having in your product and, in turn, offers them proactive support so they don't need to reach out to a customer support agent.
You can use the user's jobs to be done to support the customer proactively. You can match up the different features that are useful for a customer to complete their jobs to be done and trigger in-app guidance to teach them their value.
Constantly collect customer feedback to improve customer experience
You should always be collecting feedback from customers. It could be to rate their experience using your product or highlight any pain points they need help solving.
Use in-app surveys to collect feedback, take action on any problems or friction a user might be experiencing, then follow up with them telling them you solved the issue.
Follow-up on low NPS scores immediately
NPS is a customer experience metric that measures how likely a customer is to recommend your product to a friend or colleague. It helps you to identify opportunities to improve your product's offering and minimize customer churn.
NPS surveys are great as proactive support for discovering why customers aren't happy.
Afterward, segment users with low NPS responses and work on fixing any of the issues they report. This will help to resolve issues before those users decide to churn.
Create a resource center that matches different segment's JTBDs
A resource center is a mix of educational resources (articles, video tutorials, etc) that a user can access to answer their frequent questions.
To be proactive with your resource center, create different materials that match different segments' JTBDs. This will ensure that different users have access to the answers tailored to their use case.
Add different types of resources to your resource center
Another means to offer proactive customer service is to provide different educational material in your resource center. Your users can have many different learning styles, so you should cater to everyone.
You can offer guides, video tutorials, and recorded webinars so users can pick their desired format to educate themselves.
Offer proactive support when users fail to adopt a feature
Ensuring that your customer adopts a feature will help them to understand the value your product can offer them, increasing your retention rate.
A form of proactive customer support is helping those that failed to adopt a feature. You can segment users by those who have integrated with a feature but didn't adopt it and provide extra help.
A great way of doing this is by a modal. A modal is a UI element that overlays whatever a user is doing. You can link to a guide or embed a video directly in it.
Proactively guide users to discover and adopt new features relevant to them
Rather than waiting for users to discover new features as a form of proactive customer service, you should guide them to discover them.
The more customers use your product feature and experience additional value from it, the less likely they will churn.
It would be best to use pop-ups to showcase new features clearly in your app. They should contain information to educate users on how the new feature can benefit them and how to use it so they fully adopt them.
Proactive customer support examples to inspire you
You should offer proactive customer service throughout your product to help reduce customer questions. Here are some examples to inspire you.
Sked Social uses an onboarding checklist to guide users to the activation point
Sked Social is a social media management platform that helps you to manage posts on your social media platforms.
They use checklists to guide users to the activation point during onboarding. Checklists help users through the tasks needed to complete key features of your product so they can get value straightaway. They offer a more structured approach for users to explore key features of your product.
Checklists offer proactive support as you can guide users step by step through a process, making learning something new easy.
Osano uses a knowledge base to solve frequent customer issues
Osano is a product that helps manage your privacy program by assisting with data compliance.
They use a knowledge base to help with any issues customers frequently encounter. A knowledge base is a collection of resources users can access in-app to help them get the most out of your product.
Knowledge bases are an excellent means of proactive support as they are a single place a user can find answers without reaching out to a customer service representative.
Rocketbots provides a proactive approach with an interactive walkthrough
Rocketbots is a business messaging platform that unifies all customer messaging in one location.
They use an interactive walkthrough to help users learn their product's features. An interactive walkthrough is an onscreen tutorial used in-app to guide users through UI elements, such as tooltips, to show users how to use a feature proactively.
Interactive walkthroughs are a great way to offer proactive support as they prompt users to take action through each step of the walkthrough. It helps users to be able to use the new tool right away, which leads to an increase in user adoption.
Slack uses contextual tooltips to provide help when needed
Slack is a business messaging tool that helps people connect to the information they need.
They use contextual tooltips when a user may need help. A tooltip is a targeted popup shown at relevant points in your SaaS to help users discover features of your product.
Tooltips are an excellent form of proactive support as you can give important information about a specific feature without cluttering the UI. This helps educate users on certain features, prompts them to continue discovering relevant features, and helps them to better adopt those features.
Loom uses video tutorials to answer FAQs
Loom is a video messaging tool that lets you record yourself and your screen and share recordings via a link.
They use micro-videos to answer any frequently asked questions. Micro-videos are short videos that a user easily consumes and succinctly educates the viewer.
Because of how short micro-videos are, they are perfect for proactive support. Users can quickly get answers to questions about your product without reading long guides or watching lengthy videos.
Implementing proactive customer service with the help of Userpilot
Userpilot is a product growth platform that can help you implement proactive support by creating different in-app experiences.
Create different UX patterns to guide users through the customer journey
Userpilot allows you to use different UX patterns to offer proactive service throughout the customer journey. Some of the UX patterns that you can use are:
Tooltips: Give bite-size information to users without cluttering the UI.
Modals: A UI element that overlays the user's screen, perfect for announcements, surveys, or webinar invites.
Banners: A small bar that appears on the top of a website used to remind users of important updates, features, or events.
Driven action: These are similar to tooltips but require a user to take an action.
Provide proactive support at the right time with custom events
Userpilot can help you easily switch to providing proactive customer support by providing help at the right time with custom events. To make support as useful as possible, it is better for it to be contextual.
For example, if a user clicks on a feature for the first time, rather than them having to learn how to use it themselves, you can trigger a custom event that shows an interactive walkthrough to educate them on how to use it.
Segment customers to provide proactive service
You can use Userpilot as a great proactive customer support tool by segmenting your customers to provide relevant support.
Your customers have different needs and goals they want to achieve from using your product. Showing them generic support material can isolate many of your customers from the help they need to accomplish their goals with your product.
For example, you can segment your users based on their jobs to be done to deliver proactive customer service as you tailor the educational materials and onboarding flows that are directly useful for what they need.
Conclusion
Proactive support should be the default in your product. Not only does it help your customers get the most out of your product, turning them into loyal customers who will continue to use your product. It also reduces the number of customer requests your customer service team has to handle.
Want to get started with your proactive help? Get a Userpilot Demo and see how you can help your customers before they need to reach out for support.