The Ultimate Guide To Microvideos – Use Cases, Tools and Tips For SaaS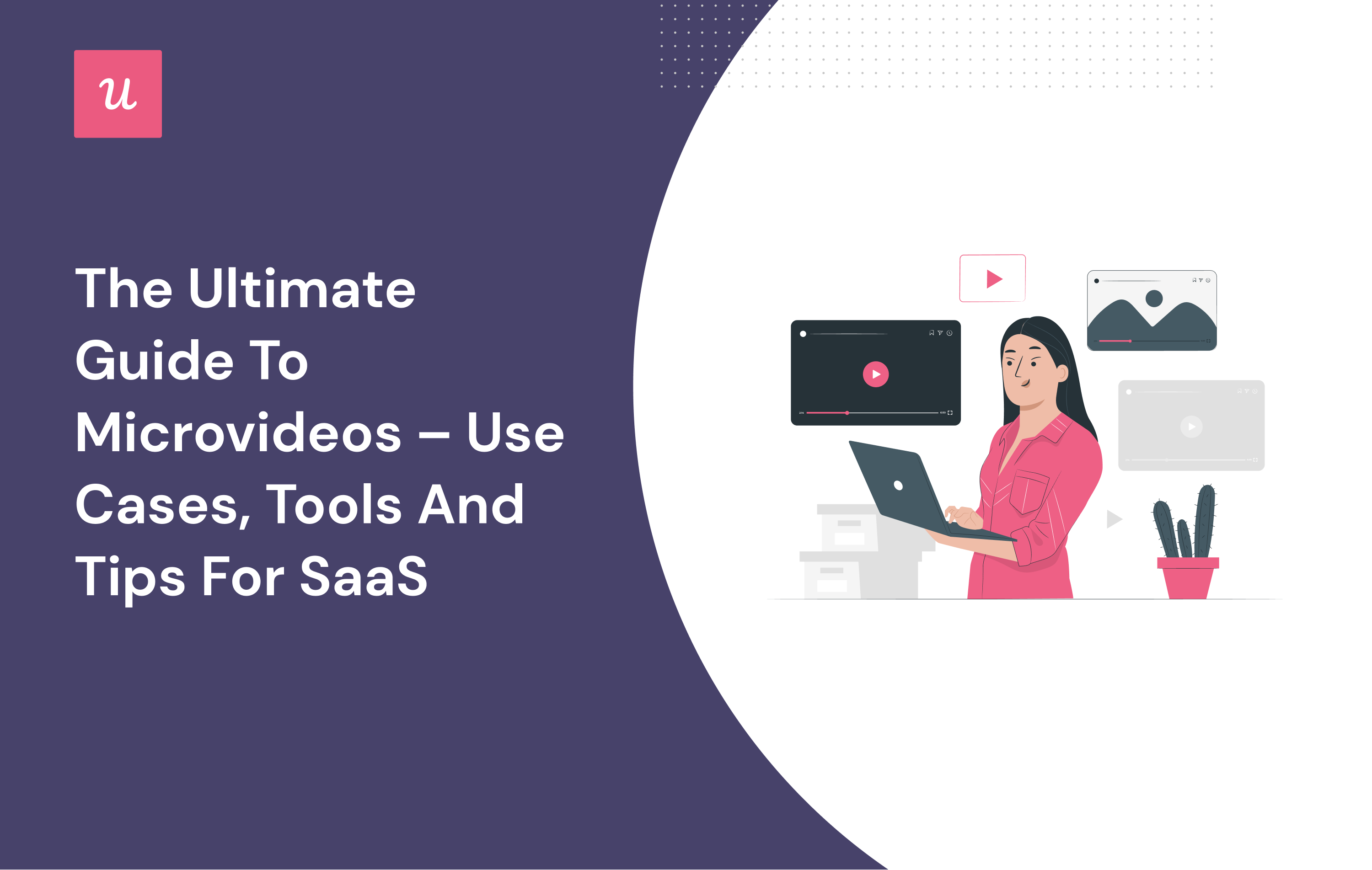 There has never been a larger growing market for microvideos than the one we see today. Consider the following:
Collectively, we watch one billion hours of YouTube every day
91% of businesses use video as a marketing tool
84% of people have been influenced to buy a product or service after watching a brand's video
But what makes a microvideo different from a regular video? And why is the subject of microvideos an important one for SaaS businesses?
Allow us to explain.
TL;DR
Most microvideos are around 30 seconds long.
They are normally emotionally engaging and used for educating the viewer or selling something to them.
SaaS businesses are increasingly using microvideos inside their knowledge base, to explain UI elements in-app, or to build brand awareness.
Microvideos are not a good choice if you need to produce longer-form content or content with legal implications.
Build your microvideo with a tool like Visme, Animoto, or Biteable and incorporate it into your in-app communication via a tool like Userpilot.
Get started with a Userpilot demo today to discover how you can use microvideos to increase engagement and adoption.
What is a microvideo?
A microvideo is, as the name suggests, a short video. The million-dollar question is: how short does it have to be to count as a microvideo?
There is some debate among experts about this, but the consensus seems to be any video that is less than about 30 seconds in length.
This is not a hard rule, but rather a rough guide. It would be extremely pedantic for someone to say that a 30-second video is a microvideo, but a 31-second one is not!
If you remember the videos on the now-defunct social platform Vine, the length of that type of content is a fairly representative example of what constitutes a microvideo.
Given the rise of platforms with short videos such as TikTok and Snapchat, and the corresponding decline in human attention spans, I would expect what we deem to be a microvideo to ultimately become even shorter than 30 seconds over time.
Perhaps we'll one day even reach a world where 30 seconds is deemed a long video! The world of technology certainly has a dystopian side…
Why use a microvideo?
We already mentioned that people have a shorter attention span than ever these days. Incredibly, the average Facebook user lets a video autoplay for only 3 seconds before scrolling down.
It has therefore become more important than ever for businesses to quickly get to the point in the content that they produce.
You can make a quick impression in a number of ways:
Throw the viewer straight into a funny story
Shock the user with provocative imagery
Loud, percussive, and even cinematic music
One pattern you might note in these examples is that microvideos are normally designed to be emotionally engaging.
This emotional aspect allows them to make a memorable impact on the viewer, despite being so short.
The emotional impact on the viewer is normally harnessed by the business producing the video in one of two ways, which are not necessarily mutually exclusive:
Let's look at some more specific use cases of micro-videos being harnessed to either educate or sell.
Microvideo use cases for SaaS businesses
Interested in microvideos but don't know where to start? Here are some common uses cases of leveraging microvideos for your product management and marketing needs.
1. Knowledge base microvideos
We've written many times before on this blog about the value of customer education.
The bottom line is this: if a customer knows how to get the most out of your product, they are likely to stick around for a long time. And in the SaaS world, that extra retention translates into more monthly payments and higher profitability.
Numerous SaaS businesses have therefore decided to build a knowledge base on their website that collates all the tips, FAQs, guides, and tutorials about their product in one place. Userpilot has done this here.
There's a growing trend towards making the information in knowledge bases as accessible as possible. We've seen many SaaS businesses place a help center widget inside their product so that users don't have to click away in order to find tips.
Using microvideos to illustrate tutorials is a great example of this trend toward accessibility.
In this example, Userpilot shows customers how to build their first experience flow. The microvideo is in the form of a GIF, which works well.
It's super easy for users to follow along and then emulate the instructions on their own devices.
2. In-app microvideos
We've previously written about the value of the in-app microsurvey for SaaS businesses.
To recap, this is a short survey that lives inside your product. It's great because users can fill it in without leaving your product, so you can get valuable customer feedback without compromising your engagement rates.
The concept of an in-app microvideo is similar. Users can view educational content in-app, without leaving your product and getting distracted by their email inbox.
A great example of this is Tolstoy which recommends personalized microvideo tutorials to different users.
A few microvideos are on the longer side – Tolstoy can gain greater benefit by breaking down these longer videos into different steps.
Nonetheless, this is a smart example of microvideos being used for educational purposes.
3. Marketing microvideos
Since microvideos are short, snappy, and action-oriented, they are a great way for businesses to grab the attention of potential customers.
Having looked at how a number of SaaS businesses use microvideos, I would say that the most common use case is to build basic brand awareness.
Classically, this means putting a short video on your home page that explains what your business does.
If you want to go this route, just be sure to list your product's BENEFITS to the customer, not its FEATURES. This is a classic marketing blunder — you don't want to find yourself giving a boring product tour on your home page.
A good example of a business that has done this right is Canny, a platform that aggregates feature requests from customers.
Their home page looks like this initially:
If you click on "See how it works," the following video pops out:
The video is short (1 minute 23), snappy, with lots of screenshots of the product, a bit of social proof in mentioning the customers that use it and contains engaging music.
Also, note the conspicuous "Sign up now" CTA to the top-right. This shows that the video is not just infotainment; Canny is trying to ensure that it converts visitors into customers as well.
Overall, this is a powerful marketing microvideo, and I can see why it is front and center on Canny's website.
When should you not use a microvideo?
Even if videos are an incredibly engaging form of content, there are times in business when micro-video content just isn't the right choice.
One example of this could be a video in which your founder is talking about the mission of your company, specifically about how it draws on some childhood experiences that he had.
Founder stories with Arram Sabeti, CEO of ZeroCater
Just as a deep, meaningful TED talk would be wasted in a 30-second video, video content like this needs to be longer in order to get the message across. I would aim for 10-15 minutes.
As a general rule: the goal of your content creation is a good indicator of whether a microvideo would be helpful or not.
If you need to get someone's attention or give them a short tutorial, a microvideo is probably a good fit. I can think of numerous times in the past when I have recorded a quick Loom tutorial to demonstrate something with lots of moving parts while I was in a rush.
Some people are just more confident with voice or video than they are in writing, so individual temperament plays a role here too.
But if you need to create longer-form content for any reason, a microvideo probably isn't your best bet.
A microvideo explaining something of legal importance, such as your terms of service, probably isn't a great idea either. Sometimes there's no substitute for an old-fashioned, long-form piece of writing.
Best tools for making microvideos
If you've decided to try out making a microvideo, you don't need to reinvent the wheel. There are a number of tools on the market that make video creation extremely simple.
Here are our top picks:
Microvideo tool #1: Visme
We like:
Range of animated video options.
Massive stock video library.
Easy drag-and-drop interface.
Can turn a Powerpoint into a video.
Simple to create GIFs.
We dislike:
There is a watermark on videos created on their free plan.
Pricing starts from $12.25 per month, billed annually. Visme also offers a free plan.
Microvideo tool #2: Animoto
 We like:
Founded in 2006, Animoto is one of the oldest video creation websites, so they've had a lot of time to perfect their offering.
Pre-built video templates save you a lot of time if you aren't a professional video editor.
Videos can be shared on social media directly from the platform, which makes marketing videos a lot simpler.
Massive library of stock video and imagery, even stock music!
We dislike:
Lacks more professional editing capabilities found on more complex tools such as Adobe Premiere or Final Cut Pro.
Pricing starts from $8 per month, billed annually and Animoto also offers a free plan.
Microvideo tool #3: Biteable
We like:
Extremely simple drag-and-drop interface that can be used by non-professional video creators.
Extensive library of stock animations, videos, images, and music.
Tons of templates that you can adapt, preventing you from having to spend time creating a new video from scratch.
Explainer videos are especially good and have been used by top companies, such as Microsoft.
We dislike:
The Biteable site has a tendency to be slow at times, meaning that editing, uploading, or downloading content can take longer than some of the other platforms on this list.
Pricing starts from $49 per month, billed annually.
Using microvideos for your SaaS
After reading this article you should be able to understand:
What a microvideo is
When to use one
When not to use one
What tools to use to make one
Do make sure to review your business objectives before deciding whether a microvideo is a good content medium for your SaaS business. A microvideo is short and snappy, but those two attributes can be helpful or a hindrance depending on what your aim is.
If you want to share your video content with users in-app, Userpilot is a great tool for that. For example, it would be simple to create an onboarding video on a tool like Biteable and then display it in-app for a more engaging user onboarding experience.
Book a demo to get started with Userpilot today.