7 SaaS Customer Retention Strategies To Reduce Churn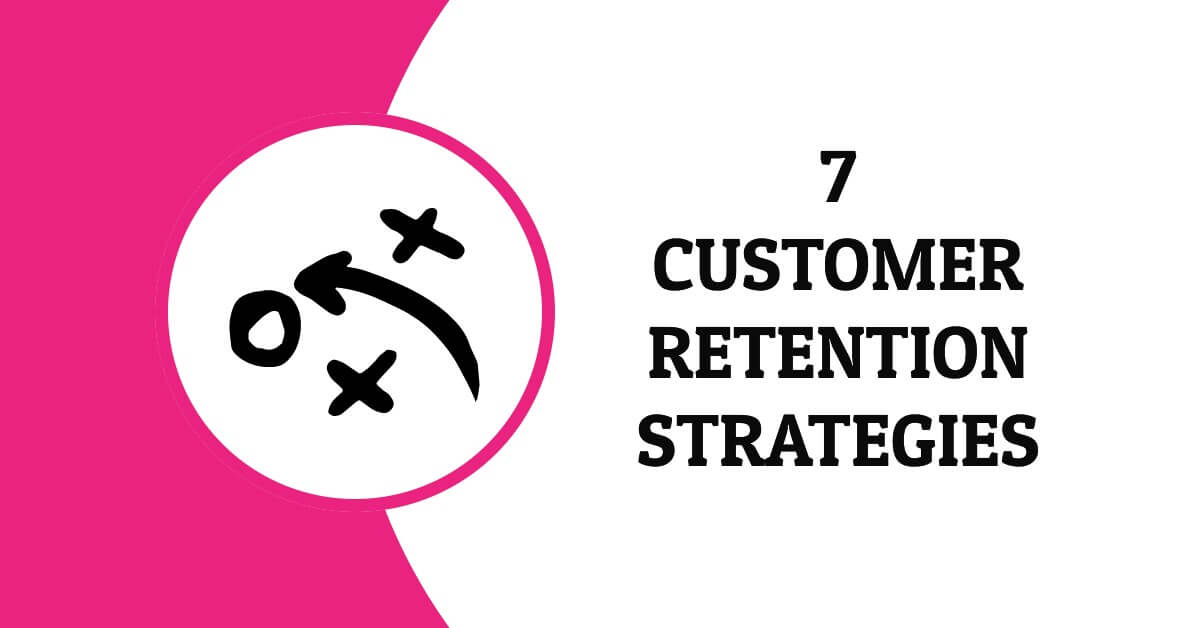 If you had to focus on one strategy to help your SaaS grow faster, what would you choose? A new marketing campaign focused on acquisition or efforts to retain and maintain your relationship with your current customers?
A lot of businesses often choose the former. Who doesn't love new customers, right?
Businesses often see marketing as being synonymous with customer acquisition – to boost their bottom line, increase revenue, so on. Marketing is the "silver bullet" to help you succeed.
But what if you spent that time focusing on your current customers instead?
Your existing customers are an important resource. They've already bought from you, they trust you. Chances are, they're likely to buy again.
According to HBR research, acquiring new customers, on average, is anywhere from 5 to 25 times more expensive than retaining existing ones.
When acquiring new customers, you need to account for the extra time and resources for the marketing budget. But what if you spent that time on your current customers?
According to the same research, data shows that increasing customer retention rates by 5% can increase profits by 25% to 95%. Of course, the rates are different throughout the industries, but the main point is still the same.
Retaining customers is cheaper, and on average, more profitable than acquiring new ones.
So, with that said, here are some customer retention management strategies and some helpful customer retention management software that really work…
SaaS Customer Retention Strategy #1 – Provide exceptional support
When it comes to customer support, pretty much every SaaS company talks the talk. Unfortunately, a lot of them don't walk the walk.
That's a shame, because if you go to the extra mile for your customers, they'll remember it in future. That's why they'll stay loyal to your brand.
Establish from the beginning that you're available to help, and happy to do so. A simple "get help" or "contact us" button goes a long way on your website. Customers value communication as long as you do your part.
Did you know live chat has the highest satisfaction level for any customer service channels? It stands at a massive 73%, according to a study by Econsultancy. That's compared to 61% for emails and 44% for phones.
Having exceptional customer support is underrated.
We often put a lot of effort into making a purchase an easy and straightforward process. But even if you perfect your UX, customers will always be curious and ready with specific questions about the product they're going to use.
If done well, providing high-quality help can be the difference between a customer that sticks around or one that goes to a competitor. People appreciate the small things like support that helps with all of their concerns and questions. And from your side, it's an easy way to retain customers, and understand them better.
The more you interact with them, the better it is for everyone involved.
There are two key things you need to do when responding to a customer's question:
1: Reply quickly
Check out our quick response time customer happiness on our chat widget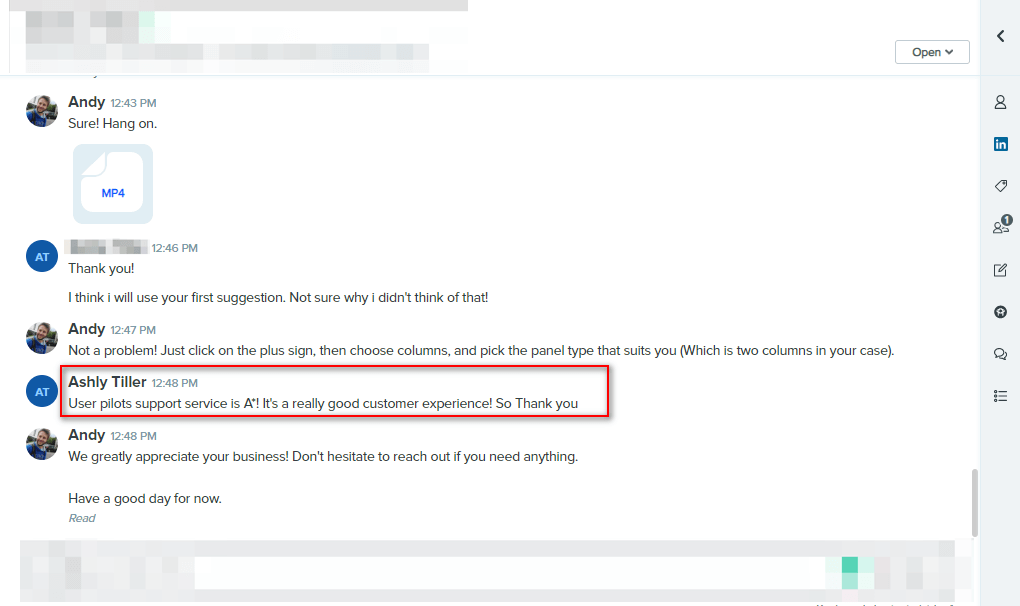 2: Provide a useful answer
You might think that those two things are common sense, but you'd be surprised how many companies ignore them.
So, how quickly do you need to answer? Well, one survey found that customers expect a response within one hour. Generally speaking, you should aim to reply even faster, though it does depend on the platform. If you receive an email, you may have a little longer to compose your reply. With something immediate like live chat, however, you need to be responding in real time.
As for providing a useful answer, that's a little trickier. You'll often receive messages that are a little vague. You might not know how to answer them. But remember, the clock is ticking and you need to provide a response.
A good rule of thumb is that if you don't fully understand the question, ask for more details. Even though your response isn't actually helping the customer, it shows you're listening and puts you in a better position to help them later on.
Otherwise, you need to put yourself in your customers' heads, and see things from their perspective. That'll help you understand what they need to know, and the best way to communicate that to them.
But regardless of the platform, your communication tone should be the same. Be straightforward and kind, and your customers will thank you in return.
A little kindness goes a long way.
SaaS Customer Retention Strategy #2 – Measure and Listen
A wise old philosopher called Epictetus once said, "We have two ears and one mouth so that we can listen twice as much as we speak."
Once you establish a clear communication system with your customers, the next thing you might want to do is take a step back and listen.
This is one of the best ways to grow as a business. Not only does it impress your customers, but it also helps you better understand your target market.
In addition to improving your overall customer retention and customer support, you'll be able to gain valuable insights which can then be applied to other parts of your marketing and business. After all, analytics and data are the backbone of modern-day marketing.
If you want to make an important decision, you'll need to know how your customers will react to it. Creating a customer profile once you get to know them enough is a really great way to tap into their minds.
Look at each touch point you have with your customers and see if you can improve it. Listen attentively to what your customers have to say, and apply that feedback accordingly.
Consider your customers' complaints. Criticism is always better than silence, because it gives you areas in which you can improve. Most customers click away without leaving any feedback, so when you do get feedback you need to make the most of it.
There's a lot to learn from criticism.
Once you build a close relationship with your customers, you can then ask and receive feedback on specific areas of interest. You might want to learn what they think about a new feature, for example. You can then use this information to increase sales, acquire new customers, and better retain your current ones.
Listening may be a passive activity, but it's an important one nonetheless and can drastically affect your business.
Here's how it looks in practice…
A good strategy when it comes to listening to your customers and measuring how they feel is to use an NPS survey. NPS (Net Promoter Score) is a popular way of measuring customer satisfaction.

RELATED: Net Promoter Score (NPS): The Complete Guide for SaaS
You start by asking them a simple question:
"How likely are you to recommend our product to a friend or colleague?"
Your customers can then answer on a scale of 0 to 10.

You can actually create and send an NPS survey with Userpilot. It will appear in-app, making it more likely that your customers will actually respond. You can even segment your audience so it only appears for certain groups of customers.
The best part about NPS is that is gets your foot in the door and starts the conversation. Once your customers respond to your NPS survey, you should take the time to follow up with them.
For your promoters, who gave you a 9 or 10, the hard work has already been done. These are your loyal customers. You should consider asking them for a review or case study. This will help provide you with social proof for marketing purposes.
Here's an example of an email that Profitwell sends to its promoters: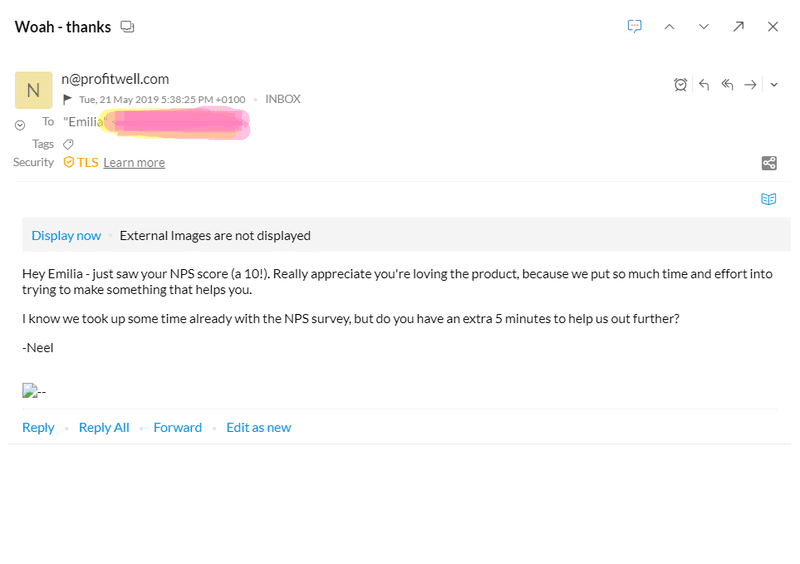 For your detractors (scoring you 6 or below), you need to follow up and get to the bottom of why they aren't happy enough with your product. These customers are the ones at risk of churning. Understanding why will help you to prevent it.
You can follow up with a simple email, like this one: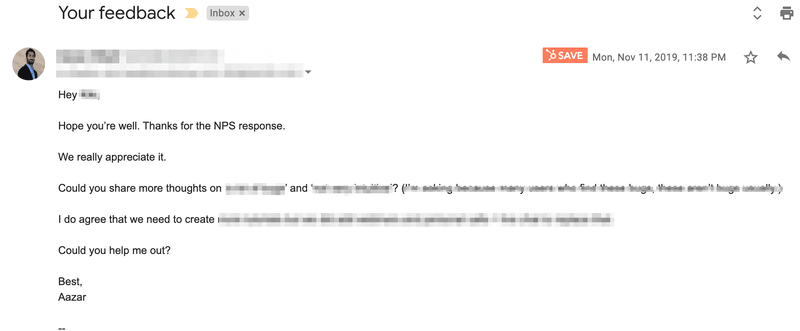 Or, if you use Userpilot, you can add a follow-up question to your NPS survey: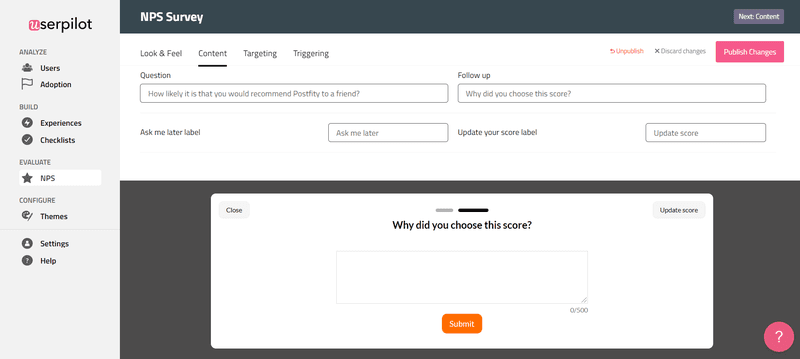 Conducting an NPS survey helps you to measure how your customers are feeling about your product. It then gives you the opportunity to listen to their concerns and understand why they may be about to churn. That's how you can prevent it and improve customer retention.
Want to learn more about Userpilot and how it can help with customer retention? Book a demo today!
SaaS Customer Retention Strategy #3 – Perfect your onboarding
When are your customers at most risk of churning? You might think it's as their contract is due for renewal, or maybe when they assess their annual budget. In actual fact, it's when they first start using your product.
Your customers are busy people. They don't have time to learn complicated software. They want value right from the start. If your product doesn't provide that value fast enough, then they're going to look elsewhere.
That's why you need to invest in onboarding.
If you take the time to perfect your onboarding, you'll be able to deliver value to your customers as soon as possible. That's what will ensure they keep using your product.
A good approach is to focus on your product's Aha! Moment. This is the moment where it all clicks into place, and your customer experiences the kind of value your product provides.
You need to streamline your onboarding so that it focuses entirely on leading new customers to the Aha! Moment. Think about the fewest number of steps required to get there. That way you reduce time-to-value, and your customer can get up and running as soon as possible.
It's even possible to provide value before a user even becomes a customer. That's exactly what Stripo do. They use their product's Aha! Moment as a marketing tool.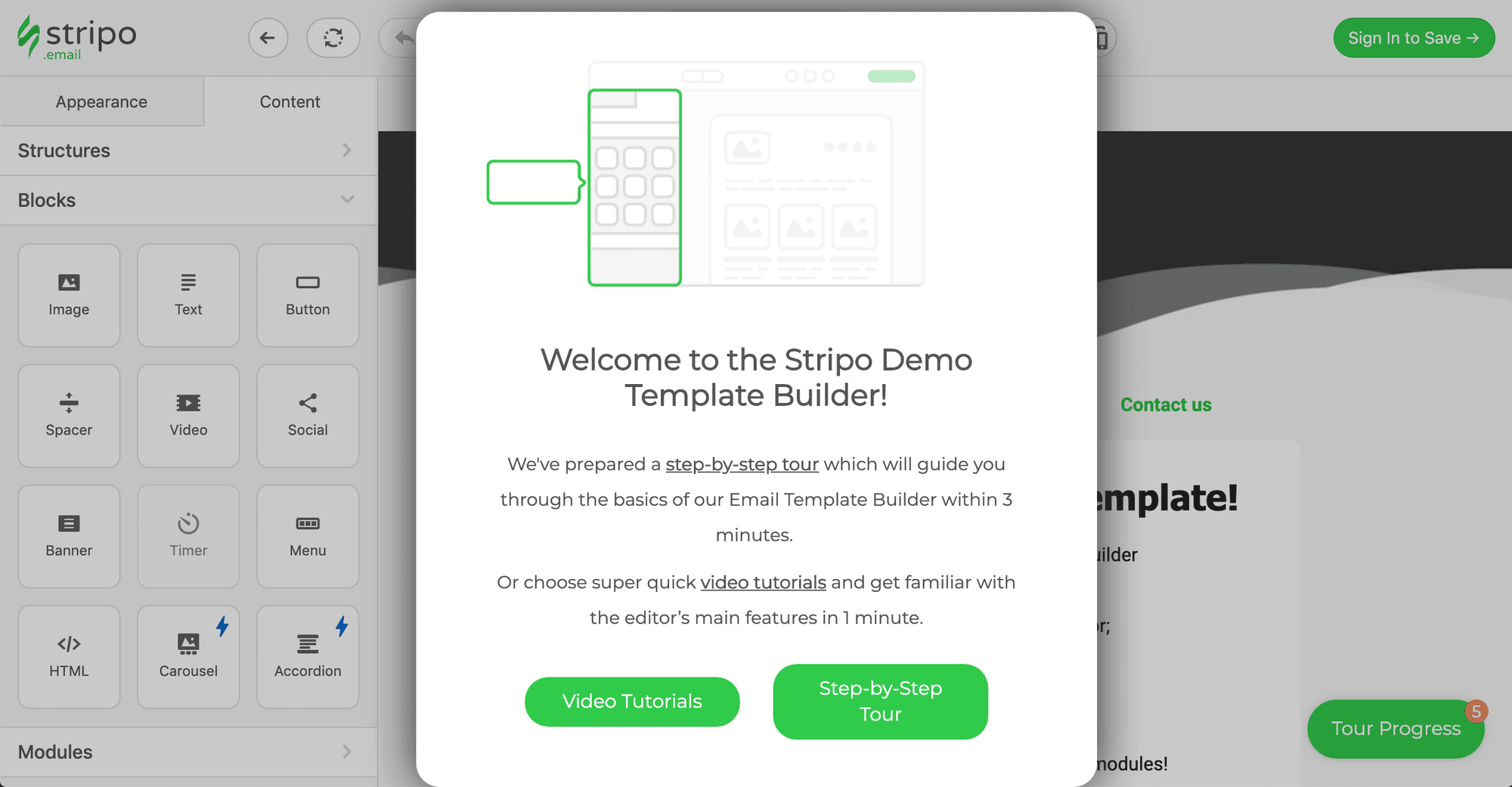 You can access a demo in one click, that shows you the basics of the product. You instantly see the value and experience the Aha! Moment. Any customers who sign up after experiencing the demo are bound to stick around.
RELATED: The Aha! Moment Guide for Product Onboarding
Once a customer has experienced that initial Aha! Moment, they'll still need guidance. That's where contextual onboarding comes in. Contextual onboarding means you show the right message to the right user at the right time.
In other words, the onboarding flows are triggered by a user's in-app activity. This approach means your customers can learn by doing, and don't have to sit through boring walkthroughs and product tours that aren't related to their use case.
It's worth taking the time to perfect your onboarding. As a customer retention strategy, it helps you to stop customers churning at an early stage, and helps them get value from your product right away.
Userpilot enables you to create contextual onboarding flows that help you deliver value to your customers. It's completely code-free, so you can start making improvements right away. Why not get a demo?
SaaS Customer Retention Strategy #4 – Offer incentives
Incentives come in many shapes and forms – giveaways, exposures, and so on. And they're all a great way for customers to interact with your brand.
At Userpilot, we're always giving out swag to our customers. It's a nice way to keep in touch and to develop our relationship further. You can give out whatever you like. Hoodies, hats, pens, notepads, stress balls. Anything you can think of.
Here's one of our hoodies: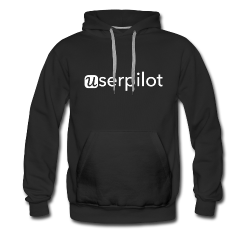 Sometimes, all your customers need is a little bit of encouragement. You can always try to push them to purchase if you find that they're hesitant.
At the end of the day, customer retention management is about brand loyalty. And brand loyalty is like a good friendship. You need trust, continued communication, and sometimes even free gifts to keep it going and take it to the next level.
Just because a customer once bought something from you once, doesn't mean they will again. It's a good idea to incentivize them and turn them into forever customers.
This begins with continued interaction with your brand. A good start is to get your customers to follow you on social media. Make sure you're offering high-quality content and adding value there so they stick around.
Once you're in their social media feeds, you have lots of ways to provide incentives and customer interaction. Your options may be based on your product and type of promotion you offer, but regardless of your niche, remember everyone loves free stuff and discounts.
Feel free to get creative in that regard.
SaaS Customer Retention Strategy #5 – Personalize your messaging
If you truly care about your customers – show it.
And if you truly want to leave a lasting impression and turn a repeat customer into a loyal one – get personal.
Take the time out of your day, and write a simple, personal hand-written note that addresses your customers personally. This attention to detail will not only help you stand out from your competitors, but also lets your customers know that you really care.
What's more likely to leave a lasting memory?
A personal hand-written letter or an email template filled out with the bare minimum personalization?
These considerations go a long way with your customer retention management and relationship and can create a loyal customer for life. The more personal and unique to your brand – the better.
In fact, at Userpilot, we send each of our customers a handwritten Christmas/Happy New Year/ Thank you cards.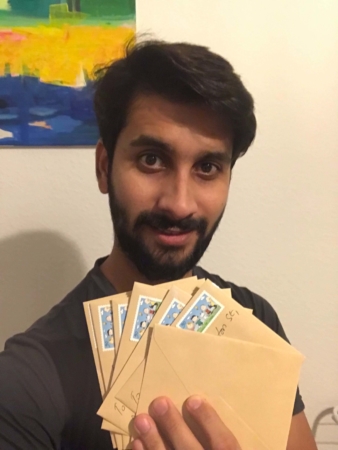 It's only a small gesture but it goes a long way. It turns our online relationship into a more personal offline relationship. Our customers love it.
Marketing should be personal. If a customer reads your message and feels as if you're they're talking with you one-on-one, then you're on the right track.
According to a 2014 study, those investing in personalization report a 14% uplift in sales on average. In addition to that, personalization also improves customer experience, branding, and overall positioning.
To keep track of your overall customer relationship and retention management, consider investing in CRM software. Use what you know about your customers wisely so that you can personalize your communication in the future.
SaaS Customer Retention Strategy #6 – Be proactive
If you wait for a customer to be a churn risk before you act, then you won't have time to retain them. Customer retention is so much easier if you're proactive about it.
That means you need to be constantly measuring your customers' success. Are they using all the features in your product? Are they logging in every day? Ultimately, are they getting value from your product? If they aren't then they're a churn risk, and you need to reach out and give them the support they need.
You can measure your customers' success using product usage analytics. The two big players in the product analytics world are Heap and Mixpanel. We particularly like Heap, as it makes it easy to start measuring the key activities in your product.
RELATED: How Product Usage Analytics Can Boost Engagement
You can then analyze your customers' in-app activity, and see whether they're using your product successfully. If they aren't you need to act before it's too late.
We use Userpilot to identify our at-risk customers.

We're able to monitor how often they log in. If they haven't used our product for a while, then we'll reach out and understand how we can help them better.
It's also worth making sure you understand what success means to your customers. The easiest way to do this is to ask them.
When a customer signs up to Userpilot, we send them a simple thank you email:
In this email, we also ask them what success means to them. This starts the conversation about how they can get the most value from Userpilot. Our Customer Success team can then follow up and carry on that conversation.
If you really want to stop churn and improve customer retention, then you need to be proactive about it. If you wait for them to churn, it's too late to do anything about it.
SaaS Customer Retention Strategy #7 – Use content to educate customers
Most companies think about customer retention in terms of improving their product or customer success processes. But the content your company produces can also have a big impact on customer retention and reducing churn.
If you can show yourself to be a thought leader and an expert, your customers are more likely to trust that your product is worth their time and effort. 
We update our blog every week, always adding content that is useful for both prospects and customers alike.
Even in this post you're reading now we include references to our own product, showing any customers reading this content how to get more value from it.
But the real way to educate your customers with content is to create and maintain an in-depth knowledge base. You can use tools like Zendesk or Helpscout to quickly get started with educating your customers.
Think about the key things your customers need to know, and make sure your knowledge base is well-structured. The information needs to be easy to find.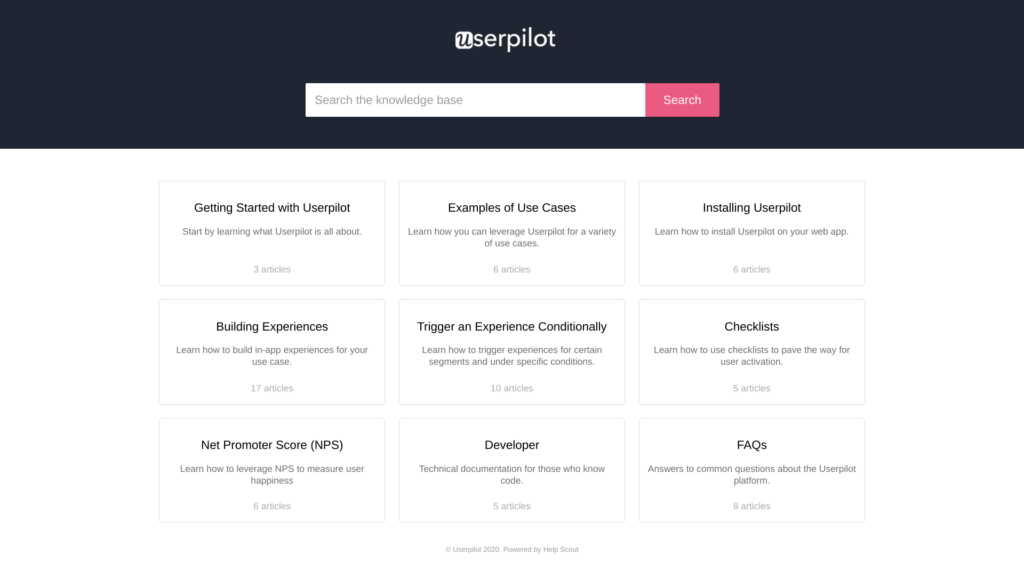 Note how in our own knowledge base, we have different sections for different groups of customers. For new users, we have the "Getting Started" section, while for more established users we have more in-depth areas like "Building Experiences".
It's also worth creating an FAQ section for all the questions that customers commonly ask. This way you can simply direct them to the appropriate help article, or they may even stumble upon it themselves.
A good knowledge base makes sure your customers know how to use your product so that they get the maximum value possible. This reduces the risk of churn, and drastically improves customer retention.
Key Takeaways For Reducing Churn
At the end of the day, even though gaining new customers is a sign of a growing business, losing customers is too expensive. And retaining your customers is cheaper than acquiring new ones.
Your current customers can increase your overall profits, as they're more likely to buy from you than new prospects. To make sure that happens, you can employ these customer retention management strategies and invest in a CRM to better organize your relationship.
Here's a reminder of the seven customer retention strategies:
Provide exceptional support
Measure and listen
Perfect your onboarding
Offer incentives
Personalize your messaging
Be proactive
Use content to educate customers
While it is true that the more customers you acquire, the higher your profits will be, the same also applies to customer retention.
If you want to increase your profits and gain loyal and repeat customers though – focus on customer retention.
How are you planning on maintaining your current customer base? Want to learn more about how Userpilot can help with reducing churn? Book a demo today!
—
About the author
Uwe is the founder of online invoicing software InvoiceBerry. Small businesses and sole traders can create, send and manage their invoices, quotes and credit notes with the tool or use the free invoice templates to get started. In his free time, Uwe travels the world and enjoys experiencing different cultures.
Further contributed by Team Userpilot