Pendo vs Userpilot: Which Offers The Best Value For Money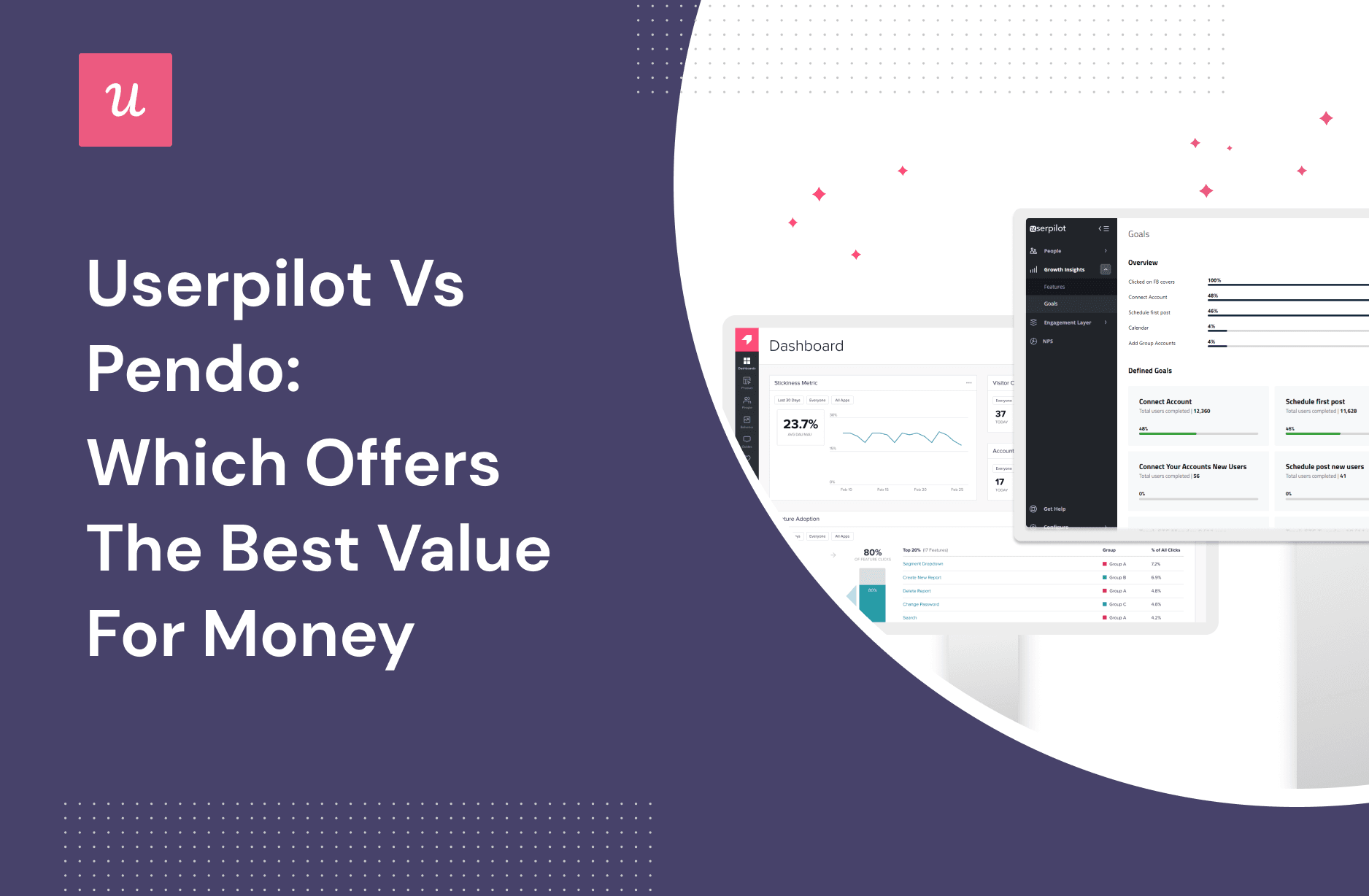 Pendo vs Userpilot? Which one is the best user onboarding tool?
If you're not sure which of them offers more value and better functionality, stick around.
In this article, we'll go in-depth and have a look at the most important features each platform offers.
TL;DR
Userpilot is a code-free product experience software, which gives non-tech teams the ability to create powerful contextual onboarding experiences
Pendo is a digital adoption platform with great analytics and a range of user onboarding features
G2 reviewers praise Userpilot for the quality of product support, and the ease of use and administration. They believe it meets the needs of their business better than Pendo
Pendo guides consist of tooltip-like sequential experiences while Userpilot allows you to design interactive onboarding flows
Userpilot supports 6 UI patterns (tooltips, hotspots, banners, modals, slideouts, driven actions) and 4 actions, whereas Pendo has only 3 user interface elements available for building guides (lightboxes, banners, tooltips) and 1 action
Pendo checklists are available in the Pro plan only and they are a part of the Resource Centre, which limits their usefulness as onboarding elements
Userpilot also allows you to create multiple checklists that can be triggered for various user segments in any order. The checklist analytics are superior to those of Pendo and they can be triggered on any of your web app's pages
Userpilot Resource Centre is fully customizable, easy to navigate, allows module grouping and searches of external sources, and is included in all pricing plans
Pendo included a Resource Centre feature, but is only available in the higher plans and offers limited functionality and customization options
Pendo is known for its excellent analytics tools like Paths, Retention, and Funnels
Both products allow feature tagging to track user engagement with UI elements
Userpilot allows goal tracking and A/B testing to measure the effectiveness of in-app experiences
Pendo has limited user feedback functionalities: you can create basic polls-only and need the higher plans for NPS tracking
Pendo promotes its PES (Product Engagement Score) metric which doesn't take into account user sentiment
Pendo's Free plan offers limited functionality while the pricing of the higher plans is ambiguous. You need to get a custom quote and reviews say it can even get to as high as $15000/year
In contrast, Userpilot offers an affordable starting Traction plan ($249/mo) and a transparent pricing structure
Userpilot customer support offers live chat, customer success calls, and an in-app resource center in all plans, while Pendo offers live chat only in the highest Enterprise plan and no customer support whatsoever in the Free plan
Pendo supports integrations with lots of great products but the number of those available even in the more expensive plans is very limited; the constantly growing list of all Userpilot integrations is available in all plans without limitations
Call us biased, but we truly believe you will get more value for your money by using Userpilot. Want us to show you around? Get a Userpilot demo here
Let's start with the basics.
What is Userpilot used for?
Userpilot is a product adoption tool for building onboarding experiences. In short, it allows non-technical teams to design and trigger in-app onboarding flows customized to the user persona and their stage in the user journey.
What does Pendo do?
Pendo is also a product adoption platform. It allows product teams to analyze user behavior in their app and design user onboarding experiences to increase user engagement and boost new feature adoption. Like in Userpilot, there is no coding required.
The main difference between Pendo and Userpilot is the functionality each platform offers and of course, pricing.
Neither Pendo nor Userpilot are tools that cater to employee onboarding.
Who are Pendo's competitors?
Userpilot is not Pendo's only competitor. Other user onboarding software you can look at include:
In this article, we are going to compare Pendo to one of its main competitors, Userpilot.
Pendo vs Userpilot: What G2 reviews say
G2 is probably the best review and software comparison platform out there at the moment.
Let's see how Pendo stacks against Userpilot according to their users.
The general conclusion is that the G2 reviewers prefer the user experience offered by Userpilot and believe it offers a better value for their money.
One of the areas where Userpilot gets better reviews is the ease of use and administration.
"The greatest thing here is how easy it is to use. When taking over the processes related to Userpilot at my company, I could get into it in a few hours." – Konstantin L
Reviewers also believe that Userpilot's quality of product support is outstanding.
"For the things I didn't know how to do, I got the best support. Their support is always available if you need it. A fast response time, and informative training webinar sessions. I'm a fan." – Jose I.
Finally, G2 users preferred the feature updates and roadmap of Userpilot over Pendo's.
Pendo vs Userpilot key features for user onboarding experiences
Both Pendo and Userpilot allow you to leverage user onboarding experiences to improve user activation and reduce churn.
Let's have a closer look at the main features both offer:
Pendo vs Userpilot Guides and product tours comparison
Pendo Guides and Userpilot Flows are one and the same thing, and many users call them product tours.
They are sequences of UI patterns onboarding elements, like tooltips, modals, or hotspots, linked together to offer in-app guidance to the user in completing a task.
So which one is better?
To start with, Pendo allows you to build only 3 guides in the free trial. Is this enough? Well, perhaps, but there are no restrictions with Userpilot which offers unlimited flows.
Next, Pendo product tours look more like multiple tooltips (just check their own product tour that has 7 tooltips). They do the job but they seem to be a bit cumbersome compared to the fully flexible interactive onboarding flows that you can design in Userpilot.
When it comes to user segmentation, Pendo offers a number of options but a lot of them are not behavior-based. The usefulness of targeting users based on their OS version, account ID, or browser, seems limited.
Compared to Pendo, Userpilot allows you to trigger the experiences based on more relevant characteristics like user engagement, custom events, form responses, and even NPS scores.
UI patterns
Userpilot offers 6 UI patterns and 4 Driven Actions, while Pendo supports only 3 UI patterns and 1 action.
Let's look at what these are.
Userpilot divides in-app guides that you can create with those user interface elements into Flows and Spotlights.
Spotlights are static experiences like native tooltips, hotspots, and banners.
Flows are interactive and consist of onboarding elements like modals, slideouts, tooltips, and driven actions that you can combine and trigger to the desired user segment.
Pendo's limited onboarding elements are lightboxes (which are similar to modals), banners, and tooltips.
What is missing in this list (apart from slideouts, driven actions, and hotspots) is checklists.
They are available in Pendo, and we're going to dive into deeper detail in a moment, but it's important to remember they are not a part of Guides, so they cannot be triggered inside your app to specific user segments.
Pendo vs Userpilot checklists comparison
Checklists are powerful onboarding features to look for in a user onboarding software.
Both Pendo and Userpilot offer them to their customers.
But here's the catch.
Pendo checklists are available only in the Pro plan, which according to online reviews starts at $2000-5000/year for one product.
Userpilot doesn't restrict the number of checklists in any of its plans, starting plan costs $249/mo.
Checklists functionality
As we mentioned above, Pendo's checklists are not a part of the product tours, but rather the Resource Centre. This means that the user has to click on the help button and choose the checklist they want to follow.
In contrast, Userpilot's unlimited checklists can be triggered for different user segments in a preferred order.
With multiple checklist functionality so you can create different checklists to guide users from one milestone to the next in their journey.
Build unlimited tasks with several trigger options in each task: run a flow, direct users to a URL or run a JS script.
Or, just mark tasks as complete from the start so the user is more enticed to start.
Overall, it seems that Pendo dropped the ball by not adding checklists to their free plan (at least one) and not including them in guides.
Checklists analytics
Pendo is known for its great analytics overall (we'll get to this in a bit) but this doesn't seem to apply to checklists. We can speculate that not developing in-depth checklist analytics could be the consequence of Pendo not considering them an important onboarding tool.
Userpilot provides very detailed checklist analytics. It allows you to track the live performance of all your checklists together, each of them individually, as well as each task.
Pendo vs Userpilot resource center
The resource center is considered an in-app guide in Pendo.
It's not quite clear if you can get it on the Team plan or if you need to upgrade to Pro or Enterprise. Accessing it can be potentially quite expensive and its customization options are limited. It looks fairly plain too.
Userpilot resource centre is easy to navigate and fully customizable and available in all plans.
Pendo's resource center offers limited functionality compared to Userpilot.
For once, in Pendo you can search only inside the resource center while in Userpilot you can also search external sources like your knowledge base, Zendesk or Hubspot.
What's more, Pendo doesn't allow grouping modules so users have to scroll down a very long resource center if you add multiple resources there. Module grouping is possible in Userpilot.
Next, while you can add videos to Pendo's resource center, in Userpilot you can also play them in-app directly with a click.
Finally, Userpilot offers extensive resource center analytics, whereas Pendo doesn't.
Not convinced Userpilot offers more value than Pendo? Get a free personalized demo and we'll be happy to show you around.
Pendo vs Userpilot analytics
Pendo's built a great reputation for its in-depth analytics tools.
Paths, which show the different routes into or out of a specific event, help to identify user behavior patterns. Pendo also allows you to track retention rate over time with its Retention functionality, while Funnels come in handy when you try to identify drop-off points in the user journey.
The tools Pendo offers are quite advanced but are they good enough to justify the price tag?
What's more, Userpilot offers some functionality that Pendo doesn't.
In Userpilot, you can set goals and tie them to in-app flows and experiences to measure their effectiveness. Userpilot also allows you to carry out experiments (A/B testing), which Pendo doesn't support (more about it in a sec).
Track UI engagement
Both Userpilot and Pendo support feature tagging. It allows you to track users' interactions with user interface elements, and find out which features are most popular, and which may be underutilized.
The functionality is unlimited in Pendo, while Userpilot allows you to tag 25 features in the lowest Traction plan.
Goal tracking
A goal can be used to track when users reach specific milestones, showing you an overview of how many users are at each step in the journey.
Moreover, understanding goal adoption helps identify the key features that make a product more sticky. It also helps in setting a clear path of where it needs to drive its end-users.
In-app experiences play an important role in increasing feature adoption and user engagement, so they should be tied to a goal to better understand how they're performing.
Userpilot allows you to set goals and easily analyze the results thanks to a clear visualization of the data.
Pendo doesn't have this functionality and it is not a part of its short-term roadmap.
A/B testing
A/B testing allows you to conduct experiments to test the effectiveness of your onboarding experiences.
This is also something you don't get in Pendo.
To set up A/B testing in Userpilot you only have to select the option in the flow's settings like below.
Where Pendo's analytics fail
Apart from limited functionality in the free plan collecting user feedback is where Pendo falls short.
First, you can add basic polls into guides but to collect more feedback data like NPS, you need to upgrade.
One of the reasons why NPS may seem marginalized is that Pendo has developed its own proprietary metric Product Engagement Score (PES), which is a combination of adoption, stickiness, and growth.
This sounds fancy, but is it really worth the upgrade?
Automation and behavioral analytics are invaluable for SaaS companies, but there is still a lot to be gained from talking to the customer directly. Pendo could definitely do better in this area.
Userpilot vs Pendo pricing
Which of the products gives you a better bang for your buck? Well, the question is not as straightforward to answer as it may seem, because Pendo doesn't list prices.
Instead, the company gives you custom quotes depending on your business, which start at $2000-$5000 for a single product and around $15,000 for the enterprise plan (or so we hear).
Pendo's free plan offers:
1 Web app key
1 Mobile App Key
Up to 1,000 monthly active users (MAUs)
Unlimited feature and page tagging
Use of in-app guides
This offer is very limited to be useful in building proper user onboarding experiences.
Userpilot pricing is transparent and offers more than enough functionality even in the starting Traction plan ($249/mo).
Userpilot vs Pendo customer support
Userpilot offers live chat and 3 customer success calls to all their customers, also during the free trial. Its users can also access an in-app resource center with documentation videos and tutorials.
Pendo offers no customer support in the Free plan. It is available in the paid plans, but live chat and faster response SLAs (Service-Level Agreements) come only with the Enterprise plan.
Userpilot vs Pendo integrations
Pendo has been on the market for quite some time and it has built an impressive list of integration options. The catch is that you have to pay for them as they only include 1 on the already expensive Pro plan and 3 on the Enterprise plan.
Userpilot has integrations with a few useful products you may already be using, like Amplitude, Mixpanel, and Heap.
There are also new ones in development, including Hubspot, and they're all available in the lowest Traction plan!
Conclusion: Which should you choose?
Both Pendo and Userpilot are great user onboarding tools.
Pendo has brilliant analytics but otherwise offers limited functionality for a user onboarding platform and its pricing plans aren't very transparent.
Userpilot offers more value for money compared to Pendo, giving you access to a range of features that allow you to build comprehensive onboarding experiences.
If you'd like to check out how Userpilot can help you design great user onboarding experiences, get a demo!