Best Product Adoption Tool For Product Managers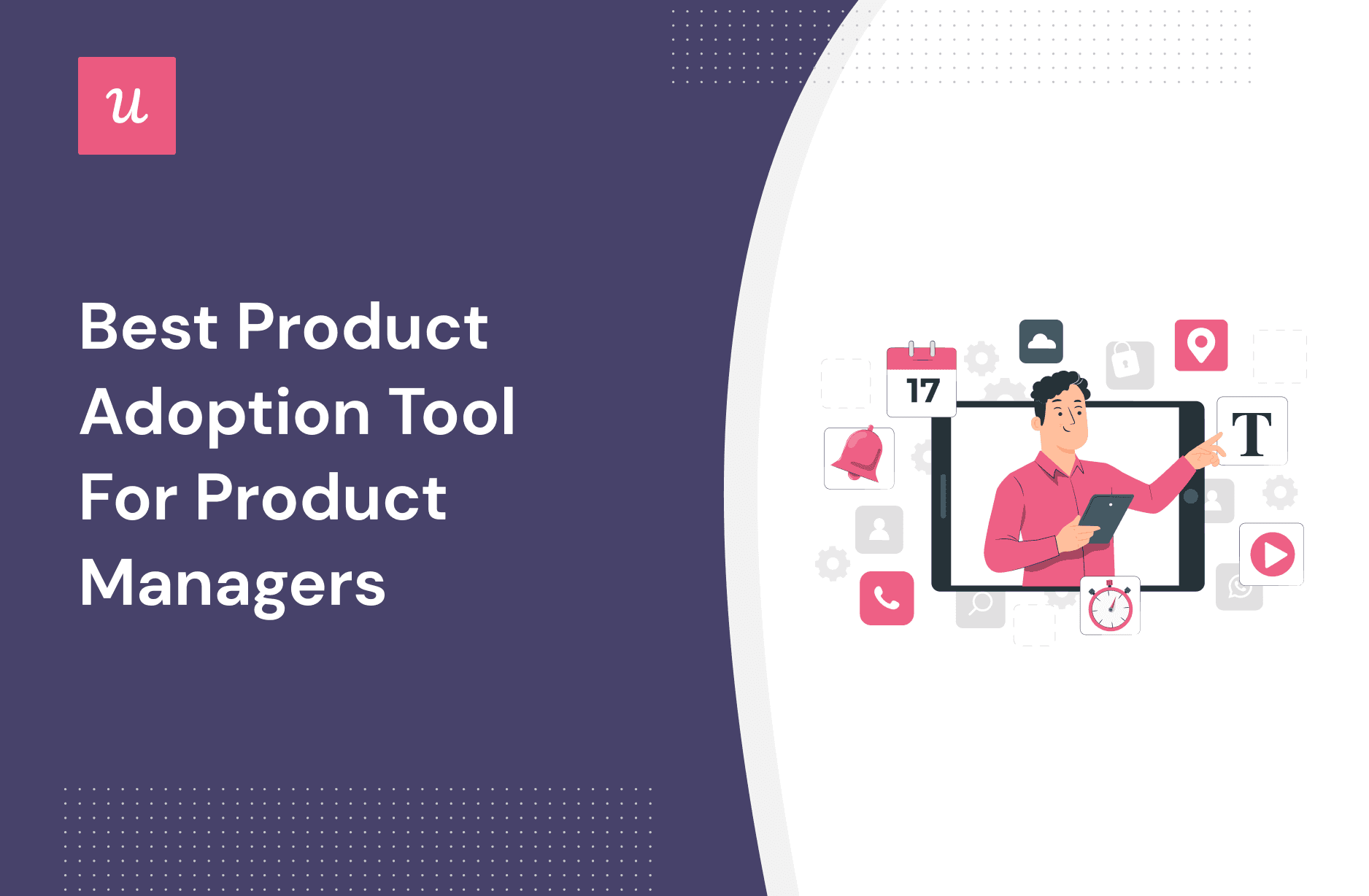 Every savvy product manager needs a product adoption tool they can rely on – because automating adoption is the lifeblood of many SaaS companies.
In this article, we're going to dig deep into a range of product adoption tools available on the market. We'll cover what they do, their pros and cons, and try to help you choose the best solution.
TL;DR
What is product adoption?
Product adoption is a vitally important concept for product managers to understand. It describes the process of driving a user to the point of initial interest to actively using – and critically getting value – from your product.
What is a digital adoption platform?
Digital adoption encompasses a set of activities that help your user derive value from your product.
A digital adoption platform (or DAP) is in essence a piece of cloud-based software integrated on top of your service that lets you build on-screen guidance for the end user of your SaaS product.
Why do you need a product adoption tool?
Using a product adoption tool is a no-brainer for a savvy product manager looking to drive product-led growth. Digital adoption platforms help new users quickly learn how to get the most out of a new tool, and help existing users understand how to use newly added functionality – other benefits include:
Must have features of good product adoption tools
Not all product adoption tools are built the same – you should make sure a tool gives you the following capabilities:
Powerful analytics– Map and analyze a user journey, understand product usage, and distill user groups into distinct segments.
In-app messaging– Reach your users with the right messages at the right time using multiple UI patterns.
Integrations- Connecting to another powerful tool can boost adoption.
In-app help center – Building a resource center that helps your users is a clear positive.
5 best product adoption software platforms for product managers
So far, we've explored what a digital product adoption platform is, and why they're important.
Now, we're going to break down a selection of tools on the market to help you make informed decisions.
Userpilot – best product adoption platform for SMBs and Enterprise
Userpilot is a powerful product adoption platform that enables you to quickly build personalized, flexible, contextually relevant in-app experiences targeted to different user segments – all without writing a line of code.
Pros of Userpilot
Userpilot is one of the most effective tools on the market for boosting user adoption. It's a great option for enterprise users since it's SOC 2 Type II certified and offers robust features for large-scale usage.
Out of the box. Userpilot comes with an easy-to-use Chrome Extension builder.
Multiple UI patterns. Choose from a range of options to build customized flows: modals, slideouts, banners, tooltips, hotspots, and checklists are all at your disposal.
Accessibility of UI patterns. UI patterns are not limited by plan – you get access to all of them on every single plan, meaning you get value even with a more basic package.
Engaging walkthroughs. Userpilot makes it simple to build interactive walkthroughs targeted to distinct user segments.
In-app help. Build a resource center offering self-service support to your users, customize with your branding, and select from a range of help options to boost user satisfaction (i.e. videos, in-app flows, chat, and more).
Product experimentation. Built-in A/B testing for flows lets you explore and quickly iterate based on direct user behavior.
Powerful feedback options. Integrated NPS surveys with analytics and response tagging unlock insight into how your users feel.
Analytics and segmentation. Advanced analytics and user segmentation capabilities alongside in-depth feature tagging to understand the performance of specific areas of your app.
Cons of Userpilot
There are a few downsides to consider:
Browser/web app only. Userpilot won't run on mobile devices/applications.
Employee onboarding. The tool is better suited to consumer/customer onboarding than for new starters and employee onboarding as you can't build in-app guides on third-party tools.
More integrations to come. Hubspot and Zapier are coming soon.
Price. Userpilot is a powerful, enterprise-level tool. $249 a month might be too much of an expense for small companies.
What users say about Userpilot
Users have an overwhelmingly positive reaction to Userpilot, citing ease of use, flexibility, and range of features as some of the key takeaways.
"Userpilot is an incredible, user-friendly software that allows us to create unforgettable experiences for our clients! From basic to complex experiences, we have been able to do them all with ease! I would highly recommend this software to anyone who wants to provide their clients or users with the best product tour experience. The possibilities of what you can create are endless!" – Tayla G.
"For the things I didn't know how to do, I got the best support. Their support is always available if you need it. A fast response time, and informative training webinar sessions. I'm a fan." – Jose I.
Userpilot pricing
Userpilot offers a range of pricing options:
Traction. For up to 2500 users, this plan is $249/ mo.
Growth. For up to 10,000 users, this plan is $499/ mo.
Enterprise. For large-scale businesses, these plans begin from $1000/ mo.
Appcues – best product adoption tool for both mobile and web
Appcues is another no-code digital adoption platform, which helps non-technical teams to track and examine product usage.
You can publish in-app onboarding tours, announcements, and launch surveys. Unlike Userpilot, functionality is limited if you are using the basic plans.
Pros of Appcues
Out-of-the-box functionality. A clean UI and easy-to-install Chrome Extension.
Multiple UI patterns. Appcues boasts multiple UI patterns to simply build flows.
Mobile usage. A big bonus is that Appcues works on mobile as well as web browsers.
Analytics. Appcues has a range of good user analytics tools included.
Walkthroughs. Supports building branched interactive walkthroughs.
Integrations. Multiple integrations are available, including Salesforce and Hubspot.
Feedback. Enables integrated NPS surveys.
Cons of Appcues
Price. The basic plan is very limited, so costs can rack up quickly.
Limited UI patterns. There are no checklists included in the Essential plan.
User segments. You can only target up to 5 user segments in the most basic plan, which limits your ability to target flows.
Support. There's no Resource Center functionality available.
What users say about Appcues
On the whole, users feel positive about Appcues – here's an example summarizing some key points about its features and the value it offers.
The good:
"The best part of Appcues is the guided tour features which they call flows. Especially on a team with limited resources, it allows you to improve your activation and engagement overnight by using this feature to guide your users around your product. What I love even more is the design and UX features are modern unlike other tour tools we've researched, and the software is easy-to-use with the need for a developer after the initial install."
However, there are some points that could be improved:
Even better if:
"As with all software, you will run into irritating limitations. Appcues does collect a lot of data that could automatically be turned into user attributes (like first login or visits per month) but they don't do that. Jumping between the build mode and the studio can also become very confusing at times."
Appcues pricing
Appcues have three main price brackets:
Essentials. Starting at $249/mo, this suits startups, sole traders, and small businesses- beware of the limitations of the Appcues Essentials pricing plan.
Growth. Starting at $879/mo, this kind of plan is suitable for high-growth companies with several thousand monthly active users.
Enterprise. Bespoke pricing is available based on the needs of enterprise customers.
Pendo – best product adoption tool for in-depth analytics
Pendo is a comprehensive digital adoption platform with impressive analytics, in-app feedback, and product adoption tools.
It caters primarily to enterprise users and probably has the most advanced analytics of all tools we're covering in this article.
Pros of Pendo
Mobile functionality. It's impressive such a powerful tool works on mobile.
Entry-level options. Pendo has recently released a free version of up to 1,000 MAUs with limited features.
In-depth analytics. Extensive analytics options are available.
Tours and feedback. Easily build product tours, capture NPS ratings, and gather user feedback (feature requests and votes).
Cons of Pendo
Pricing. Pendo doesn't offer monthly pricing plans and is very expensive, ranging from $9000 to $50,000 per year.
Steep learning curve. Not very user-friendly for building guides.
Limited UI patterns. A smaller range of UI patterns than other tools, only accessible via the Resource Center (which itself is fairly limited).
What users say about Pendo
Users appreciate Pendo's analytics but find it complex for building in-app guidance using the guides feature.
The good:
"The best feature about Pendo has been the constant collection of User clicks without the need to set up trackers via code. This enables us to tag the user directly from the tool and start monitoring historic data without having to involve development teams."
Even better if:
"The downside would be having the visitor information stored in local storage. If anyone tampers it, the data or analytics is going to get updated with tampered IDs. Also once the local storage is created it won't be deleted until the user clears it from the browser manually or it is cleared by the application side next time. You can exclude Users but not include users (like guides). The creation of paths for a longer range is shown as complex and not much understandable. Might need it to be more user-friendly."
Pendo pricing
Pendo doesn't offer monthly plans but has four price brackets, each of which offers more features at a steeper cost.
UserGuiding – best product adoption tool for low budgets
UserGuiding is a lower-cost, entry-level product adoption tool offering a range of features to help companies onboard new customers and boost product adoption.
Pros of UserGuiding
Price. For small startups or independent businesses, the price is an attractive element to consider.
UI patterns. UserGuiding offers a good range of UI patterns to choose from.
Resource Center. Unlike some of the more expensive options, you can choose to add a Resource Center (a bonus for self-service support).
Analytics. You have a range of analytics capabilities to help understand user behavior.
Integrations. For a budget tool, UserGuiding still offers integrations with other applications.
Cons of UserGuiding
Usability. There are many bugs and performance issues when using the tool. The UI is also fairly tricky to navigate.
Limited functionality. Particularly on the basic plan, you only have a small range of features available – all with the UserGuiding watermark/branding.
What users say about UserGuiding
The good:
"UserGuiding is a fantastic alternative to more "big-budget" solutions; and the good news is: that it does the same. After one month of searching for a tool and a few weeks of using UserGuiding, I'm honestly still asking myself what it does less (than the 5 times higher-priced competitors)…"
Even better if:
"It is a bit buggy, sometimes it lags or freezes."
UserGuiding pricing
UserGuiding offer three main plans:
Basic. Starting at $99/mo, this budget option has a few limitations to consider (i.e. just 1 Team Member, a limit of 20 guides and 2 checklists, UserGuiding branding on all UI patterns).
Professional. Starting at $399/mo.
Corporate. Starting at $699/mo (akin to most 'enterprise' plans).
Chameleon – best product adoption tools for employee onboarding
Chameleon is a digital adoption platform with a difference: while the other tools discussed are mostly no-code, Chameleon will require some developer involvement. Nevertheless, it's a powerful and effective tool particularly useful for employee onboarding.
Pros of chameleon
Huge range of in-app messaging and UI patterns. You can create custom modals, slideouts, tooltips, hotspots, checklists, launchers and more.
Powerful segmentation. You can either build different user segments inside the product, or you can integrate your Chameleon account with other tools and import your data.
Employee onboarding. Help get new starters off the ground quickly.
Cons of chameleon
Limitations to user onboarding flows. You can't run multiple in-app experiences (i.e. user onboarding flows) at the same time, as you can in Userpilot. Instead, Chameleon enables you to create user onboarding campaigns (different sequences of product tours shown over time).
Single-page apps. It's built for single-page apps: Chameleon can't build flows that run over multiple URLs.
What users say about Chameleon
This review does a good job of summing up some of the positive and negative aspects of the product:
Positive:
"Chameleon is a fantastic, in-app resource that we use for customer onboarding/orientation, release tours, tooltips, and engagement surveys. The best part is that it requires little to no coding experience to design and utilize their tools, which means more members of our team can be a part of any project."
Negative:
"Some of the UX is a little clunky, but I know the team at Chameleon is actively working to improve that – they recently changed how the tour feature is designed and it is much better. Major kudos to Chameleon's product team!"
Chameleon Pricing
Chameleon split their pricing options primarily by the number of monthly active users:
0 – 2500. Basic: from $349/mo, Growth from $899/mo.
2000 – 3000. Basic: from $419/mo, Growth from $899/mo.
3000 – 5000. Basic: from $489/mo, Growth from $899/mo.
5000 – 10,000. Basic from $517/mo, Growth from $999/mo.
Conclusion
Wow, we've covered a lot! Hopefully, you've now got a much better sense of:
The different types of digital adoption platforms available
How each tool can boost product adoption and customer success
Drawbacks, limitations, and pricing
Ultimately, understanding all of those aspects is key to choosing a tool that works for you.
CTA: Want to get started with a digital adoption tool? Get a Userpilot Demo and see how you can boost adoption and customer success today!