Product-led Onboarding: How to Turn New Users Into Lifelong Customers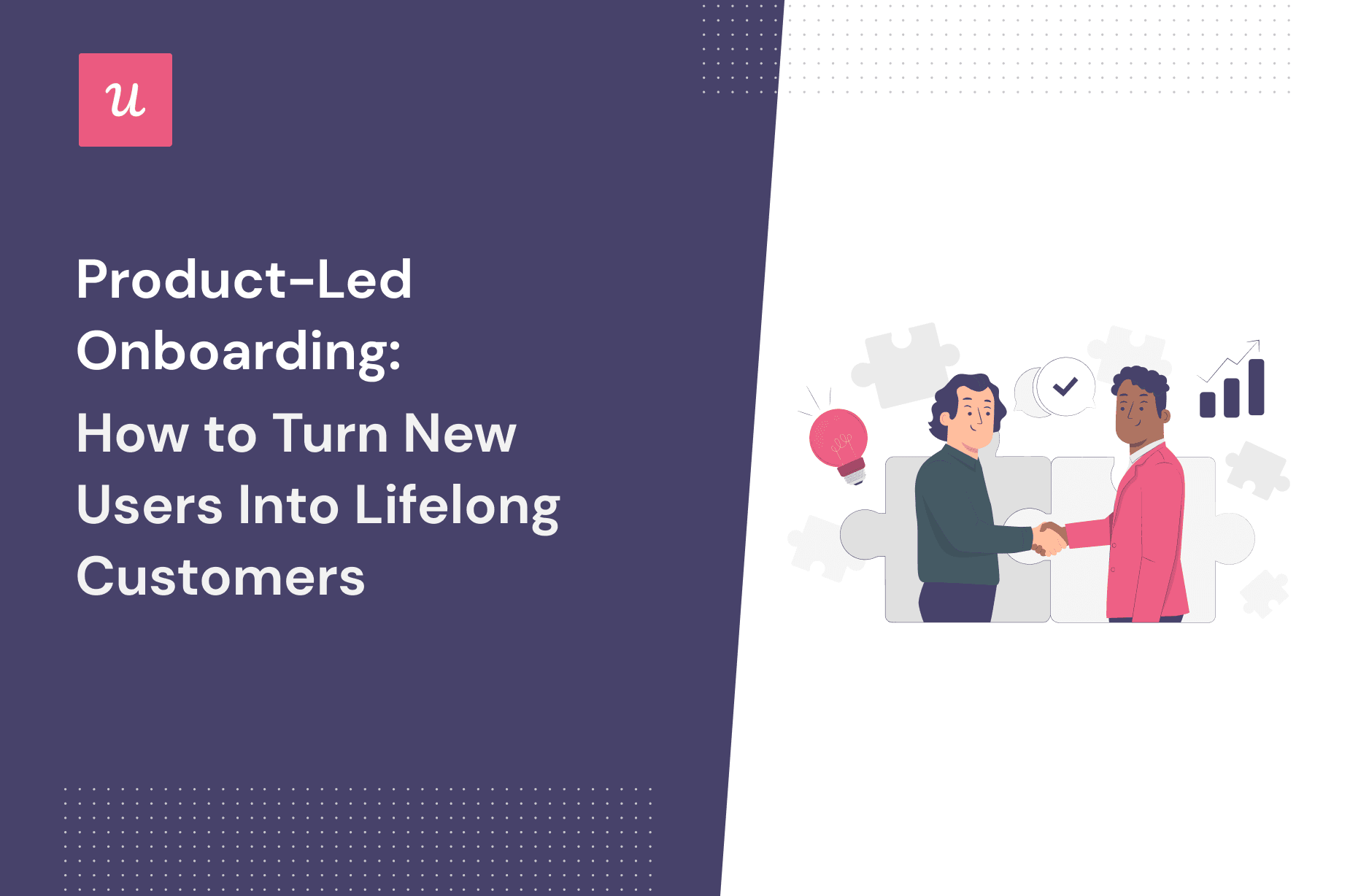 Product-led onboarding is something of a revolution in the SaaS industry. It's not a 'hack' or a quick fix: it's a mindset shift in how you approach your user onboarding process.
In this article, we're going to break down what product-led onboarding is and how product teams can implement it effectively to drive customer success.
Ready to transform new users into lifelong customers?
If you're as excited as we are about transforming new users into lifelong customers through product-led onboarding, you won't want to miss the talk by Yaakov at the upcoming Product Drive Conference. The talk promises to be a game-changer for getting your users to value quickly. Register now for the conference happening online on the 3rd and 4th of October 2023 for FREE!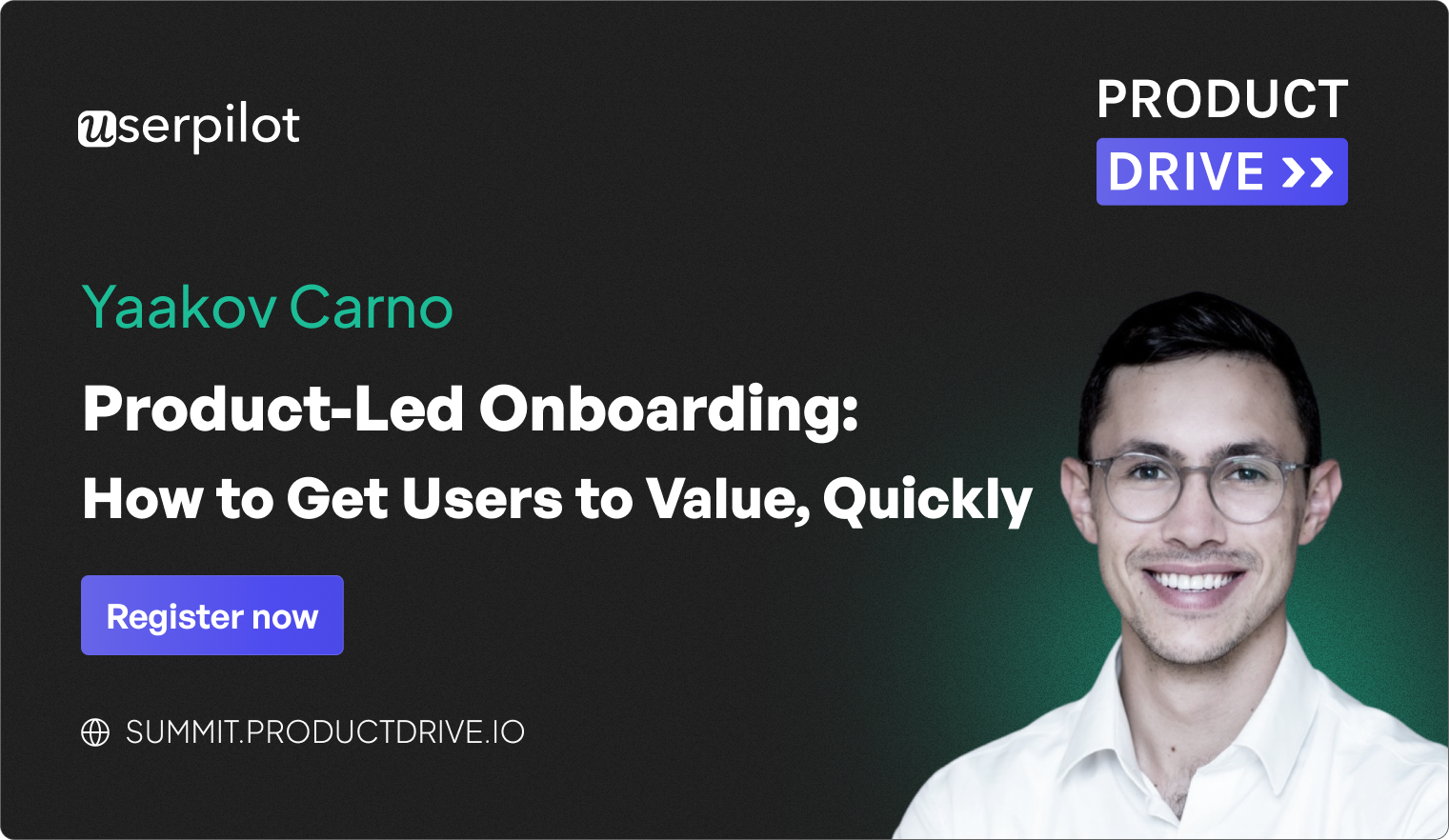 Let's get started!
TL;DR
User onboarding is the process of welcoming new customers to your product (and supporting them through the end-to-end journey to drive user success).
Product-led growth is a strategy that emphasizes driving growth using the product itself, rather than through traditional sales and marketing techniques.
Product-led onboarding is an example of a specific tactic you can use throughout the customer journey to boost engagement and improve customer retention.
As you'd expect, different SaaS companies adopt slightly different approaches around product-led onboarding. Userpilot helps you build a better onboarding process with a range of engaging UI patterns (like modals, slideouts, and checklists), as well as offers inclusive and ongoing support with a Resource Center.
Ramli John's 'Eureka' framework is an excellent place to start when devising a product-led onboarding strategy.
First, signup should be as fast, smooth, and as frictionless as possible. Don't let your quest to turn users into lifelong customers fall at the first hurdle! Next, remember to consider your customer's 'jobs to be done'.
Airtable and Notion both use techniques like populating empty states using personalized data – a great way of helping give users a successful first impression.
Third, you should be looking to create a user journey that reaches the 'activation' point as quickly as possible. That's a surefire sign of a product-led company.
Fourth, you can't forget the rest of the customer journey!
Onboarding isn't just about new customers (primary onboarding). Look out for opportunities to enhance customer success with new features and relevant offerings.
Fifth, remember to feed the product-led growth approach through to your update and release strategy. Finally, continuously optimize, iterate, and tweak the user onboarding experience.
Ready to get started with a product-led onboarding strategy? See how Userpilot can help.
What is the user onboarding process?
User (or customer) onboarding describes the process of welcoming and supporting new customers through the entire journey.
Contrary to popular opinion, it's not restricted to the set of activities that take place immediately after signup – that's 'primary onboarding'.
What is product-led onboarding?
Product-led onboarding is derived from a wider school of thought increasingly popular across the SaaS industry: product-led growth.
Product-led growth is a proven approach that shifts the emphasis on the growth of the product from traditional sales and marketing techniques (like speaking with sales teams or reading whitepapers).
Instead, the product itself is at the heart of the go-to-market strategy.
The idea is to increase activation, customer acquisition, conversion, and retention using the merits of the tool. Users can try it out and 'sell' themselves by solving their own problems.
Product-led onboarding means you're driving your users towards value right from the off.
Product-led onboarding vs product-led growth?
So what's the connection between the two concepts?
To understand that, we need to make a distinction between strategy ('What are we trying to achieve?') and tactics ('How do we achieve it?').
The diagram below is a useful representation. By focusing on a product-led approach, most SaaS companies will start to see the benefits of the adoption flywheel: users adopt, activate, adore, and then become advocates.
That product-led approach is a technique that can underpin your entire growth strategy.
Product-led onboarding is one of the many specific, implementable tactics you could use to improve the overall product experience.
Best product-led onboarding experiences
In this section of the article, we're going to dig deeper into some 'best in class' product-led onboarding experiences from across the SaaS industry. We'll explore how they boost activation by focusing on releasing product value to their users as early as possible in the onboarding process.
Userpilot – built using Userpilot
Userpilot is an impressive and multi-faceted tool, perfect for creating a product-led onboarding experience.
The welcome modal below helps to create a great first impression: the messaging helps users feel confident they're using the right product and in the right place.
Using a 'getting started' checklist is a surefire way to help customers quickly reach the point of activation by breaking down the exact steps they need to take. The faster they understand how to get value from your product (and experience 'aha moments'), the more engaged they'll be.
No user onboarding process is completely seamless. Users will always need support (and providing ways to meet their needs is important for retention).
Userpilot makes it simple to trigger an in-app Resource Center via the help button, helping them solve queries during the onboarding experience itself.
Airtable
Airtable has put together a user onboarding experience worth analyzing.
They understand how important personalization is: no two users are the same. The form below shows them taking advantage of what can be a boring process – signup – to learn more about their customers.
By gathering key information, like the user's role, industry and organization size, they can tailor the onboarding experience according to their specific needs.
In the onboarding flow itself, they use a range of engaging UI patterns (hotspots and slideouts to name a couple) to engage users, direct their attention to relevant areas of the page, and ensure they're shown appropriate guidance.
Similar to Userpilot, Airtable offers self-service support using a Resource Center. This is an invaluable part of product-led onboarding: users get access to guides, tutorials, and support all within the app itself, unlocking value along the way.
Notion
Notion is a rapidly growing SaaS company focused on knowledge management. They've scaled incredibly quickly, using a range of product-led growth techniques. Their user onboarding experience is no exception.
They kick things off with an engaging welcome page.
Understanding what the person is trying to achieve makes it simpler to create branched and personalized experiences for each distinct use case.
Notion also utilizes a checklist to drive activation – helping users see the tool in action as they tick off key onboarding activities.
What makes this an excellent first product experience for new users is the lack of 'empty state' content (which can leave users feeling confused about how to proceed).
How to craft the perfect product-led onboarding strategy and drive customer success
In this section of the article, we're going to build on the lessons we can draw from the different SaaS company onboarding experiences above.
We've taken inspiration from Ramli John's six-step 'Eureka framework' from his book, 'Product-led Onboarding' – but looked to supplement each step with specific best practices.
Let's dive in!
1. Start with a frictionless signup process
First things first, you want the signup process to be as smooth and seamless as possible.
No matter how perfect the onboarding experience you design, if users can't get into your application – it'll all be for nothing.
Crafting a product-led onboarding process means you drive growth through the merits of the product itself: so simplifying the signup process (which is effectively the route in) is the logical first step.
Looking to avoid common mistakes that can hinder your user onboarding process? Yaakov will be covering this and much more in his talk at the Product Drive Conference. Don't miss out on his insights for effective product-led onboarding. Reserve your spot today!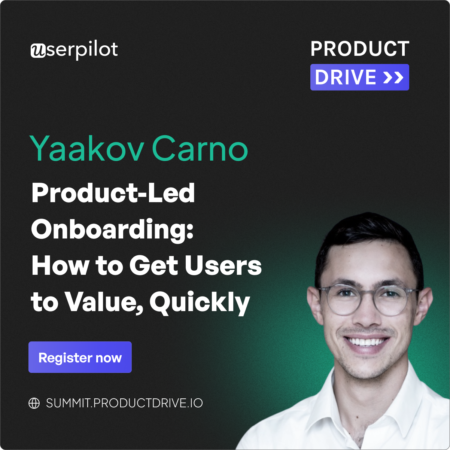 Best practices for a frictionless signup process
How do you ensure your signup process is as simple as possible?
A good rule of thumb is to let brevity guide your decisions: make sure forms are as short as possible. You want to make it as easy as possible to create an account.
If you do need a lengthier journey or you can't see a way to shorten the form, then you should use multiple screens to break it down.
Another handy tip is to postpone email verification until after the user's first session: it gives them a chance to try your app out, improves the initial product experience, and boosts chances of retention.
Something to avoid at all costs: asking for credit card details too early in the process.
All it'll do is switch users off – and it certainly shouldn't be introduced as a first touchpoint.
You can also look at using microcopy to establish trust. Let's look at the example from Loom below making it clear that users will get a 14-day Loom Business trial when creating an account.
They're helping to build confidence with their users by offering a 2-week trial of Loom Business simply for creating a free account.
2. Understand the user's job to be done
You can't solve a problem you don't understand. So you need to work on understanding what your users are trying to achieve. Jobs to be done is a useful way of digging into their customer psychology.
Explore the reasons they're signing up.
What exactly do they think they'll be able to achieve? Without an adequate understanding of these pivotal questions, you won't be able to personalize their onboarding journey.
A bland, multi-purpose onboarding flow doesn't help deliver value as quickly as possible: an idea that is antithetical to the tenets of product-led onboarding.
Best practices for collecting in-app user data to personalize onboarding
There's a fine balance to consider. You want to gather as much data as possible, without making the signup process needlessly long and boring.
So stick to asking users for only the data needed to create an account.
Then expand the 'surface area' at your disposal for capturing data: you can use a welcome screen to collect user data too, giving you more valuable insight to help construct an appropriate onboarding pathway.
3. Focus on driving users to the activation point
So at this stage, you've helped users sign up. You've gathered some key data.
Now, you need to help them reach that tipping point: activation.
That's the moment they start to experience value from the product by properly engaging with its core features. Until you're consistently helping them achieve customer success, you've got very little chance of converting them into paid users.
That's a surefire way of increasing churn.
Best practices for driving users to the activation point
The activation point is commonly referred to as an 'Aha moment'. But activation actually happens when the users experience the value of the product too.
Things suddenly become clear for your users – they go from struggling to understand how to obtain value to directly unlocking it.
A proven way to drive your customers towards that tipping point is using a checklist, guiding them to engage with your product's key features.
Used correctly, checklists can form an incredibly valuable part of any product-led onboarding journey.
4. Don't forget about the rest of the user journey
Remember, onboarding doesn't stop at the activation point. You don't just want to convert and retain customers: you want to showcase the value of your product and encourage them to upgrade.
You can't forget the rest of the user journey.
You should focus on offering relevant guidance at every stage of the flow – that's a proven way to build confidence and enhance your product onboarding experience.
Best practices for the user onboarding process after activation
Checklists can still be a powerful tool: you might want to tailor one to introduce users to more advanced features that can deliver value in specific use cases.
Hotspots and tooltips are also effective ways of providing contextual pointers towards features that might tempt your users towards upgrading.
Let's not forget an age-old growth marketing technique: word of mouth. Get onboarding right, and users can become your best marketing tool and incredibly impactful advocates.
Check out our webinar on how to drive value with Secondary Onboarding.
5. Your product led onboarding strategy doesn't end here
We're not quite done yet!
Onboarding isn't linear. Your product should constantly be evolving: you'll be looking to roll out new features, pushing updates and enhancements live, and tweaking functionality.
Don't leave the user guessing: keep the feedback loop going as your product changes.
Best practices to keep users engaged with changes in your product
A great way to stay in touch is to provide contextual guidance using tooltips, like the example below from Asana.
You can effectively drive new feature discovery using modals and banners – the one below is built with Userpilot.
And remember, you should always be looking to offer self-service, on-demand support options (preferably in-app).
That means users are empowered to solve their problems and don't need to wait for an agent if they can get a quick answer independently.
6. Continuously optimize the product led onboarding experience
How do you know you're successful?
Unless you gather the data, you simply won't know.
So, you should regularly ask users for feedback to identify pain points and areas of friction. That'll give you a clue around the areas you should bolster with additional guidance to simplify the onboarding experience.
Testing, learning, and iterating are key to this process. You can use A/B testing to understand how different in-app experiences help users reach milestones faster.
Best practices for collecting feedback and optimizing the user onboarding process
Micro surveys are a far more effective way of collecting information than long, boring forms.
That's particularly true when they're launched contextually: if you can grab a user's attention the first time they engage with a feature, you're tapping directly into a valuable stream of insight.
Remember though, that without a goal – you can't score.
So you should always set an objective before you launch any A/B testing. For example, if you wanted to see whether a checklist helped boost the number of users who successfully reach activation, you should define the goal with a custom event.
Conclusion
Before you go, one last piece of advice: the best way to master product-led onboarding is to learn from the experts. Yaakov, who started his SaaS journey as the first sales hire for two early-stage companies and is now the founder at Valubyl, will guide you through the core concepts in his talk at the Product Drive Conference. Register now and level up your product-led onboarding game!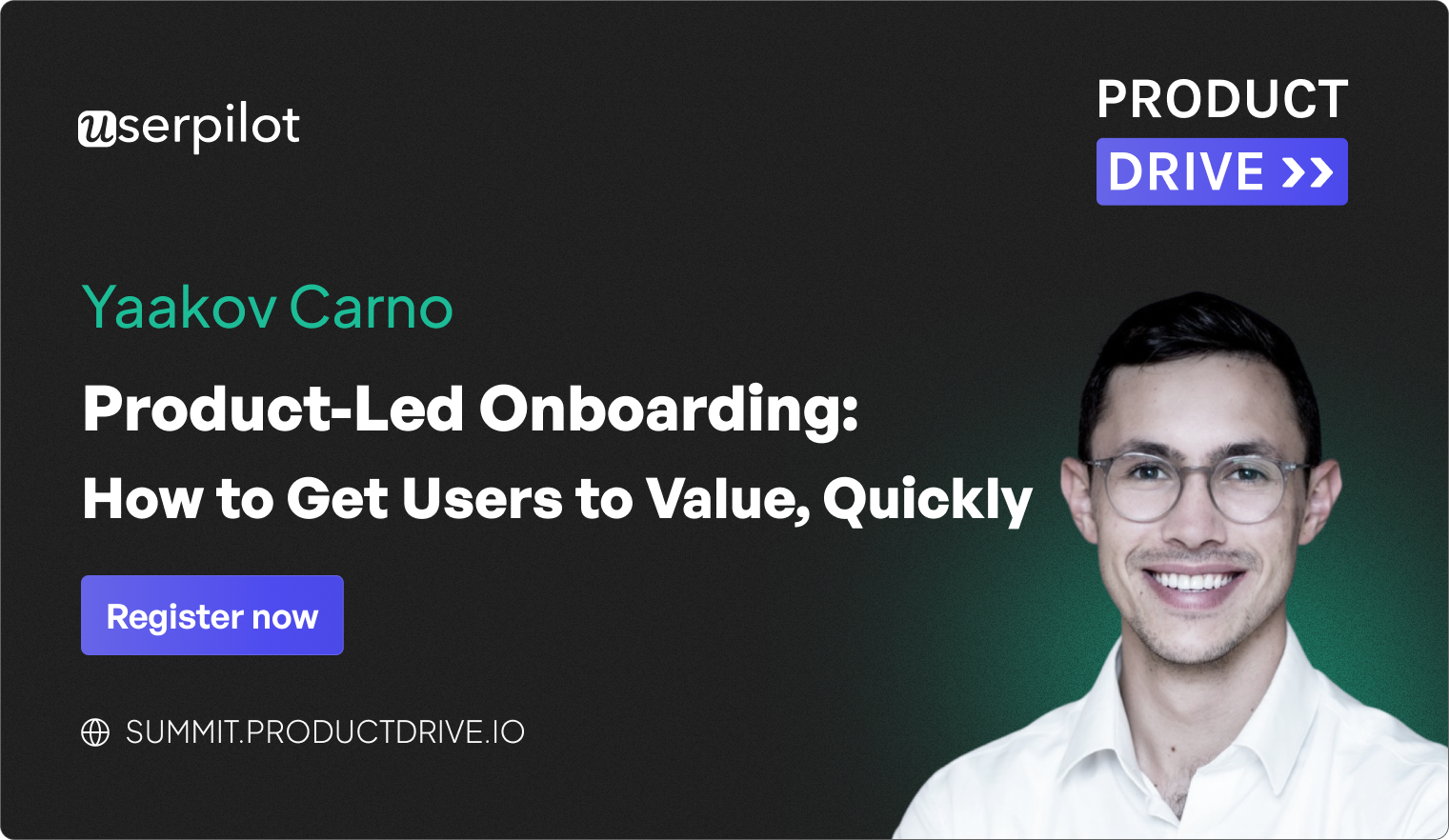 We've covered the fundamentals of product-led growth, and how the key principles filter through to product-led onboarding.
By looking to drive value within the product itself, you're giving yourself the best possible chance of converting new users into loyal, lifelong customers…
And that's an ambition every savvy SaaS owner should aspire to.
Want to get started with product-led onboarding? Get a Userpilot Demo and see how you can craft engaging onboarding experiences that drive customer success.