15 Best SaaS Automation Tools To Include in Your Stack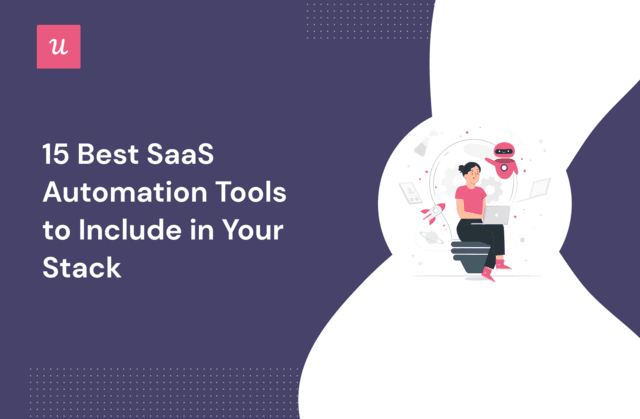 Are you wondering which SaaS automation tool you want to make use of for your business?
Though automation is essential for business growth, you should choose the right one that suits your budget and meets your requirements.
In this guide, you'll learn about the best automation tools you should be using in your SaaS.
So let's get started!
TL;DR
SaaS automation is a way of making manual processes automated with the use of a SaaS service.
Marketing automation can help you reduce time and effort on repetitive tasks, optimize workflow, and increase revenue.
SaaS marketing automation tools can be used for lead generation, content distribution, new user onboarding, customer segmentation, etc.
Want to automate user onboarding code-free? Book a demo today to learn more!

Automate in-app onboarding with Userpilot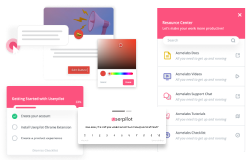 What is SaaS automation and why is it important?
In a SaaS application, automation involves automating multiple tasks that are usually carried out by humans. In addition to saving time, automating these tasks can also reduce the chances of human errors occurring.
When it comes to SaaS automation, there are a lot of benefits that you can get.
Let's take a look at some of the importance of SaaS marketing tools and automation:
Reduce the time and effort spent on repetitive tasks: Repetitive tasks are boring and time-consuming. A number of tasks can be automated using automation tools, including sending emails, producing audit reports, and social media management.
Optimize the workflow and boost productivity: With automation, your team can focus on thinking better and innovating more, instead of performing repetitive tasks. Additionally, automation can reduce human errors and increase revenue and growth.
Increase conversion rates and increase revenue: Automation can help you create tailored and unique experiences for each customer, alternatively reducing customer churn, increasing engagement, and boosting revenue.
Different types of SaaS automation tools
Let's go over different types of SaaS automation tools.
Onboarding and adoption automation software
Onboarding automation software assists businesses in efficiently guiding new customers through their initial experiences with a product or service. These various tools help automate tasks like user registration, product tutorials, and welcome emails.

Start your SaaS automation journey with Userpilot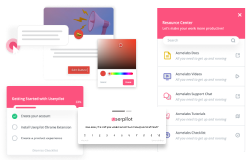 Project management and collaboration automation tools
Project management and collaboration automation tools are essential for efficient teamwork and project coordination. These tools automate various aspects of project planning, execution, and communication. They facilitate task assignments, project timelines, file sharing, and team collaboration.
SaaS marketing automation tools
SaaS marketing automation tools are specialized software solutions that empower businesses to streamline and optimize their marketing efforts.
Email marketing automation tools
Email marketing automation tools are designed to simplify and improve the management of email campaigns. They automate tasks such as sending personalized email sequences, segmenting email lists, tracking engagement metrics, and automating responses to user interactions.
CRM automation tool
CRM (Customer Relationship Management) automation tools are software solutions that streamline and enhance customer relationship management processes. They automate data entry, lead tracking, and customer communication, allowing sales and support teams to focus on building strong relationships.
Sales automation software
Sales automation software is designed to simplify and optimize sales processes. It automates tasks such as: lead nurturing, scoring, contact management, follow-ups, and sales forecasting.
Overview of the best SaaS automation tools
We put together a list of the best marketing automation tools for your SaaS. Let's walk through each tool together.
Userpilot – for user onboarding automation and in-app communication
Userpilot is a product growth platform that drives user activation, feature adoption, and expansion revenue. It also helps product teams collect user feedback, streamline onboarding, and marketing activities and gather actionable insights from analytics.
With Userpilot, you'll be able to track both product usage and user behavior to get a holistic view of how customers use your product — which will guide future development, improve the user experience, and inform your growth efforts.
Userpilot pros
As a full-suite digital adoption platform, Userpilot has all the features you need to onboard users, track analytics, and gather feedback from customers without writing a single line of code. Here are a few pros of using Userpilot as your product growth solution:
No-code builder: Userpilot's Chrome extension lets you build flows, add UI elements, and tag features without writing a single line of code.
UI patterns: There are plenty of UI patterns to choose from when using Userpilot, such as hotspots, tooltips, banners, slideouts, modals, and more!
Startup-friendly: Userpilot's entry-level plan gives you access to all available UI patterns so you can hit the ground running.
Walkthroughs and flows: Build engaging interactive walkthroughs and personalized onboarding flows that target specific segments of your user base.
Self-service support: Build an in-app resource center to help users solve problems, customize its appearance to align it with your brand, and insert various types of content (videos, flows, or chatbots) to keep your customers satisfied.
A/B testing: Userpilot's built-in A/B testing capabilities will help you split-test flows, iterate on the best-performing variants, and continually optimize based on user behavior.
Feedback collection: Userpilot has built-in NPS surveys with its own unified analytics dashboard and response tagging to help you retarget users. There are other survey types to choose from and you can even create your own custom survey.
Survey templates: There are 14 survey templates to choose from so you can gather feedback on specific features or run customer satisfaction benchmarking surveys like CSAT and CES.
Advanced analytics: Userpilot lets you analyze product usage data, monitor engagement on all in-app flows, and use the data to create user segments that are based on behaviors instead of demographics.
Event tracking: Userpilot's no-code event tracking lets you tag UI interactions (hovers, clicks, or form fills) and group them into a custom event that reflects feature usage.
Third-party integrations: Userpilot has built-in integrations with tools like Amplitude, Mixpanel, Kissmetrics, Segment, Heap, HubSpot, Intercom, Google Analytics, and Google Tag Manager so you can share data between all the solutions in your tech stack.
Userpilot cons
Of course, no tool is perfect and there are a few cons to consider before choosing Userpilot as your user onboarding or product growth solution:
Employee onboarding: Currently, Userpilot only supports in-app customer onboarding.
Mobile apps: Userpilot doesn't have any mobile compatibility which could make it difficult for developers with cross-platform applications to create a consistent user experience for both versions of their product.
Freemium plan: There's no freemium Userpilot plan so those bootstrapping their startup and need sub-$100 solutions should consider more affordable onboarding platforms like UserGuiding or Product Fruits.
Userpilot pricing
Userpilot's transparent pricing ranges from $249/month on the entry-level end to an Enterprise tier for larger software companies only.
Furthermore, Userpilot's entry-level plan includes access to all UI patterns and should include everything that most mid-market SaaS businesses need to get started.
Userpilot has three paid plans to choose from:
Starter: The entry-level Starter plan starts at $249/month and includes features like segmentation, product analytics, reporting, user engagement, user feedback, and customization.
Growth: The Growth plan starts at $499/month and includes features like resource centers, advanced event-based triggers, unlimited feature tagging, AI-powered content localization, EU hosting options, and a dedicated customer success manager.
Enterprise: The Enterprise plan uses custom pricing and includes all the features from Starter + Growth plus custom roles/permissions, access to premium integrations, priority support, custom contract, SLA, SAML SSO, activity logs, security audit, and compliance (SOC 2/GDPR).

Try Userpilot and Take Your SaaS Marketing Automation to the Next Level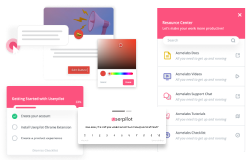 Hotjar – user behavior automation tool
Hotjar is a behavior analytics tool that helps you understand your users and see how they are interacting with your website. It is mostly known for its Heatmaps feature, which shows how visitors engage with your website.
However, Hotjar also allows you to record users' sessions on your website so you can identify friction points on your website that harm user experience.
Hotjar pros
Shareable heatmaps.
Great customer support.
Hotjar cons
No customer segmentation.
Limited integration.
No predictive analytics.
Hotjar pricing
The pricing for Hotjar starts at $39.0 per month. Hotjar has 3 different plans: Plus at $39.00 per month. Business at $99.00 per month.
Zapier – Integration automation software
Zapier is an online tool that helps you automate tasks between website applications, such as Slack, Mailchimp, and over 1,000 other apps. With Zapier, you can send information from one app to another (Zap) without relying on developers to build integrations.
For example, you can integrate with Hubspot (CRM automation tool), so anytime a new contact gets created, they automatically get added to your Mailchimp (email automation tool) list. Essentially, Zapier saves time on repetitive tasks.
Zapier pros
Easy to set up each Zap without technical experience.
Multi-step automation for even complicated workflows.
Robust integration with lots of web apps.
Zapier cons
Limited control of how data transfer is.
Lots of time on troubleshooting.
Zapier pricing
Zapier has a Free plan, a Starter plan, a Professional plan, a Team plan, and a Company plan. Each plan has a starting price and then tiered pricing based on how many tasks you need.
Qualaroo – Customer feedback automation software
Qualaroo is a customer feedback tool that allows you to create targeted surveys to collect real-time feedback from customers. You can also build different surveys with Qualaroo; NPS, CES, UES, CSAT, and so on.
With Qualaroo's AI-based sentiment analysis engine, you can analyze customer feedback data and use the information to improve your product.
Qualaroo pros
Here is a list of potential pros:
User-friendly
Users can customize surveys to match their branding
Target specific user segments or website visitors with personalized surveys.
Real-time insights
A/B testing
Qualaroo cons
It's important to note that the pros and cons of Qualaroo can vary depending on individual business needs and use cases. But here are the cons:
May still require some time to learn the platform's features and capabilities.
Limited survey types
Dependency on website traffic
Qualaroo pricing
Qualaroo offers a range of pricing plans. Here's an overview of their pricing tiers:
Essentials ($69/month billed annually)
Premium ($149/month billed annually)
Business (Custom Pricing, talk to Qualaroo)
Additionally, they offer a White Label Package for $300/year, allowing users to remove "Powered By" links and enhance branding.
Zendesk – customer support automation tool
Zendesk is a customer service software that helps businesses manage customer relationships across multiple communication channels. It also offers a wide range of features, including live chat, email marketing, and a help desk.
Zendesk has multiple products, including:
Sunshine Platform: To help you create and provide personalized customer experiences.
Zendesk Sell: It is a sales CRM that provides everything your sales team needs in one simple platform to maximize productivity, maintain pipeline visibility, and grow revenue.
Zendesk for Service: A customer service solution that allows you to manage customer support and keep your business in sync.
Zendesk pros
Zendesk's strengths lie in its versatility, integration capabilities, and robust features that empower businesses to deliver exceptional customer support and manage sales processes effectively. Its pros include:
All-in-One solution.
Robust integration.
Extensive reporting.
Omni-channel support.
Zendesk cons
Here's a concise list of potential drawbacks or cons related to Zendesk:
Learning curve
Complexity for small businesses
Customization complexity
Zendesk pricing
Here's the pricing information for Zendesk Suite plans:
Basic Plans: Starting at $19/month per agent for a monthly subscription.
Suite Team: $55 per agent/month, $3,300/year for 5 agents.
Suite Growth (Most Popular): $89 per agent/month, $5,340/year for 5 agents.
Suite Professional: $115 per agent/month, $6,900/year for 5 agents.
Suite Enterprise and Suite Enterprise Plus: Custom pricing
Aeroleads – Leads generation automation tool
Aeroleads is a web-based lead generation software that finds email addresses, contact addresses, and other B2B data. The tool generates prospects' lists based on your search criteria from LinkedIn, AngelList, or Crunchbase. It is possible to export generated data as CSV files or transfer it to sales automation software such as Salesforce, FreshSales, HubSpot CRM, etc.
Aeroleads pros
Aeroleads, a lead generation and prospecting tool, offers several pros that make it a valuable choice for businesses looking for other tools to boost their sales and marketing efforts:
User-Friendly interface
Affordable pricing
Responsive customer support
Aeroleads cons
Aeroleads, like many lead generation tools, have some cons, and one common drawback is:
Inaccurate Email Generation: Users have reported instances where Aeroleads generates incorrect or inactive email addresses. This can be a limitation, as inaccurate email addresses can lead to wasted outreach efforts and potentially damage the sender's reputation.
Aeroleads pricing
AeroLeads has 3 different plans:
TAKE OFF at $49.00 per month.
CLIMB at $149.00 per month.
CRUISE at $499.00 per month.
Meet Alfred – LinkedIn automation tool for lead generation
Meet Alfred is a SaaS marketing automation tool that helps users create and manage automated marketing campaigns, target specific audiences, and track campaign performance.
With its intuitive interface and advanced automation capabilities, it is designed to help businesses optimize their marketing strategies, save time, and generate more leads and conversions.
Meet Alfred pros
Here are some of the pros of Meet Alfred:
Efficient lead generation
Personalization
Advanced Targeting
Detailed analytics
Meet Alfred cons
Here are some of the cons associated with Meet Alfred:
Data privacy
Integration challenges
Risk of overwhelming
Meet Alfred pricing
Here are the Meet Alfred pricing plans:
Personal: $49 per month.
Business: $69 per month.
Enterprise: $245 per month (includes 5 users).
Hubspot – CRM automation software
Hubspot is an all-in-one platform as it offers marketing automation software, sales, customer service, CMS, and operations solutions.
The CRM platform allows users to connect with over 800 apps, APIs, and solutions partners to create a personalized user experience.
Hubspot pros
Here are the pros of HubSpot CRM based on the provided points:
Free CRM Software: HubSpot CRM offers a mostly free CRM solution, making it an attractive option for businesses looking to manage their customer relationships without incurring significant costs.
Easy-to-Use Platform: HubSpot CRM stands out for its user-friendly interface, ensuring that users can navigate and utilize the software with ease. This simplicity enhances user adoption and productivity.
Excellent Customer Support
Userpilot Integration: Thanks to the Userpilot-Hubspot integration you can easily send data from one app to the other without having to export or import it manually.
Hubspot cons
Here are limitations worth considering when evaluating HubSpot CRM:
Basic Templates: HubSpot CRM may offer basic email templates that might not fully meet the design and customization needs of businesses looking for more visually appealing or tailored email communication. Users may find the template options somewhat limited in terms of creativity.
Only One Email per Account: A limitation of HubSpot CRM is that it typically allows only one email address per account. This could be a drawback for businesses or individuals who require multiple email addresses or aliases for different purposes, such as sales and support, within the same CRM account.
Hubspot pricing
HubSpot offers a range of pricing plans across its various hubs, tailored to different business needs. Here's a brief overview of HubSpot's pricing:
HubSpot Sales: Starting at $20 per month.
HubSpot Marketing Automation Platform: Starting at $20 per month for 1,000 leads.
HubSpot Customer Service: Starting at $20 per month for two users.
HubSpot CRM Suite: Starting at $50 per month.
Salesforce- marketing and sales automation tool
Salesforce is a cloud-based CRM system that helps enterprise businesses generate leads, manage marketing campaigns, close deals, and connect with customers at different stages of the customer journey.
By using the sales cloud, you are able to automate tasks such as lead and contact management, sales information, mobile interactions, and more.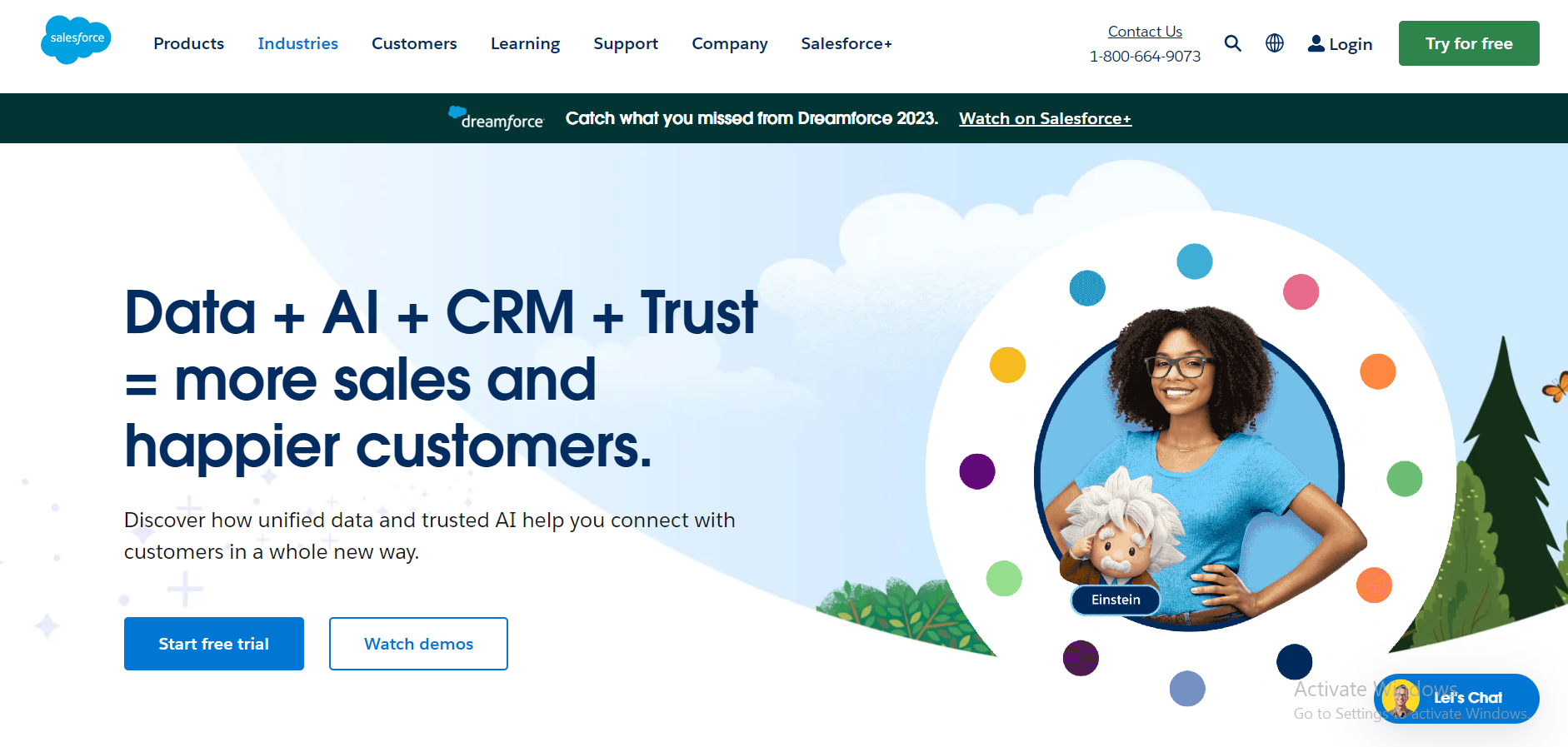 Salesforce pros
Here are some of the key pros of Salesforce:
Comprehensive CRM Features: Salesforce provides a comprehensive set of CRM tools and features, including lead management, customer data and contact management, opportunity management, reporting and analytics, workflow automation, and more. This breadth of functionality allows businesses to manage customer relationships effectively.
Scalability: Salesforce is scalable, making it suitable for small businesses, mid-sized companies, and large enterprises. It can grow with your business as your needs evolve.
Salesforce cons
Complex Setup: Setting up Salesforce Sales Cloud can be complex, especially for businesses with unique processes or requirements. Customizing the platform to match specific workflows and integrating it with other systems may require expert assistance, adding to the complexity and implementation time.
User Interface: Some users find that the interface of Salesforce Sales Cloud is not the most intuitive or user-friendly. The extensive range of features and options can be overwhelming, especially for new users, and may require a learning curve to navigate effectively.
Salesforce pricing
The price is going to depend on the needs of your business and the number of users that you have. Pricing starts at $25 per user, per month, so if you have four users, then you'll pay $100 per month for using the Salesforce CRM.
Calendly – Appointment scheduling automation tool
Calendly is a popular appointment scheduling software for businesses and individuals looking to eliminate email hassle and automate their appointment system. It also integrates with many tools (Zoom, Slack, Salesforce, Zapier, etc.) to make your appointment booking seamless and hassle-free.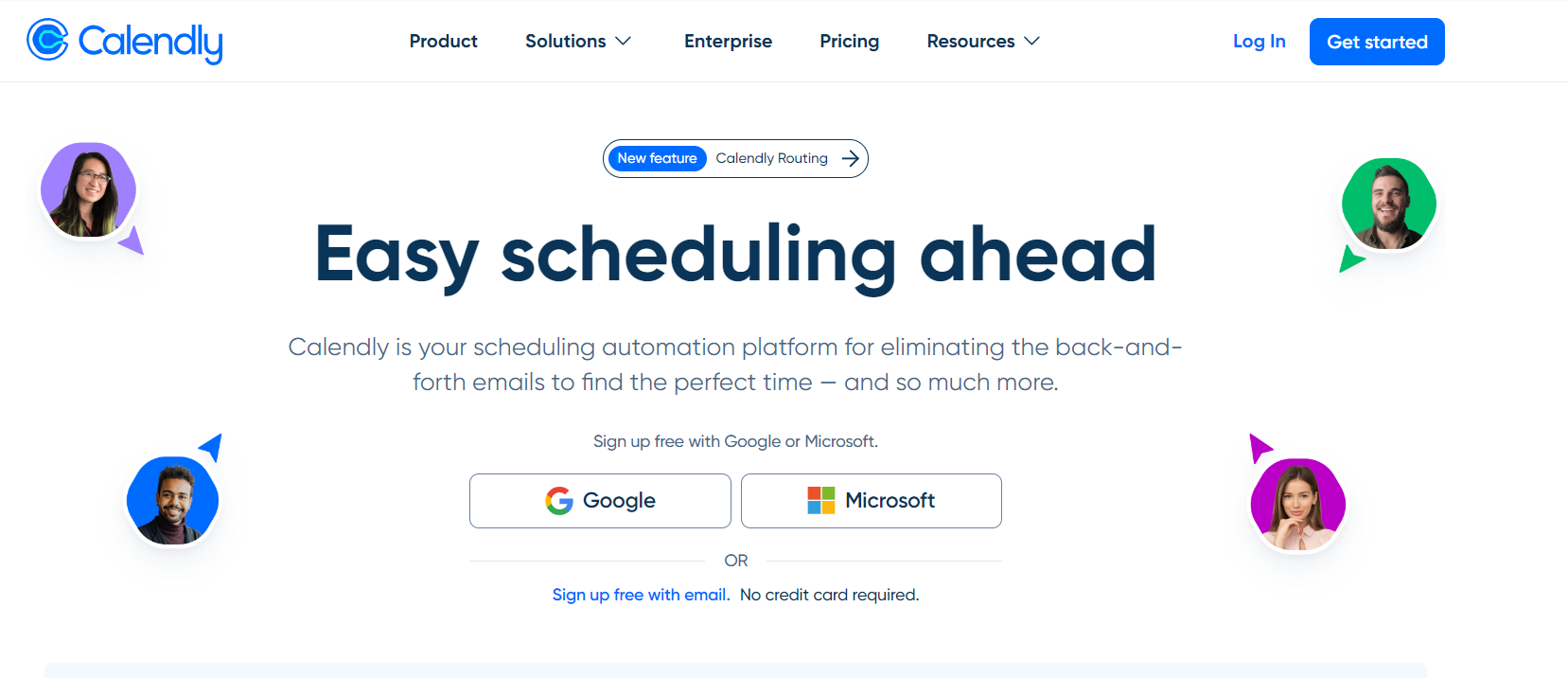 Calendly pros
Calendly is mobile-friendly.
The free version is great for handling basic appointments.
You can set up different event types for booking.
The Calendly software is easy to use; no technical knowledge is required.
You can share your booking link anywhere as it's easy to integrate Calendly with your website, landing pages, social media, etc.
Calendly cons
Live chat support is not available for everyone, only for larger teams.
The software is quite expensive for larger teams.
Calendly pricing
Calendly comes with a free-forever plan for individuals. The Essential plan starts at $8/seat/mo, the Professional plan starts at $12/seat/mo, and the Teams plan starts at $16/seat/mo.
Hootsuite – Social media automation tool
Hootsuite is an all-in-one social media automation tool that integrates with many social media platforms.
With Hootsuite, you can easily schedule posts across multiple social networks and manage organic and paid social content. You can also easily keep track of customer conversations and gain actionable real-time insights from social media marketing to make critical business decisions—all from one dashboard.
Hootsuite pros
User-friendly interface.
Lots of integrations with various social media platforms.
Hootsuite cons
Analytics and reports may lack depth for some users.
Hootsuite pricing
Here's an overview of Hootsuite's pricing plans:
Professional: $99 per month (billed annually).
Team:$249 per month (billed annually).
Enterprise: Custom pricing.
Mailchimp – automation tool for email marketing campaigns
Mailchimp is an email marketing automation platform that allows you to create, send, track, and analyze email campaigns. As the backbone of your email marketing campaigns, they provide analytical features and tools that enable you to use emails to communicate with your leads and clients effectively.
Mailchimp pros
Free plan for up to 9000 emails per month.
An all-in-one email marketing tool.
Detailed statistics and analytics.
Fully GDPR compliant.
Mailchimp cons
Very basic email templates.
The interface is not user-friendly.
Mailchimp pricing
Let's give you a quick snapshot of Mailchimp's pricing structure:
Free Plan
Essentials Plan: Starts at $11.08/month
Standard Plan: Starts at $18.38/month
Premium Plan: Starts at $308.85/month
Asana – Project management tool that helps automate tasks
Asana is a cloud-based project management tool that provides a virtual workspace where teams can collaborate and work from any device. Project managers can create tasks, assign them to team members, and set deadlines. It also has a built-in communication feature to allow team members to communicate and collaborate on a project.
Asana also lets you organize daily tasks, and automate your projects.
Asana pros
Nice interface
In-app guidance
Effective project management
Asana cons
Not ideal for small teams or single projects.
No time tracking feature.
Asana pricing
The free version of Asana is available for teams of up to 15 people. Asana Premium costs $10.99 per user per month when billed annually and $13.49 per user per month when billed monthly. The price of Asana Business is $24.99 per user per month when billed annually and $30.49 when billed monthly.
Slack – Collaboration and communication tool for SaaS companies
Slack is a communication tool that offers real-time messaging. Most companies use Slack for collaboration online meetings and communication.
Slack pros
It's easy to share and collaborate with someone in real time.
It has a mobile application that makes collaboration easy even after work hours.
Searchable history.
Slack cons
Messages get deleted after 14 days in the free version.
Can't be customized to your needs.
Slack pricing
The Slack Pro plan costs $8.75/user/month if you're paying monthly and $7.25/user/month for annual subscriptions. You can get Business+ for your SaaS business for $12/user/month or $15/user/month for annual and monthly payments, respectively.
StoryChief – Content distribution automation tool
StoryChief is a content marketing solution that helps businesses streamline their content publishing and distribution. This means you can distribute content via multiple channels and promote them across online platforms within StoryChief.
StoryChief pros
Publishes and distributes content effortlessly across different platforms.
Affordable pricing plans.
Lots of automation tools.
Convenient post-scheduling.
StoryChief cons
Lack of live collaboration.
Can't have more than one person editing a doc at one time.
StoryChief pricing
StoryChief starting pricing and plans include:
Individual:
Starts from $80 per month when billed quarterly.
Billed annually at $720 per year (saving 2 months).
Marketing Team:
Starts from $280 per month when billed quarterly.
Billed annually at $2800 per year (saving 2 months).
Agency:
Starts from $500 per month when billed quarterly.
Billed annually at $5000 per year (saving 2 months).
Conclusion
And there you have it!
These were our top 15 best SaaS marketing automation tools that you should include in your stack.
Check all of them out, sign up for their free trials, and see if they are a good fit for your SaaS business.
Want to automate your user onboarding and build automated product experiences code-free? Book a demo call with our team and get started!