12 Essential Tools For Your SaaS Marketing Automation Software Stack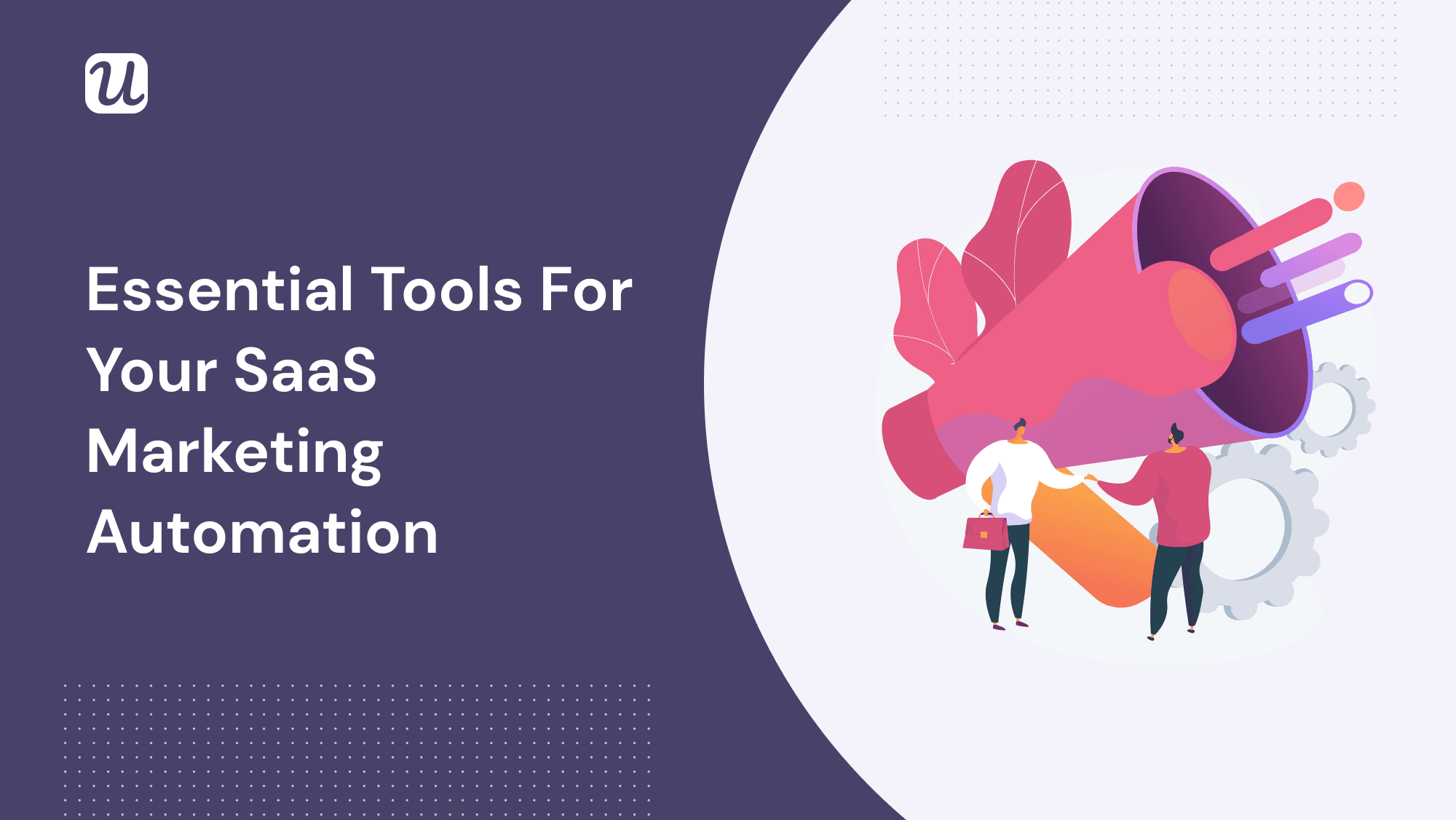 Looking to build a marketing automation stack for your SaaS? This curated guide covers 12 SaaS marketing automation tools to help the multi-tasking product marketing ninjas save some time!
TL;DR
SaaS marketing automation helps deliver the right message through the right communication channel at the right time.
With the right selection of SaaS Marketing automation tools, Product Marketers can deliver omnichannel messages with a high degree of consistency in communication.
Automation can take a product marketer's time away from repetitive tasks and give more time to other priorities.
What is SaaS marketing automation?
SaaS Marketing Automation is a process of automating marketing activities with the use of software. MarTech tools allow product marketers to send contextual messages to their users at the right time, through the right channel – at scale. Think sending emails or in-app messages across multiple touchpoints, when the user reaches a certain milestone. This helps them improve product metrics, user satisfaction, and provide a better customer experience.
Whether you're trying to salvage an abandoned registration or drive product adoption through timely nudges inside the platform, the right SaaS marketing automation tool can help you deliver on-brand messaging with coherence across multiple touchpoints. The result would not only be an improved user experience across the entire lifecycle of a customer but also hours, if not days, of time saved for the product marketer to invest in other opportunities.
Why is marketing automation important for SaaS?
Obviously, as a self-serve SaaS business product marketer, you cannot monitor your users' behavior and new signups all the time. Hence – sending messages manually will not be effective nor efficient.
Here are some examples where marketing automation can help your SaaS business:
nudging your prospect at the right time on their first visit to the landing page increases the chances of getting them to register for a demo or signing up
greeting every new user with a personalized email that includes quick resource links that can increase user activation and product adoption
onboarding messages and nudges that can help your users navigate through the platform without the need to get on a call with your customer success team
sending timely communication regarding updates and offers to keep your users captivated, resulting in higher retention and LTV.
and the list goes on …
What are the different types of SaaS marketing automation tools?
There are a few categories of tasks in SaaS marketing that are relatively easy to plan and automate. So unsurprisingly, there are several tools that can help you automate:
email marketing
social media marketing
product adoption
self-serve support
in-app user communication
Ready to dive into the list?
12 Best SaaS marketing automation tools for SaaS
1. Best SaaS marketing automation tools for Email
Emails are an important part of contextual onboarding – from welcome emails, reminder emails about completing key activation points, to emails aimed at conversion.
Email automation in SaaS is also essential to re-activate slipping away (or disengaged) users you've not seen for a while in your product.
Not to mention product launches, special offers etc.
Here are some of our top picks for email marketing automation for SaaS:
Customer.io
Customer.io is an omnichannel marketing automation platform that can be a great choice for early-stage startups as well as established SaaS businesses. With customer.io, product marketers can:
create segmented user lists based on pre-determined or behavioral triggers
send automated emails, push notifications, and SMS to these segments.
measure funnel and campaign performance with basic analytics and insights.
Customer.io's workflow builder makes it extremely easy to configure time-based or behaviour-based events that can trigger templated messages to your users.
Customer.io has a relatively steep learning curve as compared to the other options we've included here. Also, if you ever wish to export data to another platform, you're going to probably require to do some cleaning up. They do however have integrations with platforms like Segment.io and Zapier.
ActiveCampaign
If you're looking for email automation with a lot of integrations, you're going to like ActiveCampaign. While it has parity with most email marketing automation platforms in terms of contact segmentation and targeted omnichannel messaging, there are a few interesting features that set it apart from the competition:
– With the 'Deals' feature, the platform now allows you to add notes to contacts, set up appointments, send direct messages to them, and much more. This makes it an attractive option if you're into ABM.
– The 'Conversations' feature is similar to the workflow builder of Customer.io. You can send emails, SMS, notifications, on-site message. However, if you're keen on sending messages on slack, then you might have to opt for Customer.io
– ActiveCampaign offers more than 125+ modern, responsive templates to choose from which makes it easier for non-technical users to launch their first campaign.
It's also one of the more affordable solutions on the list. There are some G2 crowd reviews that suggest the team has become slow to respond as compared to how they were in the past so a call with them to set expectations would not be a bad idea.
Drip
Designed with simplicity, offers a clean and modern UX for an email marketing automation platform to grow their businesses, especially if you're in e-commerce.
In fact, Drip often describes itself as the world's first eCRM or e-Commerce Relationship Manager. A large list of customer actions are available by default within Drip's automation editor, so you don't need your technical team to invest a lot of them in the setup. You can add product information dynamically into emails using a simple system of shortcodes.
Even though it does not offer a large library of email templates like ActiveCamapign, its editor has a fresher look and you can design your own templates or upload templates to run your campaigns.
2. Best SaaS marketing automation tools for social media
Kontentino
Kontentino helps SaaS companies plan, preview and schedule posts for sharing on social media platforms like Instagram, LinkedIn and Facebook.
The solution enables users to manage multi-channel and profiles from a single calendar and tag different pages in posts.
Additionally, the solution also enables users to manage content management workflows and document changes made to specific posts. Users can also reuse the visual content stored in albums in separate posts.
Buffer
Buffer helps SaaS businesses publish their social media content, engage with their followers, and analyze their social media performance.
The solution integrates with networking platforms like Facebook, Instagram, Twitter, LinkedIn, and Pinterest. Additionally, social media posts can be personalized for each platform and then sent out all at once.
Buffer can also automatically publish social media posts at predefined times. It also has a browser extension and mobile apps to share and create social media posts from anywhere.
Buffer also provides advanced analytics to track social media performance and see the weekly or monthly performance. Analytics data can also be explored to do further calculations or to create reports.
Compared to Kontentino, Buffer is the ideal choice for collaborative teams as it offers a lot of team functionality. Kontentino may be more budget-friendly though!
Hootsuite
Hootsuite enables SaaS companies to collaboratively carry out campaigns across various social networks like LinkedIn, Facebook, and Twitter. It enables users to launch campaigns from a single dashboard.
Hootsuite offers various functionalities for measurement and reporting through tools for team collaboration, audience engagement, analytics, and account security.
Messaging can be delegated to the team, and their progress can be monitored. Additionally, users can select the date and time that messages will be sent out.
3. Best SaaS marketing automation tools for product adoption
Userpilot
Userpilot enables you to customize your onboarding flows, analyze user behavior, and use in-app messaging to drive user engagement and product adoption.
You can easily build fully interactive, branched in-app experiences to increase new user activation, feature adoption, user engagement, retention and account expansion.
You can also use it to promote events (e.g. user webinars) in-app.
You can build literally anything in Userpilot without coding – using several different UI patterns and actions: tooltips, modals, slideouts, driven actions and time delays, page scroll position, embedded micorsurveys, and page changes.
Userpilot is ideal for product marketers that don't code – you only need your devs to install Userpilot on your app (via a few lines of javascript) and to pass custom events (but you can tag frontend events yourself using UI selector too)!
You can also set and track feature adoption goals and instantly see the ROI on the experiences you've built:
Contextual onboarding is where your onboarding meets the individual needs of your users. You can show the right message to the right users at the right time. This is far more effective than boring product tours.
Userpilot also offers simple to use product analytics. It shows you how you are progressing with your product and identifies where your onboarding is falling short.
It also allows you to measure user sentiments with NPS surveys.
Get your free demo of Userpilot today!
Pendo
Pendo may seem similar to Userpilot in terms of functionality but is geared towards more enterprise-level customers than mid-market SaaS teams. Pendo combines the detailed analytics of product analytics tools like Amplitude, Heap or Mixpanel with the functionality of a product adoption tool BUT beware – it's also a lot more difficult to use than Userpilot and comes with a much higher price tag.
Pendo enables product teams to create and distribute surveys and polls to generate quantitative as well as qualitative insights into customer sentiment. The product roadmap module enables staff members to visualize product strategy and create plans based on multiple criteria, including timeline and segments.
It also lets its employees capture, prioritize and manage customer feature requests, facilitates product optimization and revenue generation process.
Pendo offers similar features as that of Userpilot, but Userpilot caters to the needs of SaaS businesses better through its simple and intuitive UI and monthly payment options (Pendo would lock you into a 1-3 year contract and the price is available upon request only.)
WalkMe
WalkMe helps SaaS companies drive customers to specific actions through automated drip balloons as a part of the 'Walk-Thrus' feature. It can be played automatically via a link in an email widget that allows customers to choose a specific 'Walk-Thru.' The feature also uses segmentation to change the display based on a client's role, location, and language.
WalkMe analytics feature allows users to track user interactions within the platform and make modifications to update the way users are guided through the site.
WalkMe's benefits include data integrity improvement, better employee productivity, increased software proficiency and simpler CRM onboarding. However, when compared, Userpilot has a lot more to offer including features like product tours, training, design customization, screen optimization, feedback management, customer engagement and user onboarding through tooltips, checklists, modals and hotspots.
4. Best SaaS marketing automation tools for self-serve support
Userpilot
Userpilot comes with a Resource Center that helps you keep more users at every stage of the user journey. It enables your end-users with answers and contextual guidance on-demand. The Resource Centre can include a variety of pre-built modules of your choice which can also be customized to provide the best user experience.
With the Resource Centre, you can achieve milestones set for the activation process by including checklists that take the users on a journey, access custom content like live chat, provide your users with answers by including access to knowledge base articles, etc.
The in-app resource center can provide a wide range of educational media like videos and links to different articles, which can be searched using the in-app widget. You can also easily launch in-app experiences and chat from the resource page.
Intercom
Intercom allows a significant amount of customer support to be automated and simplify its delivery via articles and a knowledge base that grows constantly. Searching for answers in an application with Intercom support will quickly deliver articles that can possibly solve your problem statement or will also quickly assign a CSM to you to answer it directly in case of complexity.
Intercom is an easy choice if you want to create unique and engaging customer journeys. It automates everything from emails to customers to internal communication for your teams.
Zendesk
Zendesk offers customizable tools to build a customer service portal, knowledge base, and online communities. The online customer portal helps agents to track the tickets raised and updates the status. Customers can skim through existing tickets to find answers to queries similar to their questions, or they can raise tickets in the portal.
Zendesk allows SaaS businesses to create a knowledge base that can address some of the most obvious and repetitive questions so that customers can go through the basic set of queries and ask in general. It also enables businesses to set up an online community where customers can post queries and reply to ongoing discussion threads.
5. Best SaaS marketing automation tools for user communication
HubSpot chatbot
HubSpot offers a live chat chatbot for SaaS websites which is also called HubSpot Conversations. HubSpot's Conversation is also available for teams with hierarchical relationships. The support bot also enables users to show knowledge base articles to visitors or let them create a support ticket.
You can also trigger chats by creating 'chatflows' based on the website URL or create a chatflow that can only be visible to contacts tracked in HubSpot CRM. What's more, is that you can create a shared team email address for each Inbox. HubSpot gives a hosted email address, or you can also have a custom email address. You can add certain rules to incoming emails to assign them to individuals or teams.
However, the only way to make the most of HubSpot Conversations is to own all HubSpot's tools for marketing, sales, service, and CRM.
Intercom chatbot
Intercom offers an entire suite of messaging products that help SaaS companies acquire, engage, and support their customers. Intercom's chat window has a flair of familiarity to bring ease of use for your customers.
Intercom's chat window also enables embedding videos, images, and articles.
The Intercom chat also can be used as a rules-based communication tool as you can trigger automated chats based on custom events and user behavior. The Team Inbox features lets you collaborate between departments, thereby saving time and measure your team's performance with helpful analytics.
All in all, Intercom's suite of tools helps you boost revenue through optimization of all your customer interactions.
Drift
The Drift live chat platform allows SaaS companies to create a better buying experience for their website visitors by engaging with them right away. The chatbot is deployed on the website and asks visitors about their interests and other qualifying questions. Once a lead is qualified, the chatbot automatically passes it on to the sales team for follow-up. The chatbot can also engage with visitors when users are offline.
The solution has additional features like creating multiple inboxes, adding internal notes on each conversation, and writing saved replies for FAQs.
The live view feature lets users see who is currently on their website so that they can proactively chat with them. Additionally, the conversational analytics feature provides insights like response times to a conversation.
6. Best SaaS marketing automation tools for paid channels
AdRoll
AdRoll helps SaaS businesses create and optimize personalized advertisements across multiple platforms and devices. It enables employees to map customer journeys, run marketing campaigns and capture and store customer data in a centralized repository.
The solution enables users to categorize customers based on completed actions, viewed products, purchase funnel, and more. Additionally, AdRoll offers various features, including A/B testing, reporting, collaboration, data visualization, communication management, and analytics.
It offers API, which facilitates integration with several third-party platforms like Shopify, WooCommerce, HubSpot, etc.
In a nutshell, AdRoll is a great option for retargeting platforms whereas the service and ease of use make it more appealing.
Adzooma
Adzooma helps businesses improve marketing operations by managing and optimizing sales campaigns across Google, Facebook, and Microsoft Advertising. Users can view automated recommendations about suggested keywords, presence targeting, budget management, and landing page optimization with engine and machine learning algorithms.
Adzooma helps enterprises analyze recommended data and automatically pause ongoing campaigns on low-performing keywords. Managers can configure automation rules by defining specific conditions and receive notifications about budget overspend across campaigns. Marketers can use Adzooma to generate customizable reports and collect feedback via email, Facebook, and Slack.
However, Adzooma focuses on pay per clicks (PPC) ads on Google, and does not offer other types of advertising like retargeting or display ads. So, if you want a multi-modal advertising agency, Adzooma isn't the right fit for you.
AdExpresso
AdExpresso helps businesses great ads for their brands. Some of its main features are the ability to analyze content and optimize to increase conversion rates. Ads for multiple platforms like Instagram, Facebook, and Google can be managed through one dashboard. The tool also includes a grid composer that allows for organizing a large number of ads.
AdExpresso also can create and manage custom audiences automatically. It syncs all the data between Facebook and the CRM of choice and stores them in the Asset manager to use again. Users can also customize their analytics reports by choosing which metrics are the most important and the level of detail they want to see them.
AdExpresso is ideally suitable for SaaS companies with larger budgets and those who want to build out a broad range of ads quickly and do not want to spend too much time on Facebook Ads Manager.
Conclusion
The right SaaS marketing automation tool will help you automate repetitive marketing tasks, nurture leads through integration with CRM, and automate and personalize marketing messages and context.
You can use the list we've compiled as a starting point for your SaaS marketing automation journey.
If your goal is to increase product adoption with in-app onboarding, get a Userpilot demo today!