Marketing Automation Segmentation: How to Use It to Drive Growth [+ Tools]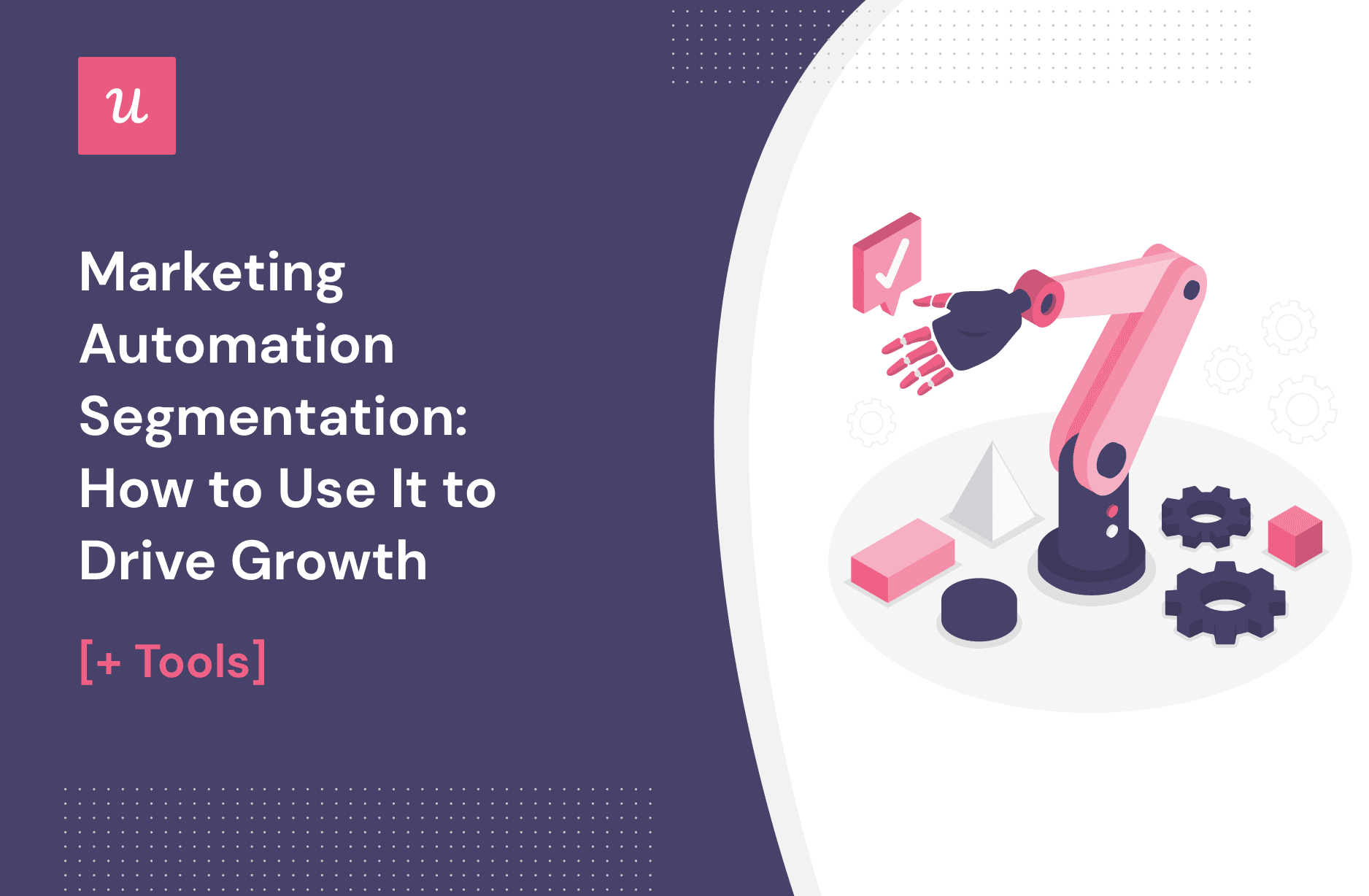 Looking to leverage marketing automation segmentation to offer contextual and relevant in-app messages?
Marketing automation segmentation enables you to deliver the right message to the right people at precisely the right time. This game-changer can help you foster customer relationships, drive engagement, and boost business growth.
In this article, we'll look into how to use marketing automation segmentation to drive growth and the best tools for it.
TL;DR
Customer segmentation in marketing automation involves grouping leads and customers based on shared characteristics to personalize marketing messages.
Marketing automation software lets you segment based on shared characteristics and automates various in-app marketing flows.
Different types of customer segmentation are:
User attribute-based segmentation.
Preference-based segmentation.
Lead scoring-based segmentation.
You can segment customers by:
The top tools you can consider for marketing automation segmentation:
Userpilot is a product adoption tool for enhancing user experiences through in-app messaging and personalized journeys.
HubSpot simplifies marketing campaigns with automation and effective lead nurturing.
Autopilot offers robust customer journey automation with visual canvas and storytelling across multiple channels.
Klaviyo's automation capabilities and email templates streamline email marketing campaigns for deeper customer relationships.
Pardot simplifies marketing tasks and optimizes marketing performance through lead tracking and prospect insights.
Intercom excels in lead generation, automating lead qualification, and providing valuable insights for enhanced conversions.
What is customer segmentation in marketing automation?
Customer segmentation in marketing automation refers to grouping leads and customers based on shared characteristics for marketing purposes, like sending personalized messages.
What is marketing automation software?
Marketing automation software is a powerful tool that enables you to create segments based on their shared characteristics. It also helps you trigger marketing automation flows, such as sending email campaigns, push notifications, etc.
What are the different types of customer segmentation?
Let's look at the different types of segmentations.
Customer segmentation based on user attributes
One of the common ways to segment customers is doing it based on user attributes. You can segment users based on their attributes, like user ID, browsers, devices, location, etc.
User ID segmentation lets you track individual interactions and engagement patterns to understand each user's needs.
Segmenting users based on browsers and devices lets you optimize the experience on their platforms. Location-based segmentation enables you to target users geographically. It's particularly useful to offer region-specific advertising campaigns and provide relevant content to users.
Customer behavioral segmentation
You can use customer behavioral segmentation to better understand your users' preferences and tailor your marketing strategy accordingly. It includes analyzing and segmenting users based on their behavior, like clicks, content engagement, and event data.
Segmentation based on customer behavior is important because it allows you to target them with more relevant content and offers. For example, if you know that a user segment has used a certain feature for the last few days, you can trigger tooltips to deliver further guidance that's relevant to their product use case.
Customer preference segmentation
Segmenting customers based on their preferences is a powerful segmentation type to improve your offerings. You can segment customers based on their communication channels and product use cases and tailor your offerings to meet individual preferences.
In the SaaS field, you can conduct welcome surveys to filter customers by their product use cases. Understanding customer preferences from the start allows you to segment them to conduct targeted marketing efforts. For example, when you know a user segment wants to succeed with specific tasks, you can offer them the most relevant features.
Customer segmentation based on lead scoring
Lead scoring involves assigning a numerical value to each lead based on their interactions and engagement with the product or service. This scoring system allows you to identify and prioritize high-quality leads demonstrating a strong interest in the product.
Then you can segment customers based on lead scores to separate the different types of leads and take action accordingly. You can trigger relevant marketing messages after segmenting customers based on their lead score.
How to segment customers for marketing automation?
Let's see how you can segment customers for marketing automation.
Group trial customers to boost conversion rates
Segmenting trial customers lets you guide users through a seamless onboarding process and improve conversion rates. You need to segment your trial users and closely monitor their behavior to address any user friction. It helps you provide targeted efforts for the users, whether they show high or low engagement or any onboarding friction. Then you can trigger in-app guidance, like onboarding tooltips, to help users conveniently onboard.
For example, if you see some trial users struggle to set up their accounts, you can provide step-by-step instructions with tooltips. This type of in-app guidance with marketing automation segmentation makes the onboarding process more intuitive and user-friendly.
Segment existing customers for product launch marketing campaigns
For product launch campaigns, you should segment the power users or the users who made feature requests. They are the most relevant audience for product launches who are more likely to realize the value of your new product.
For example, you can segment the active users who have completed the onboarding and submitted a missing feature request. Then, you can trigger the new feature announcement's marketing message to this segment and get early feature adoption while satisfying the customers.
Build engaged customer segments to send upgrade marketing messages
You can segment your active users based on feature usage to identify upsell opportunities and boost your revenue. After segmenting them, you can set limits to trigger relevant upgrade messages when they reach usage limits in their plans. This contextual upgrade message increases the possibility of an upsell as it addresses the customers' instant needs.
For instance, let's consider a customer is about to exceed the number of team members allowed in their current plan. At this moment, you can automatically send personalized messages with marketing automation segmentation to encourage upgrading to higher-tier plans.
Segment disengaged customers for re-engagement marketing efforts
You can group customers for marketing automation segmentation with the goal of re-engagement to retain more customers. It helps you implement targeted re-engagement marketing campaigns to them and prevent churn.
At first, you'll need to identify and target disengaged customers, particularly those with low product usage or Net Promoter Score (NPS) scores. By segmenting these detractors, you can follow up with these customers and determine what's stopping them from engaging with your product.
For example, you can do that by triggering churn surveys and cancellation flows whenever the at-risk customers indicate they'll leave the product. You can then send them a churn survey to determine the reasons for their dissatisfaction and take proactive action.
Top choices for marketing automation platform
You've seen how marketing automation segmentation works. You might have realized by now it'll be exhausting and inefficient to do without a marketing automation tool.
Now, let's go through the top 6 marketing automation tools that can help you automate your group-based marketing.
Userpilot for in-app marketing automation
Userpilot is a versatile product adoption tool that enables you to enhance user experiences through impactful in-app messaging marketing. You can use it to drive user engagement, boost product adoption rates, and create a personalized journey for each user.
Userpilot offers rich segmentation attributes for general user attributes, features and events, in-app content engagement, survey responses, net promoter score (NPS), etc.
You can trigger flows for different segments using different engagement layers, like tooltips, modals, slideouts, and driven action.
HubSpot for attracting and nurturing leads
You can rely on HubSpot, a leading marketing automation tool, to put your marketing campaigns on autopilot by integrating CRM data. With HubSpot, you can streamline their efforts, engage leads at scale, and nurture them through personalized experiences.
HubSpot's key features are:
Automation to Scale: HubSpot's marketing automation helps you with marketing automation segmentation by leveraging powerful workflows, chatbots, email triggers, etc. These features let you reach your target audience with personalized messages and optimize marketing strategies.
Lead Nurturing Automation: HubSpot helps you nurture leads by keeping them warm and moving them through the sales funnel with email drip campaigns. You can effortlessly create engaging email sequences and trigger them at the right moment without any coding knowledge.
You can also integrate HubSport with Userpilot to access more data points for customer segmentation.
However, HubSpot's number of panel limits isn't the best value for money in the market, and its UX is sometimes a bit laggy.
Autopilot for customer journey marketing automation
Autopilot is a robust marketing automation software that helps you with customer journey marketing automation. You can also leverage its visual canvas and a wide array of templates to create personalized and contextual journeys.
The top features of Autopilot are:
Setting Up Customer Journeys: Autopilot's user-friendly visual canvas empowers teams to build and automate various marketing tasks. You can map out personalized and contextual customer journeys with a drag-and-drop interface or pre-designed journey templates.
Storytelling Across Multiple Channels: Autopilot allows marketers to deliver personalized messages across many channels, including Facebook, email, SMS, Google Ads, and postcards. You don't need any technical skill set to design and publish captivating campaigns with this marketing platform.
However, Autopilot's analytic features are not up-to-mark and cost-effective options are available.
Klaviyo for email marketing automation
Klaviyo's automation capabilities and easy post-scheduling streamline setting up and running email marketing campaigns. It focuses on centralizing and leveraging every piece of customer data for your email marketing automation work. As a result, you can connect with your audience on a deeper level to drive conversions and retention.
Klaviyo's top features are:
Email and Push Automation: Klaviyo eases email marketing automation with essential and customizable flows. It helps you send rich and engaging emails enriched with dynamic content. You can use those emails to onboard customers, prevent them from churning with better offerings, and in many more cases.
Email Templates: Klaviyo offers access to over 100 expertly crafted templates for email and automation. You can use them as a strong foundation for various marketing campaigns and tailor them using Klaviyo's intuitive content editor.
Although Klaviyo is great for email marketing automation, it is challenging to get started even with the tool's basic features.
Pardot for creating targeted marketing campaigns
Salesforce's Pardot is an innovative marketing automation software that simplifies marketing tasks and processes. It is one of the effective marketing tools that help you engage prospects and nurture leads effectively with targeted marketing campaigns.
Pardot's key features are:
Marketing Performance Optimization: Pardot's AI-driven insights provide valuable information on how marketing channels impact awareness and contribute to conversion. By tracking the marketing key performance indicators (KPIs), you can optimize your account-based marketing campaigns and convert more users.
In-Depth Prospect Tracking: Pardot's advanced tracking capabilities record potential customers' activities, including website visits, newsletter interactions, and conversions on landing pages. Pardot further consolidates and attributes activities to individual prospects and offers deeper insights into each prospect's interests and interactions.
However, it's essential to consider that Pardot's pricing, starting at $1250, makes it less accessible for small and medium-sized businesses.
Intercom for marketing lead generation
With excellent features for lead generation, Intercom is one of the top marketing automation platforms. Its user-friendly features facilitate meaningful conversations with leads, automate lead qualification, and provide valuable insights.
Intercom's best features are:
Automatic Lead Qualification: Intercom's Operator, a powerful bot for customer experiences, automatically captures essential lead details. When a lead engages with the platform, Operator promptly gathers necessary qualification data. It enables you to have meaningful conversations right from the start.
Lead Assignment: Intercom's flexibility extends to assigning leads to the most appropriate teams. This streamlined assignment process ensures that leads receive prompt attention, with teams collecting essential context from previous conversations.
However, Intercom has some concerning customer support and account management issues.
Conclusion
Marketing automation segmentation can be the driving force behind your personalized and contextual marketing efforts. You should leverage it to showcase that your offerings meet each user's expectations, ultimately driving more customer engagement.
Want to get started with marketing automation segmentation? Get a Userpilot Demo and see how you can deliver better-personalized marketing efforts.