Product Launch Manager Role – Everything You Need to Know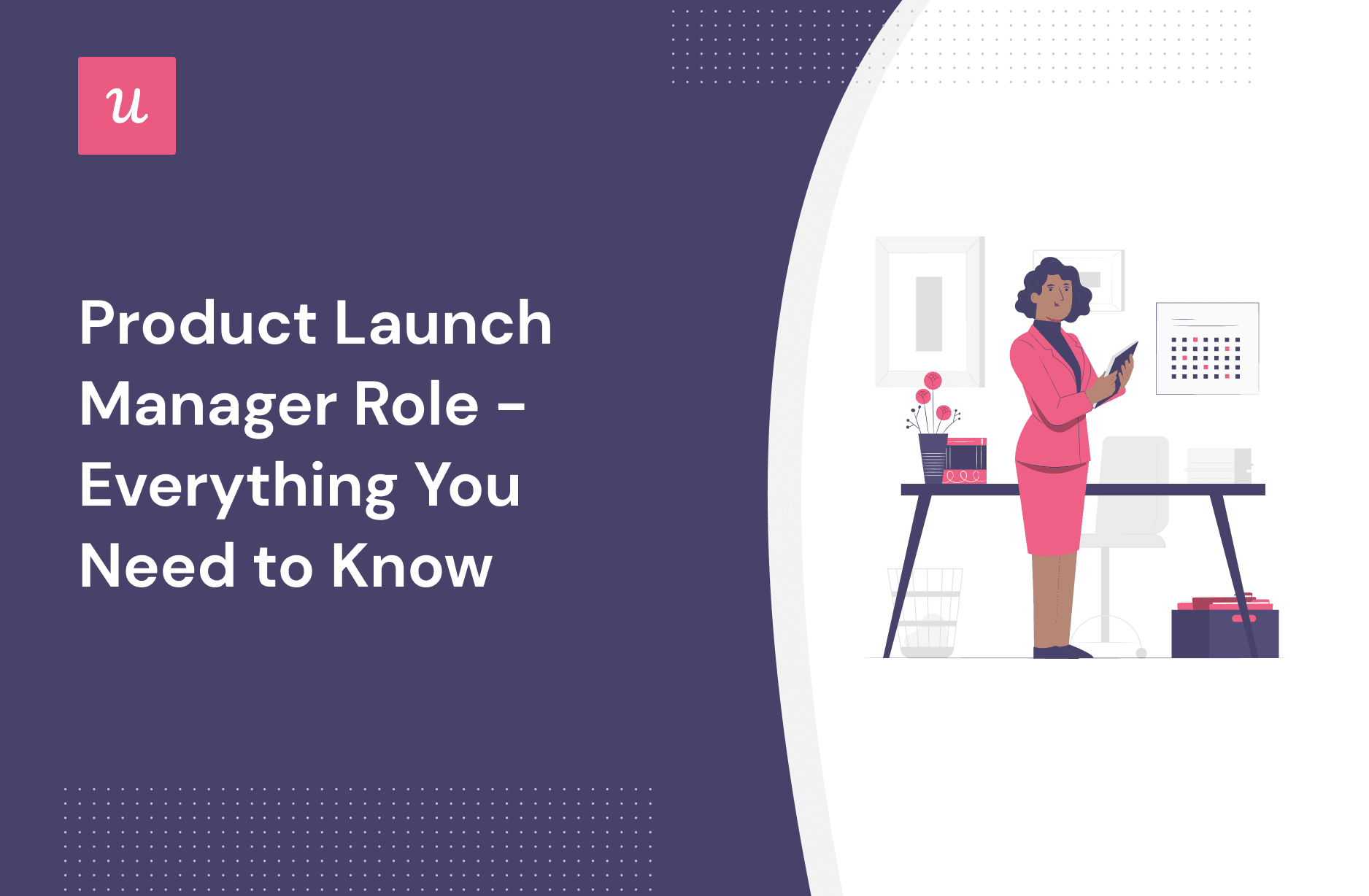 What does the product launch manager do? Does your organization really need such a role if you already have a product manager?
These are just a couple of questions we're exploring in the articles so if that's what you're after, you're in the right place.
Ready to dive in? Let's get to it.
TL;DR
The product launch manager coordinates the work of cross-functional teams and supports the product manager during product launches. They develop and oversee the implementation of product launch plans. Once the launch happens, they analyze its effectiveness to identify best practices.
Whether you need a product launch manager or not depends on the size of your organization. Large organizations frequently releasing a lot of products will benefit from their expertise.
Before the release, the product launch manager is involved in market and customer research. Its objective is to uncover unsolved user problems and solutions that would be worth exploring. They also take part in the validation and testing of ideas.
The insights from the market research feed into the go-to-market strategy. This outlines how to launch the product to the right clientele at the right time.
While developing the GTM strategy, they work with the marketing team to select the best ways of promoting the products. For some products, a Product Hunt and WOM are more suitable, whereas for others in-app announcements work better.
Product launch managers collaborate with the marketing manager to set the launch and product goals and timelines. They also oversee risk assessment and mitigation.
After the launch, it's their job to let users know about the changes through release notes.
They also work with the customer success team and customer onboarding specialists on product onboarding to drive adoption. To add value to the product, they collect and analyze user feedback and track product usage.
On average, a product launch manager earns around $138,000. However, companies like Google or Netflix, which are currently recruiting, offer over $200k.
To be a good product launch manager, you need great project management and leadership skills. You also need to be an empathetic communicator. The job involves making data-driven decisions so good analytical skills are a must too.
Userpilot helps product teams automate feedback collection with contextually-triggered in-app surveys, while the analytics layer enables them to track product usage data.
Finally, they can use in-app messaging to recruit beta testers for future launches and announce new products or features.
Curious about how Userpilot works? Book the demo!
What is a product launch manager?
The responsibilities of the product launch manager revolve around preparing and delivering new product and feature releases.
The work involves coordinating the work of the product, development, marketing, sales, and customer success to orchestrate successful product launches.
Product launch manager job description
What exactly product launch managers do depends on the size of the organization.
In smaller organizations, the role may fall entirely under the remit of the product manager.
In larger organizations, with multiple products and frequent releases, the role is assigned to a dedicated professional specializing in product launches. Their job is to support the product management function.
In general, they are responsible for developing and implementing the product launch roadmap. To achieve that, they need to collaborate with members of various teams from across the organization.
Moreover, they collect data on product performance and monitor it to identify ways to add value.
Finally, they also need to analyze and evaluate the product launch process itself and promote good practices across the organization.
Responsibilities of a product launch manager for successful product launches
It's safe to assume that product launch managers are the busiest before the product launch. However, their work doesn't end when the product is out on the market.
What exactly are their tasks before and after the launch?
Product launch manager role before the launch
The work that a product launch manager has to do in the run-up to the launch involves discovery work and a lot of project management.
Market and customer research
How successful the product launch is, depends on the market and customer research that informed product development.
Using primary and secondary sources, product launch managers aim to identify user problems that are really worth solving. They also look at the current market landscape to see if and how other competing products solve them.
The initial research is also necessary to validate opportunities. Is the problem big enough? Are there enough customers who could be interested?
If the early experiments give promising results, their findings help develop a solid product strategy.
Market and customer research are also the foundation of a GTM strategy.
Go-To-Market strategy
A go-to-market strategy is a plan that allows teams to launch the right product to the right customers at the right time.
Product launch managers play a key role in its development.
They collaborate with the marketing and product teams and use their knowledge about the customers and their needs to define the target user persona and the target market and develop the positioning strategy.
Marketing channels
While developing the GTM strategy, the product launch manager works with the marketing manager to define the communication strategy.
What does this involve?
These are basically the best channels to promote the product and attract users.
How we go about it depends on how established your company is and whether you're launching a completely new product or an update.
For example, a bootstrapped start-up launching a brand new product may choose a Product Hunt launch. It will give it some initial traction and catch the interest of early adopters to leverage word-of-mouth marketing to acquire further customers.
A company with more resources can use paid advertising and SEO content marketing to attract potential customers to the company website and then use demos to drive conversions.
Finally, a well-established company with an existing product line in place and a wide customer base will probably get the best ROI from in-app messaging or launch emails. They will allow them to pitch the new product or a product update directly to its users.
Goals, timeline, obstacles
When the product or feature idea is validated and gets the green light, it's time to develop a strategic launch plan. This is done in collaboration with the product managers and other internal stakeholders across the organization.
This involves setting goals and timelines for each of the teams involved in the launch. The teams also work together to identify threats that could jeopardize the realization of the goals and how to mitigate them.
Once the plan is in place, the product launch manager oversees its implementation. They work with the teams to remove any obstacles that may be getting in their way.
While market research and developing the GTM strategy are very much iterative processes, things get a bit more waterfall-y here. That's where the project management skills get handy.
Product launch manager role after launch
The job of the product launch manager doesn't end when the product is launched.
Release notes
Well-crafted release notes not only inform users about the new features or products and how they are going to address their pain points. This helps drive maximum value for the customers.
They also have the power to reinforce branding and boost customer loyalty. That's because they communicate to your users that you value their feedback and care about their needs.
To reach all users, product launch managers should use a range of different channels to deliver release notes. In-app messages, like modals, are best for active users, while emails are a way to re-engage the churned ones. Release notes on social media can catch the attention of prospective customers.
In-app onboarding
Hoping that users discover the product on their own is wishful thinking. Without a decent onboarding experience, organizations risk very low retention rates.
Product launch managers work closely with the customer success teams to identify the best ways to guide users through the product to activation and adoption.
In-app onboarding experiences like interactive walkthroughs and checklists are just one way to help first-time users experience value.
On top of that, teams can contextually trigger in-app experiences like tooltips or hotspots to attract users' attention to a particular feature that would benefit them.
Feedback
As users start engaging with the new product, capturing their feedback is necessary to iron out the kinks and identify ways to add value.
Product launch managers take part in designing surveys to collect the right information from the users.
This may include both quantitative and qualitative feedback. So apart from running the NPS survey, they would follow up with a qualitative question, and perhaps an interview too.
Data collection and analysis
Product launch managers are also responsible for collecting user data and its analysis after the launch.
To start with, the product launch manager analyzes user engagement with the launch messaging.
Why is this important?
For example, let's imagine they discover that users haven't engaged with the email campaign. They can target this segment in different ways to ensure they are aware of the new product or feature. Such data can inform future launch campaigns.
What's more, product launch managers may be tasked with tracking user behavior in-app to identify patterns in how users progress toward adoption. The insights could be used to segment users, identify friction or improve the onboarding processes.
How much does a product launch manager make?
Product launch managers easily command six-figure salaries.
The average salary of an IT product launch manager in the US in 2021 was $107,762. This doesn't include additional remuneration like bonuses which could amount to another 30k.
Even if you're starting in the role with no prior direct experience, you could hope to earn around $116,000 in the first year of employment.
Product launch manager jobs
If you're looking for a product launch manager job at the moment, Google, Xerox, and Netflix have all positions available. Just check out Glassdoor for details.
Skills for a successful product launch manager
If you are a product manager, you probably have the right skill set to be a product launch manager. What skills would you need if you wanted to progress into the role?
For starters, product launch managers need great project management and organizational skills. This is key to their ability to plan and deliver product launches.
Product launch managers need solid general leadership and management skills. This includes the ability to motivate members of the project team and influence them without formal authority.
The latter would be really difficult without great empathy and communication skills. These are necessary to effectively collaborate with colleagues from various teams and external stakeholders.
Finally, you would need robust knowledge and experience in using analytics.
How Userpilot can help product launch teams
Userpilot is a product adoption platform with a range of features that may help increase the effectiveness of product launch teams.
Automate feedback collection
The software allows non-technical teams to easily build in-app surveys to collect user feedback without any coding. These can be easily customized, for example, to match the branding of the company.
One of the key features is the ability to trigger these surveys in a contextual way whenever you need it.
For example, if we want to test user satisfaction with a newly released feature, we could trigger the survey as soon as the user engages with it. This increases user response rate and makes sure their feedback is relevant.
Thanks to the advanced user segmentation functionality, you can target specific user groups.
Track product usage
Supplementing user feedback with product usage data allows the product launch manager to get a more complete picture of how the product is doing after the launch.
For example, if you launch a new feature, you can easily track how many users have engaged them and tweak your launch messaging to increase feature discovery.
If you launch a new product, you can track feature usage and cross-reference it with quantitative survey results. This will show you how the most successful and satisfied users engage with the product.
With such insights, they can use in-app guidance and onboarding flows to shape the way other groups engage with the product and drive adoption.
Release updates and announcements to existing users
As mentioned, in-app messaging is the most reliable and cost-effective method of making release or launch announcements to existing users.
Why?
Because such users engage with the product regularly, a product launch manager can literally get the message right in front of them without much effort or expense.
Just like with in-app surveys, it's very easy to create a modal, slideout, or banner.
Again, you trigger these for specific user segments. For example, if a particular group of users has been asking for a feature and you've got it ready, you can target that group with a customized message to let them know.
Get beta testers
Product launch managers can leverage in-app messaging to recruit beta testers while also validating the idea.
Let's imagine that as a product launch manager you at Asana want to validate the idea for the Goals feature.
You decide to run a fake door test. That's why you ask your devs to add the feature to the menu and use a tooltip to attract users' attention.
Of course, when they engage with it, they will know the feature doesn't exist yet. Your modal, like the one below, will explain to them what is happening.
If the users are really interested in this kind of functionality, they will want to stay in the loop. That's why you give them a chance to sign up for updates.
When the feature is ready, you reach out to these users and ask them to try it out before everybody else and your job is done.
Conclusion
A product launch manager is a professional whose main responsibility is preparing and executing product or feature releases.
Large organizations, with diverse product lines and lots of products in the pipeline, take the pressure off the product managers so that they can focus more on the tasks shaping the product vision and product strategy.
If you want to see how Userpilot can help your team to launch new products and monitor their performance, book the demo!