How to Build a Strong Product Go-To-Market Strategy That Drives Adoption?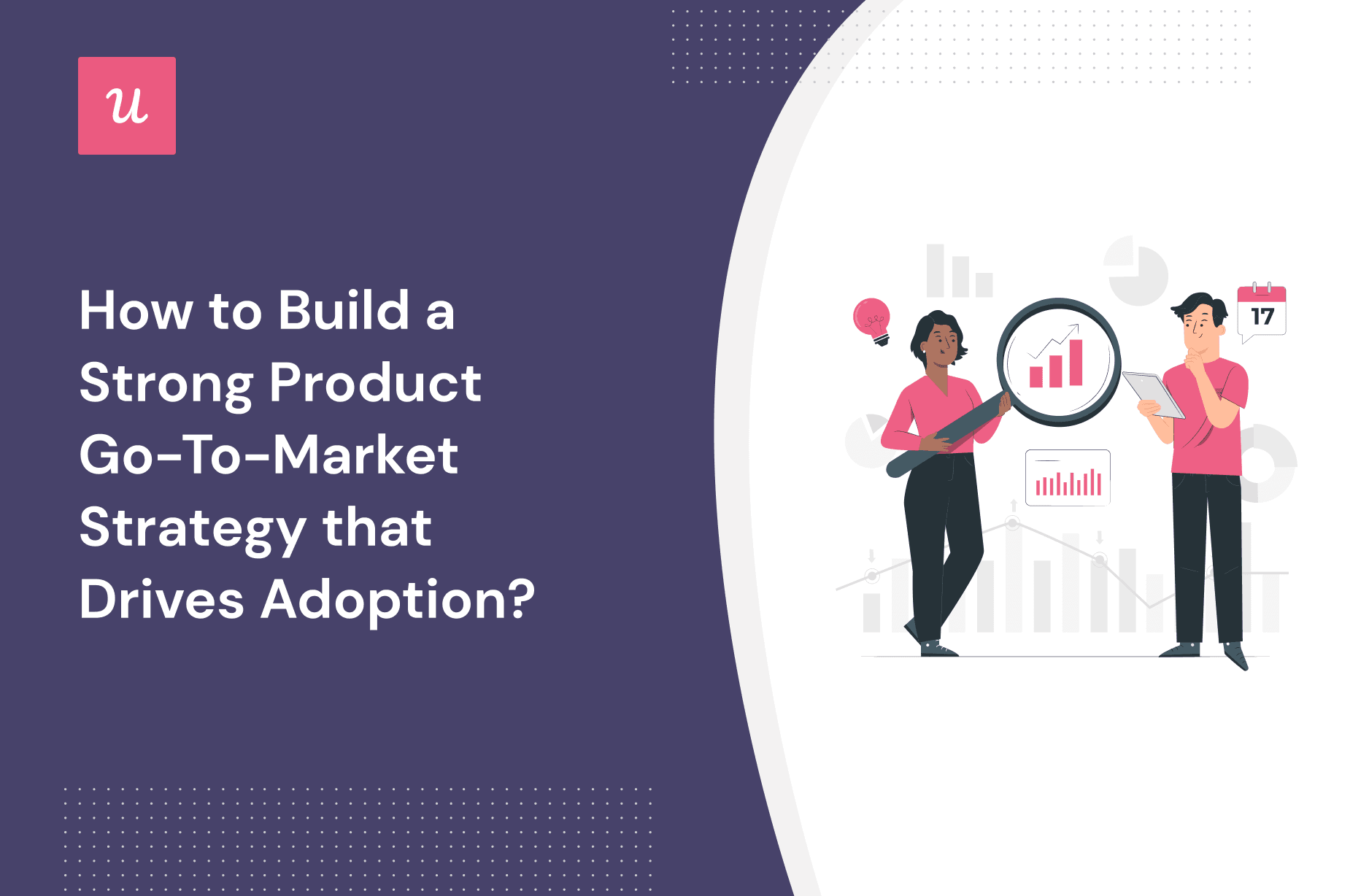 Your product go-to-market strategy is the final ingredient for any successful product launch. It is a small but prominent element that drives every other component of your marketing strategy.
As a product marketer, it is your job to identify the best target audience for your product, while also finding the best pricing options, distribution channels, and unique value propositions.
This article covers all you need to know to create a solid GTM strategy for your SaaS startup or B2B business model.
TL;DR
A go-to-market (GTM) strategy is a comprehensive plan detailing how you want to launch your product.
Unlike a go-to-market strategy, which focuses on the product launch phase alone, a marketing strategy refers to a longer-term approach toward achieving success with your brand. A product strategy, on the other hand, focuses only on the product (answering the who, what, and why of the product).
A go-to-market strategy is needed whenever you're launching a new product into an existing market, entering a new market with an existing product, or entering a new market with a new product.
A GTM strategy provides direction for all team members, reduces your product's time to market, and helps you cut costs.
A typical B2B GTM strategy details the business objectives, a unique value proposition, pricing details, marketing channels, and distribution channels.
Confirming you have product-market fit before launching your product ensures you have customers who are happy to pay for your product, use it, and share the word about it.
To build the best possible go-to-market strategy, you should:
Define your target audience and what their JTBDs.
Differentiate your product from other similar products on the market to avoid product parity
Properly position your product and choose the right messaging to convey its value to your audience.
Determine whether you'll adopt the product-led growth strategy or the sales-led strategy.
Choose specific and relevant marketing platforms to help you reach your target market.
Design a launch plan before the product is ready and assign clear roles to team members.
And create goals for tracking your team's success with the product launch.
What is a product go-to-market strategy (GTM)?
A go-to-market (GTM) strategy is a comprehensive business plan for bringing a new product or service to market.
A good GTM strategy mitigates the risk of a product launch by defining a target market, identifying a marketing plan and sales strategy, and finding an ideal pricing strategy.
GTM strategy vs marketing strategy vs product strategy
Although they may appear interchangeable, a go-to-market strategy differs from a marketing strategy.
A typical marketing strategy is a long-term approach to achieving success with your brand's marketing efforts. It defines how the brand will keep up with changing times to attract new customers and drive customer retention.
The GTM strategy, on the other hand, is a laser-focused plan designed strictly for product launch purposes.
Finally, a product strategy determines what products the company creates, why it creates those products, and for whom it creates them. It defines the problems you're solving and is a core part of any product go-to-market strategy or longer-term marketing strategy.
When do you need a product go-to-market plan?
Whether you're a new business or an experienced and fairly successful company, a go-to-market strategy is essential to ensuring you penetrate your target market and grab their attention.
A go-to-market strategy is especially important in the following product launch scenarios:
When you're launching a new product into an already existing market. Think successful digital workspace brand launches a new lead generation/management product targeted at its customers.
When entering a new market with an existing product. Think successful US-based SaaS product expanding into the European market.
When entering a new market with a new product. Think tech startup launches their first app.
The importance of a go-to-market strategy
According to a study by Havard Business School, 95% of the new products launched each year fail. A GTM strategy ensures you do not add to that statistic by helping your business in several ways.
For starters, a product go-to-market strategy provides a clear plan and direction for your market entry. By identifying your target audience, their pain points, and the best approach to reach them, a GTM strategy eases your entry into the market.
The result is a clear sense of direction for all teams. With everything from your content marketing strategy to your pricing strategy, value proposition, and sales process clearly defined, your product enjoys a clear path for growth.
Product go-to-market strategies also help you reduce your product's time to market. It achieves this by helping you prioritize tasks relevant to market entry, better position your product and its messaging, and define your sales and distribution channels.
A concrete GTM strategy even helps you reduce costs. It identifies optimal promotion channels and highlights indexes like your customer acquisition cost, which help you make better-informed decisions.
Ultimately, a GTM strategy protects you from the financial implications of a failed launch.
What are the main components of a B2B GTM strategy?
Every product go-to-market strategy has multiple moving parts driving its success. What follows are the most salient components to keep in mind when creating your go-to-market strategy:
Objective: What are your business/marketing objectives? Perhaps you want to create more awareness for your brand, generate leads, maximize your market share, or protect your existing market share. Be sure to track the success of your objectives using OKRs.
Unique Value Proposition: Your value proposition highlights your brand's competitive advantage over any other product or service. It reveals the value customers receive for the money paid.
Pricing Strategy: How much will you sell your product to your target market? Will you adopt a user-based, subscription-based, flat-rate, tiered, or freemium pricing model? Note that your pricing will influence the buyer's perception of your product.
Marketing and Sales Channels: How would you reach potential customers? Seek channels where your target customers are most likely to be found and determine how best to approach them.
Distribution Channels: How will you distribute your product or service to your customers?
Make sure you have product-market fit before planning a big launch
Before working on your product launch strategy, it's important to confirm you've achieved product-market fit.
A company achieves product-market fit when its product satisfies the needs of enough customers – who are happy to pay for it, use it, and tell others about it. Such a product is easy to scale as you're sure to enjoy acceptance from your prospective customers.
Poor product-market fit can dampen your launch and reduce your chances of success. So, before rolling out that new product into the market, use PMF surveys to measure how close you are to achieving product-market fit.
How to build a go-to-market strategy?
There are many steps to building an effective product go-to-market strategy. Although it may seem a little complex at first, the following steps will get you started:
Define your primary target audience
The first step to any successful product launch is identifying your primary target audience.
Who are they?
What is their primary goal?
Why do they want to achieve this goal?
Put this information together to create an ideal buyer persona. For a SaaS product, build your buyer personas around the company type and the jobs to be done by the user.
You can also create multiple buyer personas for your product, varying the buyer persona on three key aspects:
Demographics: This includes the user's job title, where they work, and background.
Goals: What job is the user trying to do?
Pain points: What difficulties keep the user from completing the job?
Differentiate your product
Product differentiation involves highlighting the unique features of your product that stand it apart from the competition.
Differentiating your product makes it easier for you to achieve customer fit, enjoy greater customer loyalty, boost customer retention, and charge premium rates.
Moreover, you need to differentiate your product from your competitors to avoid product parity.
For instance, consider this comparison of Userpilot and Appcues by product review platform G2:
Convey your product value with proper positioning
In the competitive world of SaaS products, product positioning is a gold mine. It defines your product's market niche, highlights the product value, and identifies the most optimal method of presenting the product to different potential customers.
Amongst other things, a successful product positioning improves your product launch, helps you attract the perfect customer, and gives you an edge over the competition.
Decide on your key messaging
Why should customers buy from you?
That should be the question you answer behind your messaging.
Your key messaging should highlight the customer's pain points, as well as your product value and how your product eliminates those pain points.
Develop a value matrix for each buyer persona. The value matrix maps buyer personas to their business problems, your product's solution, and a relevant marketing message that ties the problem and solution together.
You can model yours after this sample value matrix from SalesHero.
Define your pricing and sales strategy
SaaS companies employ different pricing models to ensure they're appealing to their customers. You'll need to figure out which model is best, based on your product, competition pricing, and target market.
You'll also need to decide on a sales strategy to get your product to users. Sales strategies fall into two broad categories:
Product-led strategy: This strategy depends on the product to drive business growth. It typically adopts the freemium, free trial, or demo (or a mix of all three) pricing strategy to get users hooked on the product.
Sales-led strategy: The sales-led strategy uses sales processes to move potential customers along the sales funnel. Unlike the product-led model, which is a self-service model, it is more hands-on, with the sales team providing 1-on-1 guidance to qualified leads.
Choose specific and relevant marketing channels for the launch
Your product go-to-market strategy is incomplete without a plan to reach your audience. Who makes up your target audience? Where can they be found? How do you reach them?
Your chosen marketing channels should align with your ideal audience. Use different channels for different phases of the product launch. For instance, you could:
Launch your B2B SaaS product on Product Hunt to reach other product developers.
Use paid advertising to reach a more diverse audience.
Use product demos to showcase your product to potential customers.
Recruit beta testers to test the product and offer feedback.
And, if you've only launched a new feature or product update, a simple in-app launch message should be enough to inform your customers.
Put together the launch plan and assign roles
From the marketing team to the product and sales teams, a product launch requires everyone's effort and commitment.
Prepare in advance for the launch. Ensure every team member understands the product, the launch goals, and their roles.
A successful launch process must be clear and concise. Work with a launch checklist to ensure you're not leaving anything out.
Set specific goals for tracking success and align teams around them
Define product goals to help you achieve your vision. Goals bring life and purpose to your overall marketing strategy.
Goals also help align and inspire your team behind common objectives, drive you to deliver value according to a focused plan, make effective prioritization decisions, and measure success.
To ensure your goals are effective, make them SMART.
SaaS GTM best practices
The steps above should help you create a killer product go-to-market strategy for your launch. But you can further refine that strategy by following these GTM best practices.
Create the strategy before the product/service is fully developed
Creating a go-to-market strategy should be done before bringing your new product to the market.
A well-curated GTM strategy prepared ahead of time ensures you're accounting for everything. It helps you avoid costly mistakes, like launching your product to the wrong market.
Keep the plan simple
As extensive as a go-to-market strategy may first seem, the most successful go-to-market strategies are simple, not complex. An overly complex strategy will only make it difficult for the team to stay focused and streamlined.
So keep your GTM plan to one page. Make it clear who you're targeting, what you're offering, and how customers benefit. Sometimes, a soft launch using only one channel is all you need to validate your product and gain initial traction.
Focus on a single market and audience
Although you could have multiple audiences and buyer personas for your product, stick to the one for your launch.
Launching to just one audience streamlines your actions. It allows you to focus on creating value for a definitive market in need of your product or service.
Try a beta launch to test product-market fit before the full-scale launch
One way to really know what the market thinks of your product is to recruit beta testers.
Beta testers provide useful feedback on the product and inform you of how best to improve the product.
If you have an existing product, you could invite beta testers from within using an in-app slideout or modal to come test out a new feature.
Try reducing your customer acquisition costs with viral growth loops
A growth loop is a compounding growth strategy where user actions and outputs trigger new user inputs. This strategy embeds marketing into the product, taking advantage of product usage to drive virality.
Thus, as more users adopt the product, their actions lead even more users to the product, creating a cycle that drives down customer acquisition costs.
Offer free trials to let your customers experience value before committing
With most B2B SaaS products adopting the subscription-based pricing system, free trials are more important than ever. Carefully determine the free trial length that gives users enough time to try the service before they commit to it.
Offering limited free trials to users gives them a low-risk opportunity to realize your product's value and transition into paying customers.
Conclusion
Your product's go-to-market strategy is the key to any successful product launch. Be sure to create a market strategy that's comprehensive but simple. It should identify your target audience, their struggles, and how best you can reach them with your product.
And as your customer base starts filling up, Userpilot helps you learn more about these customers and how your product helps them, creating a feedback loop that further improves your go-to-market strategy.
Book a Userpilot demo to learn more about how it helps you drive customer acquisition as well as customer retention.