Content marketing vs Product marketing: What's the difference? [Examples included]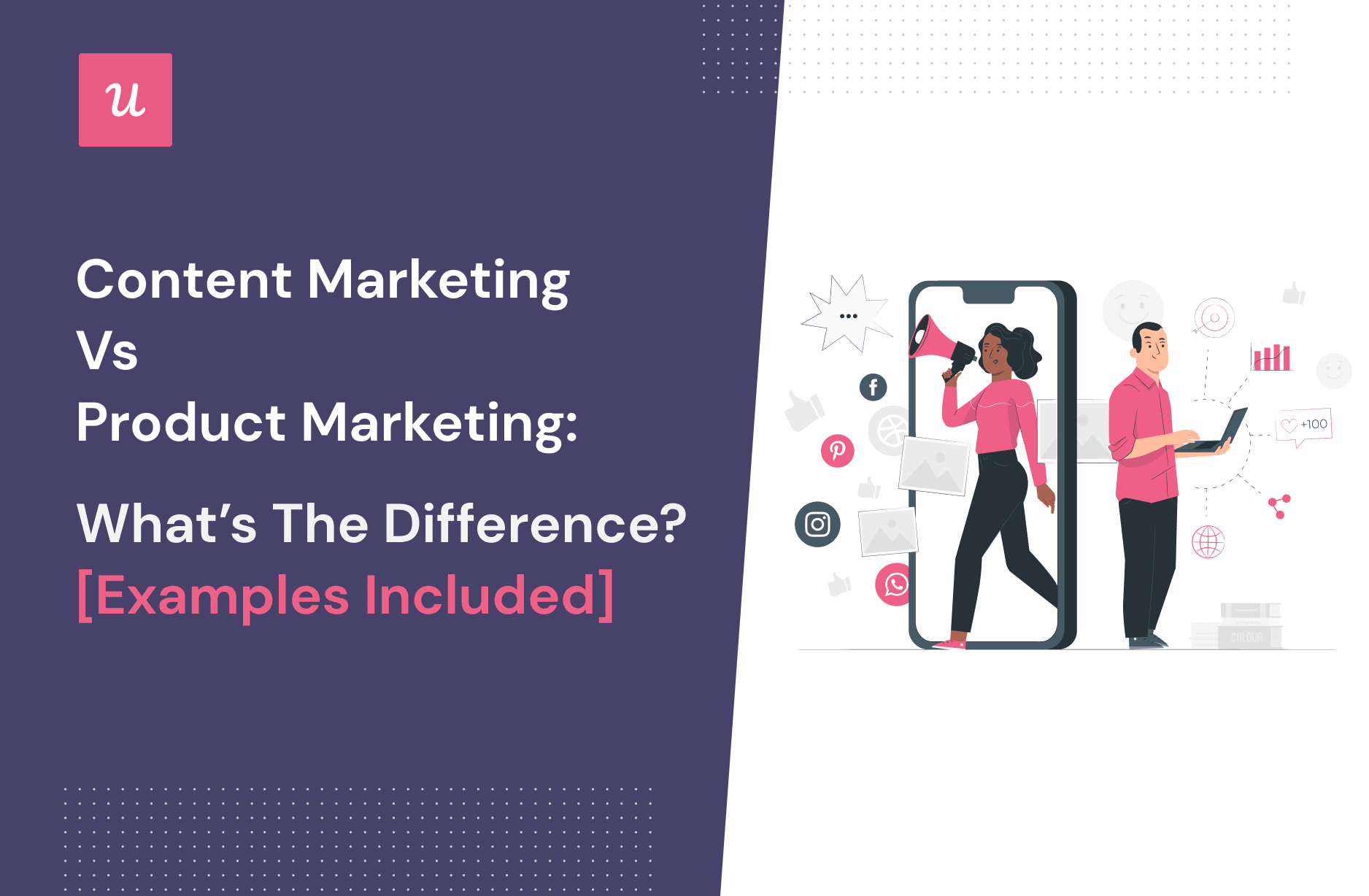 Content marketing vs product marketing․ Do you think there are the same? Definitely not!
The goal of any marketing strategy is to attract and convert members of your target market into paying customers. But what is the difference between content and product marketing? This is what we are going to uncover today.
So in this blog post, we will shed some light on:
What product marketing and content marketing are
How they're different from each other
The advantages of both marketing strategies
And examples your company can use for inspiration
Let's get started!
TL;DR
Content marketing and product marketing are two subsections of marketing.
While content marketing focuses on using engaging content strategies to educate and attract prospects, product marketing focuses on using product experiences to convert prospects to consumers.
Content marketing is useful in building authority and sharing knowledge of your expertise.
It can also help foster trust with customers and is cheaper to create and maintain than other forms of marketing like paid ads.
The different content marketing formats include; website blog posts, videos, social media, podcasts, etc
Product marketing on the other hand could help your marketing team better understand your target customers and discover the best ways to improve your product and increase sales.
Some common product marketing materials include product landing pages, case studies, in-product marketing using modals, slideouts, tooltips, etc.
What is content marketing?
Content marketing involves creating and distributing engaging content to drive product/brand awareness, solve customer pain points, and eventually, generate demand. The main focus of content marketing is to educate, entertain, and engage users with content that is of high value to them.
For example, if your prospects are small business owners, your content strategy should offer solutions that help them run a smoother business and some tips to increase profits.
To develop a solid content marketing strategy, you must understand your target customer; what their problems are, which mediums are most engaging to them, and what unique perspective can you provide on the topic?
What are the key advantages of content marketing?
Many marketers adopt a content marketing strategy because of the many benefits their companies get from it. Some of which are:
It helps them develop brand authority by helping you show expertise: creating consistent and quality content (blog posts, whitepapers, YouTube videos, etc) on a particular topic helps you build authority in the eyes of your target audience as an expert or trusted source. This is one of the easiest ways to get people to know and trust your brand, which in turn increases their chances of picking you over competing products.
Valuable content increases the brand-customer relationship: when creating content you get to define your company's tone and personality which will show through your content. This helps you relate with your customers properly and lets them understand what type of brand you are. Engaging content also increases their chances of developing a likeness for your brand.
Cost efficiency: content marketing is relatively cheaper to create and maintain than other digital marketing strategies. Additionally, it has long-term value compared to other marketing strategies like paid advertising, which increases in cost over time.
It provides long-term returns: unlike ads which disappear once you stop paying for them, content lasts for as long as you let them and can be a constant source of traffic or awareness for your brand.
Content marketing channels
You can use multiple channels for content marketing. They include:
Social media: social media marketing involves creating and distributing content on whatever platforms work best for your target market. These types of content are expected to be highly engaging and usually short. Use videos, and a lot of graphics/images to capture the audience's attention.
Website/blog: Userpilot's blog is a good content marketing example. It consists of how-to guides and insights on topics our target audience values even beyond our product offering.
Email newsletters: this is a more personal medium that allows you to segment your users into groups and send them relevant content. See Trello's example
Ebooks: these are downloadable resources like templates that help consumers solve a quick problem. Hubspot is known for using this type of content with every blog post.
Infographics: These are graphics that tell a story engagingly and more quickly than a blog or video will. When done right, these could be shared by several people increasing your brand reach. This infographic from SEMrush is a good example of how you can use this type of content to present the key data clearly and quickly.
Videos: whether on YouTube, social media, or as webinars, video is a very engaging way of relating to and educating your audience. A good example of videos for content marketing is Moz's Whiteboard Friday video series where they educate viewers on SEO.
Podcasts: highly popular audio information that is used to discuss relevant industry topics.
Guest blogging: sharing knowledge on other company blogs that share a similar audience is a good way to attract new customers to your brand.
Press releases: content marketers use press releases to drive website traffic, generate leads, and improve product conversions. These are created when you have newsworthy content that has media coverage potential like when launching a new research/industry event.
QA forums: These are usually centered around your product and are useful content platforms that help users easily find solutions to their problems either from existing users or your customer support team. Leaving the forum open and accessible to anyone increases its chances of ranking on Google and getting easily discovered.
What is product marketing?
Product marketing is focused on your product, and it uses your product experiences to convert customers or move them further down the sales cycle. It involves understanding the needs of the target customer as well as promoting and selling the product to that target customer.
It covers every step from how the product is launched aka your go-to-market strategy, to your positioning, messaging, and how a customer understands and experiences it.
What are the key advantages of product marketing?
In B2B, purchasing decisions take more thought than they do in B2C. Since buyers are looking for the right product with the right features for their pain points, product marketing helps you discover how to build and position your product as the perfect solution.
Here are some advantages of using product marketing:
Improve customer understanding: your product is indeed the center of your product marketing efforts, but any successful product is dependent on how happy customers are with it. When it comes to product marketing, you have to know your customers so that you can develop the best strategies for selling your product. Who are they? What exact use cases and problems do they need your product to solve? Product marketing ensures you have a clear picture of your ideal buyer so you can hone your core messaging and position your product as the right solution.
It helps you build better products and services: a well-optimized product will get customers to convert. Product marketing helps you prioritize the experiences and features that make your product better.
Increases sales: when you focus on customer understanding and building a better product positioned right, it becomes easier to attract and convert customers.
Product marketing channels
Your product marketing campaign should position your product, share its value proposition, and highlight key features and capabilities using:
Press releases: this can be used to announce new product updates and collaborations that make the product better for prospects and users.
Product sheets, spec diagrams, and/or tear sheets: this shows product features and demos of how they work.
Sales decks: this highlights what your product is, its key features, who it's for, and why it's a good option for potential buyers.
Paid ads: product marketing looks toward making sales. So strategies such as paid ads and direct advertising are frequently used.
Landing pages: these are a good way to help the customer understand your product. Its features, use cases, how it compares against others, etc. All this can convince them to purchase when done right.
Infographics and blog posts: show customers how your tool works in solving their problems.
Case studies: these detail how others have used your product and achieved meaningful results. They show the market how well you can solve a problem. Let's take the example of Userpilot. We publish various use cases to showcase the value our customers got after working with us.
Testimonials: feedback from current or past users are an important resource any product marketer should have. You should make the testimonials on your website a key part of the copy as they can significantly increase your sales. Just like Zapier in the example below.
In-product marketing: from onboarding users to how you get them to upgrade and drive product adoption, all this counts as in-product marketing.
Product marketing vs Content marketing: what's the difference?
Content marketing and product marketing are two sides of the marketing coin. In content marketing, you're trying to prove expertise and show users what you know. While in product marketing, you're trying to show them what your product is, how it can help them, and why they should purchase now.
Product marketing is more focused on using strategies and experiences to convert a prospect into a customer. This is more sales-focused because the end goal is conversions. It sits at the intersection of your sales teams, marketing, and customer success teams.
Content marketing however is more focused on using content to let your target customers know about your brand, engage them, educate them, and foster a relationship. The end goal here isn't necessarily sales but building awareness and trust. To do this you'll need to be discovered out of the many existing content options. This is where tactics like keyword optimization come into play.
Conclusion
Both product marketing and content marketing are important to SaaS companies.
Product marketing is the lifeblood of product-led software companies because it's how you show your value, build better products, and make sales. Content marketing on the flip side is how you attract customers to your business, educate them, and build a long game relationship with them.
One isn't necessarily better than the other. They complement each other's efforts and ensure your product does well in the market. Any good marketing agency or team will recommend and invest in both strategies for the best results.
Want to build code-free engaging and conversion-focused product marketing experiences? Book a demo call with our team and get started.