5 Best Product Messaging Examples for SaaS
Your product messaging should attract the right audience and help them see your product as the perfect solution to their problems.
In this blog post, we will discuss how you can build your product messaging, five great product messaging examples, so you can better communicate your brand value and attract the right audience. Let's get started!
TL;DR
Product messaging shapes how you're seen, which is why getting it right is very important. It is how businesses let their target audience know who they are and what they can do and it refers to the words on your site, landing pages, as well as other marketing messages.
Having a product messaging framework is important because it sets the precedence for how the market and your potential customers will see your brand.
Good product messages highlight your value proposition and the benefits you promise to deliver to users. It shows what you can do for them and why they should pick your solution.
It emphasizes customers' pain points in a relatable way and drives urgency for them to try out your service as a solution because when customers believe you have a good understanding of their struggles, it becomes easier to see you as a potential fix to it.
Successful product messages are also made up of ratings or user reviews and quotes either as a part of your content marketing efforts (for case studies) or the product marketing on your website/online stores to build credibility.
When writing your product messages, conduct market research, and try to really understand your target buyers. This step gives a clearer picture of the user, their problems, their goals, and helps you discover the messaging and channels that best resonate with them.
The work doesn't end there! Consider using Userpilot to help deliver in-app messaging and experiences, code-free!
What is product messaging in SaaS?
Product messaging is how you define your product and communicate its value and relevance to your target audience/potential customers. It is the copy on your website, product ads, email newsletters, etc.
Your product message has three goals:
To describe your product
Identify its target audience
Highlight the benefits and possible solutions
In this way, you can determine the market's perception of your software and decide whether it is the right solution for the customer.
Why is product messaging important?
So you've discovered a gap in the market and built a SaaS solution you believe will fix those problems. Good, but how do you communicate your product's benefits and attract the right set of customers? How do you build that connection that will make a customer pick you over other similar products?
Product messaging is important because with the right message you can define your company and present yourself in the exact way you want to be seen. A compelling message will also speak to the audience's pain points, engage them and get them into your sales funnel. If you want customers to resonate with your product, great messaging is how you do that. It's how you tell who you are, why you exist, and who your potential customers are.
Good brand messaging doesn't only help in shaping how potential customers see your brand, they also serve as a guide for how you handle all business communications and brand messages from public relations to your product marketing content.
How do you write product messaging?
As product marketers, one of the most important things you'll work on is creating an effective product messaging because delivering the right message at the right time to your users plays an important role in the overall success of a product.
The efforts of your sales teams and marketing campaigns will mean almost nothing if you're not able to find the right words to make potential customers listen to and connect with your business.
So what goes into writing effective product messages and how do you write them? Any good product messaging template will include these steps:
Define what's the core value of your product
Do market research to develop your buyer persona
Highlight what differentiates you from competitors
Communicate your credibility and trust
Identify pain points and build urgency
Define what's the core value of your product
You can think of your core value as to why your product exists in the market. It's your "why" plus all the benefits a customer expects to gain from you.
Defining the core value of the product is crucial as it helps users form a deeper connection with companies. This means that you can't only think about your revenue and profits. You'd better focus on why a customer should care about you.
As part of creating your core value, you should also understand the current competitive landscape and how your product will stand out among it.
Do market research to develop your buyer persona
You can't connect with a person if you don't have a deep understanding of who they are, can you? Conducting market research to understand your target buyer persona is a key step to creating product messages.
Having a good product is not enough if you can't clearly communicate the "what" and "why" of your product to those it's made for, you'll lose out on customers.
Performing market research will help you identify the best companies or personas that will benefit the most from your product. You'll get insight into the buying and sales process they'll typically go through as well as the exact use cases and problems your software could help them with.
Additionally, you'll discover how to choose the right words and tones for your product message. This knowledge is important to create product messaging that not only relates to and engages your target audience but also converts them to your customers.
Highlight what differentiates you from competitors
A competitive landscape analysis will give you an idea of your competitors' messaging, services, mission, vision, strengths, and weaknesses. This knowledge is important to help you identify how you stand out and differ from them.
How do your strengths compare against theirs? What makes you a better choice and for what category of customer?
This is important when creating your product brand messaging because
It enables you to write messages to attract the right type of user for your brand.
Customers can differentiate between you and your competition and make a well-informed choice based on your offerings and value, rather than just pricing.
You are more equipped with knowledge on how to position yourself in the market.
Communicate your credibility and build trust
Customer testimonials and other proof points such as quotes, case studies, ratings, and reviews are the best way to build trust with new customers.
Potential customers are more likely to trust your product if they see that other businesses have used your tool successfully for a similar problem. Include customer feedback/ratings as part of your product messaging on every important website page, as well as using case studies as your content marketing strategy.
You can do this by creating a system that enables existing or previous users to leave reviews. You can then use the reviews to communicate your product messages.
Identify pain points and build urgency
Every business builds products or services to solve specific customer problems. Your market research will help you learn what users' major pain points are and what jobs need to be done.
Identifying and focusing on these pain points is crucial when creating your product messaging. This helps users relate to your messaging and drives urgency to try out your product.
5 great product messaging examples
A successful product message easily conveys your company's value and engages your audience enough to learn more about you and try you out.
Here are five great examples of product messaging you can use for inspiration.
Pipedrive's product messaging example shows the value proposition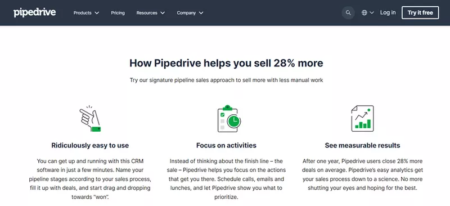 Your product messaging should emphasize the benefits users will receive as opposed to all of the amazing features it has.
Pipedrive's product messaging is a good example of this because;
The headline highlights how successful their users have been with their product (sell 28% more)
It goes further to show you how you'll achieve this goal of 28% more sales by highlighting the benefits potential users will enjoy -"ridiculously easy to use", "focus on activities", and "set measurable results".
Vidyard's product messaging example addresses business pain points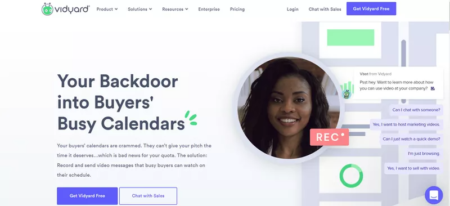 Instead of only stating your product's benefits, you can also choose to call out the pain points your target market faces. It works because it shows that you understand their current situation, which helps them quickly identify with your product.
Vidyard's brand messaging captures their audience's pain points – busy buyers who can't find the time to read their pitches. It paints a detailed picture of the troubles their target users are facing, letting them know that Vidyard understands their struggles.
Then it goes further by immediately presenting a suitable solution – video messages, which they can create with Vidyard.
Zapier's product messaging example communicates credibility and social proof through testimonials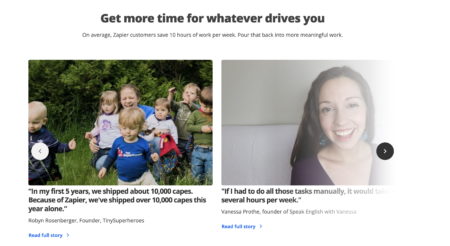 If you're trying to get a new customer into your sales funnel, you'll have good things to say about your own product. You have excellent customer service, you respond quickly, and you have all the features needed for them to accomplish their goals, but the ultimate driving force for closing a potential customer is often others' feedback. This is because, in real life, buyers trust other buyers' opinions.
Zapier knows this and includes customer testimonials as part of its product messaging. Not only does using testimonials increase your credibility and trustworthiness, but it also shows authority in your field.
To do this, simply add your ratings and reviews from customers to your site. In addition, you can create case studies that illustrate where users were before using your product, and what results they have been able to achieve.
Kissmetrics' product messaging example outlines the competitive advantage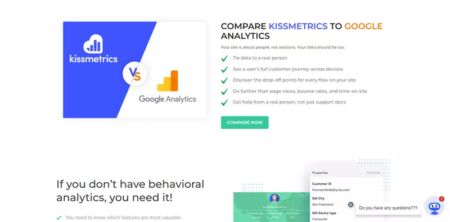 It's important to put all potential customers at their different buying stages into consideration when creating your product message.
Kissmetric realizes that customers who are ready to buy will be comparing their product against others in the market, so they use their product messaging to define their product themselves and its competitive advantage over the others.
Be sure your comparisons are honest and focused on helping the customer make the right choice.
Automizy's product messaging example solves pain points and creates urgency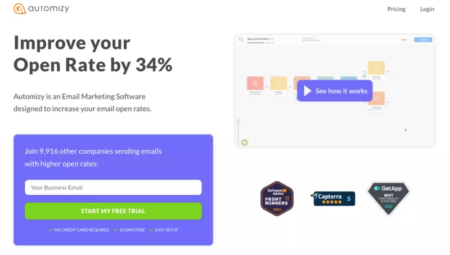 Automizy doesn't bore customers with information about how they're an email automation software with fancy features but offers a solution to a key user need, that is increasing open rates. This product messaging example is good because:
it presents its product as a good solution to its customer's pain point – improves your open rate by 34%
it creates an urgency for their software by getting visitors to immediately sign up for a free trial and join over 9,000 companies sending emails with higher open rates.
Automizy's product messaging focuses on one user goal and encourages the reader that they are a great choice.
Conclusion
No matter what kind of SaaS you run, having the right message will help your target audience understand your brand and connect with you in a new way.
Think of this as your elevator pitch – how do you quickly tell your target users who you are, what you do, for whom, and why you're a good choice? When your product messages are spot on, it's easier to attract the right users.
However, the journey does not end with product messages that attract and convert. A good product experience that delights users and retains them, is the next step.
Want to build in-product experiences code-free? Book a demo call with our team to get started!