How to Improve User Onboarding: 15 Actionable Tips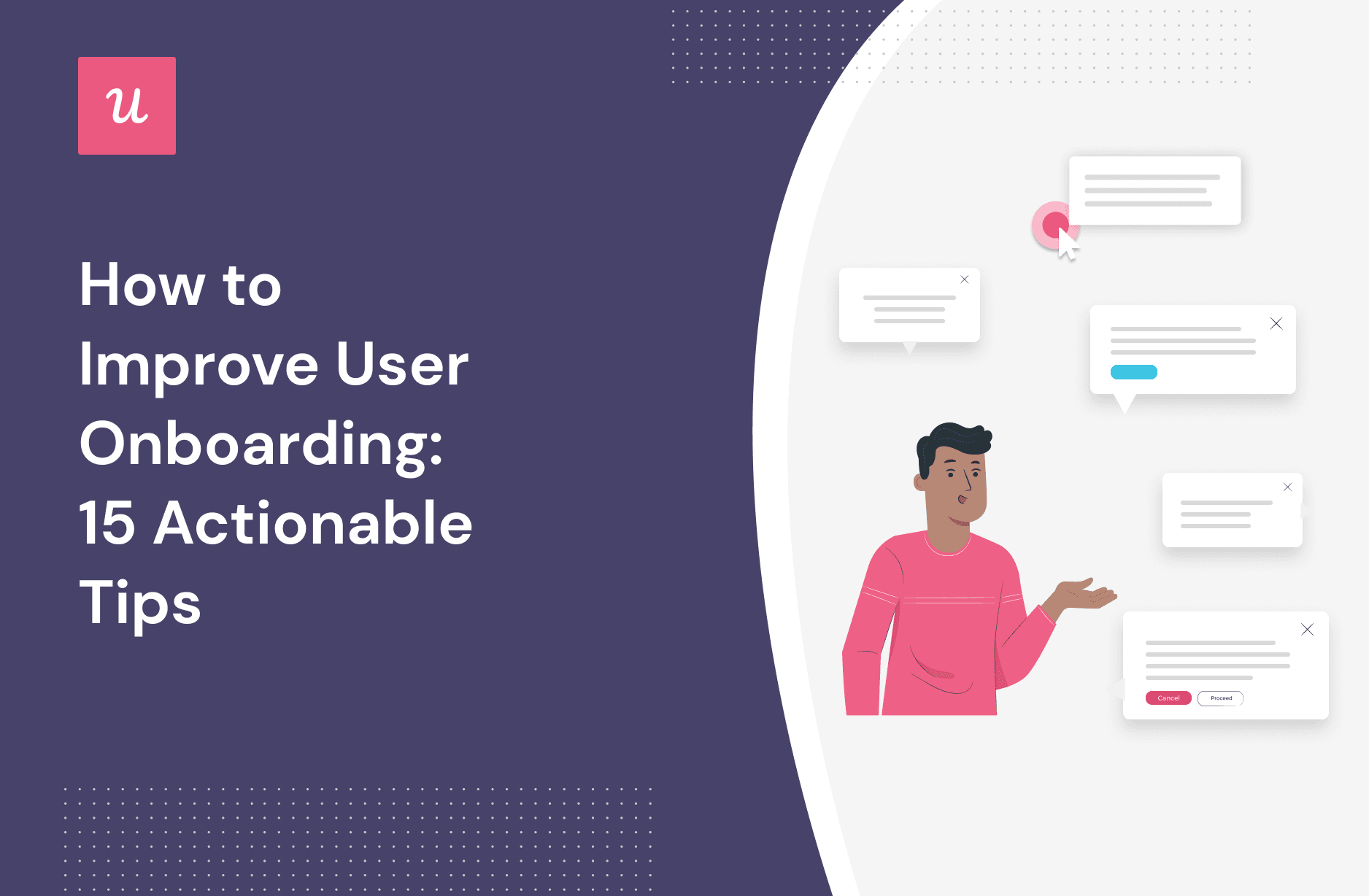 Wondering how to improve user onboarding and boost customer retention?
The SaaS world is more competitive than ever before. Your user onboarding strategies must help customers understand your product and obtain value for you to compete favorably and achieve more conversions.
In this article, we consider what makes the customer onboarding process important and go over 15 tips to help you nail your onboarding.
TL;DR
User onboarding involves educating new users about your product and its important features so they can get to the "Aha moment" effortlessly.
Properly onboarding new customers increases engagement and product/feature adoption, boosts conversion rates, and increases customer loyalty.
Some actionable tactics to ensure effective onboarding include:
What is user onboarding?
User onboarding is a multi-channel system of guiding new users to derive value from your product. An excellent customer onboarding process combines guided tutorials with helpful support and guidance to help users master your product.
Why is the user onboarding process important?
Imagine you're trying out a new SaaS product for the first time. How would you know where to begin and how to derive the most value? Simple answer: onboarding.
New user onboarding provides customers with the information and knowledge they need to successfully use your product. User onboarding will, thus, boost user engagement by improving the customer experience.
The onboarding process also helps drive feature adoption, directing users to features that help them achieve their goals. With customer support also an integral part of the onboarding process, customers can successfully navigate any challenges with the product.
Ultimately, this leads to better customer success and higher free-trial-to-paid conversion rates. Fully engaged customers are also more loyal, leading to reduced customer churn and better customer retention.
Actionable best practices to improve the customer onboarding process
Ready to improve your user onboarding flow and make the customer journey more engaging? Consider some best practices to get you started.
Don't kill user engagement with activation emails
The first step to disrupting user engagement is having users leave the product before experiencing value. A sizeable percentage of your new users who leave for activation purposes never return.
So, instead of sending verification emails and blocking the user from enjoying the product until they verify their emails, allow them to use the product immediately and help them experience meaningful value.
To ensure customers don't skip activation altogether, you can use a small in-app banner to remind users about verification without disrupting product usage.
Keep the sign-up flow simple and short
The signup process stands as your users' first interaction with your product. As with the rest of the customer onboarding process, users should have no problem getting through this stage.
Simplify your sign-up flow by only requesting the minimum necessary information (name, email, and password). Also, give your users the possibility to sign up using the SSO (Single Sign-On) option to make the process faster.
To engage customers even more, you can always add gamification to the process, making it more engaging.
Send onboarding emails with important resources
Use your welcome email to present resources (such as videos and links to external resources) to the user that you can't put in the onboarding flow. This way, you avoid overloading the onboarding process without losing the message.
This example from Campaign Monitor includes a how-to video plus a library of training videos to help the user get started:
Benefit from the empty states and educate users
Features requiring user input will start out empty after a user's initial login. Take advantage of these empty states to showcase your product, reduce frustration, and decrease the time to value for a higher retention rate.
Loom provides a great example of the use of empty states. Immediately after signup, your Loom dashboard is populated by videos from Loom.
These videos showcase the product while also offering tutorial instructions to guide your initial success. They also show you what your dashboard should look like once you start creating videos.
Personalize user onboarding flow from the start
Always ensure the user onboarding experience is fully personalized from the start.
Start onboarding by collecting data about each new user to learn more about their roles, challenges, and jobs to be done (JTBD).
Create customer segments for each user group and personalize the user journey and the onboarding process.
Use onboarding videos to boost engagement
Customer onboarding videos are an incredible tool for showcasing your product and getting users excited about using it. Onboarding videos convey more information than text and are a great way to share information visually.
These videos help you explain complex concepts and show your product in action without boring the user with long tutorials.
More than simply explaining how to use your product, onboarding videos help you connect with your audience. They humanize the onboarding process and make it more engaging, leading to increased trust, higher customer satisfaction, and lower churn rates.
Use onboarding checklists to provide meaningful quick wins
One way to keep customers engaged from the start is by using onboarding checklists. These checklists match the initial goals of the new user with features and actions that help them reach those goals.
Checklists "force users" to follow a set of actions by presenting them as a to-do list. They help ensure the user completes the activities that get them closer to the activation point.
Incentivize more users to follow the list by automatically ticking off items, adding a progress bar, and including gamification elements.
Replace a long product tour with an interactive walkthrough
For all their advantages, product tours carry many limitations. They're long, boring, and often overwhelming, packing a ton of information into a lengthy video that may or may not apply to the specific user.
Replace your long product tours with a more interactive walkthrough. Interactive walkthroughs are shorter, more personalized, and more engaging. They teach customers about the product by having them use it themselves.
Unlike product tours, users learn only about the features relevant to their unique case. They also learn by doing, accomplishing one task before revealing the next in the guided tutorial. This makes them more engaging and leads to a higher activation rate.
Use webhooks to reengage inactive users
Inactive users are users who either completely stopped using your platform or stopped performing key value-based actions. For instance, a user may sign up for the product and engage with the welcome modal and a few features, but never reach the activation stage.
You can re-engage these users using a separate follow-up email flow that tries to win them back by highlighting relevant features. You may also use new release announcement emails to win back users who left due to the absence of a feature.
Create webhooks (a.k.a. callbacks) to automate this process.
Collect and act on customer feedback
User feedback is a gold mine for important insights. They help you identify users' pain points and points of friction in their journey.
Make in-app surveys an integral part of your customer onboarding process. Use these to collect customer feedback about specific features or interactions. Ask what they like/don't like about the experience.
As more customers inform of their difficulties, you can better improve the customer experience, resulting in higher customer success levels.
Improve the ongoing relationship with your new users by providing additional value
Webinars are great tools for connecting directly with your users and improving the ongoing relationship with them.
You can take this one step further and check how different segments engage with your product and what features are not being adopted.
Use that information to send personalized webinar invites regarding those features.
Gather product usage to see how customers interact with your product
Collect product usage data to learn how new customers use your product. Are there areas where a majority of customers fail to proceed? This may be indicating of a friction point that needs fixing.
Product usage data can also reveal underutilized features. Trigger contextual tooltips to inform users of the feature and help them adopt it.
Userpilot's feature tagging helps you determine which features are user favorites or underused.
Channel new users onboarding success with goal tracking
Ensure your user onboarding flows are successful by setting clear goals for each user persona. After creating user segments around each JTBD, goals help you measure how they perform.
Be sure to fix any friction points you identify immediately.
Share helpful tips in your knowledge base
Finally, note that you can't capture everything in a single onboarding process. To acquire truly loyal customers, you must be ready to address their problems on demand.
You can provide instant, on-demand support using educational resources, video tutorials, and FAQs. Put these together in a resource center (a knowledge base) that's accessible within your web app to ensure users don't have to exit the app to get help.
In addition to being easily accessible, your knowledge base should also be easy to navigate. Things like a search bar or a chatbot can help users easily locate relevant materials without searching for too long.
Best onboarding tools to improve the customer onboarding process
Not sure where to begin? Well, you don't have to create the entire process from scratch. Consider some user onboarding tools that help you curate your ideal user onboarding experience.
Userpilot – best value for money
Userpilot is a no-code product growth and marketing automation platform. It contains all the features you need to build personalized and contextually relevant in-app experiences.
Userpilot helps you:
Create multiple user onboarding flows for different user segments.
Drive feature adoption using tooltips and hotspots.
Create user onboarding checklists to guide your users to the activation point.
Announce new features and updates with in-app banners and push notifications.
Design and launch different in-app surveys to collect customer insights.
Trigger contextual flows based on user behavior or survey responses.
Track product usage data and understand user behavior with feature tagging.
Leverage powerful analytics features to measure the success of your user onboarding tactics.
Here's the detailed Userpilot pricing:
Traction: For up to 2500 users, this plan is $249/ mo.
Growth: For up to 10,000 users, this plan is $499/ mo.
Enterprise: These plans begin with $1000/mo for large-scale businesses.
Pendo – best for detailed product and user analytics
Known for its low-code product adoption platform, Pendo is renowned for its simplified but powerful product analytics features.
With Pendo, you can:
Design guides (including walkthroughs, tooltips, etc.) using a WYSIWYG studio. You can use Pendo's free version to create user onboarding guides, but you'll only get access to limited features and basic analytics.
You can also build checklists with Pendo but not as standalone UI elements as users can only access them from the resource center (if they know they exit).
Pendo product guidance for mobile works across Android and iOS mobile apps, so if you're looking to support your mobile customers through their onboarding, Pendo might be for you.
Design polls and surveys to collect customer feedback in-app.
The tricky part when it comes to Pendo's pricing is that you get to pay separately for different modules. Pendo's yearly pricing can cost as high as $15K for the Pro plan and $50K for the Enterprise plan.
Appcues – best for mobile onboarding
As a no-code user onboarding platform, Appcues is especially great for creating mobile onboarding flows.
Here's what you'll get when you start using Appcues:
Access to an easy-to-use UI that anyone on the team can handle for building in-app flows without coding.
You can also create checklists with Appcues and prompt users to take action. However, they are not available on the Essentials plan and have limited functionality (can't trigger JS functions, or add gamification elements) compared to alternatives, such as Userpilot.
Track UI engagement with Events explorer which allows you to tag elements without coding.
Build custom user segments (up to 5 on the Essentials plan) based on user properties, flows, interactions, or events you set up in the events explorer.
Appcues pricing starts at $249/mo with plenty of feature limitations. Prices add up quickly for more features and higher MAUs.
Conclusion
Onboarding your users doesn't have to be a daunting task. Conduct surveys to understand the user's pain points, create custom flows for different users, and always pay attention to the data to improve your user onboarding.
You can get started onboarding users with Userpilot today. Book a demo to learn more!