Product Analytics Guide for SaaS Products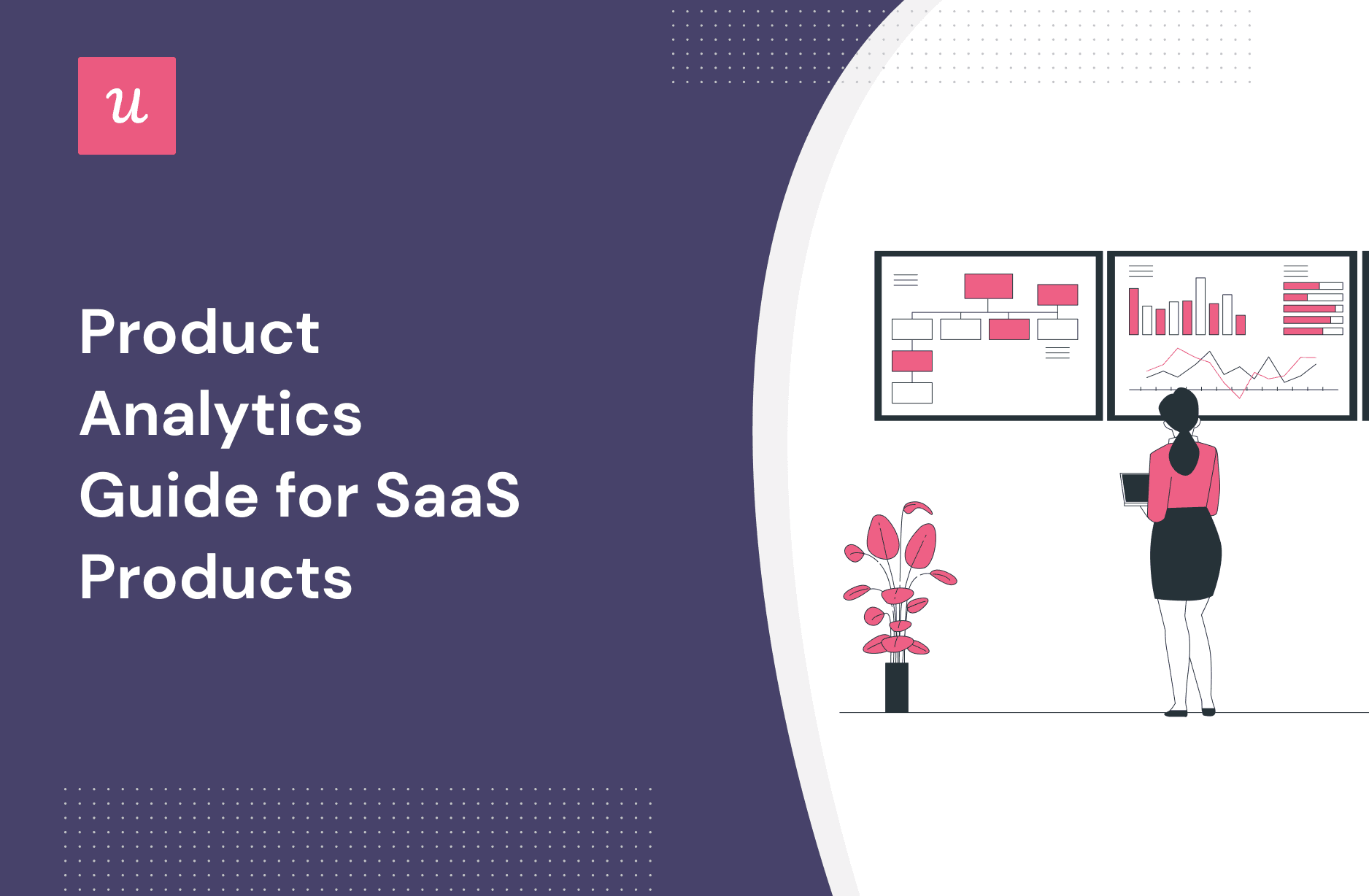 How can product analytics help product managers create better digital products and more satisfying user experiences?
This is the main question we tackle in this article.
We start by looking at different kinds of analyses and the metrics to track and then explore some practical ways of using each of them to drive various product goals. We finish with an overview of product analytics tools that your team can benefit from.
Let's get right to it.
TL;DR
What is product analytics?
Product analytics is a data-driven approach to understanding customer behavior and product usage.
It involves collecting, analyzing, and displaying data from various sources, like web/mobile app usage or customer feedback, to gain insights into customer interactions with the product.
Product analytics helps product managers make informed decisions on how to refine their products by identifying areas for improvement, understanding the impact of changes, and optimizing the customer experience.
Product analytics vs marketing analytics
Marketing analytics and product analytics have different scopes and serve different purposes.
While product analytics deals with customer behavior inside the product, the scope of marketing analytics is outside. It focuses on measuring the performance of marketing campaigns or strategies.
As a result, both types of analytics use different metrics. Product analytics looks at metrics like feature usage or product adoption, whereas marketing analytics track user demographics or channel performance.
Google Analytics is commonly used to track marketing metrics, and Userpilot is a powerful product analytics tool that lets you act on product data.
Why do you need to track product analytics?
Product analytics enables teams to build a complete and objective picture of user behavior in-app, which is essential to build products that satisfy users' needs.
It's common knowledge that what users say and what they actually do are often two different things. People either don't remember or are biased in their judgments. This reduces the effectiveness of surveys or customer interviews for getting behavioral insights.
Tracking product usage, on the other hand, enables you to identify actual user behaviors. What's more, you can collect data at scale for a more representative view.
The process is also less time-consuming than other ways of gathering user insights. As a result, product teams are able to make quicker decisions.
Who gets the most benefit from tracking product analytics data?
Professionals from across the organization use product analytics to make informed choices in their work:
Types of product analysis you can conduct
There are various kinds of product analyses that product teams should carry out to gain necessary insights.
Segment analysis to track in-app actions of similar users
Segment analysis allows you to identify patterns in behaviors of similar user groups.
For example, you could be looking at how users with the same JTBDs are engaging with the product. This can help you find a happy path that will lead future users to value in less time.
Tracking the less successful users, like your NPS detractors, could flag up issues like friction.
Cohort analysis to get deeper insights into user behavior
Cohort analysis is a method of analyzing user behavior by observing the actions of a particular group of users (cohorts) within your platform. In contrast to customer segmentation, a user cohort is associated with a specific timeframe.
This can help you assess the impact of your actions on users. For example, you may be able to tell that a certain update or feature release has increased user engagement or churn.
Also, dividing your users into cohorts makes it easier to find the root cause of issues. That's because you can cross-reference the data.
Funnel analysis to track how users progress along the customer journey
Funnel analysis tracks and analyzes the flow of user behavior through a series of steps toward achieving a specific goal.
For example, if there is a sequence of actions needed for users to activate, each of them is going to be one stage in the funnel.
Looking at how users progress through the funnel allows you to understand where users experience friction that slows them down or makes them drop off.
Milestone analysis to ensure users reach the Aha! moment
Milestone analysis involves tracking users' progression across the key stages of the user journey, like the Aha! moment.
Why does it matter?
The Aha! moment is when users discover your product value and its relevance for their use cases. For example, it may be using a feature that differentiates you from competitors.
Reaching this stage is a prerequisite to user activation, so as a product manager, it's your job to make sure that users reach it. Tracking their progress helps you tweak the onboarding process to make sure they don't miss it.
Retention analysis to understand what keeps customers retained
Retention analysis looks into how many users keep coming back and using your product. This is important because it's an indication of perceived product value and can help you forecast product growth and revenue.
Retention analysis focuses on identifying the factors that contribute to increased user retention and maximizing them.
Churn analysis to figure out why customers leave
Churn analysis and retention analysis go hand in hand. While retention analysis focus on those things that drive customer loyalty, churn analysis aims to discover why they leave.
Of course, churn is bad because it means less revenue. More importantly, it could be an indicator of serious issues with the product's functionality or usability and its value proposition.
Product analytics metrics to track
To conduct product analytics, you need to track the right metrics.
Here are a few metrics frequently used to measure product performance:
How to leverage product analytics data to grow your SaaS?
Now that we've looked at various kinds of product analyses and metrics, let's see how you can put them to practice to drive your SaaS growth.
Create a personalized customer experience
Tracking and analyzing customer behavior helps you understand their needs better. As a result, you can personalize their experience inside the product.
How do you do that?
Thanks to such a personalized approach to user engagement, you reduce the time users need to experience value and avoid overwhelming them with unnecessary information.
Understand how power users interact and replicate their user flow
Power users are the most valuable customers for a number of reasons. Apart from being extremely loyal, they are also successful users of your product. Use their expertise to your advantage.
First, use cohort/retention analysis and survey results to identify your power users.
Next, segment them based on their JTBDs.
After that, use paths/flow and funnel analysis to find patterns in how they move along the user journey.
Use feature tracking, heatmaps, and session recordings to gain a more granular understanding of their actions.
Finally, design contextual in-app experiences to help users with similar goals, needs, or pain points to emulate the most successful behaviors.
Prompt contextual in-app messages to drive product adoption
Contextual in-app messages are triggered by user actions. Think about a tooltip that appears when you hover over a feature or a modal introducing a feature that's linked to the one you've just activated.
Contextual in-app guidance is super effective because it's relevant to your users' needs. To be able to do so, you should:
Segment your users based on their objectives.
Carry out a mix of different analyses to identify the most effective ways to accomplish certain tasks and link them to user segments.
Track user actions in real time.
Design and trigger in-app prompts based on user behavior.
Prioritize product improvements and new feature development
As a product manager, you're not able to solve all your users' problems. First, not all of them are aligned with the product vision. Secondly, you don't have the time and resources. That's why effective prioritization is essential.
Here's how product analytics can help you:
Find and remove friction points in the user journey
Friction is bad. From the user's point of view, not being able to get your job done quickly and efficiently is frustrating. For product managers, friction means a longer time to value as well as lower adoption and retention rates.
How do you find friction points?
Start with funnel analysis to identify the areas where users drop off or slow down dramatically.
Use feature tracking, heatmaps, and session recordings to identify specific UI features that stop users from converting.
Follow-up with users who've dropped off to collect their insights.
Identify early signs of customer churn
Friction is often good mates with churn. After all, if your customers can't achieve their objectives easily enough, they're not going to hang around for long. However, that's just one of the reasons why users churn. Others include value gaps, poor customer service, or steep prices.
Whatever the reason, churn means trouble for the product and your business, so here's how you can prevent it:
Use cohort analysis to identify churned users and segment them.
Look at their progression through the funnel and carry out funnel analysis to identify common events in their behavior.
Group them into custom events so that you can track them easily.
Design contextual guidance triggered by custom events to reengage users who might be at risk of churning.
Choosing the right product analytics software for your business needs
Effective product analytics requires an adequate tool stack. When choosing your analytics platform, look for these features:
Event tracking (including custom events).
Goal and user journey tracking (cohorts, flows/paths, funnels).
Product usage tracking (feature usage tracking, heatmaps).
Behavioral user segmentation.
Ability to act on data in real time to trigger in-app messages in response to events.
Integrations with other analytics tools, and webhooks for custom integrations with 3rd party apps.
Top product analytics tools for SaaS companies
The choice of product analytics software tools depends on your needs.
Let's look at 3 tools that will fit the most common use cases:
Userpilot, a product adoption platform
Amplitude, a dedicated product analytics platform
Hotjar, a UX/UI analytics tool
Userpilot: In-app engagement and complete product analytics solution all in one
Userpilot is a digital adoption tool.
It allows you to analyze user behavior, collect customer feedback, and drive product engagement with in-app experiences. This makes it a comprehensive product analytics solution that will satisfy the needs of most product folks.
Here are some of Userpilot analytics features:
Amplitude: Standalone product analytics software
Amplitude is a powerful product analytics tool. If you think that Userpilot's analytics features might not be sufficient for your business, Amplitude might be the answer.
Some of Amplitude's analytics features include:
Milestone analysis
Custom dashboards
Predictions
Pathfinder – helps you find all the possible user paths leading up to an event and following it
Funnel analysis
Amplitude offers access to a lot of them in its free plan, so you can easily take it for a spin and see if it works for you. If you don't want to commit your time to set it up, you can also book a live demo.
Hotjar: User behavior analytics software
Hotjar is an excellent tool for granular analysis of user in-app behavior.
The product offers two main features; heatmaps and session recordings.
Heatmaps are visual representations of user engagement in the product. The warmer the color of the spot on the screen, the more popular the feature is. This shows you which parts of the UI attract the most attention and which parts to optimize.
Session recordings are screen recordings of what users do. You can either use them for user testing, where they have a specific task to perform, or simply watch user interactions with the product, for example, to identify friction.
Conclusion
Product analytics enables product managers to understand user behavior and make data-driven decisions to add value to the product and create delightful customer experiences.
If you want to see how Userpilot analytics can help you make better product decisions, book the demo!