Mixpanel Analytics In-Depth Review: Is There a Better Alternative?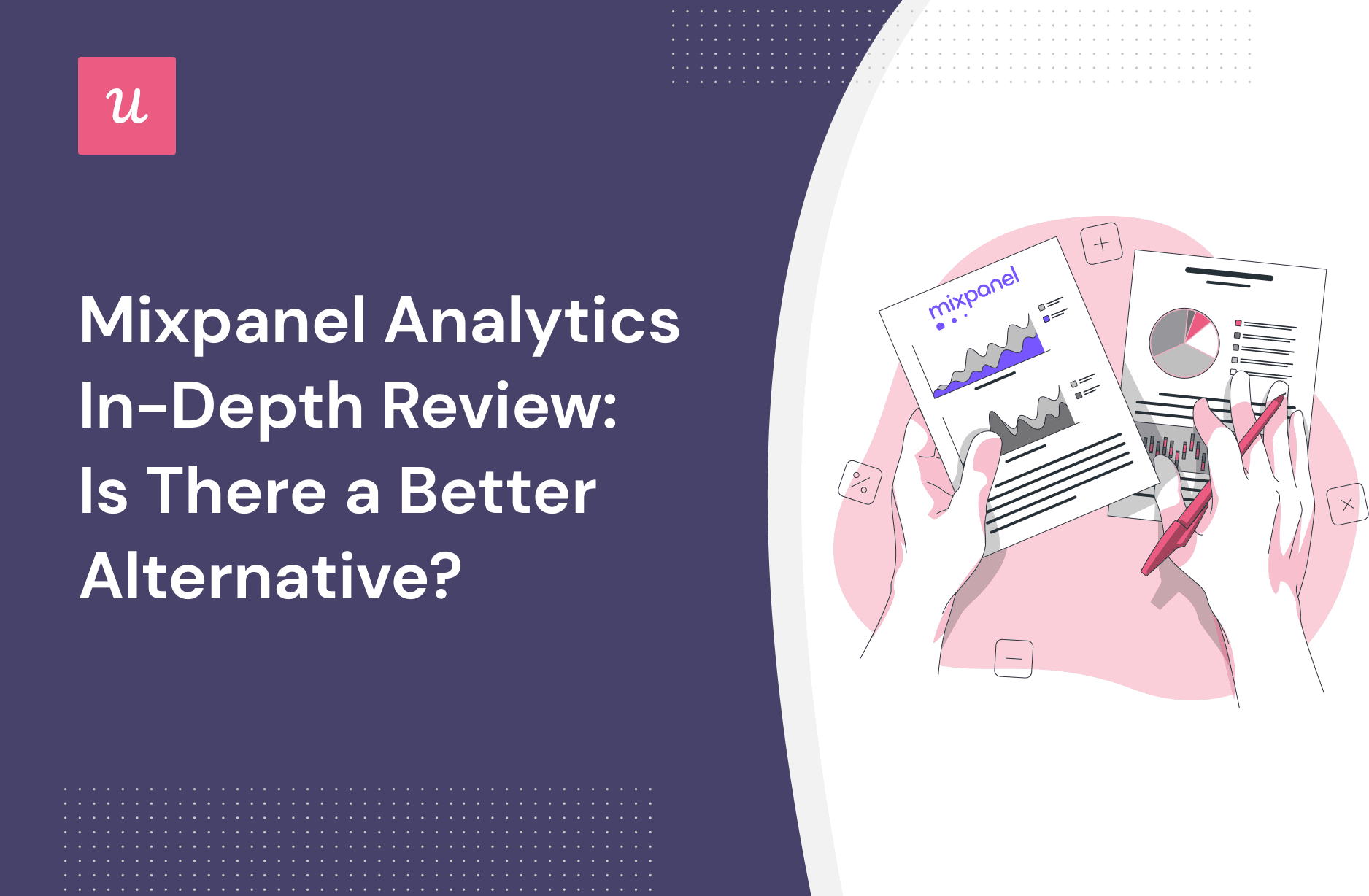 Looking to use Mixpanel Analytics for collecting product growth insights?
Mixpanel Analytics helps you collect and analyze data to gain valuable insights into your product's growth. Mixpanel has become a popular choice among SaaS companies with its advanced analytics and intuitive interface.
However, with so many analytics tools available in the market, is Mixpanel the best option for your business?
In this in-depth review, we'll explore the features, benefits, and limitations of Mixpanel Analytics and why you might need to find a better alternative for you.
TL;DR
User cohorts in Mixpanel help you analyze user behavior and its impact.
Mixapanel's group analytics enables you to analyze behavioral data as a group and calculate account or company-level metrics.
Drop-off analysis in Mixpanel shows where users get stuck and how to reduce friction.
Interactive reports let you quickly query data and visualize product usage.
A/B testing in Mixpanel helps you track user interactions to determine which version of a feature or product works best.
Mixpanel has powerful and customizable features, but enterprise-grade features can be expensive and take time to set up.
What is Mixpanel?
Mixpanel is a powerful real-time analytics platform that helps companies measure and optimize user engagement. It provides insights into your product usage and user behavior to help you make data-driven decisions and improve your product.
Mixpanel Analytics vs Google Analytics
Both Mixpanel Analytics and Google Analytics are popular tools available for SaaS companies. While Mixpanel is a product analytics tool, Google Analytics is more of a traffic attribution tool.
Mixpanel is great for understanding user behavior and interaction with your product. It helps you keep track of button clicks, scrolling, and navigation within your product. You get better insights into the health of each account, product usage, and churn possibility.
Google Analytics is an excellent tool for tracking website traffic and conversions. With it, you can better track your website visitors' arrival, navigation, and page duration. Its easy integrations with other marketing tools allow you to track marketing data more efficiently.
Why do product managers need Mixpanel Analytics?
Let's see how Mixpanel Analytics can help you understand user behavior and product usage in just a few clicks.
Track user behavior in just a few clicks
Mixpanel Analytics helps you easily track users' interactions and see how your customers behave with the product. You can gain valuable insights into the most popular features and identify the ones that improve customer satisfaction.
Tracking user behavior can also provide customer experience analytics to determine where the user experience may be suffering. You can then identify your customers' pain points and work on eliminating them. Consequently, you can streamline the processes in your product and enhance the overall customer experience.
Collect product usage data and make data-driven decisions
Mixpanel Analytics helps product managers collect and analyze product usage data. You can track user behavior across different cohorts, like trial users and paying customers, and identify patterns in your product engagement.
Product engagement data can help you make more informed decisions about your product. Suppose your customers stop using your product after a certain period. You can investigate the possible reasons and decide how to deal with them.
Similarly, you can test new features and product experiences using Mixpanel Analytics. You can then make data-driven decisions to improve the features and experiences.
Mixpanel analytics functionality in-depth
Let's take an in-depth look at Mixpanel Analytics's features.
Mixpanel analytics feature #1 user segmentation
One of the most powerful features of Mixpanel Analytics is its user segmentation capabilities. It offers unlimited segmentation capabilities on attributes, user properties, and cohorts. This level of segmentation gives you a more detailed view of your consumers and their engagement level.
Mixpanel Analytics' user segmentation has the ability to understand your users based on their overall behavior, not only average behavior. This approach helps you learn how different users use your product.
You can also break down an analysis by event or user property and add or modify the breakdowns. The best part is that you can do all of this in real-time without computing anything beforehand.
Mixpanel analytics feature #2 user cohorts
With Mixpanel's user cohorts, you can group your users based on specific actions they take or don't take within your product. It allows businesses to analyze how different user segments behave and the impact of these behaviors on conversion, engagement, and retention.
You can define user cohorts for customers based on actions like the number of times a user logs in, etc. Then you can create different cohorts for different types of users, such as core, casual, and power users. After defining the cohorts, it gets easier to analyze on your own terms and visualize differences in cohort behaviors.
Cohort analysis in Mixpanel also helps you analyze user funnels. Zooming in on cohort users in any report shows how results vary by user segment. You can then find low-engagement user funnel sections and optimize them.
Mixpanel analytics feature #3 group analytics
Group analytics in Mixpanel enables you to analyze behavioral data as a group. It complements the other features, like user segmentation and cohort analysis, and is a great fit for companies serving multiple users within the same organization.
With group analytics, you can calculate account or company-level metrics and get a holistic view of user behavior. It includes metrics like product adoption and retention rate. Analyzing these metrics at the account level helps you gain insights into customer interaction.
You can also track progress through funnels and identify friction points in the user journey. Once you know what they are, you can take action to eliminate them and improve the user journey.
Mixpanel analytics feature #4 drop-off analysis
Drop-off occurs when a user stops engaging with your product or website before completing a desired action, like signing up for a service or canceling the subscription. Analyzing drop-offs helps you understand why users leave and identify ways to reduce friction.
You can see what users do before dropping off by changing the filter in Mixpanel to "Did not Convert." It will show you a funnel of user actions leading up to the point where they dropped off. This information can help you identify users' most common paths before dropping off and act accordingly.
Drop-off analysis can also help you understand how your power users behave differently than others. You can use it to identify your best practices and create a more engaging user experience.
Mixpanel analytics feature #5 interactive reports
Another key feature that Mixpanel Analytics supports is interactive reports. It allows you to query and visualize your data in a few seconds.
You will have the advantage of analyzing product usage in detail with interactive reports. It can help you analyze usage data to see how often your users take desired actions and how engagement differs among user groups.
Mixpanel Analytics allows you to slice and dice user behavior trends to explore them from all angles. You can monitor the growth of key user cohorts, like power users, and understand how current trends compare to previous results. Then it gets easier to answer many questions about your product usage, user retention, etc.
Mixpanel analytics feature #6 A/B testing
A/B testing is another crucial offering of Mixpanel Analytics. It can help you determine which versions of your product or feature will help you reach your goals better.
With A/B testing, you can create two or more product variants, each with unique features or design elements. Mixpanel can then track how users interact with each variant, providing detailed data on which variant performs best.
Another key advantage of A/B testing in Mixpanel is that it lets you find experiments with the greatest user impact. You can determine which variants impact user engagement, retention, and conversion by tracking their effects over time.
Mixpanel: Pros and cons
Like any other tool, Mixpanel also comes with both advantages and drawbacks. Let's have a look at them.
Mixpanel pros
Has a lot of features and can analyze data in great detail by breaking it down into smaller parts
Lets you quickly make informed decisions thanks to its powerful and clear visuals
Highly customizable, allowing you to build exactly what you need
Mixpanel cons
The free plan works well for small SaaS businesses, but enterprise-grade features can be expensive depending on your needs
Your engineering team will need to set up and configure the tool
Mixpanel integrations
One of the key features of Mixpanel is its ability to integrate with other software and data sources.
Mixpanel can also read directly from your data warehouses and data lakes. It means you can stream events directly from your apps and servers using a customer data platform (CDP) or Mixpanel SDKs.
Mixpanel pricing
Two premium plans are available in Mixpanel, along with a free plan. The premium plans start at $25 per month.
Free: It is an excellent starting point if you want to try Mixpanel without any financial commitment. This plan includes 100K tracked users with access to core reports (including User Flows) and unlimited data history and sets.
Growth: This premium plan starts at $25 per month. It comes with unlimited saved reports and cohorts, data modeling, group analytics, and more.
Enterprise: This comprehensive plan is for large-scale businesses with complex analytics needs. With the Enterprise plan, you can leverage advanced access controls and dedicated customer success. You can contact sales and decide on a custom plan and pricing.
Userpilot: A better alternative to Mixpanel analytics
We have gone through Mixpanel Analytics and what you can achieve with it. But if you want something better, Userpilot can offer you more value for money.
Userpilot is a versatile, code-free marketing, product analytics, and customer feedback tool for SaaS businesses. It helps you analyze product usage and collect user sentiment to create personalized in-app experiences that enhance user interaction.
Userpilot analytics functionality
One of the best parts about Userpilot is its comprehensive analytics functionality with a wide range of features. Let's review its key features to understand what value it can add to your product's improvement.
Advanced segmentation: You can create targeted user segments based on specific parameters such as pricing plans, company, location, required actions, NPS score, and more. By segmenting users, you can analyze data more efficiently and understand user behavior trends in each segment.
Feature tagging: It allows you to track how different user segments engage with different parts of your product. You can tag specific UI elements to gain insights into feature usage and take action to optimize your product.
Custom events: You can create and track custom events to monitor specific user actions and better understand user behavior. It can be particularly useful to see if your users are completing desired actions within your app or website.
Product experimentation: The built-in A/B testing for flows lets you test different versions of your feature and product. You can then decide on the better version by checking their performance data.
In-app messaging: It is an effective way to engage with users and provide them with valuable information about your product. With modals, banners, tooltips, and slideouts, you can craft and send targeted in-app messages. You can use them to announce new features, invite users to webinars, and drive product adoption.
User sentiment analysis: Collecting user feedback can help you understand how users feel about your product. You can also customize in-app surveys and integrate NPS surveys with analytics and response tagging. It will provide in-depth insights into user sentiment and areas for improvement.
Userpilot pricing
Userpilot offers three plans you can choose from – Traction, Growth, and Enterprise. The plans start at as low as $249 per month if you opt for an annual billing system. You can book a Userpilot demo to start with any of the plans.
Traction: This plan includes up to 2,500 monthly active users and costs $249. It offers localization of up to 5 languages and 25 feature tags besides allowing 10 members.
Growth: It comes at $499 per month, along with up to 10,000 monthly active users. The Growth plan allows unlimited feature tags, localization of up to 20 languages, and 20 team members.
Enterprise: It starts from $1,000 per month and initially allows up to 10,000 monthly active users, which you can increase with an extra charge. You will get unlimited localizations, unlimited team member slots, dedicated enterprise infrastructure, and more.
Conclusion
Choosing the right tool for your business is critical to driving growth. Mixpanel Analytics can be one of the best tools for your business to track and drive product growth, but it has some drawbacks.
Want to test a Mixpanel alternative and analyze product usage code-free? Book a demo call with our team and get started!