Best Marketing Analytics Tools For Product Marketing Managers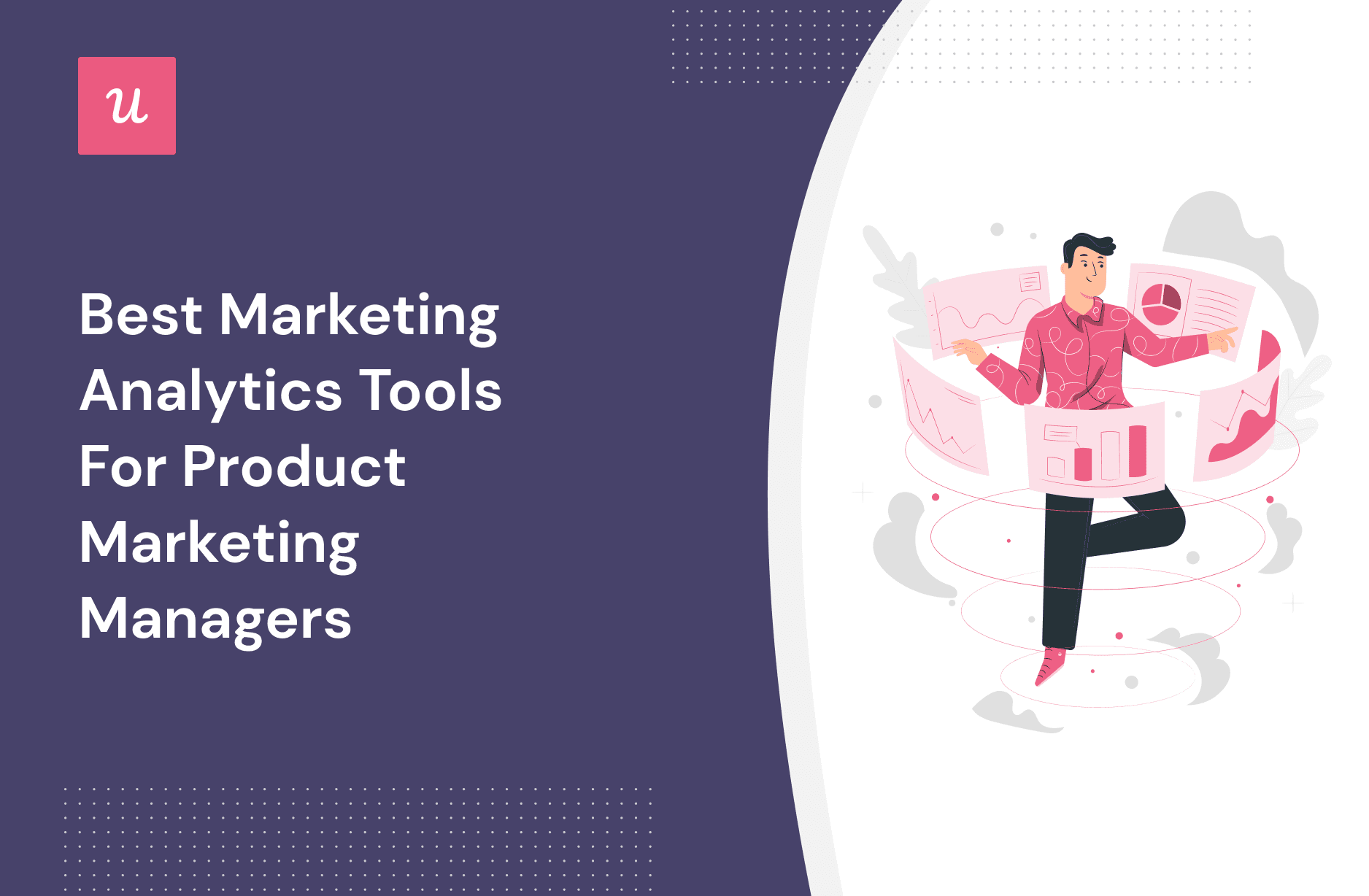 Marketing analytics tools are a product marketing manager's best friend. They help you track performance and get better results.
In this article, we cover:
What are marketing analytics tools and why they are essential for marketing teams and marketing agencies?
Key features to look for when shopping around for marketing tools.
The best marketing analytics tool for your business needs.
Let's get started.
TLDR;
Marketing analytics tools collect and display marketing-related data, so you can see which marketing initiatives are working and not working.
You need marketing analytics tools to gather data and report on them together, track campaign success, and make data-driven decisions that lead to business and revenue growth.
Here are the key features to look for in an analytics tool: segmentation, tracking capabilities, A/B testing, and data visualization with analytics dashboards.
Userpilot is a powerful product analytics and in-app marketing platform for SaaS companies. It features advanced segmentation, feature tagging, custom events, product experimentation, in-app messaging, and customer feedback tools.
Userguiding is a user onboarding software that helps you build product walkthroughs and onboarding checklists.
HubSpot Marketing Hub is a robust automation platform that features content marketing, SEO, digital advertising, email marketing, social media, and analytics tools.
Buffer is a social media management platform with social media scheduling, monitoring, and insights.
Semrush is a specialized content marketing and SEO software featuring keyword research tools, competitor analysis, and powerful content marketing features.
Mailchimp focuses on email marketing with segmentation, form building, and email analytics.
Google Analytics is a free web analytics platform that tracks audience behavior on your website, plus additional Google Ads insights.
Mixpanel is a marketing analytics tool that imports data and transforms it into visual and interactive dashboards.
Amplitude is a product analytics platform that lets you track user behavior and build custom reports.
Hotjar is a marketing analytics tool with unique features like heatmaps, screen recordings, and more.
What are marketing analytics tools?
Marketing analytics tools track and display performance from your marketing campaigns. They make it easier to complete data analysis, so you can make informed decisions about your marketing strategy.
Why do you need marketing analytics software?
Marketing analytics tools play a crucial role in ensuring that companies truly capture their data's full potential. With marketing analytics software you can:
Gather data from all channels in your marketing mix and report on them together.
With all your marketing data in one spot, a marketing analytics tool makes it easier to see the bigger picture. You can compare the performance of your marketing channels to see which marketing strategies are worth investing in more.
Generate reports without relying on data scientists, track campaign success, and perform competitive analysis.
Data collection is an essential task for marketing teams, but pulling data is tedious and sometimes difficult. Marketing analytics tools make it easy to pull data from multiple data sources without needing to rely on data analysts.
You need accurate marketing data to make better business decisions that will lead to revenue growth. By tracking your key metrics with marketing analytics tools, you'll naturally get better results.
Key features of a good marketing analytics tool
There are countless types of marketing analytics tools on the market. Any marketing analytics tool you turn to should have these four features:
When you track data closely, you'll start to see patterns between different users. Some will share the same demographic traits – or the same jobs to be done. Whatever traits they share, it's beneficial to group similar customers together into customer segments. It helps you deliver more value along the customer journey since content can be better personalized.
Tracking capabilities to monitor user behavior and actions across your app or website.
The right marketing analytics tools will let you track user behavior across your website and product. These insights will help you pinpoint actions that lead to success and elements that need improvement.
A/B Testing to compare different versions of flows and see what works best.
A/B tests are excellent tools for instant customer feedback. Instead of guessing which marketing efforts will resonate more with your audience, you can see what they prefer before investing too much.
Marketing data can be messy and confusing. Good marketing analytics tools will have data visualization features to help you make sense of the data with minimal effort.
Best marketing analytics tools in 2023
Explore our list of the eight top marketing analytics tools for marketing teams:
Userpilot – best analytics software for in-product marketing
Userpilot is a powerful product analytics and in-app marketing platform for SaaS companies. It gives you in-depth insights into product usage data and enables you to create flexible, contextually relevant in-app experiences targeted to different user segments.
Key features and functionalities
Advanced segmentation: Create user segments based on a user's pricing plan, company, location, Jobs to be done, NPS score, and more. This enables you to analyze data more efficiently and understand user behavior trends in each segment.
Feature tagging: Tag any UI element and track how different segments of users engage with parts of your product.
Custom events: Create and track custom events to see if your users are completing desired actions in-app.
Product experimentation. Built-in A/B testing for flows lets you explore and quickly iterate based on direct user behavior.
In-app messaging: Choose from a range of UI patterns such as modals, banners, tooltips, and slideouts. Craft and send targeted in-app messages to announce new features, invite users to webinars, and drive product adoption.
User sentiment analysis: Collect feedback to investigate the results of your marketing efforts. Userpilot enables you to create different types of customizable in-app surveys. Integrated NPS surveys with analytics and response tagging unlock insight into how your users feel.
Pricing
Userpilot offers a range of pricing options:
Traction. For up to 2500 users, this plan is $249/ mo.
Growth. For up to 10,000 users, this plan is $499/ mo.
Enterprise. For large-scale businesses, these plans begin from $1000/ mo.
Userguiding
Userguiding is a no-code user onboarding software where you can build product walkthroughs, resource centers, and onboarding checklists for software products.
Key features and functionalities
Onboarding checklists: Create checklists that walk new users through the essential actions they need to take to get value from your product.
Resource center: Create a self-serve resource center with help articles, blogs, and webinars.
NPS surveys: Design net promoter score surveys to capture customer feedback.
Pricing
Userguiding offer three main plans:
Basic. Starting at $99/mo, this budget option has a few limitations to consider (i.e. just 1 Team Member, a limit of 20 guides and 2 checklists, UserGuiding branding on all UI patterns).
Professional. Starting at $399/mo.
Corporate. Starting at $699/mo (akin to most 'enterprise' plans).
HubSpot Marketing Hub
HubSpot Marketing Hub is a powerful marketing automation software. They feature content marketing, SEO, advertising, and social media capabilities.
Key features and functionalities
Blog: Write and publish SEO-friendly articles directly to your website.
PPC marketing channels: Manage and monitor your Facebook, LinkedIn, and Google Ads campaigns.
Social media marketing: Schedule social media content and engage with followers directly in HubSpot.
Live chat: Create chatbots to automate many of your sales and marketing conversations.
Pricing
Free: HubSpot has a limited free plan with email marketing features, forms, landing pages, live chat, and more.
Starter: Pricing starts at $45/month for the Starter plan, which features marketing automation, landing page reporting, ad retargeting, and more.
Professional: This plan starts at $800/month. For that, you get everything in the Starter plan plus omnichannel marketing automation, custom reporting, SEO, blog, and social media features.
Enterprise: Pricing starts at $3,600/month. On top of everything in the Professional plan, you get account-based marketing features, predictive lead scoring, revenue attribution, and more.
Buffer
Buffer is a robust social media management platform. You can monitor your different social media accounts, engage with followers, and schedule content. You can also track your metrics with a social media-focused dashboard.
Key features and functionalities
Social media scheduling: Create and schedule content for Instagram, TikTok, Facebook, Twitter, Pinterest, and LinkedIn – all in one place.
Social media analytics: Monitor your social media performance with in-depth analytics with custom reports and daily updates.
Engagement: Respond to mentions and comments directly in Buffer.
Pricing
Buffer Publish
Pro Plan: $15/month
Premium Plan: $65/month
Business Plan: $99/month
Buffer Analytics
Pro Plan: $35/month
Premium Plan: $50/month
Semrush
Semrush is a content marketing and SEO-focused marketing analytics platform. It features advanced keyword search operators, competitive analysis, and link-building support.
Key features and functionalities
Keyword research: Find the best keywords for your content strategy with powerful keyword search tools.
Content marketing: Complete topic research, generate briefs, audit your current content, and use the SEO Writing Assistant to score your writing.
Competitor analysis: Compare your performance against competitors with traffic analytics, advertising research, and social media tracker features.
Pricing
Pro Plan: $119/month (Up to 5 projects, 500 keywords, and 10,000 report results)
Guru Plan: $229/month (Up to 15 projects, 1,500 keywords, and 30,000 report results)
Business Plan: $449/month (Up to 40 projects, 5,000 keywords, and 50,000 report results)
Mailchimp
Mailchimp helps you turn "emails into revenue". It's the #1 email marketing brand, with advanced features like segmentation, automation, and analytics. It's perfect for small businesses that want an easy-to-use email marketing solution.
Key features and functionalities
Email marketing campaigns: Create and send email campaigns using the drag-and-drop builder and ready-made email templates.
Signup forms: Build pop-up and embedded signup forms to collect leads and grow your audience.
Segmentation: Improve your email marketing performance by sending out relevant content to different audience segments.
Pricing
Essentials: Starts at $13/month (Testing and scheduling features)
Standard: Starts at $20/month (Personalization, optimization, and automation)
Premium: Starts at $350/month (Unlimited contacts, priority support)
Google Analytics
Google Analytics is a free web analytics tool that tracks website analytics and Google Adwords data. It gives you real-time data and historical data on on-site visits, audience behavior, and more. Google Analytics is one of the most popular marketing analytics solutions.
Key features and functionalities
Custom reports: Create and share your reports with custom metrics that matter to you.
Custom event tracking: Track your goal performance with custom event tracking.
Search engine traffic: See where website traffic is coming from with details on which marketing platforms led to site visits.
Pricing
Google Analytics is free to use with no premium-plan options.
Mixpanel
Mixpanel is an analytics platform that allows you to import data from your data warehouse, apps, and servers. You can then create your interactive dashboard to make sense of the data.
Key features and functionalities
Interactive reports: Create interactive reports that help you better visualize data – build funnels, see experiment results, and more.
Segmentation: Break down your data by events or user properties to see which segments are converting, and which ones aren't.
Pricing
Free: Includes 100K monthly tracked users
Growth: Starts at $25/month (Unlimited reports, data modeling, Group Analytics, and more)
Enterprise: Pricing is available upon request with custom plans to suit your needs.
Amplitude
Amplitude is a product analytics software that helps you track and understand customer behavior. You can create customized reports and view the success of your digital marketing campaigns in one place.
Key features and functionalities
Marketing campaigns performance: See how marketing channels relate to product performance with campaign reporting.
Customer data platform: Sync data from all of your sources into one place, plus audience segmentation and targeting.
Audience management: Automate campaign targeting with real-time customer data syncing.
Pricing
Starter: Available by request
Growth: Available by request (Advanced behavioral analytics, collaboration tools, 10 computations, 5 automatic syncs)
Enterprise: Available by request (Data governance, causal insights, advanced user permissions)
Hotjar
Hotjar is a visual analytics tool that lets you track customer behavior with heatmaps and recordings. You can also collect customer feedback with easy-to-build surveys.
Key features and functionalities
Heatmaps: See where your audience interacts with your website with a color-coded visualization. Red indicates high activity, while blue means less.
Screen recordings: Watch back on real audience sessions, so you can see their experience first-hand.
Surveys: Build on-site and external surveys to collect customer feedback.
Pricing
Basic: Free (1,050 sessions per month, automatic data capture, unlimited heatmaps)
Plus: Starts at $29/month (3,000 sessions per month, filter and segment data, events API)
Business: Starts at $89/month (500 daily sessions, integrations, frustration, and confusion signals)
Scale: Price available upon request (Unlimited daily sessions, dedicated customer success manager, unlimited sites, SSO)
Conclusion
Marketing analytics tools help digital marketers make smarter decisions. Choose the right marketing analytics platforms to supercharge your marketing efforts.
Want to get started with marketing analytics tools? Get a Userpilot Demo and see how you can track user behavior and deliver personalized in-app product experiences.