Best Product Analytics Tools For SaaS Product Managers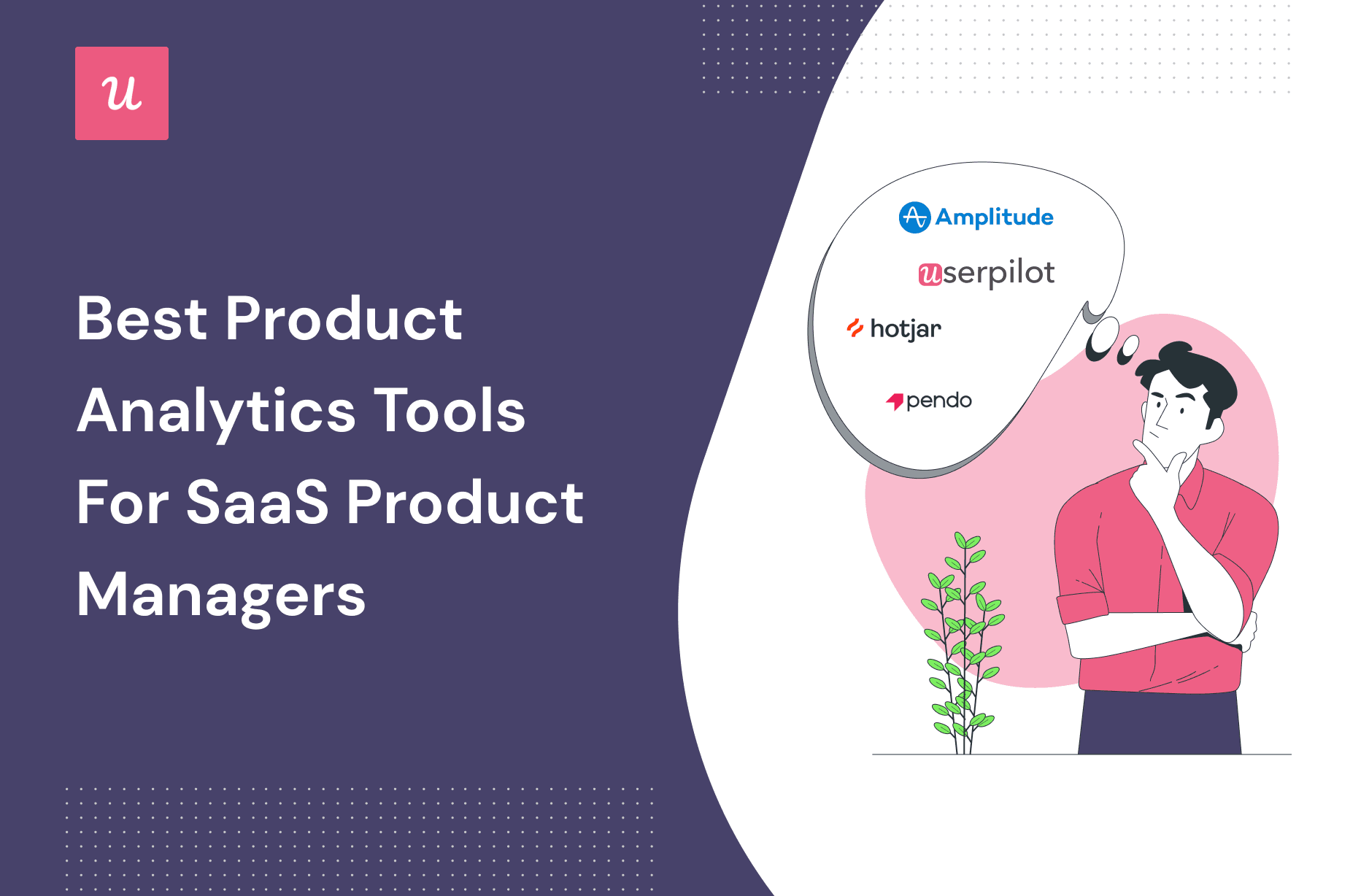 What are the best product analytics tools that PMs can use to gather product insights?
Well, this depends on your product, how established your SaaS business is, and what kind of insights you need.
In the blog, we look at 4 well-known product analytics tools, their pros, cons, and most suitable applications.
That's quite a bit of ground to cover, so let's get right to it without further ado!
TL;DR
Product analytics involves tracking and analyzing the information about user interactions with your product.
Analytics software is an application that enables you to collect user behavior data, filter it, and analyze it.
Product analytics tools allow you to track user behavior to get a better understanding of their needs and pain points to further improve their user experience.
Qualities of best product analytics tools include goal tracking, user journey tracking, product usage tracking, user behavioral segmentation, real-time data access, and integrations with other tools.
Pendo is a product adoption platform with excellent analytics but limited in-app experiences, especially in the lower plans. To take full advantage of the product, you need one of the two top plans whose prices are said to be exorbitant.
Amplitude is a state-of-the-art analytics tool that enables you to track product usage data across different platforms and integrate data from various sources. As a very advanced tool with high levels of customization, it may be difficult to set up.
Hotjar is one of the best-known analytics tools for session recording and heat mapping user experience in the product.
Userpilot is a digital adoption platform with advanced analytics tools, including feature usage tracking, heatmaps, advanced user segmentation, integrated NPS analytics, and goal-tracking.
In addition to analyzing your data, Userpilot allows you to act on it by triggering customized in-app experiences, whose performance you can also track and A/B test. Want to learn how? Book the demo!
What is product analytics?
Product analytics is tracking, inspecting, and analyzing the information about how your users interact with your product or service.
Its objective is to provide insights into how you can optimize the user experience for your customers and drive product success.
What is product analytics software?
Product analytics software is an application that allows you to collect user behavior data, filter it, display it in customized formats and analyze it.
Product analytics tools use different features to collect the data. These include event and goal tracking, session recording, or heatmaps.
Why do you need a product analytics tool?
Tracking, recording, and analyzing user actions inside your product enables you to build up a granular picture of who your users are, how they navigate the product, where they experience friction, and which features drive the most value.
Thanks to that, you can better understand the behavior of different segments and act on data insights to improve engagement, adoption, and customer retention.
Must have features of good product analytics tools
What sort of functionality should you look out for when choosing your product analytics tools? Let's have a look at the most important features that matter for SaaS products.
Analytics, including event and goal tracking, user journey tracking, and product usage tracking.
User segmentation based on user behavior data, not just demographics.
Ability to act on data in real time. Most tools record event data with a delay, so you can't trigger messages on the spot when something happens.
Integrations with other analytics and adoption tools for more a comprehensive experience, and webhooks.
4 Best product analytics software tools for product managers
Now that we know what features product managers need in product analytics tools, here are our top 4 picks:
Userpilot – Best product analytics tool for analyzing and acting on customer behavior data in real-time
Userpilot is a product adoption platform. Apart from the data analytics, it allows you to collect user feedback, and then drive product adoption and retention with in-app messages and guidance.
Pros of Userpilot
Userpilot offers the most comprehensive functionality among the product adoption tools out there. It is a great option for enterprises because it's SOC 2 Type II-certified and offers robust features for enterprise needs.
When it comes to analytics features, here are its key strengths:
An easy-to-use Chrome Extension.
Goal and event tracking, including custom events consisting of multiple actions.
Integrations with other product analytics platforms (Amplitude, Heap, Mixpanel, Segment, Google Analytics).
Supports building branched interactive walkthroughs.
Resource center offering self-service support for your users (easy to customize to match your branding and different help guides, like video, in-app flows triggers, chat, feedback).
Cons of Userpilot
Userpilot is committed to continuous improvement and innovation. Some of the areas to iron out include:
Supports only web apps, not mobile apps.
Some integrations are still in progress: Hubspot and Zapier are coming soon.
Not affordable for really small startups: $249 per month may sound like a small fortune, especially if you don't have anyone on your team to work on your onboarding and product adoption experiences.
Works only for user onboarding, not employee onboarding.
What users say about Userpilot
G2 reviewers praise Userpilot for its functionality, intuitive and easy-to-use interface, and excellent personalized customer support.
The tool is only as good as the team behind it, and we love our Userpilot team! We were set up and ready for use with only a few clicks and copies…easy… but the team has made it an even greater experience. Our Customer Success Manager has been attentive, engaging and truly helpful… Cornelia, you're amazing!
Another glowing review:
The product is incredibly versatile. It includes all of the features I was looking for to improve my user onboarding experience (e.g., a resource center, checklists, flows, NPS, high level analytics/insights). It was very easy to set up, and the support team is phenomenal.
Userpilot pricing
Userpilot offers 3 main pricing plans:
Traction
from $249/month
up to 2,500 Monthly Active Users
People & Tracking
Engagement Layer (In-app guides)
User Sentiment (NPS surveys)
Reporting, Targeting & Customization
Integrations
Localization of up to 5 Languages
20 Feature Tags
1 Application
Growth
$499/month
2,500-10,000 Monthly Active Users
Everything in Traction +
Localization of up to 20 Languages
Unlimited Feature Tags
Content Throttling
Custom Domain Hosting
Dedicated Customer Success
Custom Contract
Phone Support & Troubleshooting
Enterprise
$1000/month
Up to 10,000 Monthly Active Users
Everything In Growth +
Unlimited Localization
Custom Roles & Permissions
SAML SSO & Activity Logs
Priority Support
Security Audit & Compliance (SOC 2 Type 2 and GDPR)
Custom Contract & SLA
Dedicated Enterprise Infrastructure
Note that all the engagement and analytics features are available in the lowest plan so you can achieve all your objectives.
Pendo – Best product analytics tool for engagement data analysis
Pendo is another adoption platform with an excellent reputation for advanced product analytics. Just like Userpilot, it allows you to collect in-app feedback and create onboarding experiences to increase product adoption.
Pros of Pendo
What are Pendo's greatest strengths?
Works on mobile apps as well as web apps.
Easy-to-set-up advanced analytics, including their proprietary Product Engagement Score (PES), which combines adoption, stickiness, and growth.
A large number of integrations, including Hubspot, Salesforce, Zendesk, and Jira.
Cons of Pendo
Non-actionable analytics – you can't trigger in-app experiences when users complete in-app events.
1-hour delay for the analytics to appear on the dashboard.
The price tag and limited functionality in the lower plans.
What users say about Pendo
G2 reviews show that Pendo users value its analytics, high levels of dashboard customization, and integrations, for example with Zapier.
The NPS within Pendo has dramatically increased the number of respondents without negatively impacting our user experience due to the volume and frequency of interrupting pop-ups. Additionally, the integration with Zapier and the segment create within Pendo has allowed us to close the loop on our NPS respondents timely.
On the other hand, Pendo users complain about a lack of automation and transparent pricing policy and its cumbersome UI.
Creating dashboards (even through creating a template) is very cumbersome and requires editing each individual widget with the specific segment data for a client when it would be so much easier to have the ability to select the client from a drop-down list at the top of the said template, in order to automatically have all widget updating accordingly. Another drawback of this is that it makes it extremely difficult to find a specific dashboard if you have many clients.
Pendo pricing
Pendo's pricing is not very clear. Until recently, the pricing for all plans was available only upon request. Pendo has now revealed the pricing for its Starter plan, but not the most advanced ones which you're most likely going to need.
Overall, there are 4 plans available:
Free
Up to 500 monthly active users
Product Analytics
In-App Guides
Starter
$7000/annum
Up to 2,000 monthly active users
Product Analytics
In-App Guides
Growth
Pricing available on request
A single web or mobile app
Sentiment analytics
In-app guides
Portfolio
Pricing available on request
Unlimited web and mobile apps
Sentiment analytics
In-app guides
Cross-app reports
Portfolio summary
Amplitude – Best product analytics tool for data analysis
Amplitude is one of the most advanced analytics tools available to SaaS product managers. It offers all the analytics functionality that you would expect from a top-of-the-class tool, like advanced user segmentation, funnel analysis, and retention analysis.
Pros of Amplitude analytics
Cross-platform analytics allows you to track as your users move between your native apps, mobile apps, and web pages.
Wide range of reports and analyses.
Ability to integrate data from various sources, for example, marketing automation systems or CRM systems.
Cons of Amplitude analytics
It's an analytics-only tool so you need additional software to act on the insights.
A steep learning curve.
What users say about Amplitude
G2 reviewers praise Amplitude for its advanced analytics tools and automation, and they appreciate the Starter plan a lot.
Stefan R. a data scientist, writes
Amplitude Data Analytics is a powerful and comprehensive analytics platform that provides businesses with valuable insights about user behavior. It offers powerful features such as segmentation, funnel analysis, cohort analysis, and user journeys to help businesses better understand their users and optimize their product and growth strategies.
However, there are quite a few reviews indicating that the UI/UX may not be the most intuitive and the high levels of customization make it very difficult to implement.
For example, one user writes:
The flexibility also makes it overly complicated. There is no standard way of implementing so it is what you make it. We have seen some very rough integrations that make me not want to work on the product. Other times and when it is more basic the data is valid and good. Short story don't overcomplicate it.
Amplitude pricing
Amplitude offers three plans, including a very generous free Starter plan.
Starter
Free
Core analytics
Lets you track up to 10 million monthly events
Unlimited data retention
Unlimited user seats
Growth
Pricing available on request
Behavioral reports
Predictive analytics
Advanced collaboration tools
Custom solutions and event volume
Dedicated customer success
Enterprise
Pricing available on request
Monitoring and automated insights
Advanced data governance
Single sign-on and authentication
Hotjar – Best product analytics tool for understanding user behavior
Hotjar is a powerful website analytics tool that enables PMs and UI designed to track user behavior in-app. This is possible thanks to its session recording and heatmaps functionality. Apart from these two core features, Hotjar offers also surveys.
Pros of Hotjar
Heatmaps of user activities and actions on the website.
Full playbacks of user sessions for detailed analysis of their journey.
Cons of Hotjar
Lack of dashboard customization.
Limited survey customization makes it impossible to give them a native-like look and feel.
Limited integrations, for example, no integrations with Jira or GitHub.
What users say about Hotjar
Hotjar reviewers praise the product mostly for session recording functionality and heatmaps that enable product teams to analyze how they navigate the product and identify friction and drop-off points.
Hotjar makes it easy to record user interactions with your website. We record every new page and immediately get quality recordings. These recordings are invaluable for studying how our users are actually using our product. These recordings give us quick insights we can use to iterate on our product.
However, not all users are able to draw actionable insights from the recordings and heatmaps. It's not the downside of the product itself, but Hotjar should perhaps invest more in customer education and customer onboarding.
Watching recordings of visitors is cool, because you can see where they go on the site and everything. However, it's nearly impossible for me to gain anything from them. I once sat with my coworkers once and we watched recordings for 30-45 minutes. Afterwards we had no idea how to move forward.
Hotjar Pricing
Hotjar offers 4 plans, including a free plan. The price of the most popular Business plan depends on the number of daily sessions.
Basic
€0/forever
Up to 35 daily sessions
Automatic data capture
Unlimited heatmaps
Plus
€32/ month
Everything in Basic
Up to 100 daily sessions
Filter and segment data
Events API: track custom user actions
Business
€80/ month
500 daily sessions (up to 270k possible)
Everything in Plus
Custom-built integrations
Identify API: track custom user attributes
Frustration and confusion signals
Scale
Custom pricing
Everything in Business, +
Dedicated customer success manager
SAML single sign-on (SSO)
Trends
Console tracking
Funnels
Full access to every feature
Conclusion
Each of the product analytics tools offers a different set of features and comes with its strengths and weaknesses. To choose the best tool for your business, start by assessing your needs and setting the goals you want to achieve. Only then, go shopping!
Want to see how to leverage Userpilot analytics to drive your product adoption? Book the demo!