Is Pendo Feedback Worth The Money? [+Better Alternative]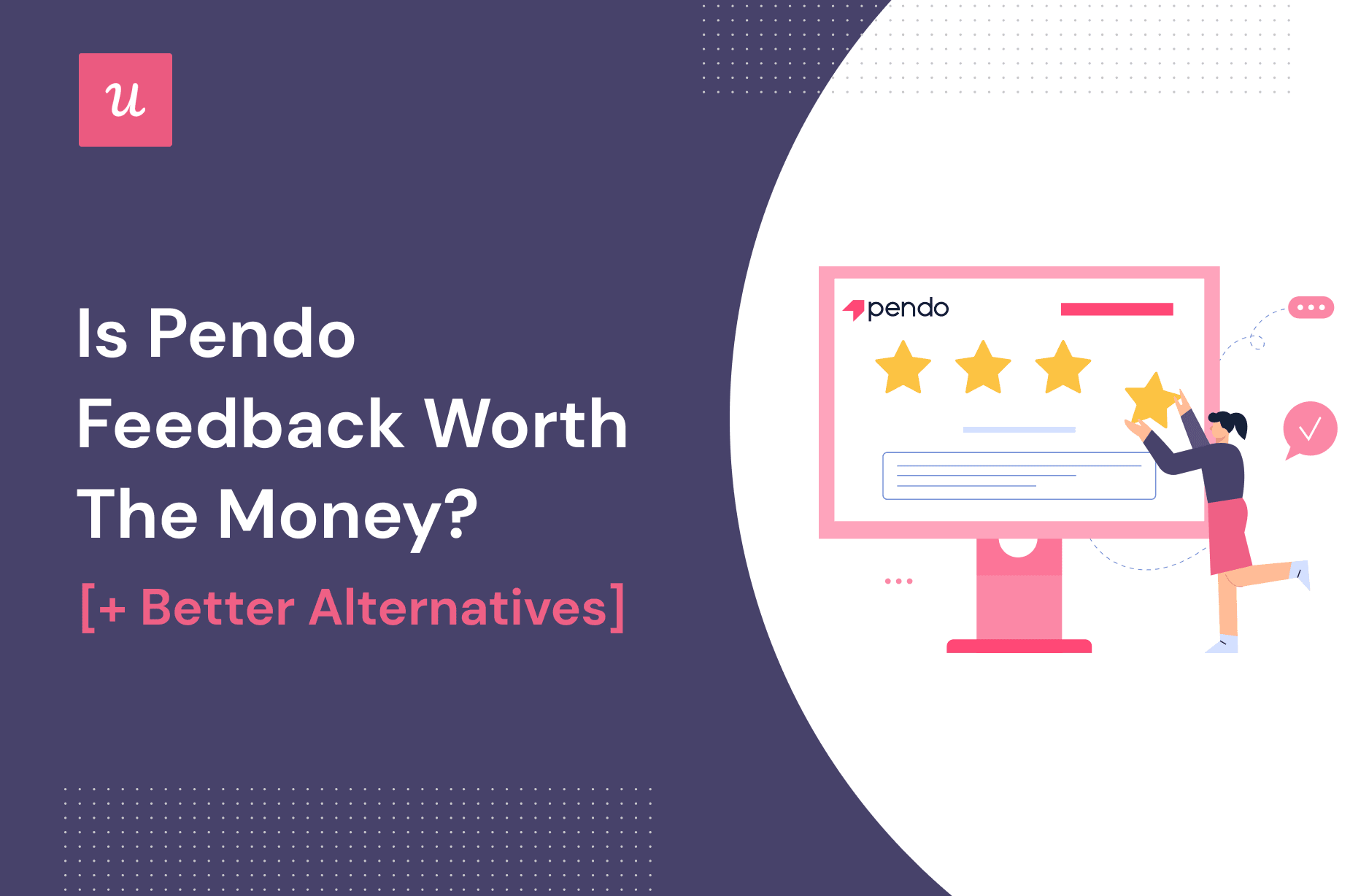 Pendo Feedback is one of the most popular trademarks of pendo.io. But is it really worth all the hype?
Pendo is a great digital adoption tool, and its Feedback module can cost you quite a bit.
Let's see if Pendo Feedback is worth spending all that extra money on.
Without further ado, let's dive in.
TL;DR
Pendo is a platform that helps enterprises improve user onboarding and get in-app analytics and customer feedback.
Businesses use Pendo Feedback to collect and prioritize product requests.
Pendo Feedback focuses on feature requests, while Pendo Polls are microsurveys triggered during product tours.
You can't measure user satisfaction with Pendo Feedback.
Pendo users submit feedback on demand and then use priority sliders to rank their submissions in order of importance. You can also analyze feedback given by different segments and use it to update your roadmap.
The Pendo Feedback module isn't available for free users. In fact, the cost of Pendo Feedback is not available on the website and you need to request a demo to find it out.
A better alternative to Pendo Feedback is Userpilot which collects on-demand feedback and allows you to trigger in-app surveys all in one. Book a demo to see it in action.
What is Pendo, and how will it help you?
Pendo is a digital adoption solution created to optimize product experience through user onboarding, analytics, and in-app feedback.
Pendo can help you:
With these functionalities that Pendo offers, you're likely to deliver a great user experience that will result in customer satisfaction.
What is Pendo Feedback?
Pendo Feedback is a feature in Pendo's full suite that helps businesses collect, organize and prioritize product requests directly in-app.
This functionality wasn't always available on the platform until Pendo acquired Receptive early in 2019, and rebranded it as Pendo Feedback.
This feature is used for capturing and prioritizing customer feature requests at scale.
It collects customer data through in-app forms, which they can fill and submit without ever leaving the platform, thus improving your chances of getting actionable insights.
Users can prioritize each request when they submit their inputs, showing the organization what features they need more urgently. It also allows internal teams to add feature requests as shared by customers to them.
Pendo Feedback allows companies to listen to a customer's voice, act on their requests, and improve customer experience over time.
Pendo Feedback vs Pendo Polls
Unlike Pendo Feedback which is used to collate, analyze and organize product requests, Pendo Polls are in-app microsurveys triggered for users during product tours.
Pendo Feedback is a standalone feature in the Pendo software.
Meanwhile, the Polls are part of the Pendo Engage module and are included in the 'in-app guides' feature.
These polls can be added along modals [lightboxes], banners, or tooltips.
Pendo Feedback collects feature requests with a request form, but Pendo Polls uses micro surveys in various formats, including:
Multiple-choice questions
Open text fields
Polar questions
And numeric scales [to derive NPS scores]
Can you collect customer satisfaction data with Pendo Feedback?
The short answer is no.
But why can't a 'feedback feature' measure user satisfaction?
I'll explain.
Customer satisfaction and user sentiment data are collected through CSAT and NPS surveys. Neither of these functionalities is included in the Pendo Feedback feature.
If you must access user satisfaction data in Pendo, you can use Pendo Polls. One thing to note here is that Pendo surveys (including the NPS surveys) are Pendo-branded in the free plan. So, if you want to remove this, you need to upgrade to a higher plan.
One of the polls' capabilities is to potentially track user sentiment through microsurveys [using the numeric scale]. You can use it to derive your NPS and CSAT score, but this feature was not initially meant for this purpose.
How to collect customer feedback with Pendo?
Pendo Feedback provides an avenue for communication between users and companies for different use cases.
When users submit product requests and assign priorities to their most urgent needs, the product team can start the integration or deployment of new solutions in the app.
What better way to show customers that their voice matters to your company? Here are a few steps to start collecting user feedback with Pendo.
Allow users to submit feedback on demand
Pendo offers polls [also called microsurveys at Userpilot] through their guides which collect user feedback and gauge sentiment at different points in the user journey.
Pendo Feedback feature however is designed to enable users to submit feedback on demand. This feature shows the product teams what users expect from the software and helps them map out strategies to meet customers' needs.
Users can assign priorities to their requests
One of the tools present in the Pendo Feedback software is the priority slider.
Customers use it to rank all their submissions based on urgency or level of importance.
Given the capabilities of the priority slider, product teams can draw up visual roadmaps based on product feedback. They can then decide what requests to resolve immediately and which ones can lay on the back burner for a while.
Analyze feature requests by customer segment
With Pendo Feedback, you can view the customer requests of the segments that matter the most to you. Use the predefined reports to view feedback given by popular segments, like paying accounts, visitor impact, etc.
Create roadmaps and share them
It's not enough for companies to focus their effort on collecting product feedback. Keep the communication lines open so that customers can feel involved in your process.
Based on the product insights gotten from user feedback, your product management team can create visual roadmaps directly in the Pendo suite.
Then go a step further to share the new product roadmaps with customers, showing how your company plans to deliver the solutions they need.
Pendo Feedback pricing
Pendo Feedback is sold by the seat. In other words, it's not included in the other plans that Pendo offers. The cost of Pendo Feedback is not published on the website, but you can get a quote on request.
While numerous reviewers found this helpful, they inform that Pendo pricing is quite expensive. To give you an idea, their lowest-tiered pricing plan costs $7,000 for only 2,000 monthly active users (MAUs).
A small-scale business cannot keep up with this pricing plan, so Pendo's customer base mainly consists of large enterprises.
Is Pendo Feedback worth the money?
Allowing users to submit feedback in their own time is a nice feature, but there are numerous less expensive tools that can let you do just that.
More importantly, Pendo Feedback is all about submitting feature requests– this can only be partially categorized as feedback.
Full-scale customer feedback collection goes beyond product requests.
It includes in-app surveys, personal interviews, reviews, usability tests, etc. Also, think of the pressure on your product team.
If you're unable to fulfill each request or at least establish an understanding with users, all you'll have left are a bunch of feature requests and angry customers.
Customer feedback should be collected at different points in the user journey through:
These surveys will give you all the data to adjust your roadmaps and inform business decisions that elevate the customer experience.
However, if you must integrate the 'Feature Request' button in your software, you should get a less expensive tool.
Userpilot: A better alternative to Pendo Feedback
A better tool for feedback collection (both on-demand and triggerable in-app surveys) that offers great value for money is Userpilot. It is also a true digital adoption platform optimized for customer success because its features support in-app guidance and feedback collection.
With Userpilot, you can collect on-demand feedback with a widget shown in the resource center. It's easy to customize the look and feel of the request form to make it your own.
You can also launch microsurveys to collect user feedback. Userpilot offers a number of predesigned templates to help you collect customer insights in no time.
What sets Userpilot apart is the advanced survey analytics features offered to help you make the most of your feedback. You can instantly view the survey completion percentage, how the survey responses change from month-to-month, and more. For NPS surveys, you can view the NPS score and the percentage of detractors, passives, and promoters.
Speaking of NPS surveys, you can also tag qualitative answers to help you organize feedback better.
All plans on Userpilot include all you need to study user behavior, improve user engagement and collect specific feedback through contextual microsurveys.
In addition, the valuable pricing plans make Userpilot the best Pendo alternative not just for enterprises but even for small businesses and freelancers.
Conclusion
Customers love great products, but there's no one-size-fits-all adoption tool.
Pendo Feedback may not be suitable for companies with smaller budgets due to its high price and limited functionality. Userpilot, on the other hand, offers more value for money with its numerous feedback-collecting capabilities.
Want to get started with in-app feedback collection? Get a Userpilot Demo and see how you can optimize product experience based on user insights.