The 15 Best Product Management Software For Your Product Stack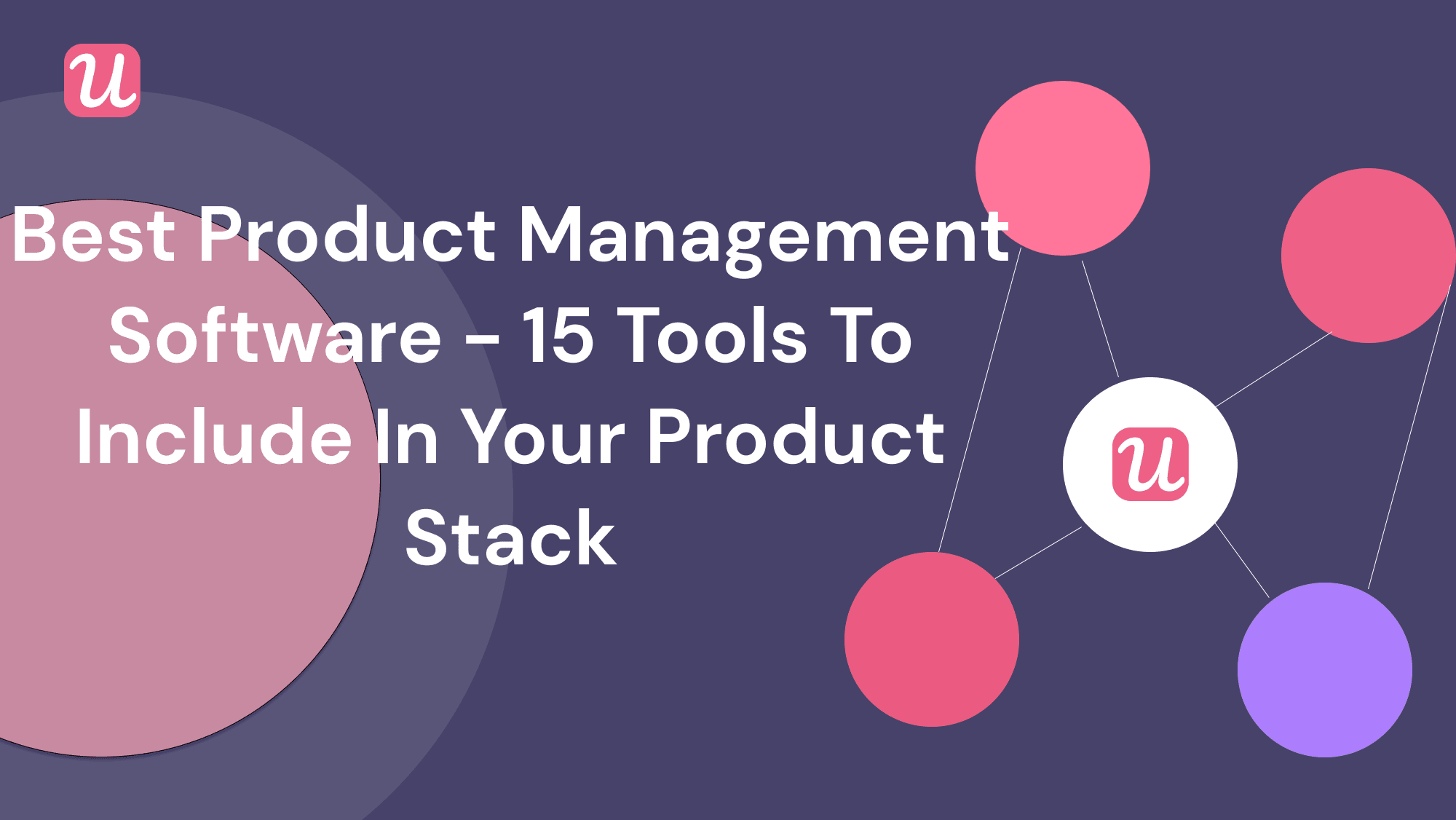 Finding the right collection of product management software isn't easy, especially with hundreds of products available in the market.
Today we're going to help you narrow down your options by compiling a list of the 15 best product management software you can include in your product stack! Including several advanced tools to create roadmaps, collaborate, manage projects, track deadlines, and gather feedback.
TL;DR
Your product management software should streamline the process of prototyping and optimizing UX, monitoring user interactions. Your stack should include dedicated roadmapping tools and help to manage tasks efficiently, allow you to conduct surveys, communicate, measure user activity, and gather feedback.
Userpilot is an excellent onboarding tool with features that allow you to analyze user behavior, deliver in-app messages, and run in-app growth experiments, no coding needed.
Hotjar and Fullstory allow you to track sessions to help you understand the behavior of your users.
ProductPlan and Roadmunk help you create roadmaps quickly and helps product teams plan and collaborate easily.
Asana and Jira let you manage your tasks efficiently and keep tabs on the progress of your team.
Typeform and Feedier let you create engaging surveys and feedback forms.
Slack and Microsoft Teams are popular collaboration tools to facilitate real-time communication with your team.
Mixpanel and Amplitude are two leading product analytics solutions that provide in-depth analytics.
Usersnap and Canny are feedback platforms that allow businesses to capture, organize, and analyze product feedback.
Overview And Types of Product Management Software We're Covering
What Product Management Software Do You Really Need?
Although a few product management tools claim to be "all-in-one", they usually miss out on key features like product feedback, internal communication, or task management.
Product managers need to consider their product type, organizational practices, budget, and team needs while building a product stack. Regardless, there are some common primary functionalities that most product teams need from their product management tools.
User Experience and Prototyping
Creating a better user experience helps users navigate through their journey easily. Prototyping plays a vital role in creating a quality user experience.
Your product management software should streamline the process of prototyping and optimizing UX.
Session recording
Session recording features allow you to understand how your product feels on the user end.
Your product management software should be able to monitor user interactions accurately and help you identify opportunities to improve your UX.
Roadmapping
Roadmapping is a key step in product development, which makes roadmap tools crucial for your product stack. Manually creating roadmaps on spreadsheets lacks flexibility and is highly inefficient.
So, your product management software should come with dedicated roadmapping tools to create and collaborate on product roadmaps easily.
Task Management
Task management software makes it easier to assign tasks, set and track deadlines, monitor team progress, and more. You can find many robust task management tools that help product managers manage their teams efficiently right from the get-go.
User Research and Survey
Conducting user research before and after the product launch helps product managers stay aware of the relevance of the product to its target user base.
User research and survey tools make it easy to conduct surveys, analyze responses, and gain valuable insights on user needs.
Communication
The process of planning, developing, and launching a product involves a wide range of activities that spans multiple teams, including marketing and finance departments.
Efficient communication is essential in cross-team collaboration, which can be facilitated by tools that specifically cater to professionals. These communication tools need to provide a quick and easy communication channel and have the ability to store records of past communications.
User tracking and analysis
While user research helps you identify your target audience and their needs, user tracking helps you measure user activity once they start using your product.
Tools that can track user behavior and provide insights on user engagement help product managers understand how users are using your product and where you can improve.
Product Feedback
Product feedback provides product managers with valuable insights from users and stakeholders, allowing them to find opportunities to improve the product continuously.
Your product feedback software should be able to collect, quantify, and analyze feedback that you can use to make informed decisions and optimize the user experience.
The Best 15 Product Management Software Out There To Consider Right Now
We've categorized the 15 best product management tools according to the purpose they serve in a product stack:
1. Prototyping and User Experience Software: Userpilot
We're a little biased, but Userpilot is as close you can get to an all-in-one solution.
With Userpilot, you have a brilliant onboarding platform, but also a tool that can analyze user behavior, deliver in-app messages and run in-app growth experiments. The best part? You won't need to code!
Features
Code-free interface – which means better efficiency and higher work output
Contextual onboarding to deliver the right message to the right user at the right time.
Product analytics to help you track user activity and make adjustments accordingly.
A/B testing to help you find out what's working and what's not
User segmentation helps to track user journeys based on each segment.
Micro surveys and NPS surveys to gather product feedback and understand how users perceive your product
Pricing
Userpilot's pricing starts from $299 per month for 2500 active MAUs, with a discounted price of $249 per month if paid annually.
You can also opt for Enterprise packages if you need advanced customization features and priority support.
We can help you massively boost your product growth metrics. Book a demo today and see for yourself!
2. Unified product management platform – Chisel
Chisel is a unified product management platform to help organizations create roadmaps, collect customer feedback, and build internal team alignment. It provides all the tools product teams require in one forum to deliver the right products successfully.

Features
Treeview to organize and prioritize product backlogs in an intuitive visual structure

Capture direct customer feedback through a built-in feedback portal

Sync ideas and input from other tools using integrations with Jira, Zendesk, Intercom, etc.

Build consensus around priorities through team participation and voting on features

Analyze qualitative and quantitative data to make evidence-based decisions

Push prioritized features to delivery tools like Jira and Azure DevOps seamlessly

Foster collaboration and alignment across distributed teams with integration to Slack and Microsoft Teams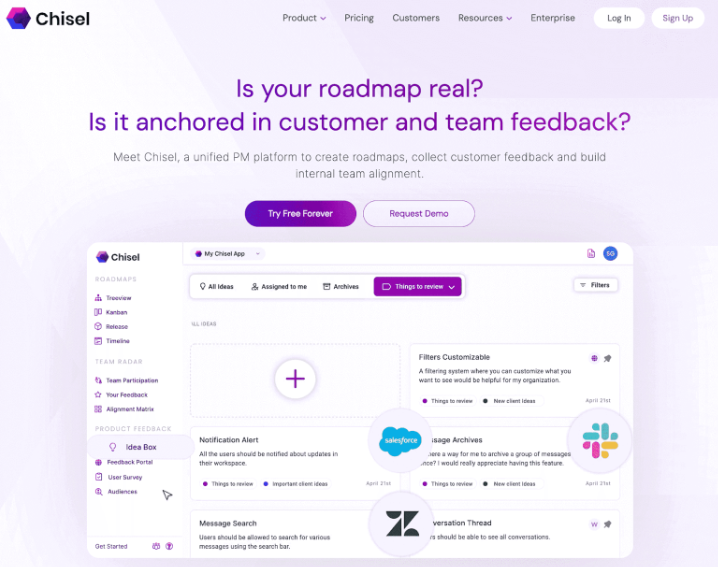 Pricing
Essential: Free forever for solo makers

Premium: $49/month per user for growing teams

Enterprise: Customized for large enterprises with advanced features and support
With its unified platform and integrated product management toolkit, Chisel helps teams deliver the right products by keeping customers and internal stakeholders aligned. Contact Chisel to learn how it can accelerate your product development.
3. Session Recording Software: FullStory
FullStory is a session tracking platform that tracks user interactions, which provides valuable insights to product managers for optimizing user experience.
Features
Captures page views, mouse movements, and clicks that visitors make on your site.
Recreate the actual user experience by including user data to make it as accurate as possible
Offers integration with Slack, letting you share sessions with your team easily
Allows you to calculate and track KPIs like conversion rate and visualizes the data using dashboards
Pricing
FullStory offers a free plan that limits its use to three seats with 1,000 sessions per month. Although it offers a 14-day free trial for its paid plans, it doesn't disclose the pricing information publicly.
4. Roadmapping Software: ProductPlan
ProductPlan is a roadmapping software that helps you create roadmaps quickly and helps product teams plan and collaborate easily.
Features
Intuitive drag and drop feature to help product managers get started quickly
Add connections among different items on your roadmap to denote relationships.
Import items from JIRA or spreadsheets.
Share different versions of roadmaps with individuals, teams, or your entire organization.
Publish your roadmap using a private link to collaborate with external stakeholders.
Pricing
ProductPlan offers a business plan that costs $49 per month for each editor.
You get a discounted price of $39 for paying annually. It also offers two Enterprise tiers if you need additional integration capacity, priority support, and training.
5. Roadmapping Software: Roadmunk
Roadmunk is an easy-to-use robust roadmapping tool that offers greater control to product managers and smooth collaboration for product teams.
Features
Offers multiple views, including "timeline view", "swim lane view", and a "master view".
Import data from JIRA or by uploading CSV files.
Adds dependencies and connects items on your roadmap
Displays progress percentage on each roadmap item to help you keep tabs on the overall progress
Creates different views for different people, allowing flexibility in sharing roadmaps
Pricing
Roadmunk offers a 14-day free trial. Its starter plan costs $25 per month, with a discounted price of $19 per month for annual payment.
It has two additional tiers named Business and Professional, along with a robust Enterprise plan.
6. Task Management Software: Asana

Asana is probably the MOST popular task management software and collaboration tool out there right now that helps teams organize and track their work efficiently.
Features
Organize tasks by creating shared projects using lists or boards.
Set deadlines for all tasks and subtasks.
The 'timeline' feature helps product managers map out project plans.
The 'portfolio' feature lets you monitor the status of all tasks at hand.
Gantt chart to visualize task timelines
Members can comment on tasks directly, as well as send private messages.
Custom fields to add details to a task, including task status, priority level, and more.
Task dependencies to create relationships between tasks, helping product managers avoid delays.
Advanced search feature to search for specific tasks or conversations using filters.
Pricing
The basic version of Asana is free and is generous, to say the least.
It allows you to create and manage unlimited tasks and projects, store an unlimited number of files as long as they are below 100MB, and integrate with 100+ apps.
Its paid plans begin at $13.49 per month, with a discounted price of $10.99 per month for the yearly subscription.
7. Task Management Software: Jira
Jira is another popular product management tool among software developers. But its incredible set of features can prove to be useful for any product team.
Features
Clean and easy-to-use user interface, suitable for an agile work environment
Allows you to keep track of individual and overall progress
Displays real-time data for agile reporting purposes
Manage sprint reports, burndown charts, velocity charts, and more.
Includes Gantt Charts, Scrum Board, and Kanban Board
Pricing
Jira is free for up to 10 users.
You can upgrade to a 10,000 user limit by subscribing to a paid plan. Its standard plan starts from $7 per month for each user.
8. User Research and Survey Software: Typeform

Typeform is a popular survey platform that lets you create professional-looking surveys and feedback forms. It comes with a simple user interface and requires no coding knowledge to create forms.
Features
Personalize surveys with names and other relevant information of users.
Logic Jump feature that responds to the answer of the users
Live Preview Mode to track changes you make in the form in real-time
Offers built-in analytics to access quick insights
Integrates with platforms like Hubspot or Mailchimp.
Get access to analytics using Google Tag Manager or Facebook pixel.
Pricing
Typeform offers a Free plan that limits its use to 3 Typeforms, 10 questions per Typeform, and 100 responses per month.
Its paid plan starts at $35 per month, with a discounted price of $30 per month for an annual subscription.
You also have the option to get a custom solution, for which you need to contact their sales team for a price quote in that case.
9. User Research and Survey Software: Feedier
Feedier offers an innovative way of gathering feedback by gamifying forms and helping you turn collected feedback into valuable insights.
Features
Feedback gathered using the S.I.R.A. model
Highly targeted feedback requests that help incentivize users to provide feedback
Link data from multiple sources to the feedback
Custom branding features to maintain consistency across channels
Embed surveys into the app to make it easier for users to provide feedback
Offers limited reporting features to get an overview of customer feedback
Pricing
Feedier's pricing information isn't publicly available. But it does offer a demo and mentions on its website that its prices depend on the number of dashboard users.
10. Communication Software: Slack

Slack is a popular tool to maintain workplace collaboration, facilitating real-time communication with your team over text and voice calls.
Features
Send Direct Messages for one-on-one conversations
Send texts on channels that include your team members.
Make separate communication groups for different teams.
Pin messages and reference links to channels to make them available to your team at all times.
Advanced search features to look for specific conversations
Integrate activity from other platforms, such as Trello and Github.
Available for mobile devices running on iOS and Android
Pricing
Slack has a free plan that serves well for most teams. But you might find its additional features offered in paid plans quite handy, which include full conversation history, unlimited integrations, secure collaboration with guests, and group voice and video calls with up to 15 teammates.
Its standard plan charges $6.67 per month for each active user if paid annually. If you pay month to month, it'll cost you $8 per active user.
11. Communication Software: Microsoft Teams
Microsoft Teams is a part of Microsoft 365 and offers a collaborative workspace that facilitates conversations and collaborative teamwork.
Features
Teams using Microsoft Teams will have a site in SharePoint Online containing a default document library folder.
Offers great video conferencing and screen sharing features
Video calls can accommodate up to 10,000 participants.
Internal discussion platform where team members can create posts and ask questions
Available as a desktop and mobile app, with the option to access it through your browser
Integrations with other Microsoft 365 applications
Pricing
Microsoft Teams can be used for free. You don't get a standalone paid version.
To access its paid features, you need to pay for Microsoft 365 subscription. Its basic plan starts from $2.50 per month for each user if paid annually.
12. User Tracking and Analysis Software: Mixpanel

Mixpanel is easily the leading solution in product analytics, providing product managers with in-depth and the most relevant analytics.
Features
Powerful analytics tool allows you to understand how each segment of your customers is engaging with your product.
Data science models let you predict user activity to take proactive measures to prevent churn.
Team Dashboards & Alerts to help you monitor your metrics
Sends targeted notifications
A/B testing capability to identify the right version
Interactive reports to gain insights on user activity
Requires a bit of coding knowledge to implement
Pricing
Mixpanel comes with a free version that has a cap of 100K monthly tracked users. Its paid plans start at $25 per month. It also has an Enterprise plan that offers advanced access controls and priority support.
13. User Tracking and Analysis Software: Amplitude
Amplitude is another great product analytics tool that comes with a wide range of integrations.
Features
Set up and track cohorts and user segments.
Set up custom funnels easily
Track results from A/B testing in real-time
In-depth analytics to track users and their journey to become high-value customers
Flexible across multiple devices and products
Brilliant data governance and data security features
Pricing
Amplitude's free plan is quite generous. You can track up to 10 million actions using its free plan. The pricing information for its premium plans is not disclosed publicly.
14. Product Feedback Software: Usersnap

Usersnap is a feedback platform that allows companies to collect actionable product feedback and share it with stakeholders.
Features
Conduct pop-up CSAT, NPS, and thumbs up/down surveys triggered by events or user actions.
Collect feedback using screenshots, annotations, and comments.
Get meta-information, e.g., browser version, URL, screen size, etc., automatically with every screenshot.
Screen recordings to help you resolve tricky issues easily.
Track bugs and website errors easily.
Respond to feedback requests of individual customers.
Offers multi-language support
Pricing
Usersnap offers a Basic plan that limits it up to 2 team members‍ and 1 feedback project. It costs $19 per month with a discounted price of $9 per month for an annual subscription. You can add more functionalities by upgrading to the Startup or Company Plan. Usersnap's plans come with a 14-day free trial. If you need further customization, it offers a great Enterprise plan to meet specific organizational needs.
15. Product Feedback Software: Canny
Canny is a feedback platform offering great features that allow product managers to capture, organize, and analyze product feedback.
Features
Filters user groups to help you identify the feedback gathered from specific cohorts
Manual feedback tracking by adding a customer to a post
Internal comments for private and contextual communication among team members
Privacy tools that can be used to restrict access to boards
Automated reports to help you find loopholes in user experiences
Custom branding elements, including logo, brand colors, and prompts
Rich text and inline images for better readability of entries
Pricing
Canny offers a Starter plan that starts at $50 per month. You can also upgrade to its customizable Business plan that comes with a dedicated account manager.
Finding The Right Product Management Software For Your Team
Once you've assessed the needs of your team, you can then compare the options to pick the right combination of tools.
Remember that more tools don't necessarily mean more productivity. Your goal should be getting the most utility from the least number of tools.
To help you build your product stack, here's a summary of the 15 best product management software we've compiled for you!
Software for user onboarding and smooth UX: Userpilot
Software for recording user sessions: Hotjar, FullStory
Software for roadmapping: ProductPlan, Roadmunk
Software for managing tasks efficiently: Asana, Jira
Software for conducting surveys: Typeform, Feedier
Software for efficient communication: Slack, Microsoft Teams
Software for tracking user activity and analytics: Mixpanel, Amplitude
Software for gathering product feedback: Usersnap, Canny
Want to stay learn more about how to convert your customers into power users? Get access to Product Adoption School completely free!