A Step-by-Step Guide To Setting Up And Using Behavioral Analytics For Saas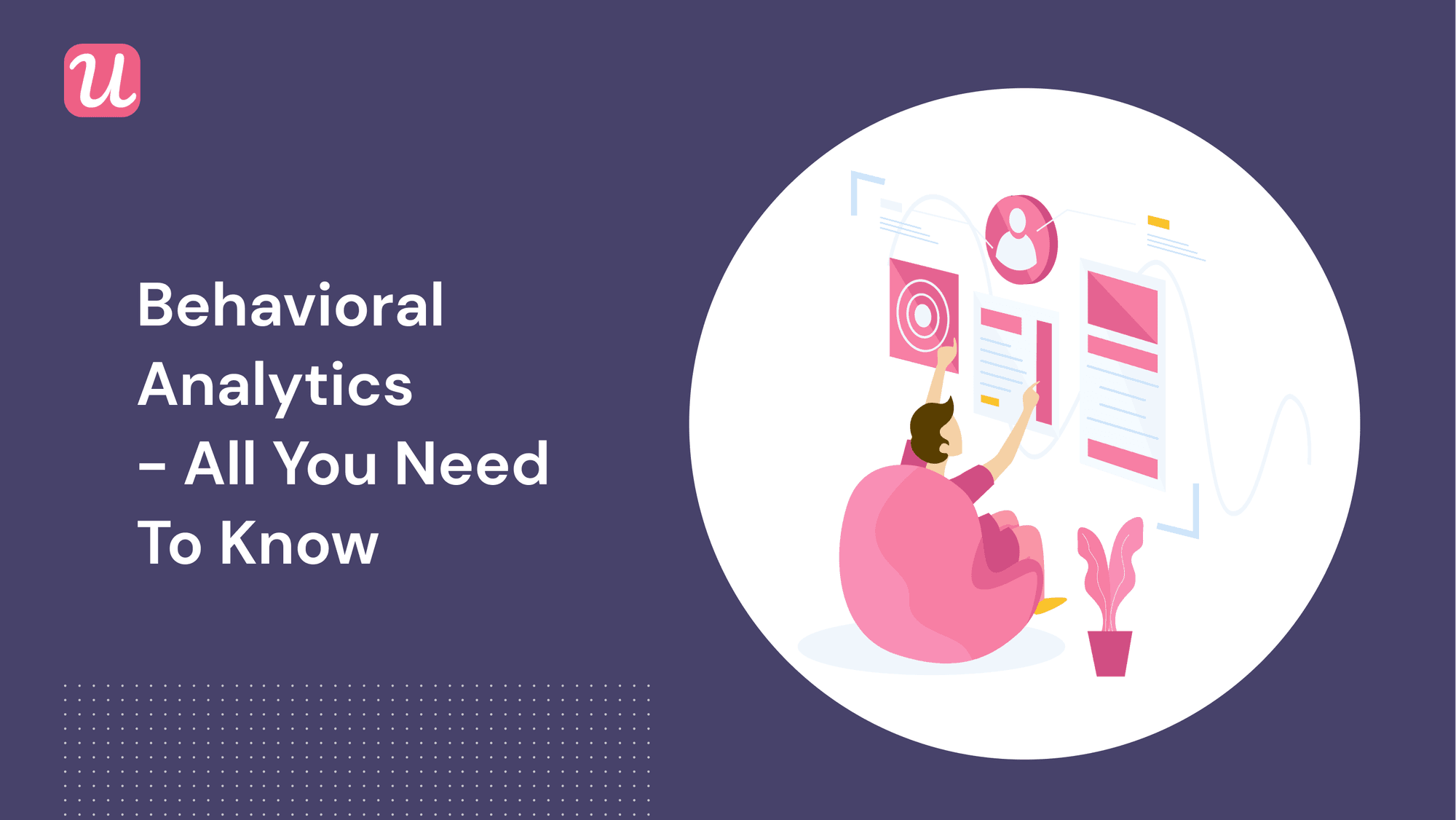 Have you ever wondered how your users can help you boost your product growth? The answer you're looking for lies in behavioral analytics, or more specifically, user behavior analytics.
Behavioral analytics analyzes the data collected from your users to tell you what they are doing inside your product and why they are doing it.
Behavioral analytics can turn a good product into a great one. But you need to know how to use it correctly and what tools can get you the best results.
In this post, we'll dive into behavioral analytics – what it is, how to set it up, and how to utilize the insights to make decisions that help you grow your SaaS business.
TL;DR
Behavioral analytics focuses on recording user activity, grouping the data into behavioral cohorts, and then analyzing relevant metrics.
Behavioral analytics can be categorized into segment analytics, funnel analytics, and cohort analytics.
Behavioral analytics helps product managers identify user behavior patterns that lead to churn and monitor a user's journey to conversion using real-time data.
Product marketing managers can use behavioral analytics to improve onboarding flows for increasing 1-day retention and refining the First Time User Experience (FTUX).
The first steps of getting started with behavioral analytics are defining your goals and KPIs and mapping your user journey, touchpoints, and key events.
Establishing critical paths for each user persona or segment is essential to setting up behavioral analytics. For example, if you have an e-commerce product, the critical path can be, Search > Browse Products > Add to Cart > Checkout > Order Confirmation.
Product marketers can leverage the insights gained from behavioral analytics to streamline website navigation and checkout experience and also improve onboarding flows to increase new user activation.
There are plenty of behavioral analytics tools like Amplitude and Mixpanel as well as Product Growth platforms with behavioral analytics components like Userpilot that also allow you to act upon your insights.
What is behavioral analytics?
Behavioral analytics is the process of recording user activity, grouping the data into behavioral cohorts, and then analyzing relevant metrics, such as user engagement with the product.
The insights you get from behavioral data help you understand how user engagement with your product is related to increasing engagement, retention, lifetime value, conversion rates, and ultimately revenue.
Behavioral analytics tools generally measure user actions or behavior by firing custom events or clicks on the front end. It also allows you to identify the issues that your users face with your product and helps you find scopes of improving the user experience.
Behavioral analytics can be broadly divided into three categories: segment analytics, funnel analytics, and cohort analytics.
Why is behavioral analytics important for SaaS?
User behavior data will be useless if you don't find a way to generate actionable insights from it. This is where behavioral analytics comes in.
Behavioral analytics helps you focus on improving your marketing efforts, as it is targeted at customer acquisition. For example, it can help you understand why your website visitors are not signing up so that you can make the necessary improvements to solve the issue.
Its insights will help you identify bottlenecks in the conversion funnel and optimize it to boost conversion.
You can also dive deeper into behavioral analytics to identify where users are dropping off in the onboarding flow. This helps you streamline your product marketing efforts targeted to improve user activation. You can then easily optimize your onboarding process to get more users to reach the activation point.
Behavioral analytics plays a key role in helping you understand how your users interact with your product and where they are facing issues. This can help you improve your product and product experience.
You may also notice disengaged users who fail to adopt a feature even after requesting it. This might mean that the feature is not in an intuitive place in your product, or they need help with more secondary onboarding.
Behavioral analytics allows you to identify issues related to feature adoption and help you create reactive in-app experiences, and improve feature engagement.
Most importantly, you can leverage the insights you gain from behavioral analytics to improve the most important metric in SaaS business – customer retention, including Day One retention.
The importance of behavior analytics for product managers
A product manager needs to understand the customers and the problems they face. This is why a product manager doesn't ask how a feature is working once it's shipped.
The most urgent questions in their minds are – are people using the feature? How are they using it?
A feature is great only if the user considers it great, regardless of the technical mastery it took to create it.
On a broader scale, behavioral analytics also helps product managers identify patterns in user behavior that leads to churn. This is a crucial step in improving retention.
Behavioral analytics also helps product managers monitor a user's journey to conversion while measuring user engagement in real-time.
The importance of behavior analytics for product marketing managers
Product marketers can utilize insights from behavioral analytics to identify bottlenecks preventing users from going further down the funnel and converting. For example, analyzing user behavior data from the checkout process can help them find ways to improve the checkout experience.
Monitoring user behavior data can also help product marketing managers identify "positive" and "negative" behavior patterns at different stages of the user journey. They can use these insights to build in-app experiences that facilitate positive behavior and limit the negative ones.
The work of product marketing managers doesn't end at just acquiring customers. They need to ensure a consistent retention rate by crafting and optimizing a solid retention strategy. Behavioral analytics can help them improve user onboarding flows and experiences for different personas.
Improving onboarding flows will help product marketing managers increase 1-day retention and refine the First Time User Experience (FTUX).
Product marketing managers also need to understand how successful users interact with the product. This can help them maximize retention by building more experiences that lead users to adopt the "winning habits".
Secondary onboarding experiences, if done right, can push users further on their user journey. Behavioral analytics also helps product marketing managers find the right time to push for upsells, driving more expansion revenue.
How to get started with behavior analytics
Although behavioral analytics tools make the process of gathering behavioral data easier, you still need to understand the basics.
Here's how you get started with behavioral analytics.
Define your goals and KPIs
The first step is to clearly define your goals and key performance indicators (KPIs).
For example, you may want to improve user activation. You need to decide the 2-3 key activation events that need to happen in the first 1, 7, 14, 30 days.
Other goals can be to improve product adoption or specific feature adoption. Your goals can also be related to improving retention, such as 1-day, month, and general retention, or reducing churn rate.
Map your user journey, touchpoints, and key events
Once you've defined your goals and KPIs, you need to create a user journey map for each persona. You should be mapping all key touchpoints and events that need to happen.
You have to establish critical paths for each user persona or segment. For instance, if you have an e-commerce product, the critical path can be:
Search > Browse Products > Add to Cart > Checkout > Order Confirmation
Name and document your custom events
You can now specify user attributes which can be demographic data such as gender, age, and location.
Moreover, you can also add user interactions and device specifications, such as app language, browser language, device type, plan, web sessions, responses to onboarding and micro-survey questions, as well as signup fate.
You can also create custom events when a user has clicked on something or performed a certain action.
Set user tracking
You can set up user tracking once you've collected user data from multiple touchpoints. Most analytics platforms require you to configure some kind of identifier–a username or email, for example–in their mobile SDKs or HTTP API for keeping track of unique users.
Set custom event tracking
You can use feature tags as an alternative to event tracking. Userpilot has a builder that can help you out with that!
Once you've installed the Userpilot builder, you can fire it up by heading over to the features dashboard and clicking on the 'Tag new feature' button on the top-right. Now, enter the build URL where you want to tag your feature and then click on the 'Create' button.
Once it's fired up, the builder will pop up. You can find other features you have previously tagged or tag a new one.
Once you enter element target mode, you'll notice that a highlighted rectangle follows the cursor around the screen to help you understand what the tag is capturing. The Userpilot builder is picking up every CSS element that you might want to attach the feature to.
Sign-up for free today to tag your features without coding!
A couple of things worth noting:
Feature tags are suitable for non-server-level events that only happen on the front-end, such as button clicks.
They are not suitable for server-level events happening in the database or for those requiring you to leave the app, for example, connecting an integration.
How to use behavioral analytics
Product managers can utilize the insights they gain from behavioral analytics and plan changes to the UX / UI. They can also add new features or make fixes to the roadmap.
Product marketers can also leverage behavioral analytics to improve website navigation and checkout experience and improve onboarding flows to increase new user activation.
Another important use of behavioral analytics is building in-app experiences to improve feature engagement, product adoption, and customer retention. It also helps you push the users along the user journey and pay for upgrades.
The best behavioral analytics tools to get started with
Behavioral analytics tool #1 – Userpilot
Userpilot is a code-free platform that offers a brilliant behavioral analytics solution with integration capabilities with Amplitude and Mixpanel. It allows you to build in-app experiences to instantly act upon behavioral analytics.
How Userpilot helps with behavioral analytics
You can get an overview of all users and user attributes in one place. You can also set goals easily and keep track of each of them.
Moreover, you can connect experiences with goals and see how each one impacts the performance of the goals.
Userpilot also offers feature tagging, which lets you tag any UI element and track interactions. You have the option to create user segments based on user attributes, custom events, and in-app engagement.
Userpilot's engagement functionalities include the ability to create in-app experiences for the end-user. You can create these experiences using the Userpilot Chrome extension.
Userpilot supports multiple types of in-app experiences, including:
Native tooltips
Tooltips
Checklists
Resource center
Modals
Slideouts
Wanna build in-app experiences like that without code? Book a Userpilot demo!
Userpilot's engagement features can be quite useful in gathering actionable user feedback insights through in-app surveys. You can use it to create NPS surveys and tag responses from them. You can also create in-app micro-surveys if you need them.
Behavioral analytics tool #2 – Amplitude
Amplitude is a behavioral analytics tool that offers a wide range of integrations but requires configuration beforehand to define the tracked events.
Amplitude lets you track single users across different products, which is a very useful feature if you need to track users on multiple platforms. It helps you gain valuable insights into user experience by creating a holistic user journey.
You also get robust data governance and data security features, which is a big plus since user data is very sensitive in terms of security. Amplitude ensures the maximum safety of your user data, which makes a big difference for many organizations.
However, that's not the most impressive thing about Amplitude. Its free plan allows you to track up to 10 million actions, which is a lot by anyone's standards.
It does get expensive very quickly, and many of its unique features are available only to premium users. So be prepared to stretch your budget if you want to get the full benefits from it.
Behavioral analytics tool #3 – Mixpanel
Mixpanel is yet another powerful product analytics tool that offers a great set of features and extensive functionality but can be quite "user-unfriendly".
Mixpanel's strength lies in its great functionality when it comes to tracking and collecting user data, especially in real-time.
But there's a catch.
Mixpanel is quite hard to implement, and you need to define any event before capturing it.
You might find setting up reports of analyzed data to be a little tricky and time-consuming. You also need to have a certain level of knowledge and expertise to analyze and make sense of the data.
Another thing to consider is the lack of support for account-level tracking. We found this issue quite surprising, considering the powerful set features Mixpanel offers. If you need to use this feature, you have to figure out a workaround by adding all users from one company into a custom segment.
But Mixpanel does have its standout points, especially for large companies with in-house data and analytics teams. These organizations usually require a more thorough analysis of a long and complex user journey, making Mixpanel an ideal option for them.
Mixpanel's pricing tier includes a free version and a cheap Growth package with limited features that'll cost you $17 per month. Despite the low price tag, you can't quite call it a bargain, as Mixpanel only offers its real value to enterprise users.
Final Thoughts
If your goal is to build successful products, behavioral analytics is your most reliable ally. It helps you make sense of user data and use them to make decisions and improve your product.
Both product managers and product marketers can utilize the insights from behavioral analytics to dive deeper into user behavior and craft the strategy that leads to optimum growth.
You can use our guide to get familiar with the basics of behavioral analytics, pick a tool, and get started on your journey to leverage insights for creating better product experiences.
Want to use insights from your product analytics to build product experiences code-free? Book a demo call with our team and get started!