What is In-Product Messaging and How Do You Create It? (code-free!)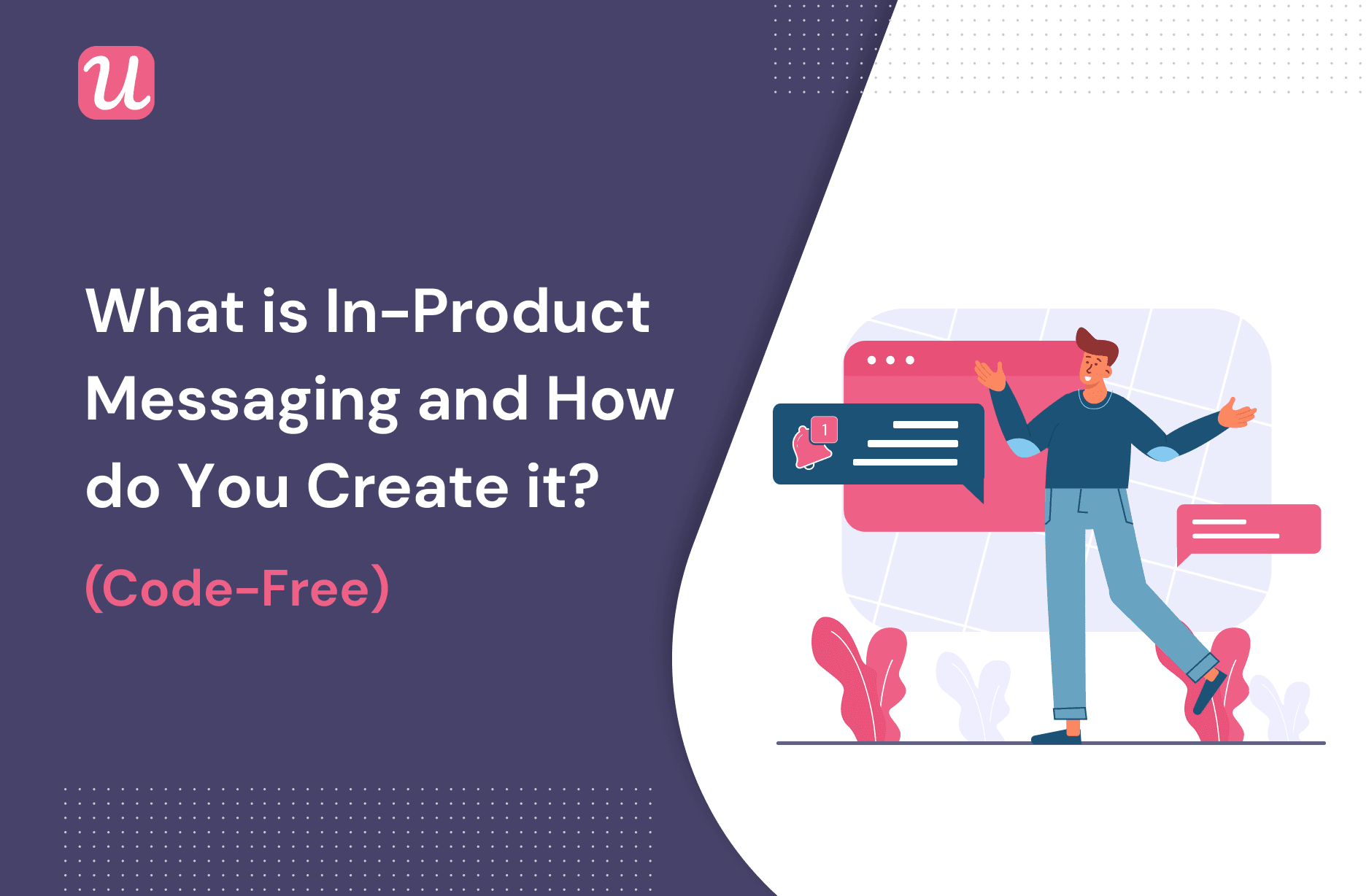 Here at Userpilot, we're seeing more and more SaaS companies using in-product messaging as a way to communicate quickly and efficiently with their customers.
If you're not sure what this type of communication channel should look like for your business, or how you should go about building it from scratch, this article is here to help you.
TL;DR
In-product messaging displays to your customer inside your product while they are using it.
It's not the same as a push notification.
The immediacy and relevancy of in-app communication mean that it's a powerful tool for your product marketing department.
The main different categories of in-app messages include online chat, modals, tooltips, product tours, microsurveys, and product notes.
Typical use cases for in-app messaging are user onboarding, subscription expiry notifications, success messages, maintenance notifications, upsells, referrals, and converting trial users into paid ones.
It's very simple to build in-app messages on Userpilot without using code.
A definition of In-Product Messaging
An in-product message is any type of communication that displays to your customer inside your product while they are using it.
Check out this example from Ahrefs:
This type of product marketing strategy is also referred to as "in-app messaging," or even just "product messaging."
The term can be applied to any type of digital product: be it mobile apps, websites, or even Chrome extensions.
Thanks to the magic of responsive design, in-app messages can also be sent on any type of device: desktop, mobile, or tablet.
So is in-product messaging the same as a push notification?
Not really, no.
A push notification is a message from your app that appears on the user's phone or browser – even if they're not using your product at the moment.
As such, it's primarily a way to get your customer to re-engage with your app when they're doing something else.
Whatsapp's push notifications that let you know when someone's texted you are the classic example of this.
By contrast, an in-app message appears inside your product yourself. Put another way, your user won't see it unless they log in to your app.
The following chart sums up the main differences between these two channels:
Why is In-Product Messaging valuable?
In-app messages are a product marketer's dream.
Given that you can send a personalized message to the customer based on the specific UI element that they're interacting with within the present moment, there are few communication channels that are more immediate or context-based.
This is tremendously powerful, for numerous reasons:
If a user is browsing a feature that is part of a more expensive plan, you can send them a message telling them to upgrade there and then.
If your customer is stuck on a particular feature, you can serve them with a tooltip that explains exactly how that feature works.
Problem solved!
Or, if you release a new feature that seems especially appropriate for one particular user segment, you can create targeted messages which promote that feature to them.
No wonder Intercom found that in-product messages are 1.5 times more likely to be opened than emails, and 6.7 times as likely to receive a response.
That translates into better customer retention for your SaaS business, which is a metric that has a tangible effect on the bottom line.
But that's not all.
Internal benefits of In-Product Messaging for SaaS teams
In the absence of in-app communication, your support team will be messing around with a large, unwieldy tool stack.
Imagine if your customer communication is spread across Zendesk, email, phone, the kitchen sink…
Sounds like a mess to me.
Now, we're not saying you'll eliminate those other tools completely by using in-app messaging, but there is something to be said for the immediacy of talking to your customers right inside your product.
And if your app is already full of helpful tooltips, driven actions, and hotspots, all of which point the way for your customer, there's a good chance that your support team will have fewer ticket requests, to begin with!
Add in the fact that your new employees will also be able to use your existing product tours as a way of getting up to speed with the software they're working with.
Perhaps you can start to see why we're so excited about the number of possibilities that in-app messages can create.
So let's get a little more concrete.
What are the different types of In-Product Messaging?
Here are a few in-app communication patterns that you'll see frequently.
As you read this, consider whether any of these might be a useful addition to your digital product.
Online chat
The quintessential type of in-product messaging, adding chat functionality to your app allows you to instant-message in real-time with your customers from inside your product.
If you're thinking that this would be a pain to build from scratch, well… you're right.
However, messaging software like Zendesk and LiveChat make this super easy in 2022. Simply install third-party chat solutions like this and you're good to go.
Modals
A modal is what's known as a "dedicated UX pattern," called so because it's so large that the user's entire screen is dedicated to it.
They're often used for communicating important announcements that demand your user's entire attention, such as:
I've also seen a lot of SaaS companies use modals to welcome new customers to their product, announce new features, or upsell a more expensive plan level.
Tooltips
Tooltips are commonly used to explain one particular UI element which perhaps isn't immediately intuitive.
The user has but to hover over the element in question, and the tooltip will magically appear to provide them with the guidance that they need.
For simple problems, the immediacy of a tooltip is so much more appealing to a customer than having to search through a knowledge base, or (worse) spend half an hour phoning a support agent.
Product tour
Put modals and tooltips together and add a few more UI elements together such as hotspots, and you get a product tour.
This is a whole series of in-app messages that lead the user around a new product or feature.
But beware!
Just as you wouldn't want to spend time in a lecture that says the same thing over and over, your customer also won't appreciate it if your product tour is linear and discusses your features in a pre-set order.
Your users want to be treated as individuals.
So please: skip the linear product tour and ensure that your in-app communication is a two-way, interactive conversation.
For more on why users hate linear product tours, check out this post.
Microsurvey
As the name suggests, this is a short survey that appears in-app.
There are two types of microsurvey.
There are quantitative surveys, which seek to gain measurable feedback about an aspect of your product. NPS surveys are a classic example of this.
Then there are qualitative surveys, in which you get your customer to qualify their previous quantitative answer.
So if you used these in tandem, you might have an NPS survey, followed by another survey asking the user why they chose that particular score.
Just remember to keep the surveys short! 2-3 questions is plenty.
Product notes
These are the notes you publish in-app when you release a new product or feature.
From your customer's perspective, they can feel like part of a broader dialogue with you, assuming that you incorporated user feedback into the new release.
Even if you need to use technical language, do ensure that you keep things as short and accessible as possible.
Videos and supplementary resources can be a great way to break up the wall of text.
For more best practices and a release notes template, check out this article.
Now let's put all these in-app messaging ideas together and see how they might provide you with value.
Use cases for In-Product Messaging
Disclaimer: this is not intended as an exhaustive list! These are just ideas to get you thinking.
User onboarding
You can think of user onboarding as educating your customer on how to get the most from your product.
This is a process that begins in the awareness phase of marketing (pre-boarding) and should ideally continue throughout the entire customer lifecycle.
In this example, social media tool Postfity uses a tooltip in their app to teach new users to connect their social media account.
Once they've done this, Postfity's customers will be able to schedule social media posts automatically, which is the value that Postfity is looking to provide them.
Hence there is a direct causal link between Postfity's use of in-app messaging and the activation of their new customers.
Trial to paid
Growing numbers of SaaS companies are pursuing a freemium business model.
This means that they can let their users explore the product at their own pace, and then only choose to pay for an account if they like what they see.
It's great value for users who want to try before they buy, so the freemium model also tends to increase sign-up rates.
In this in-app modal, website building software Wix offers its trial customers yearly plans at a discount.
The offer is available for a limited time only, so it feels exclusive and urgent.
Expired subscription
Speaking of urgent, if there were ever a good reason to interrupt your user's workflow, the imminent expiry of their subscription would be just that!
Sending an email to communicate that they need to renew is better than nothing, but there's no substitute for the immediacy of an in-app message.
In this example, the session replay tool FullStory makes use of a modal to take up the user's screen and grab their full attention.
Note the subtle reminder of the value their product provides: in this case, "recording sessions."
This makes it clear that the user will need to resubscribe to get these benefits back.
Success messages
However users navigate towards success in your product, it's in your interest to make them feel good about themselves after using it.
That dopamine hit will keep your customers coming back for more.
As an aside, if you're interested in the ethics of exploiting dopamine responses for commercial gain, this post is well worth a read.
The classic example of an in-app success message comes from the project management tool Asana.
They use gamification and funny unicorn emojis to give their users a sense of accomplishment and put a smile on their faces after they finish a task.
Downtime for maintenance
Few things are more annoying than logging in to your favorite game after a hard day of product management, and then finding that the game is offline for maintenance.
That's why many online games have started notifying their players in-game ahead of time when they can expect maintenance time.
This helps prevent any nasty surprises.
Here's an example from the online card game Hearthstone:
Upsell a secondary feature
Upsells are a great way for all SaaS companies to maximize Lifetime Customer Value.
A great time to offer upsells is once your user has activated and demonstrated through their in-app behavior that they might be interested in a secondary feature.
In this example, Hubspot offers a user a secondary template feature in-app to a user who has been seen trying to copy and paste.
Referral program
All SaaS businesses love to receive referrals. It's basically free marketing, or you could also see it as getting more from each individual customer relationship that you already have.
In-app messages are a great way to incentivize referrals.
In this example, Flock has created an in-app referral modal that rewards customers with an additional day of free trial for each person they refer.
The progress bar and "trial meter" add a nice sense of gamification.
How to create In-Product Messaging in Userpilot
Adding in-app messages to your product with Userpilot is super easy.
Rather than code the UI elements we discussed yourself, you can add them as a layer in your product using Userpilot's Chrome Extension.
This allows non-technical product managers to build and iterate on product messaging, freeing up your devs to do the heavy lifting on engineering your product itself.
Let me walk you through how to create a simple tooltip on Userpilot.
For the purposes of this example, we're going to build a tooltip that explains the income section of our demo app, Campfire:
Start by opening up Userpilot. Look for "Spotlights" on the left-hand menu under the Engagement Layer.
Now, click on "Create New Spotlight" in the top-right corner, and enter the address of the page you want to build on.
Click "Create New Content," make sure you're really on the page that you intended, and then select "Create Spotlight" from this menu:
Next, you'll be given options to name your tooltip, assign it to a category, and choose a basic color scheme. Note how you can change the color super easily without needing to code!
Click "Create," then "Add Spotlight," then "Native Tooltips."
Let's go for a Badge Tooltip here so that the user sees a little help icon.
Now choose the HTML element on your page you want to attach the tooltip to. I'm going to select the "Income" feature.
The next settings that pop up will allow you to confirm the element you want to highlight, perfect the exact location of your tooltip, and customize when it triggers and how often.
And after editing the text, this is the final result!
All of that took about 10 minutes to build, and I'm completely non-technical.
Conclusion
After reading this article, you should now know:
What in-product messaging is and why it matters
The different types of in-app messages
Various ways you can put in-app messaging to work for your business
How to create product messaging on Userpilot without writing a line of code
If you'd like to see what Userpilot can do for your in-product messages, we've got some good news for you.
Userpilot comes with a free trial, meaning you have nothing to lose by giving it a spin.