The Ultimate Guide to SaaS Help Center Software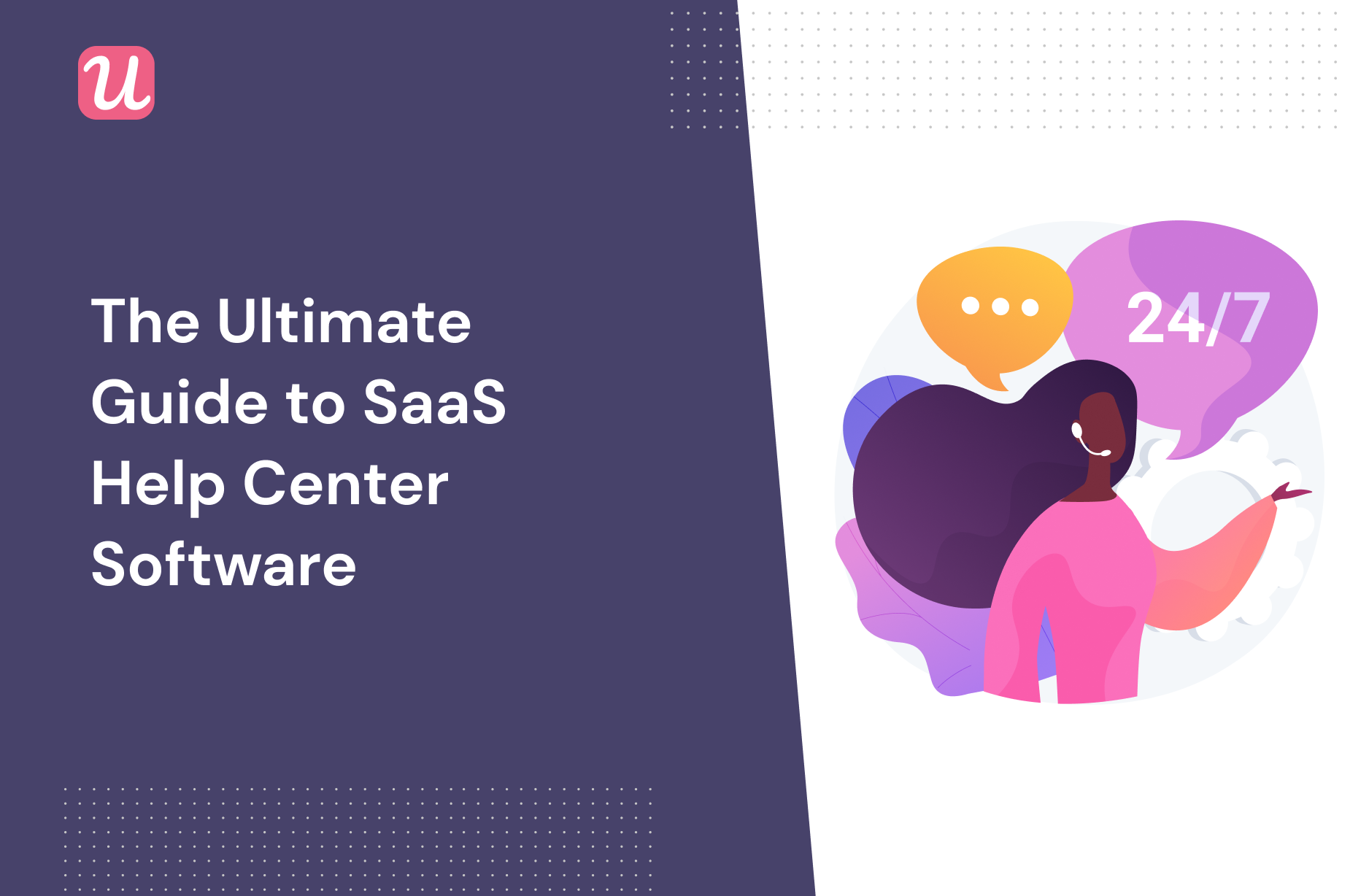 Help Center Software is the unsung hero of the SaaS customer support world.
I'm sure you can think of times in the past where you were using a particular product, got stuck on one feature, and then spent ages looking for the knowledge base to diagnose the issue.
You might have eventually fixed your own issue, or waited long enough for a customer support person to get round to doing it for you, but I bet you were frustrated by the end of it.
Sound familiar?
Help Center Software exists to solve this problem. Instead of waiting around for a customer support agent or spending ages digging to find an answer in the knowledge base, the help center will give you troubleshooting tips in-app.
But just how does a help center work? And how do you go about choosing a good software solution from all the options on the market?
Read on to discover the answers.
SaaS Help Center Software Guide TL;DR
Help Center Software is third-party software that allows you to build a self-service support system for your users inside your product.
A help center is accessible in-app, whereas a knowledge base is a separate part of your website.
Help centers reduce churn by minimizing the time between a customer having a question and them being able to find the answer self-sufficiently.
Don't forget that a help center is just as valuable to your support agents as it is to your customers!
To select help center software, look for something that is easy to set up and search through, is customizable to your brand colors, and fits the size of your business.
Quality solutions on the market include Userpilot, Zendesk, Groove, Freshdesk and HelpScout.
What is SaaS Help Center Software?
Help Center Software is third party software that allows you to build a self-service support system for your users inside your product.
This support system is accessible to users via a small widget that overlays part of your product.
Clicking on the widget opens the help center, allowing users to self-diagnose issues and find solutions without talking to a customer support agent.
A good help center will typically contain the following types of content:
FAQs
How to use key features of your product
Best practices
Tutorial videos
Common bugs
Troubleshooting tips
Difference between a SaaS Help Center and a Knowledge Base
If you're thinking "that sounds like a knowledge base," I hear you. The terminology around help centers is not especially intuitive.
The key distinction to remember here is that a help center is accessible in-app, while a knowledge base is not.
Thus:
A knowledge base is a separate section of your website, normally accessible via the home page, that is designed to support users when they run into problems.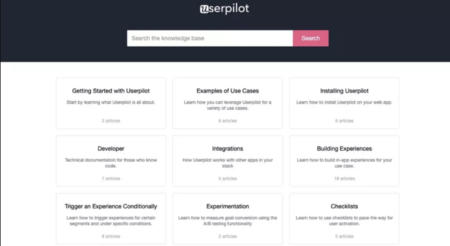 A help center has similar (or identical) content to your knowledge base but is accessible inside your product itself.
Why does your SaaS company need Help Center Software?
Every SaaS company that wants to be successful needs to care about educating its users.
That's because users who don't understand your product are among the most likely to churn.
The need for customer education begins right at the beginning of the customer journey, with a study by Retently highlighting that almost a quarter of churned users leave due to poor onboarding.
One of the best ways you can educate customers, including during onboarding, is by creating a help center. American Express has found that 3 out of 5 US customers prefer to use digital self-service tools like a help center for simple customer inquiries.
And as Bain has pointed out, reducing churn by even 5% can increase profits by up to 25%! That's a LOT of extra cash for minimal effort.
Ok, now that I've got your attention…
You may be thinking: "but my customer service department already has a knowledge base, why do we need a help center as well?" Allow me to explain with an example.
Let's say you're using Postfity, a social media scheduling app, and are stuck on how to post to Instagram.
You could look for the knowledge base, input a few search terms, browse a few articles, perhaps Google a bit… and maybe eventually find what you want. Once you've done that, you'll still need to go back to Postfity and execute what you just learned.
The problem with this is that there's a lot of friction required.
Solving this issue with the help center turns a 15-minute task into a 1 minute one.
Simply find the help center widget. It's the little orange icon in the bottom left corner: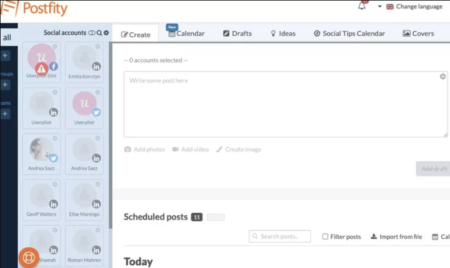 Lo and behold, here's an answer to your question right there in the app: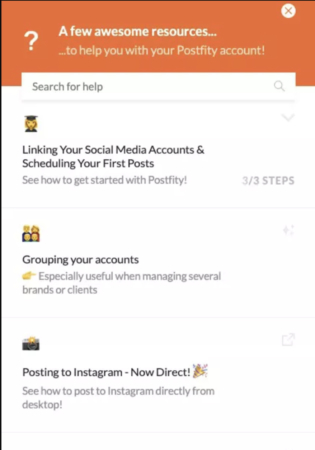 As a bonus, answering this question in the help center instead of the knowledge base keeps the user inside the product as well.
So a natural consequence of using help center software is fewer distractions and higher user engagement with the product.
Why Do Help Centers Matter in Customer Service?
But it's not only the customer who can search the help center for a solution. Customer service agents can do so too!
A help center can be a really useful tool for your agents while they're answering questions via online chat, email, or phone.
That's because it's much faster to send customers a link to a help center article than it is to type up a new answer each time the same question comes up.
So when the customer asks a question, the agent can just search the help center – much like the customer would – and send them the most relevant article.
This means that the customer is not waiting around forever for a solution to their problem, which can be extremely annoying.
Faster response time = happier users.
How can Help Centers reduce support tickets?
The really great thing about a help center from a customer service agent's point of view is that it's self-service.
Put another way, that means that the customer can answer their own questions, without requiring to speak to an agent each time. That translates into fewer support tickets.
This is especially valuable for the simplest and most frequently asked support questions. It's tiresome (not to mention expensive!) for customer service to constantly have to deal with the same questions over and over.
A good help center, therefore, frees up customer service time to deal with the most unusual or highest priority issues, such as a payment problem with an enterprise customer.
It's also a solution that scales well over time since you'll add more and more content to your help center the larger your SaaS business becomes, making the help center ever more useful.
How to choose the best SaaS help center software
Now that you understand why help center software matters, you might be thinking about which solution to try.
The problem is that there are so many solutions on the market that it's hard to know where to start, especially if you've not used software like this before.
So let me share a few criteria that you should look for to make your decision:
Ease of set-up
Ideally, you want software that is plug-and-play. For most smaller SaaS businesses, a set-up time of an hour or so is ideal to get you started.
You're looking to avoid having to involve your development team. This would distract them from working on your product, and cost time and resources that you can ill afford.
An exception to this rule might be if you have very complex support needs, or if you're an enterprise with an existing customer support system filled with a lot of data.
In such cases, a longer set-up time is unavoidable, but you've got the funds to afford it, so you're more concerned with attention to detail than with cost.
Visually appealing
The best help center software will be set up to match your brand colors and the unique personality of your business. Once built, it will feel not only like an extension of your product but an extension of your overall brand philosophy.
It's also essential that the software is designed in a responsive way. Mobile and tablet browsing is on the rise, and so it defeats the point of having a help center if the interface looks like this on mobile:
Again, if you can make an attractive-looking end product without involving hours of developers' time, that's also a bonus.
Intuitive search function
The whole point of a help center is to allow customers and support agents to search for the answers they need.
If the UI is confusing and long-winded, the tool will probably be more of a hindrance than a help.
Of course, you can always work with a developer to make the search function a bit more visible and easier to use. But that's a technical cost you'd probably rather not incur.
Size of your business
If you have a small SaaS company, having one or two seats is sufficient, and you're probably not going to want to spend more than a couple of hundred dollars a month, tops.
By contrast, if you're an enterprise, you'll most likely be looking to give one seat to each one of your individual support teams, which could easily be dozens of people. You'll also have compliance and data security requirements to take into account.
This means your buying decision becomes a little more complicated, but you do have more money to spend, so that's something.
Keep these criteria in mind as you read through our list of recommended help center software.
Best Help Center Software for SaaS
1. Userpilot
Remember the little orange help center icon in Postfity we saw earlier?
Well, it just so happens that it was made with Userpilot. Creating a help center is fairly straightforward with Userpilot. Let me show you how it works.
Log into the Userpilot app and click on Resource Center on the left navigation:
There are 4 main tabs here, which we'll take in order left to right:
The Setup tab gives you the option to customize under what conditions the help center widget will be launched:
You can customize how it looks so that it matches the feel and colors of your product:
You can also choose what page and domain it will appear on:
And for which users it appears.
The testing function is very useful here since you'll often want to put the resource center through multiple design iterations until you're sure it matches what you want and it's ready to launch.
The widget tab gives you more options for how to style your help center:
It also comes with a very intuitive search feature that you can use to tell the software where to pull queries from:
Note that if, as in Userpilot's own case, your knowledge base is hosted on a subdomain, this search feature is a really easy way to connect your knowledge base to your help center.
If you want to add modules to the help center that explain particularly important FAQs, you can do that in the Content tab:
Once you're done, you can use the software to preview and then publish your work. Do make sure that you only publish for yourself initially, so that you can make sure that you're happy with the result.
All of this is incredibly easy to do, requires no code, and is customizable to your brand.
Userpilot starts from $249 per month for up to 2500 MAUs. If you'd like to try out our help center for free, consider booking a demo!
2. Zendesk
When most people in the SaaS world think of customer support, they think of Zendesk and its powerful, multi-purpose support suite.
Zendesk's version of the help center is called the "Web Widget," which is just one of the many functionalities they cater to. This is a snippet of code that displays your knowledge base after you've added the snippet to your SaaS product.
Customization options are pretty solid in terms of colors and feel. One minor thing that put me off though was that you have to subscribe to the enterprise plan in order to remove the Zendesk logo.
To make the most of Zendesk's web widget, you will also need to build your knowledge base in Zendesk. This is pretty simple with an intuitive drag-and-drop interface, but it will take some time if you're not already set up with the rest of your support infrastructure in Zendesk.
My favorite aspect of Zendesk's help center is the contextual help, which delivers users 3 relevant help articles according to the page they're on. In terms of personalization and responsiveness to the in-app behavior of the user, which is something we're big on here at Userpilot, this is really excellent.
Zendesk prices start from $29 per month.
3. Groove
Coming in at number 3 is Groove, a customer service suite best-known for its focus on email support.
Like Zendesk, Groove also refers to its help center as a widget. The widget pulls content directly from the knowledge base, which conveniently can also be built using Groove.
If your business doesn't have a knowledge base yet but you still want to make an MVP help center, Groove has got you covered there as well. In this instance, the help center widget defaults to a contact form to allow customers to reach support directly.
One thing I enjoyed when testing Groove's solution is that there is predictive form-filling technology used in the search function. This reduces friction for the user down to an absolute minimum. It's similar to the logic we've written about previously on this blog about how using autocomplete on forms makes a sign-up flow more frictionless.
Like other solutions on this list, Groove comes with a huge number of ways in which you can customize the look and feel of your help center to your particular brand.
The help center widget is contained as a standard feature of all of Groove's plans, which is nice. In general, Groove doesn't use its branding on your customer communications, but you will probably want to pay an extra $29 per month to remove their logo from your knowledge base.
Groove prices start from $12 per month.
4. Freshdesk
Freshdesk is a suite of online help desk software created by Freshworks.
Their help center widget is probably the cleanest to use from a UI perspective of all of the products on this list. The UI is incredibly intuitive, and it's very easy to connect the help center to your product without requiring a ton of code.
Where Freshdesk is a little disappointing is in how few options they give to customize the look and feel of your help center compared to the other products on this list. The color palette is somewhat limiting, which is a bit surprising for a company with such a slick UI design.
Freshdesk's help center widget connects to your knowledge base. You can pick categories of topics from your knowledge base and the widget will display the most popular articles from those categories. If you want to manually pick articles on certain pages within your product, you can do that as well, so that gives you a bit of flexibility.
Optionally, you can add or not add a contact form to the help center widget. One of the most unique parts of Freshdesk's solution is that the contact form can be "optimized for deflection." This means that the contact form part of the help center will only show in the event that a customer marks a knowledge base article as unhelpful.
This is an intelligent way of ensuring that customer support is not swamped by questions that are already answered on the knowledge base, and so makes customers more self-sufficient.
Freshdesk prices start from $15 per month.
5. HelpScout
Rounding out our list is HelpScout, another help desk suite.
In this case, they call their help center widget "Beacon." Like the other examples in this article, Beacon is highly customizable in terms of colors and branding.
But HelpScout takes customization to another level entirely. You can add custom CSS to make the knowledge base and Beacon look EXACTLY how you want them to. You can also translate your knowledge base into multiple languages, making for a highly personalized solution for SaaS businesses that have global aspirations.
You can even build multiple help centers for different products or brands and manage them all together on one account.
HelpScout also impressed me with a feature called "Docs Report," which is an analytics tool that allows you to see what your customers are searching for, what they're able to find (or not), and how many customers still need manual hand-holding from a support agent.
Beacon is included in all of HelpScout's plans, but you will need to purchase the Plus plan if you want to remove all the HelpScout branding.
HelpScout integrates perfectly with your customer support management systems too.
Pricing starts from $20 per month.
Wrapping Up Our Guide To SaaS Help Center Software
And that's it!
We hope you've enjoyed this ultimate guide to help center software. Regardless of which tool you choose, do remember to bear in mind the selection criteria we discussed earlier.
If you'd like to give Userpilot a spin, click on the banner below to get started.