What is a Digital Adoption Platform and How to Choose The Right DAP Tool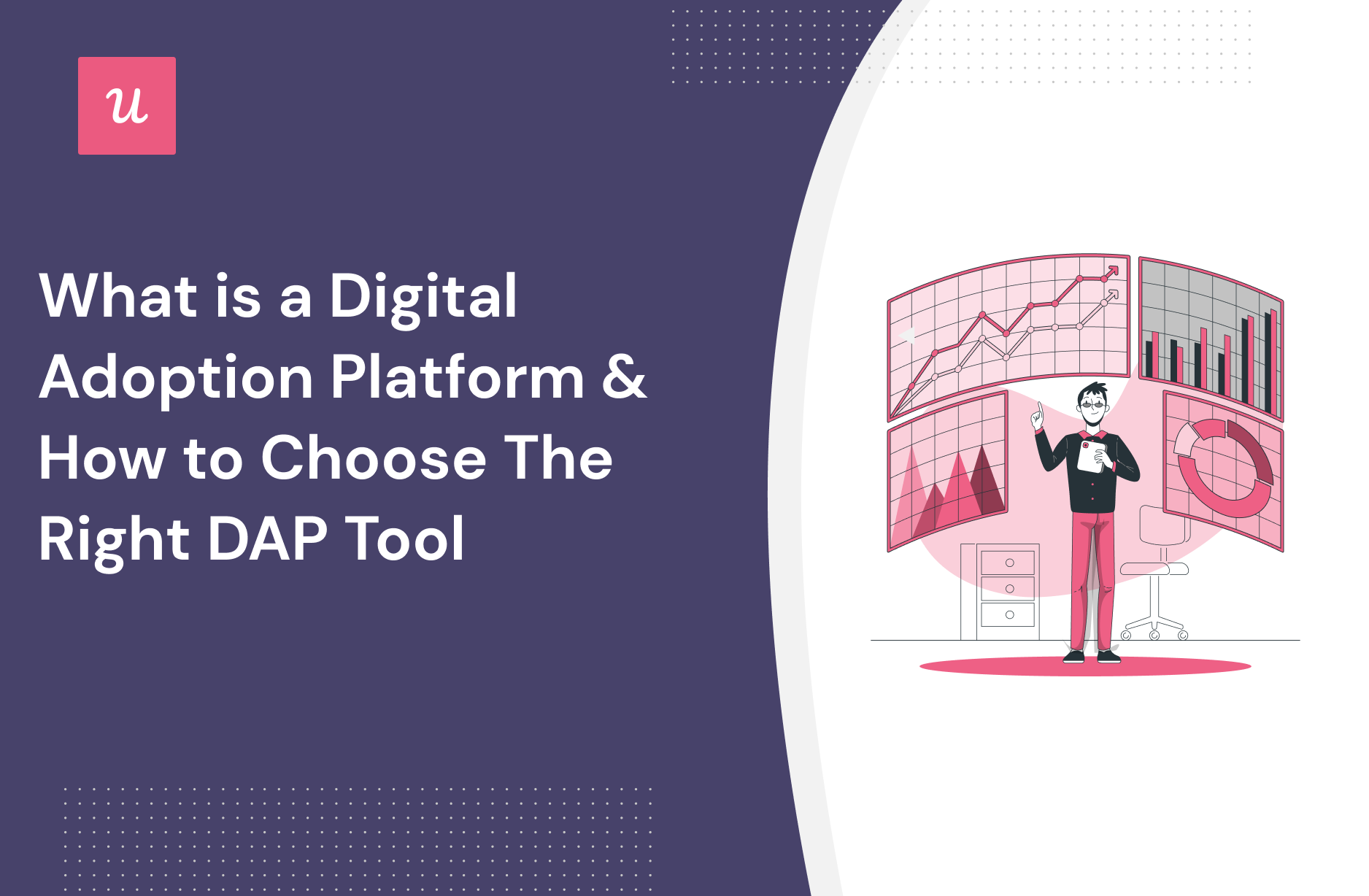 What is a digital adoption platform? How do you choose one to streamline your digital transformation efforts?
Before you rush out to buy a DAP tool, it's essential to understand that not all adoption tools are created equal.
Digital adoption platforms should be selected based on your specific business needs and your users.
This article will explain the most important factors to consider before buying the right digital adoption platform for you.
TL;DR
Digital adoption is the process by which users learn to use and ultimately adapt to new technology.
Digital adoption platforms help onboard users and analyze user behavior for the successful digital adoption of your product
Choose a digital adoption platform based on your use case, features it provides, pricing, and integrations.
Best digital adoption platforms include:
Userpilot is a powerful product adoption and user onboarding platform. It helps product teams create personalized user experiences through product tours, onboarding checklists, and feature announcements. Userpilot's code-free solution enables easy implementation, allowing businesses to engage and guide their users effectively. Book a demo to learn more!
Whatfix is an intuitive digital adoption platform that helps streamline user onboarding and software adoption. It offers interactive walkthroughs and task automation. However, some users have mentioned limitations in analytics and customization options
Pendo stands out as a robust digital adoption platform offering remarkable analytics, in-app feedback capabilities, and features for product adoption. Its target audience mainly consists of enterprise users, and it likely possesses the most advanced analytics among the tools discussed in this article. However, it's important to note that such comprehensive features come with a corresponding cost.
WalkMe is ideal for enterprise companies looking for employee onboarding software. While the tool offers advanced customization, it has a steep learning curve and a heavy price tag.

Try Userpilot and Take Your Digital Adoption to the Next Level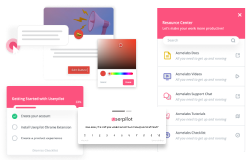 What is digital adoption?
Digital adoption occurs when users can interact with your product or tool as intended and to their fullest potential while getting value from it. The process of digital adoption begins with helping new users until they become entirely proficient in the use of the new software or app.
When users achieve digital adoption, they learn the basic functions of the digital product and maximize the potential of the software through the use of its advanced features.
What is a digital adoption platform?
A digital adoption platform (DAP) is a software overlay integrated with another software, app, or website to guide how users navigate through tasks and functions and ensure user adoption.
Digital adoption platforms help new users quickly learn how to interact with a digital tool and assist returning users in learning newly added functionality and user interface.
Digital adoption solution helps to:
Provide in-app guidance
Do product experiments (e.g A/B tests of different onboarding flows)
Why is a digital adoption platform important?
For SaaS enterprises, software adoption is imperative. If customers cannot learn to use your product, they will not remain customers.
Using an adoption platform is the perfect solution for SaaS because they are uniquely suited to ease the learning curve of complex software solutions.
It's easier to track and improve feature adoption
It's happened to all of us, that moment when we stumble upon a previously unknown product feature. This aha moment is like falling in love with the product all over again.
In SaaS products, feature discovery is beneficial because it helps users continuously find value in your product. Feature discovery informs users that specific features exist, selling the benefits of the features and driving user adoption.
With an adoption platform, you can create new feature announcements, paired with interactive walkthroughs to help users adopt them.
Improve trial-to-paid conversion rates
By maximizing user engagement with the use of a digital adoption platform during the trial period, your customers are more likely to continue using your digital technologies or product once the trial period ends.
With a digital adoption platform software, you can build personalized in-product experiences and improve customer retention by improving user activation.
Reduce churn and retain customers
Customers demand value right from the start. If your product doesn't provide value fast enough, your business will experience churn.
Using product adoption digital tools, you can quickly bring customers up to speed with in-app resources, understand potential disparities in a customer's experience, and proactively engage them.
How to choose digital adoption platform software?
It's not enough for businesses to make software investments or invest in new technologies. Digital adoption is the key to a successful transformation.
The average rates for technology adoption in enterprise organizations are staggeringly low. By leveraging an adoption platform, businesses can improve their adoption rates and accelerate product use to its full potential.
But before you rush out to purchase an adoption platform, it's essential to consider your unique business needs so you can select the best one for your business processes and products.
Depending on your requirements, you can choose the right digital adoption platform for you that best deals with your particular challenges.
Consider the following factors when deciding on an adoption tool:
Use case – Digital adoption platforms are aimed at three use cases: onboarding for SaaS users, employee onboarding, and walkthrough software for mobile application users.
Budget – Pricing of Digital adoption platforms depends on various factors, including the size of your company, the number of features, and the number of users. Based on these factors, you will be charged a monthly subscription fee for continued use of the software.
Features – Digital adoption platforms differ based on the extent of onboarding needed. The best digital adoption platform offers in-app guidance, segmentation options, product analytics capabilities, surveys to collect user feedback, support options, and integrations.
Integration capabilities – Each digital adoption platform's integration capability is different. Understand the specific integration capabilities of each adoption tool and the extent to which the integration will require the involvement of your product engineers.

Streamline your Digital Adoption Efforts with Userpilot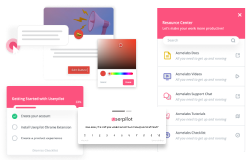 What are the key features of a digital adoption platform?
To provide users with relevant and timely advice on how to best use the product, digital adoption platforms require a number of features.
In-app guidance
In-app guidance shows the user where to go and what to do. The most common types are:
Modals – pop-up screens with product information or announcements.
Tooltips – text boxes with information about a feature to drive engagement.
Interactive walkthroughs – step-by-step guides on how to complete various tasks, usually made up of tooltips.
Product tours – like interactive walkthroughs, but less interactive and more linear.
Onboarding checklists – lists made up of simple tasks the users need to complete to activate. They are usually used at the beginning of the user onboarding process.
Segmentation
Segmentation allows you to group users with similar needs or preferences together so that you can personalize their product experiences to make them more relevant.
For example, if you have a fitness app, your users may have different reasons to use it, like weight loss or muscle gain. What's more, each of them may prefer different kinds of physical activity to achieve their goals.
By segmenting them, you'd be able to customize their dashboards and give them workout recommendations matching their preferences.
Product analytics
Product analytics are necessary to analyze product usage and user behavior to evaluate the effectiveness of your adoption strategy.
Features to look out for include:
Feature usage tracking
Event tracking (including custom events)
Goal tracking
Funnel analysis
Path/Flow analysis
Ability to act on data in real-time, for example, trigger in-app guidance in response to an event
In-app surveys
In-app surveys are necessary to collect user feedback.
Thanks to them, you can track user satisfaction levels over time and identify ways to improve the onboarding process or the product itself.
It's great if your adoption platform allows you to create both quantitative and qualitative surveys, trigger them contextually and collect feedback passively.
Self-help support
The majority of users expect on-demand access to support and guidance so resource center functionality is a must.
Your software adoption platform should give you the option to create and customize self-help modules that users can access in-app whenever they need.
Ideally, you want your tool to also support resource center analytics.
Integrations with your stack
Integrations with other products in your stack enable you to streamline your workflows and improve efficiency. They're also essential to make sure you don't miss any crucial data.
What integrations are particularly important?
Analytics products to supplement the analytics functionality of the platform (e.g., Amplitude)
Communication tools (e.g., Slack)
Customer Relationship Management (CRM) systems (e.g., Hubspot)
What are the different types of SaaS digital adoption tools?
There are three main segments of digital transformation projects and adoption tools for SaaS products.
User onboarding digital adoption platforms – User onboarding DAPs help software platforms guide customers through your application to help them accomplish key tasks.
Employee onboarding digital adoption platforms – Employee onboarding DAPs provide essential training and knowledge in the moment of need to help new employees and drive productivity.
Mobile onboarding digital adoption platforms – Most mobile apps have a minimal learning curve and do not require a DAP. However, using a DAP with complex apps or new features can be beneficial.
The best digital adoption platforms
The best digital adoption platform for SaaS will be dependent on the product, needs, and end users of the product. Below we will explore the top digital adoption platforms for SaaS companies.
Userpilot
Userpilot is a powerful product adoption platform that enables you to quickly build personalized and contextual in-app experiences targeted to different user experiences – all without writing a line of code.
It's a great option for enterprise software users too since it's SOC 2 Type II certified and offers robust features for large-scale usage.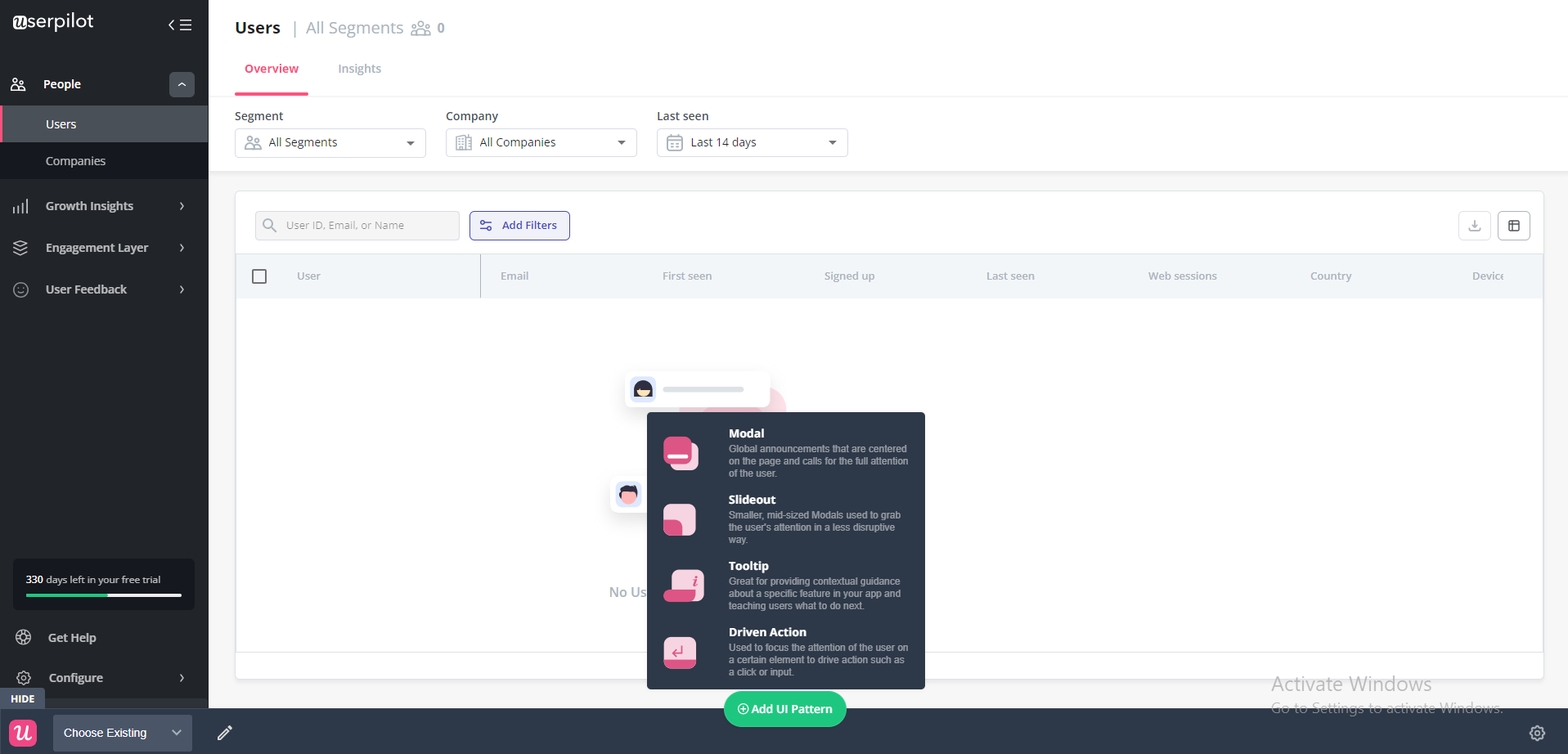 Userpilot features and functionality
Here are some of Userpilot's product adoption features that you may find helpful:
A broad range of UI patterns to build fully customizable, contextual, and interactive in-app flows for creating an onboarding process: modals, slideouts, tooltips, hotspots, driven actions, banners, and more. And – most importantly – you are not limited by plan when it comes to how many UI patterns or designs you can build.
Advanced in-app checklists with built-in gamification elements like progress bars or "automatically marked complete" tasks: checklists also come with analytics so you can track who is interacting with them and how.
Fully interactive walkthroughs walk users through engaging and adopting specific features of your app.
The self-service in-app resource center lets users search your knowledge base directly inside the app, access chat, and support but also launch guides and tutorials when they get stuck.
In-app surveys allow you to collect insights to improve the product and the user experience, thus leading to a higher product adoption rate. You can also collect NPS data and tag responses to uncover patterns into what makes users stick, or build micro surveys for more granular data. Then you can use all the feedback collected to build user segments based on the answers and personalize the path to higher product adoption for each segment. You can also access survey analytics.
Robust analytics and tracking capabilities help you track user behavior and be proactive to ensure successful digital adoption.
Userpilot pricing
There are 3 pricing plans starting from $249/month for up to 2,500 MAUs. There are also custom plans and MAU limits depending on a company's needs.

Enhance Your Digital Adoption with Userpilot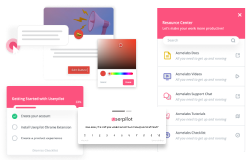 Whatfix
Whatfix is one of the top digital adoption platforms around and a driver of innovation in this space.
Whatfix offers a well-made product that allows you to create user flows, knowledge bases, and task lists to get new users engaged and learning. On top of this, their analytics platform is easy to understand and helps you keep track of behavior analytics, guidance analytics, and user feedback all in one place.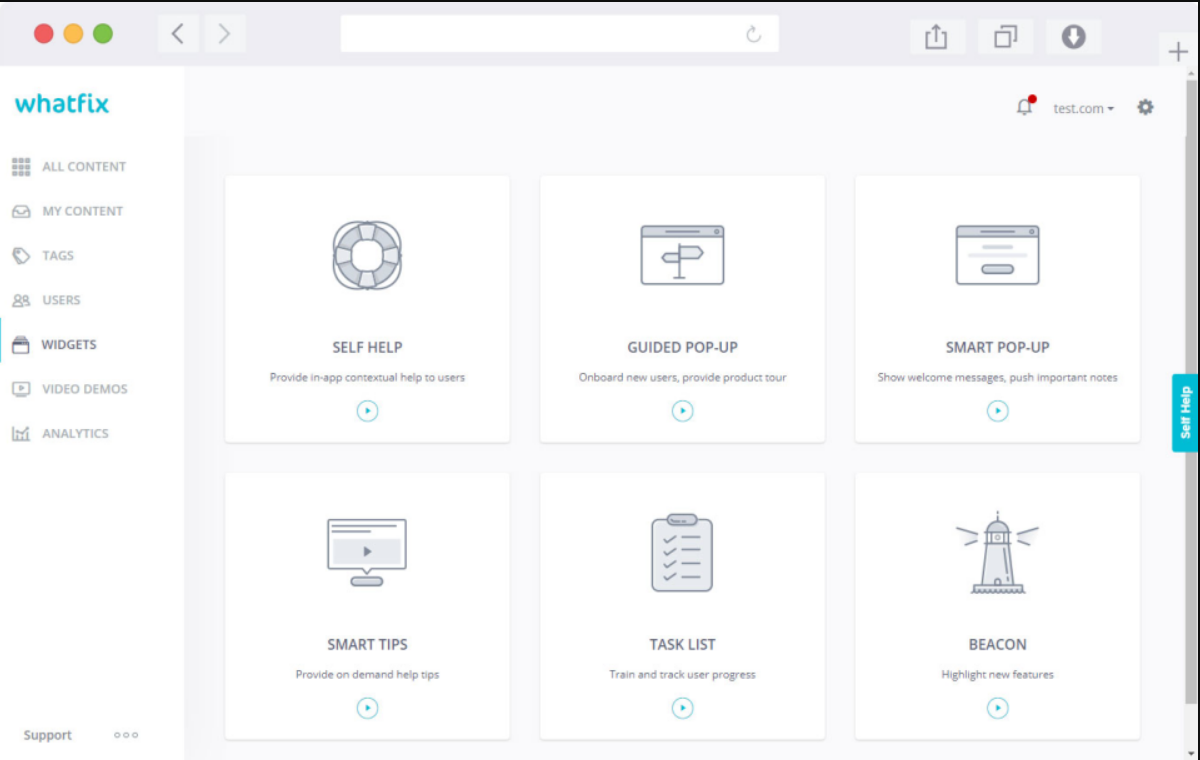 Whatfix features and functionality
Here is what you will get with Whatfix product adoption functionality:
Create contextual in-app training to make users get the maximum value of your product.
Provide omnichannel support without skyrocketing your customer support goals.
Powerful analytics to try new ideas based on real-time data and find ways to optimize the customer experience.
Whatfix pricing
Whatfix doesn't have any pricing plans on its website. Instead, you'll need to speak with one of their team members to get a custom quote tailored to your needs and organization.
Otherwise, you can request a free trial to see if Whatfix works for you.

There is a Better Tool for Digital Adoption than Whatfix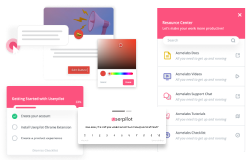 Pendo
Pendo is a robust product adoption platform with user engagement features, impressive analytics, and in-app feedback.
When it comes to product adoption, Pendo offers analytics features to track the adoption of features as well as a guide for building in-app guidance that improves feature adoption both on web and mobile apps.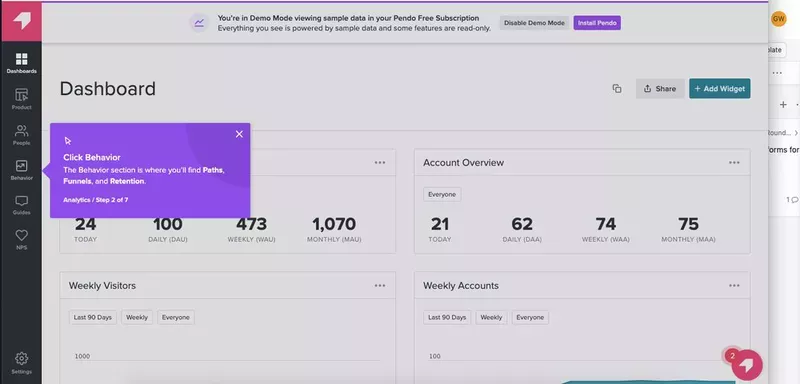 Pendo features and functionality
Here's what to expect from Pendo's product adoption features:
Pendo's analytics allow you to evaluate each feature usage and which features deliver the most value.
You can see which features are underused for different user segments.
You can then build guides to improve features and user adoption.
You can use Pendo's free version to create guides, but you'll only get access to limited features and basic analytics.
Pendo pricing
Pendo offers 4 pricing plans, including a free plan. The paid Pendo plans are:
Free – Up to 500 monthly active users
Starter – From $7,000/year for up to 2,000 MAUs
Growth – Custom pricing and MAU limit
Enterprise – Custom pricing and MAU limit

There is a Better Tool for Digital Adoption than Pendo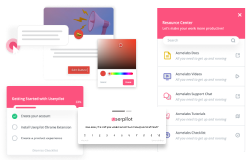 Walkme
WalkMe is one of the pioneers in the market of adoption tools. It is a cloud-based software that allows you to create product tours and in-app experiences to drive adoption faster.
WalkMe is best for enterprise companies as they are focused on employee training and onboarding rather than user onboarding.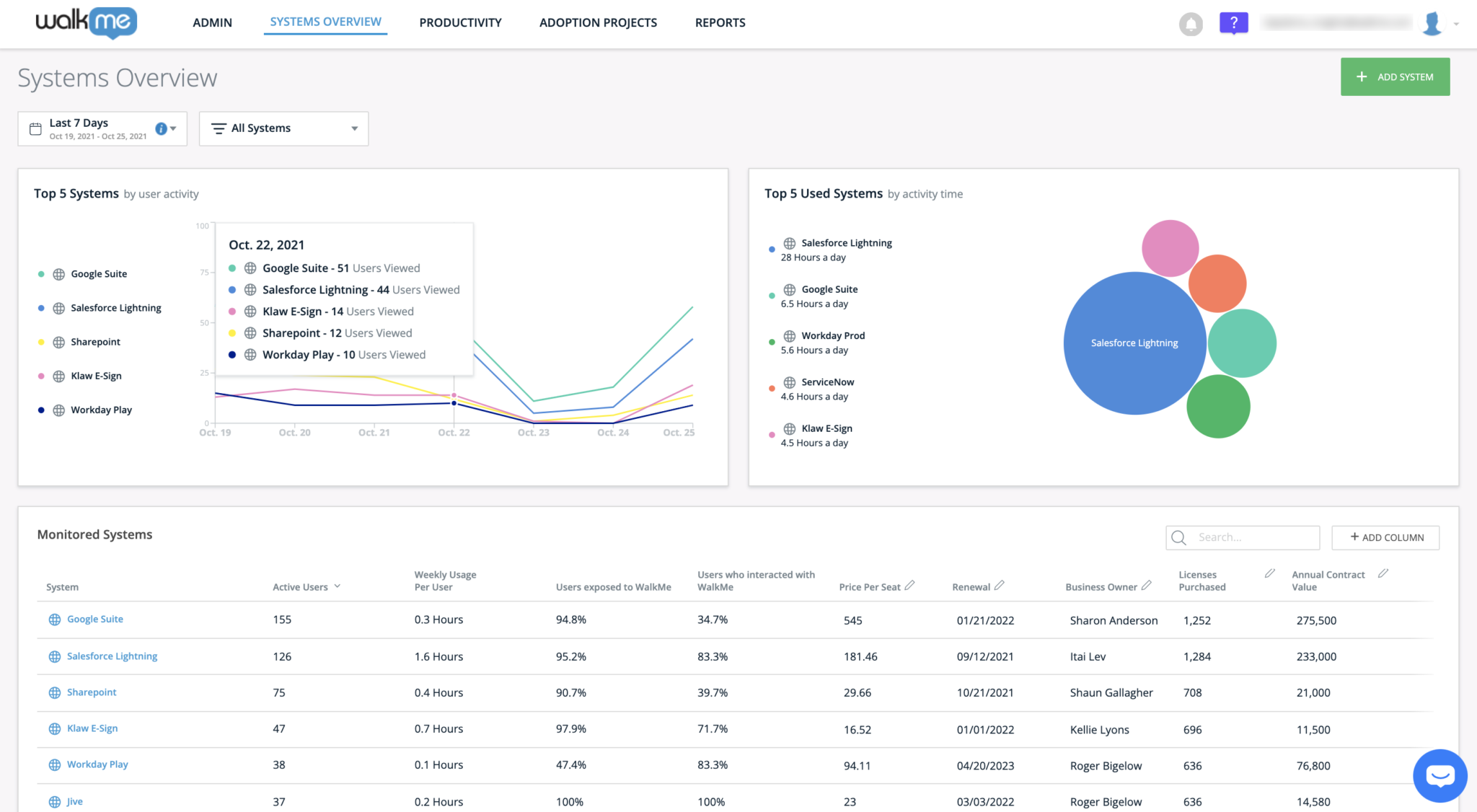 Features and functionality
As a product adoption tool, WalkMe provides a range of features and capabilities that help businesses achieve their onboarding and adoption goals, including:
Interactive Walkthroughs: WalkMe provides interactive, step-by-step guidance to users within the application, reducing the need for extensive documentation and training.
In-App Messaging: With WalkMe, businesses can send targeted, contextually relevant messages to users, increasing engagement and driving conversions.
Self-Service Support: WalkMe allows businesses to create a self-service support portal, enabling users to access relevant resources and solutions without the need for human assistance.
Advanced Analytics: WalkMe provides detailed insights into user behavior, enabling businesses to optimize their onboarding and adoption processes, identify bottlenecks, and measure the effectiveness of their training efforts.
Overall, WalkMe is a comprehensive product adoption tool that helps businesses improve their user engagement, streamline workflows and user productivity, and increase user retention, ultimately leading to greater user satisfaction and revenue growth.
Pricing
WalkMe works on a custom pricing plan that requires you to request a quote from their sales team (could be spending from $9000 to $50000 a year).
Their main two plans are:
WalkMe for employee onboarding experience: Engagement tools and analytics.
WalkMe for customer experience: Engagement tools and analytics.
Add-ons: Session Streams, TeachMe, AI analytics through UI intelligence.

There is a Better Alternative to Walkme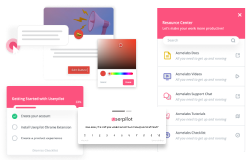 Conclusion
There are multiple digital adoption solutions for different use cases, each with its benefits. But no other tool offers you all the features with zero coding that Userpilot provides at an affordable price.
If you're looking to increase product adoption with in-app onboarding, get a Userpilot demo.