Digital Adoption Strategies for SaaS: Best Tactics, Examples, and Platforms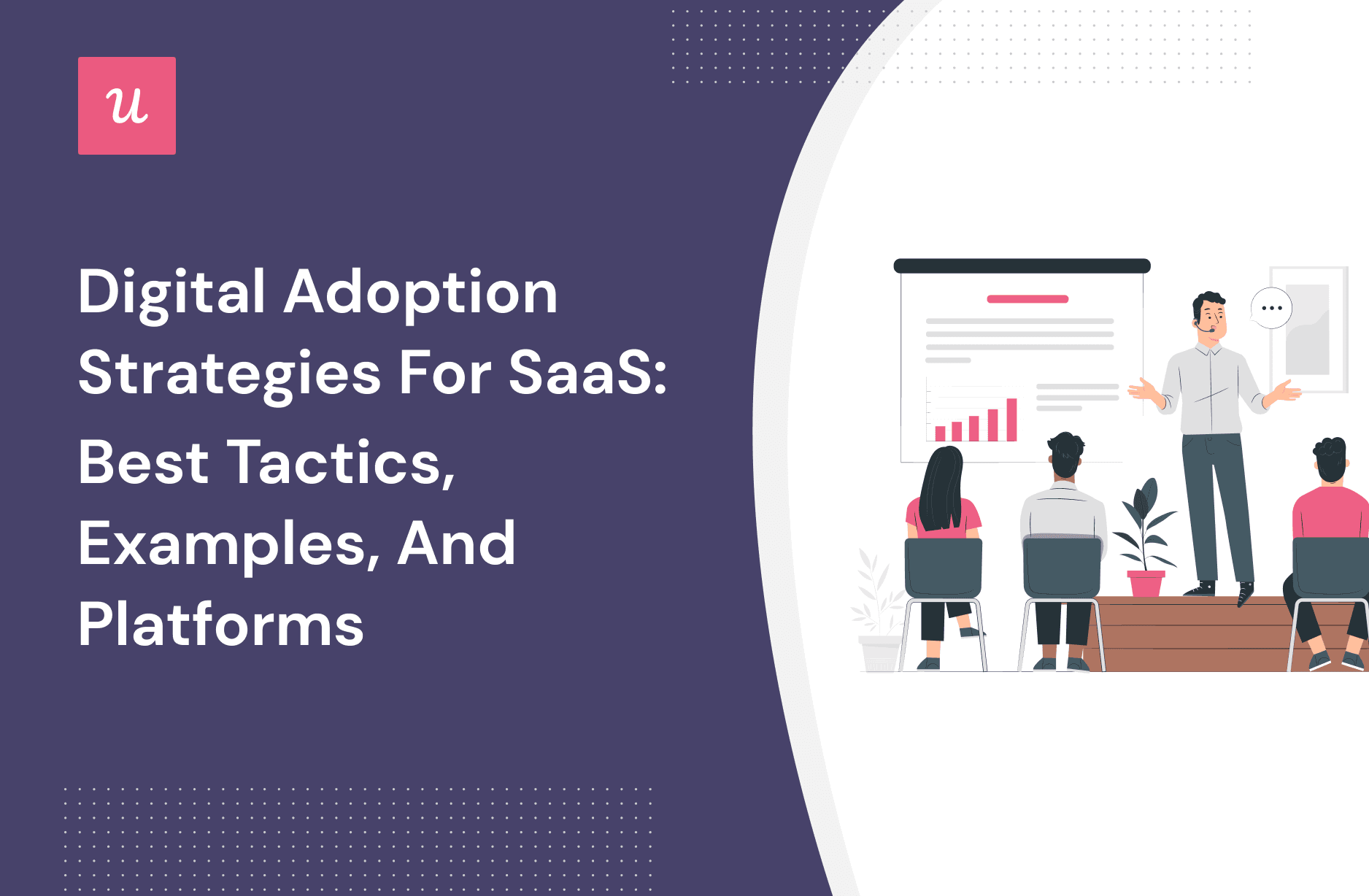 Are you looking to use the best digital adoption strategies to increase user engagement for your SaaS business?
Digital adoption strategies are a range of tactics that help users effectively utilize your SaaS product and make them more engaged and loyal. So choosing the right digital adoption strategies for your business is crucial.
This article will explore the best tactics, examples, and the best digital adoption platforms.
Let's start!
TL; DR
In SaaS, digital adoption is the process of integrating digital technologies to facilitate user engagement and adoption.
Digital adoption focuses on improving user experience, while digital transformation seeks to improve company processes.
Implementing digital adoption strategies will enable you to enhance user engagement, satisfaction, and retention for your SaaS businesses.
To create a digital adoption strategy, set clear goals, segment users, measure and test progress, and improve on the go.
You should implement key digital adoption strategies like:
Segment users by collecting information through welcome surveys and offering personalized experiences.
Encourage users to try relevant features with the onboarding checklist and realize value.
Provide in-app guidance with interactive walkthroughs to help your users get started.
Trigger different types of tooltips to offer contextual and personalized training.
Celebrate user achievement with gamification to motivate them to finish core tasks and increase engagement.
Offer self-serve guides in different formats to help customers increase product awareness in a way that matches their learning styles.
Use in-app messages strategically to introduce new features at the right time to the users.
Provide relevant training to targeted user segments through webinars.
Track your digital adoption progress to spot early friction points and eliminate them.
Collect user feedback and analyze it to find areas to improve.
What is digital adoption?
Digital adoption is the process of integrating digital technologies to ensure employees' and customers' effective usage of technologies to drive better results.
In SaaS, digital adoption refers to facilitating seamless adoption and engagement to ensure that users can easily and effectively use your product to solve their JTBDs (jobs to be done).
Digital adoption vs digital transformation
The main difference between digital adoption and digital transformation is that the former is user-centric while the latter is organization-centric.
Digital adoption is rather a part of a company's digital transformation efforts. It focuses on improving user experience using digital technology. And digital transformation is adopting digital technologies to improve a company's processes and operations fundamentally by involving higher-level stakeholders.
Why does digital adoption matter?
Digital adoption is critical for SaaS business like yours because it helps you –
Enhance user and product engagement by offering intuitive and user-friendly features and making the experience smoother.
Improve user experience and satisfaction while you take on digital adoption strategies that streamline processes and provide personalized, contextual guidance.
Drive user retention by ensuring users consistently use and find value in the product.
How do you create a digital adoption strategy?
You should keep the following in mind while creating a digital adoption strategy:
Set your goals and objectives clearly at first. Identify what specific user behaviors you want to encourage through adopting new technologies.
Segment your users for targeted digital adoption strategies. Since all users won't have the same needs or challenges, segmenting your users for adoption strategies will help you provide contextually relevant and personalized experiences.
Measure your strategies' success and track user progress regularly. Test different approaches to see what works and doesn't, and improvise using that data.
Creating a successful digital adoption strategy for digital technologies is an ongoing process. Be open to trying new things, and don't be afraid to iterate and improve as you go.
10 key digital adoption strategies to improve user engagement
Let's look at the key digital adoption strategies that improve user engagement.
Segment users from the start to personalize user experience
Firstly, you need to collect information about your users via welcome surveys. Keep the questions to the minimum, such as their role, JTBDs, and how they plan to use your product.
You should use this information to segment your users according to users' common attributes. It lets you create a contextual onboarding process tailored to customers' needs. Offering users personalized experiences and support from the start will build a positive relationship and long-term engagement.
Here's how Miro uses the welcome survey as a part of its digital adoption strategies.
Encourage users to try relevant features with onboarding checklists
Prompting users to try relevant features for their JTBDs help them realize value early in the digital adoption process. It also helps you increase user adoption and satisfaction with your product.
One effective way to encourage users is by providing them with onboarding checklists. You need to identify the most important actions for users to take and put them in order on the checklist.
When you break down the onboarding checklist into small tasks, users are more likely to complete the checklist and learn to use your product easily.
Provide in-app guidance with interactive walkthroughs.
One of the big challenges users face when adopting new digital tools is figuring out how to use them effectively. But providing in-app guidance with interactive walkthroughs will help reduce users' time and effort to grasp digital tools' features.
Interactive walkthroughs provide users with step-by-step guidance on using specific features within your product. They make the experience engaging and encourage users to explore and experiment while learning at their own pace, leading to better digital adoption.
Trigger tooltips to provide contextual and personalized training
Triggering tooltips is an effective way to provide just-in-time learning when users need it the most. Users understand how to use a feature in context with the tooltips and become more likely to adopt it.
Tooltips, like onboarding tooltips, in-place tooltips, etc., are handy for guiding the user through the feature's usage with step-by-step instructions. It fosters digital adoption while ensuring users use your product to its full potential.
Figma uses tooltips contextually like this:
Celebrate user achievement with gamification
The idea around gamification is to use game mechanics to motivate users to complete tasks and achieve specific goals. It helps you encourage users to finish core tasks and explore different features of the product.
Gamification boosts customer engagement as users enjoy recognition for completing certain tasks or achieving specific milestones. Doing so creates a fun, interactive environment that makes customers use your product regularly.
Here's how Asana celebrates user achievement with a flying unicorn.
Provide self-serve guides in different formats
Providing self-serve guides in different formats has the potential to be a game changer in your digital adoption strategies. As users have different learning styles and preferences, support resources in various formats allow them to learn about your product in a way that suits them best.
Self-serve materials, like help centers, video tutorials, etc., increase product knowledge among your customers. It drives digital adoption as users utilize your product to its fullest potential.
Use in-app messages to introduce new features contextually
In-app messaging has become an increasingly popular way to introduce new features contextually to users.
You must have a well-planned in-app messaging strategy to make the most of in-app messaging. It requires you to target relevant user segments who find your new features useful. Then, you must decide on the perfect notification types and send in-app messages that prompt engagement.
As the relevant user segments will find more value in your new features, they will adopt them more and engage with your product.
This is an example of Google Docs using slideout to introduce new features.
Provide users with proper training by hosting webinars
Webinars offer a more interactive and engaging way of learning compared to just reading through guides or watching tutorial videos. It focuses on preventing feature blindness and helping users unlock more product value, making your digital adoption solutions successful.
You should segment users based on their behavior and needs to ensure the training is valuable. It helps you send the right invitations to the right users, tailor the content to them, and offer the most value. You also need to use the segments to send invitations through multiple channels like in-app and email.
Track digital adoption progress to spot early friction
You should measure digital adoption progress by tracking feature and product usage, onboarding checklists, and in-app behavior. It allows you to accurately spot where users encounter friction or where important features are underutilized.
For example, by analyzing user behaviors, you can see if users tend to drop off at a certain point in the funnel. This could be an indication that there is a problem with the user experience or the messaging.
Making these moves while tracking the digital adoption process will double your digital adoption efforts and improve your conversion rate.
Collect feedback and close the feedback loop
Regularly collecting user feedback through in-app surveys is essential to digital adoption strategies. You need to craft these surveys strategically by using various survey questions, including closed and open-ended questions. These surveys' qualitative and quantitative feedback data will help you learn what stops you from offering a seamless user experience.
Analyzing this feedback data is essential in closing the feedback loop and making informed decisions about product improvements. These improvements could include introducing new features, upgrading existing ones, or addressing pain points based on the type of survey you trigger (i.e., customer experience, feature requests, etc.).
Then, increasing customer satisfaction and driving digital adoption becomes easy as you actively listen to your users and improvise based on their feedback.
Userpilot – Best digital adoption platform for SaaS
Userpilot is a powerful no-code digital adoption solution that simplifies and streamlines the digital adoption process for SaaS businesses. It helps ensure customers adopt your product and derive maximum value from it.
Create in-app guidance to onboard users
Its array of features helps you improve the user onboarding experience and achieve successful digital adoption easily. It offers tools like tooltips, interactive walkthroughs, resource centers, etc., to guide users along the user journey.
Monitor user adoption progress with robust analytics
Another essential aspect of Userpilot is its robust analytics capabilities. It allows you to monitor and evaluate user adoption progress continually.
You can quickly gain insights into feature usage, checklist completion, and feedback analytics – becoming easier to identify areas for improvement and optimize your digital adoption process.
Gather user feedback and act on it
Userpilot also lets you create and trigger surveys to gather valuable user feedback regarding their experience and satisfaction. It allows you to send microsurveys like NPS, CSAT, and CES surveys, by creating from scratch or customizing a template.
With advanced user segmentation and engagement features, you can ensure the most relevant audience gets the surveys at the right time. It also has a user-friendly dashboard to monitor survey responses and gain actionable insights for informed decision-making.
Conclusion
Digital adoption strategies are essential in improving user engagement and driving user retention effectively. Implementing the key strategies that benefit your business the most is a must now with the best digital adoption tools, like Userpilot.
Want to get started with digital adoption strategies? Get a Userpilot Demo and see how your product's user engagement improves.