Digital Customer Engagement Is Here to Stay: 6 Ways to Embrace It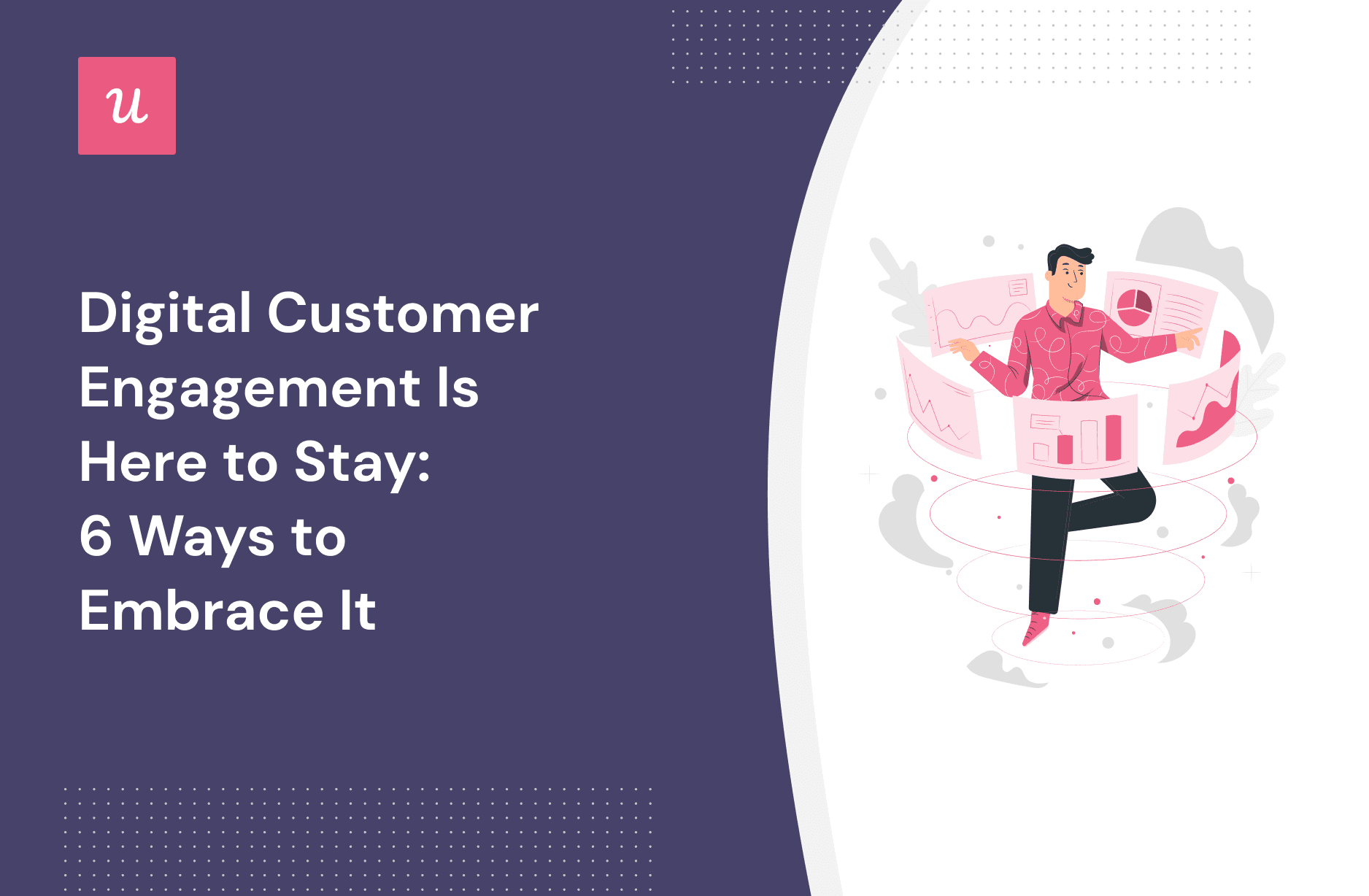 Most SaaS companies know that every touchpoint with users or prospects is a crucial part of the acquisition process. However, not all product marketing teams have mastered the art of digital customer engagement.
In this article, we're going to teach you how to measure digital engagement, four trends to stay on top of, and six approaches that you can use for your own digital customer engagement strategy!
TL;DR
Creating a robust customer engagement model can improve the free trial conversion rate for new users and reduce churn amongst existing customers.
Whether it's a sales team, marketing department, or contact center, all areas of your business can benefit from digital customer engagement.
The main metrics you'll want to track for digital customer engagement campaigns are engagement rate, customer engagement score, conversion rate, and product stickiness.
What is digital customer engagement?
Digital customer engagement describes the process of interacting with prospects (potential customers) and users (existing customers) through digital channels such as social media, email, and in-app messaging.
Digital engagement differs from traditional engagement because it builds relationships with loyal customers online via multiple channels (and engagement funnels) rather than brick-and-mortar stores or physical advertising campaigns.
Digital customer engagement speeds up the customer journey by digitizing — and therefore streamlining — the customer experience. Companies that prioritize digital engagement tend to build brand awareness with their target audience and improve customer retention.
What are the benefits of digital customer engagement?
There are many reasons that make digital customer engagement important, but the four benefits below should be enough to convince you that it's worth spending your time and money on:
Higher visibility. Digital customer engagements have higher visibility and further reach than traditional marketing channels like billboards, flyers, or radio ads. If you get your digital engagement strategy right, you can reach direct customers through multiple channels.
More customer data. In addition to keeping customers engaged, an effective digital customer engagement strategy can also provide valuable insights and engagement data that will help you improve customer relationships and elevate the customer experience as a whole.
Personalized experiences. Unlike physical marketing material like billboard designs and printed flyers, digital engagement campaigns can be continuously tweaked and personalized to better match your target audience. This, in turn, creates a more personalized customer experience before the sale even happens.
Increased ROI. Because digital customer engagement is generally much cheaper than traditional customer engagement, you're able to get a better return on investment (ROI) for the time and money you put into these digital marketing campaigns.
How to measure your digital customer engagement
When deploying digital engagement efforts and trying to improve the customer experience, it's important that you track the right metrics to ensure you're getting an accurate and holistic picture.
Relying on a single metric could give you a skewed perception of how your company is performing on digital channels while tracking too many metrics will end up diluting the accuracy of your reports.
That being the case, we're going to give you four KPIs that you can use to measure your engagement strategies and see if they're actually improving the digital customer experience or not.
Digital customer engagement metrics:
What is a customer engagement model?
A customer engagement model is a specific approach that a business uses to engage prospects and nurture stronger customer relationships. By creating a fixed model for how to improve the customer experience across all digital channels, you'll be able to guide customers through their journey from signup to Aha! moment.
As a result, you'll see improved trial conversion rates, customer satisfaction, revenue per customer, and lower churn. Remember, every new user could be a future product champion:
Digital customer engagement trends to stay on top of
Every digital customer engagement platform, channel, and strategy is ever-evolving. The only constant truth in the SaaS world is that there are no constant truths. To navigate this rapidly changing landscape, it's essential that you stay on top of the following engagement trends.
1. AI and big data
With the rise of big data, there has been a surge in the volume of customer data that SaaS companies are gathering and utilizing to make better decisions. As such, its role in customer engagement continues to rise especially with the advent of machine learning.
Without getting too technical, AI algorithms make analyzing big data sets and distilling the actionable insights a lot easier for companies which have created an arms race on who can best meet these unearthed customer expectations the best.
If you've used a customer engagement platform or tool in recent years, you've likely already experienced customer engagement technology in the form of chatbots that help your brand stay active on more digital channels or analytics dashboards that track customer satisfaction.
These digital self-service options have made it easier for customer service agents to focus on complex tickets that need a human to solve them.
The fact that it's easier than ever before to gather and leverage customer data gives you no excuse to optimize digital interactions for the benefit of the overarching customer experience.
2. Immersive technology
Various tech companies have begun integrating elements of augmented reality and visual reality to craft a more immersive customer journey for their digital products. These novel techniques keep users engaged and provide long-lasting stickiness for the product.
Even legacy companies like American Express have gotten into the branded Snapchat filter game:
3. Real-time engagement
Real-time engagement is when a customer interacts with your brand through digital channels that provide back-and-forth feedback. Engaging customers in real-time can provide a competitive advantage, boost marketing performance, and make it easier to close sales.
If you struggle to answer customer queries in real-time, you can use self-service software like AI chatbots to meet the needs of both your existing customer base and any new prospects that may stumble upon your website.
Self-service software can also reduce support costs, staff attrition, and queue times.
4. Hyper-personalized interactions
Modern SaaS customers have a low tolerance for irrelevant experiences, interactions, and messages. That's why it's crucial to leverage customer segmentation and create more personalized experiences that target specific user traits.
User personas can be created based on each segment to make it easier to tailor your messages flows or interactions to different customer groups. Segmentation and personalization can be done through behavioral data or satisfaction metrics like the NPS score:
Digital customer engagement strategies to get you started
The means of encouraging customers can vary wildly depending on business goals, a customer's experience with the product, and their purchase history. In the subsections below, we're going to go over six engagement strategies that'll help you keep more customers happy!
1. Understanding customer motivations
Without first understanding customer motivations, you won't be able to accurately determine what customers prefer and want out of your product. Vague demographic data simply doesn't cut it in the digital world since all your competitors are striving to provide a personalized experience for every individual customer across every digital channel.
Assessing your customers' needs and creating user personas based on those insights will help uncover the values, drives, or motivations that drove customers toward your product in the first place.
By understanding the goals or job-to-be-done of customers, you'll be able to create a more relevant engagement strategy and digital experience. Sentiment analysis, in-app NPS surveys, and needs-based segmentation are just a few methods of identifying customer motivations.
2. Contextual messaging
Tracking in-app customer behavior enables you to create more contextual messaging for your in-app communication strategy. You can use certain events as triggers for in-app messages, notifications, or emails to increase effectiveness by getting the timing perfect.
Figuring out the right channel is also essential to contextual messaging. Some messages may be best delivered inside the app itself while others may be better off sent to customers as an email.
It all depends on which notification type is right for the job, like sending a push notification to an inactive user who hasn't opened your app in a while or providing in-app guidance to new customers who seem stuck at the onboarding stage.
3. Personalized journeys
A big part of customer engagement is unifying different touchpoints into a streamlined experience to ensure that the customer's journey doesn't feel disjointed.
As the illustration below shows, all critical customer interactions should connect to move users toward the desired outcome and create a closed loop of success milestones.
This is where omnichannel marketing comes in. Creating an omnichannel brand profile beforehand ensures that all interactions, messages, and colors are consistent from one channel to the next.
That said, creating a single journey may not be enough. You might need to create a few journeys, each tailored to different segments of customers. In any case, remember that personalization is a reliable "growth hack" to improve the customer experience.
4. Accessible self-service
Self-service support is faster, more efficient, and actually preferred by most consumers. In fact, Harvard Business Review found that 81% of customers try to solve problems on their own before reaching out to a human agent.
Waiting for a customer to bring a problem to your attention is reactive while providing self-service options is proactive support. When you stay connected to your users and get ahead of the problems they may encounter, you'll be able to resolve issues before they escalate further.
There are various options available: chatbots, knowledge bases, in-app resource centers, tutorial videos, or community forums. Most brands have a combination of these approaches while still maintaining a human touch by offering agent assistance.
Speaking of contact center agents, providing self-service options to customers is one of the key things you can do to free up your team members for the tickets that actually need their attention.
Look no further than our in-app resource center to see the benefits of having a knowledge base:
5. Integrating user feedback
Digital transformation — the integration of technology into key areas of a business — helps companies run more efficiently. In the same way, integrating user feedback into your engagement strategy will provide a more consistent experience for customers.
Listening to the voice of the customer (VoC) across different channels can reveal invaluable data that will benefit your business, help your sales team get customers to a purchase decision, and ensure you use the right tools for every job.
Collecting feedback can be as easy as adding in-app surveys, running polls on social media, sending out email surveys, or looking at online reviews for your business and its various products.
Look at where your customers are already leaving feedback (whether directly on review sites/in-app surveys or through social mentions) to see how you can apply the suggestions that make sense.
You can also use feedback to find out what drove the initial purchase for certain customers. This will help you identify patterns that can help your sales team turn other leads or users into paying customers.
Here's an example of a simple NPS survey that can give you a sense of how customers feel about your business:
6. Automation for higher efficiency
Every team member on your sales team, marketing department, and contact center hotline has a finite amount of time, energy, and attention.
To help them allocate these three core resources, you should strive to automate repetitive tasks so they can focus on a narrower workload. Certain aspects of customer communication, feedback collection, and product education are easily automated with software solutions.
Finding the right customer engagement software is easier said than done though. In the next section, we're going to go touch on the things you need to consider when choosing tools for your business.
Digital customer engagement with Userpilot
If you're trying to take your digital customer engagement efforts to the next level, Userpilot could be really helpful. The tool lets you track in-app user behavior, tie events to trigger flows, and create custom feedback surveys.
You'll also be able to check an instant overview of survey results so you can make data-driven decisions that much faster.
In addition to all the product management features Userpilot has, you'll be able to segment your audience so you can create personalized in-app flows with custom triggers. All of the above can be done without writing a single line of code:
Wrapping up
As you can see, engaging with customers on digital channels is an absolute must. Whether you're a product marketer, sales representative, or contact center agent, digital customer engagement can make or break your results.
If you're ready to get your customer engagement campaign off the ground and nurture brand loyalty, then it's time to get your free Userpilot demo today!