How to Automate Customer Engagement in SaaS: A Quick Guide to Customer Engagement Automation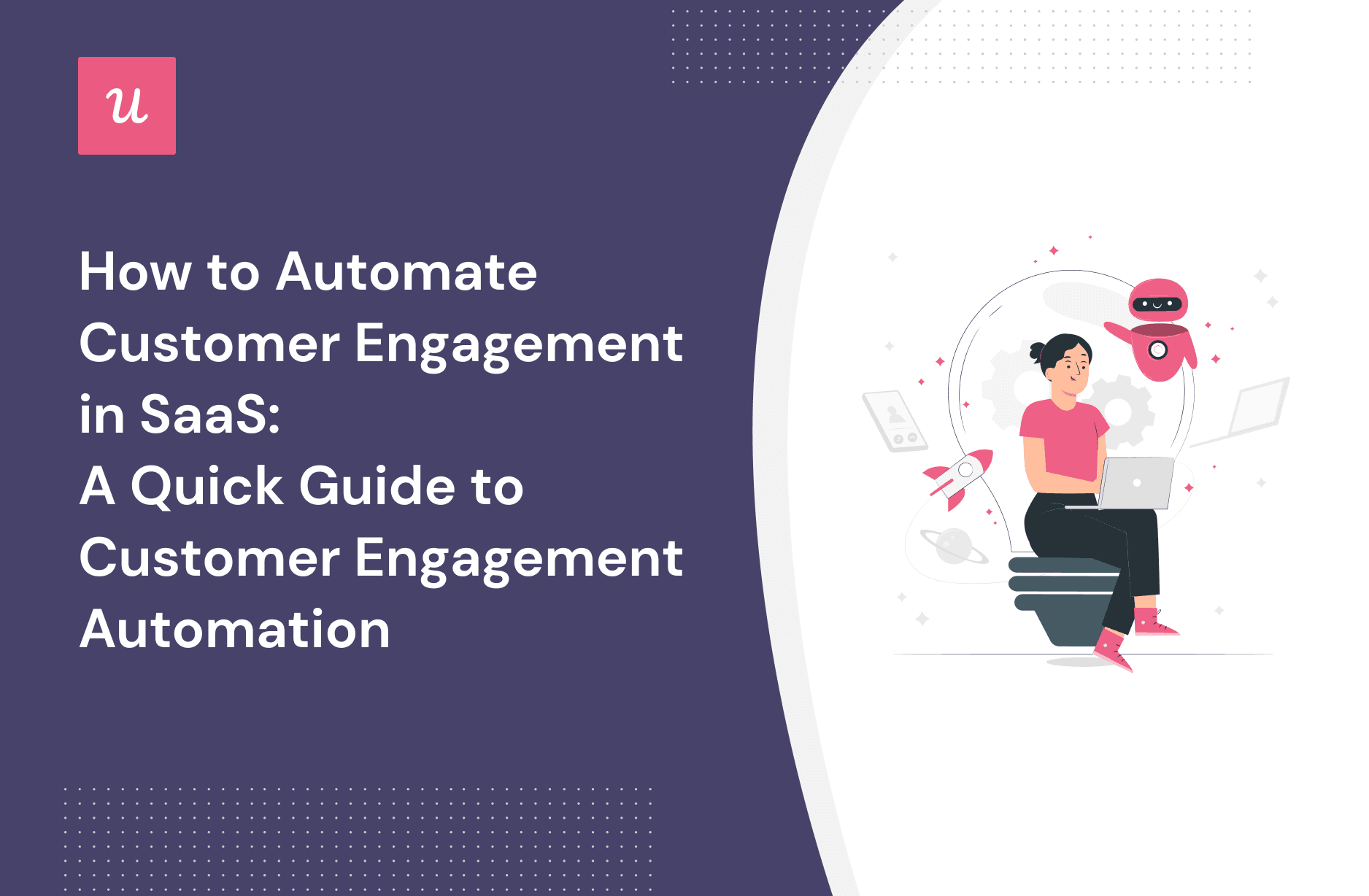 Let's be honest: It is harder, if not impossible, to grow your SaaS if you don't automate customer engagement.
Imagine the hell it'd be to follow an omnichannel approach to engage customers and be tasked to deliver a personalized experience on each channel, manually.
With customer engagement automation, you can simply set it up and focus on more important tasks.
In this article, you'll learn how to make the most out of automation to improve engagement.
TL;DR
Show a welcome screen to new users.
Add onboarding checklists to drive activation.
Use tooltips to aid feature adoption.
Replace product tours with interactive walkthroughs.
Introduce new features constantly with announcements.
Use AI-generated video tutorials to improve the experience.
Trigger an upsell at the right moment.
Send rewards automatically to your loyal customers.
Offer self-service support with an in-app resource center.
Collect feedback at every customer touchpoint.
Prevent involuntary churn with payment reminders.
Set up win-back email campaigns.
Trigger a cancellation flow when customers click "unsubscribe."
The five steps to start automating include:
Determine the processes you're going to automate.
Discover the happy path and build a customer journey map.
Start automating small interactions across the journey.
Segment users to create personalized experiences.
Use A/B testing to optimize your automated flows.
You can follow these tactics with Userpilot. So, if you want to engage customers automatically, book a Userpilot demo and we will be happy to show you how!
What is customer engagement?
Customer engagement is about delivering an outstanding experience to the customer so they're more compelled to stay with your brand.
It normally involves personalized interactions, great product design, gamification, special offers, loyalty programs, etc. Anything that incentivizes a customer to keep using your product.
What is customer engagement automation?
Customer engagement automation is about using software to interact with customers automatically.
You can trigger targeted product experiences for a specific user segment, send personalized messages to make users return after a week of inactivity, set up an effective onboarding process have to do it in person—and more.
3 reasons you should automate customer engagement
Although you can't automate every single customer interaction, automation does help you set time for those who need your presence.
But that's not everything. There are three main reasons you should embrace customer engagement automation.
Provide a consistent customer experience
If you're following an omnichannel approach to engaging customers, you know you need to provide a consistent experience across multiple channels.
Doing it manually means that your interactions will differ for each customer, which also means inconsistency.
With automation, you improve the customer experience, as you'll always send the right message to the right person, no matter the mood of the day. It will ensure the consistency you need to offer an outstanding omnichannel experience.
Increase customer satisfaction
Besides offering a consistent experience, automation also improves customer satisfaction by reducing friction.
Interacting with customers right when they need you will exceed their expectations—leading to better customer retention.
Decrease operational costs and scale
More than saving time, automation also saves your budget.
And while customer engagement tools won't replace CSMs soon, it does make the job more effective—allowing you to get more done with the same amount of labor.
This inevitably leads to decreased operational costs and allows you to scale your business.
13 ways to automate customer engagement in SaaS
Now, how do you automate customer engagement?
Here are 13 ways to do it.
Greet new users with welcome screens
When users get into a product for the first time, they are usually faced with an empty screen.
Empty states add friction for users as it requires more cognitive load to start using the app and engage with it.
Instead, trigger an automated welcome screen, greet them by their name, include your team member's picture to add a personal touch, and most importantly, help them out during their first login.
A good welcome screen will:
Leave a great first impression.
Set the right expectations for the product.
Take the chance to guide users on how your product works.
Help users know what to do first.
Use pre-defined checklists to prompt users complete key actions
During primary onboarding, your job is to help users engage with your product's core features so they can experience its value as quickly as possible (and avoid churn).
You can collect customer data from a welcome survey to create personalized onboarding checklists and show the most relevant features for the user's job-to-be-done (JTBD).
A relevant checklist will keep customers on the right path to becoming engaged and help them achieve the activation stage faster.
For instance, Userpilot's onboarding checklists are short and actionable, plus it instantly introduces you to a critical feature (in-app flows) that you can engage with.
Drive new feature discovery with contextual tooltips
The work isn't done when the user engages with one or two features (even if they're already paying).
If you don't show them other key features that can enhance their productivity, they will never find them.
So, once your customers reach a milestone, keep triggering in-app messages to handhold them through their next step.
For example, in-app tooltips and hints are simple yet excellent tools to help users find other relevant features. Use them to engage customers and improve feature adoption.
Use interactive walkthroughs to automate customer engagement
Unlike static and generic product tours, interactive walkthroughs elevate the first-time experience through progressive onboarding.
They introduce the product one feature at a time and only when the user chooses to (like in the Rocketbots example below). It incentivizes the user to learn by doing and only presents a small set of 2-5 relevant functions for the specific customer.
So if you're worried that your users need to understand your product better, try interactive walkthroughs to ease the learning curve and help customers adopt the product quickly.
Introduce new features and get customers to adopt them
It doesn't matter how hard your product and dev team work to implement new features and keep the brand competitive if your customers don't engage with them.
Users are feature-blind. They'll stick to their routine work and easily miss the latest news.
For this reason, it's a good idea to announce updates regularly so customers are encouraged to adopt new features and engage with your product.
You can use a modal to communicate big release notes and major feature announcements. Or an in-app tooltip if you don't want to be too intrusive.
Automate customer engagement with AI-generated video tutorials
Videos are known to engage customers better as they can explain complex concepts in a simpler way and improve the learning curve.
It sounds hard to create videos. But thankfully, we're in an age where you can create videos by simply typing text.
That's what you can do with Synthesia, an AI video creation tool that can generate video tutorials with AI and improve your onboarding or quickly repurpose product guides into videos.
Plus, if you want to bring it to the next level, Synthesia integrates with Userpilot (a customer success tool), allowing you to embed automated video tutorials inside your UI patterns (tooltips, checklists, etc.) to educate new customers.
Convert free trial users into customers with contextual messages
People don't like to be sold to.
So if you don't want to repel customers, the least you want to do is to push upgrades randomly to free trial users.
Instead, do contextual upsells.
Gather data to personalize thoughtful messages that your customers would truly consider helpful, then keep connecting with customers in-app and by email until there's an upsell opportunity.
For example, you can set up automated marketing campaigns for any user that reaches the limits of the free plan. Check how Loom only tries to offer an upgrade when you're using their freemium plan to its maximum capacity:
Reward your loyal customers to build better customer relationships
Rewarding engagement helps reinforce the emotional connections required to build customer loyalty.
Loyalty programs are excellent, as they provide limited deals, point-based discounts, access to premium features, etc. And they encourage customers to engage with you for the long term and become loyal.
But how can you use automation to improve this?
Instead of offering the same program for every customer, you can segment users based on their NPS survey responses and trigger a "thank you" modal to your promoters (with a reward), as in the example below.
Additionally, you can also trigger the same modal to customers who upgraded their plan or just renewed their plan using event tracking—so you don't need to rely on segmentation.
Offer on-demand self-service support with a resource center
Too much friction will kill any level of engagement.
To fix this, implement self-service support so customers can troubleshoot their issues in real-time without leaving your app, googling your website, scrolling down to find the support button, and browsing through messy documentation to find answers.
And for the best user experience, combine all the self-help resources in an easily accessible knowledge base, such as articles, video tutorials, and webinars. Then use automation to hide and show learning modules based on user needs and segmentation.
Launch automated surveys at multiple customer touchpoints
You need to collect feedback to understand how your customers feel about your automation flows and how to improve.
Thankfully, you can also use automation to trigger in-app surveys at different touchpoints to track engagement metrics across the customer's journey and see what makes them churn.
For example, you can use a customer engagement tool like Userpilot (shown below) to send a satisfaction survey (CSAT) when a customer interacts with the support team. Or a customer effort score (CES) survey when a customer engages with a feature.
Then, your CSM can reach out to users with complaints or technical issues—making your customers feel heard and cultivating a deeper relationship.
Send automated subscription renewal reminders to prevent involuntary churn
Sometimes, customers can't keep using your service for reasons outside their control.
Most of the time, it happens due to payment processing issues.
One way to prevent involuntary churn is to always trigger a payment reminder or a failed payment notification when the subscription renewal date is closed.
But don't limit yourself to sending an email. You can also show banners or push notifications to let your users know that they need to check on their payment method.
Use email marketing automation to reactivate disengaged users
Most of our customer engagement strategies are in-app, but what about users who signed up but are not using the app actively?
Don't give up on them. Look for ways to re-engage inactive users outside the app and give them reasons to return.
When a customer hasn't logged in in a while, trigger a win-back email campaign to announce new shiny features you've just launched, offer discounts, or let them know you're there for them.
For example, this win-back email from Asana teases how their product is now twice as fast as before.
Offer alternatives to churning customers and retain them
Churn is inevitable.
But the journey doesn't end there. You can still benefit from a churning customer to learn why they leave, improve your product for the other users, and even reach out to ex-customers once the problem is fixed.
This process is called customer offboarding, and it normally triggers a cancellation flow when the user clicks the "cancel subscription" button.
A cancellation flow usually asks questions about why you decided to cancel. And also offers multiple alternatives to churning depending on the user's choices. Like this Asana example:
Asana also offers a reasonable discount (based on product usage) if the user cancels because the product is "too expensive." Encouraging you to stay and have another chance:
5 Important steps to customer engagement automation
Now, we'll show you the five steps to start automating your processes:
Step 1. Define the processes you want to automate and set goals
First, what are you going to automate?
Think about what processes are key for making users advance through their journey, and start from there.
Be mindful of each stage when you're writing your messages (you don't want to force an upsell before the activation point).
Step 2. Map the existing manual processes in the customer journey
Now, think about what you're already doing. Do you have a customer success playbook? What are you doing manually or already automated?
Define your happy path and organize it in one document. You can create a customer journey map or even fill this current state template to know where you're at:
Step 3. Automate small customer interactions at each point in the journey
You can implement in-app prompts like tooltips, checklists, modals, and walkthroughs at each touchpoint.
Make sure they're optimized to guide customers through the happy path you defined earlier so you can achieve success.
Step 4. Use segmentation to create personalized automated experiences
At this point, segment your user base and discover the ideal journey for each.
Then, create a personalized in-app experience relevant to their job so they can reach the AHA moment faster.
Step 5. A/B test your automated flows to find the one that resonates with users
Different users react to different types of experiences.
So, after you've automated all the processes, start A/B testing different messages, formats, and even designs to see what gets better reactions—and then iterate.
Your goal: to always be optimizing and see what brings better results.
How Userpilot can help you with customer engagement automation
For automation, you'll always need the right software.
With Userpilot, you can track in-app behavior and product usage to trigger relevant in-app flows to specific user segments—keeping customers engaged and moving along their journey to success.
For instance, you can trigger a promo code for your active users once they hit a milestone:
For this, Userpilot also allows you to segment users based on:
Journey stage
User behavior
Survey responses
Which allows you to execute different personalization strategies to engage customers.
Wrapping up
Today, a personalized and frictionless customer experience is expected on all channels.
And with customer engagement automation, you can finally provide an outstanding experience without exhausting your teammates.
So, if you are interested in creating personalized customer experiences to drive engagement, book a Userpilot demo and we will be happy to show you how!