Top Customer Engagement Technology Worth Your Attention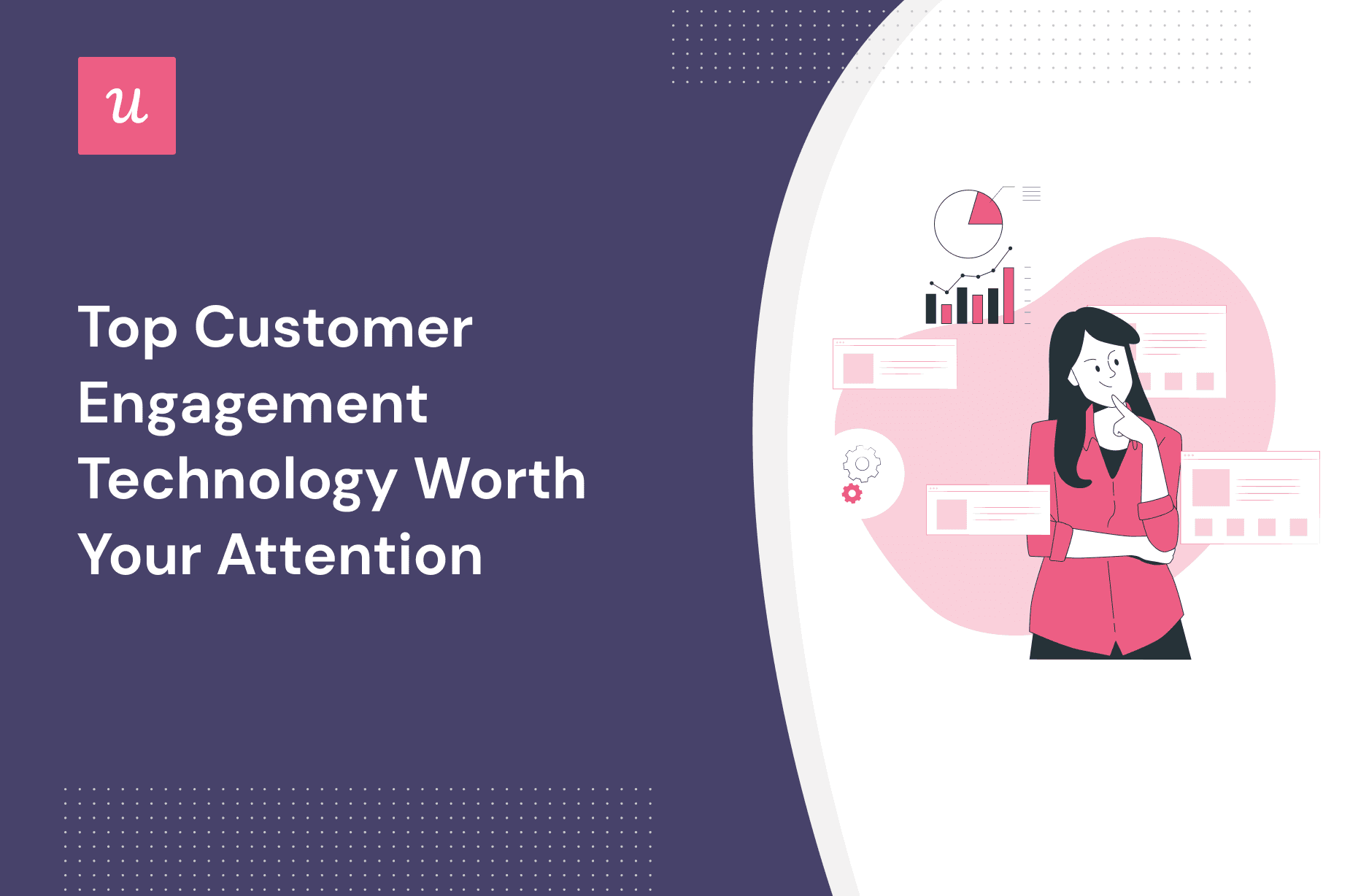 Customer engagement technology amplifies manual efforts and helps companies serve users faster.
Your customers are already enjoying the benefits of tech-driven engagement from other brands and will naturally expect the same from you. In other words, you can't afford to not jump on the bandwagon. Read on to learn more about using technology to drive customer engagement and retention.
TL;DR
Customer engagement technology is a technological innovation that helps businesses engage customers more effectively.
Customer engagement technology helps to increase engagement and reduce churn through in-depth analytics, personalization, better communication, and engagement at scale.
8 customer engagement technologies you can't ignore:
Artificial intelligence: Uses machines to simulate human intelligence. One of the most common examples of artificial intelligence in the business world is using chatbots for self-service support.
In-app messaging: Allows for real-time customer communication.
Speech recognition: Use this technology to provide fast and convenient customer interaction.
Social listening: Be the first to know what people are saying about you online. Social listening also helps you to engage with customers on social media and quickly solve any problems they may have.
Sentiment analysis: Just following online mentions of your product/brand is not enough. You need to analyze the sentiment to get the emotional tone behind those online conversations.
Facial recognition: This technology is beyond using fancy mobile apps to unlock electronic devices. Businesses can also implement it to facilitate better user interactions.
AR and VR: Augmented reality (AR) and virtual reality (VR) provide users with immersive and personalized experiences.
Omnichannel systems: Implement this technology to engage with customers across all your digital channels.
Customer engagement tools to consider: Userpilot, Hotjar, Drift, and HubSpot.
What is customer engagement technology?
Simply put, it's a technological innovation that boosts customer engagement. It's not a single software, but any tool or process powered by technology to make customer engagement more personalized and effective.
As customer experiences move digital, businesses need proper tools to engage with users digitally. Modern technological advancements have offered many new opportunities to do so.
How can you improve customer engagement through technology?
Customer engagement technology helps to increase engagement and reduce churn in a few ways. Let's explore those.
In-depth analytics: Most customer engagement tools have features to enable you to track and measure the minutest of customer details. This is good for making business decisions and optimizing the customer experience.
Personalization: For a long time, brick-and-mortar stores had a personalization edge over digital companies. When a customer walks into the office, you can greet them and personalize their experience. This was difficult for companies with thousands of digital customers until the technology became more sophisticated. With the right tool today, you can provide personalized user experiences without breaking a sweat.
Better communication: From chatbots to in-app messaging and live support, companies have a myriad of options. Utilizing these technologies will enable you to communicate properly and provide help at every point in the customer journey.
Engagement at scale: Increased engagement rate is another powerful advantage of customer engagement technology. The right tools will enable you to provide both contextual and timely help. You'll also meet customer expectations at every turn, leading to more customer satisfaction.
8 customer engagement technologies you can't ignore
Technology aims to automate your processes and help you scale quickly. Over the past decade, we've seen a technological breakthrough that enables companies to facilitate faster and more efficient customer experiences.
Different solutions will keep popping up for sure, but here are 8 technologies for customer engagement that you can't afford to ignore.
1. Artificial intelligence
Artificial intelligence uses machines to simulate human intelligence. This technology is a powerful automation channel that can help you save time and energy while meeting customer needs.
One of the most popular uses of AI in customer engagement is the invention of chatbots trained to function just like human support agents. Sophisticated bots use machine learning and natural language processing to conduct natural customer interactions that feel like speaking with a real agent.
Chatbots are fast, work 24/7, and don't go on special holidays. They're a great way to augment your customer service team while keeping costs low.
2. In-app messaging
In-app messaging has become so common in SaaS that it's difficult to imagine life without it. But let's go back in time.
Without in-app communication, customers have only two options for understanding a product:
Rely on the information they got during the onboarding;
Visit resources outside the app/contact support when confused.
But in-app messaging tools have changed the narrative. It's now super easy to communicate with customers contextually and in real time. This means better onboarding, but that's not all…
The right message at the right time can educate users, help with feature adoption, reduce customer frustration, and increase engagement.
More advanced tools like Userpilot allow you to communicate based on in-app customer behavior, which increases messaging efficiency.
The good news? You don't have to write any line of code or spend money on developers. Userpilot is completely code-free.
3. Speech recognition
People use voice-activated communication because it's fast and convenient. This customer engagement technology has evolved quickly over recent years. Tools like Alexa, Siri, Google Assistant, etc., are used by millions of people all over the world.
Speech recognition isn't just about connecting home appliances and getting entertained. This technology is increasingly being used for business purposes also. For instance, voice search is the second most popular search channel for mobile users, and a good chunk of that search has transactional intent.
Integrating this technology into your product will improve the user experience because it's something people already use.
4. Social listening
Social listening helps to keep track of conversations about your brand. These days, social listening tools also provide analytics to help companies measure brand perception.
An additional benefit is the ability to converse with customers in real time. Most of your brand mentions will be customer excitement or frustrations from using your product. Knowing about these conversations on time will help you jump on the threads and thank the customer for talking about you. You'll also get a chance to address any concerns or questions they might have.
5. Sentiment analysis
Just following online mentions of your product or brand is not enough. You need to analyze the sentiment to get the emotional tone behind those online conversations.
You can employ people to do this manually. But the manual approach is time-consuming, especially for brands with large audiences and multiple communication channels.
Sentiment analysis technology comes to the rescue. Software like Userpilot allows you to collect feedback at scale through contextual surveys and get an instant overview of user sentiment.
6. Facial recognition
Facial recognition can be used for far more than unlocking your phone or other electronic devices.
Brands use this customer engagement technology to keep users entertained, improve their experience, and increase customer retention. A good example is the use of branded Instagram or Snapchat filters to build hype around the brand.
7. AR and VR
Augmented reality (AR) and virtual reality (VR) provide users with immersive and personalized experiences. Both technologies are quite similar, but there's a striking difference between the two: AR combines elements in the physical world with a digital experience, while VR is completely digital.
AR and VR have become popular over the years, with the invention of Smart Glasses, Facebook's Metaverse, and the like. So it's something you might want to jump on.
Properly used, AR and VR will keep customers engaged—their immersive nature enhances learning and digital experiences in general.
8. Omnichannel systems
Access to a smartphone or laptop gives customers multiple communication options. Because of this, the average user expects omnichannel experiences that are smooth and interconnected. Embracing this approach is a great way to interact with customers at scale while reducing communication friction.
It's almost impossible to manage omnichannel interactions without a dedicated tool. The right omnichannel software will help with cross-channel engagement and collect data from multiple platforms to make customer relationship management easier.
Best customer engagement tools summarized
This section shows you customer engagement platforms that can help you implement the technologies discussed above. Let's jump right to it.
Userpilot
Userpilot is an all-in-one solution that helps you to increase customer engagement at every touchpoint.
The way the user begins their product journey with you often determines how long they stick around. And that's where our software plays its magic.
Userpilot grants you access to different UI elements and patterns to build the best user onboarding flows. We have drag-and-drop templates you can fully customize to your brand style.
As mentioned earlier, our platform allows you to send contextual and timely in-app messages. This ensures your users are engaged, don't miss their way around the app, and receive important announcements quickly.
That's not all the customer engagement technology Userpilot provides; two more features will also interest you:
Feedback collection and analysis: The best way to track user sentiment is through microsurveys delivered in-app. Userpilot lets you send and analyze feedback surveys with ease.
Product analytics: Thinking of grouping users to analyze the behavior of each segment? Userpilot has got you covered! There are many use cases for this: Segmentation allows you to create more personalized experiences, conduct feature experiments, find reasons for churn, etc.
Hotjar
Hotjar combines session analysis and feedback to help companies understand customers better.
Through its Heatmap and Session recording features, you can see how users are navigating your product. You'll see what they're clicking on, what aspects of the tool they move to after specific interactions, etc. This will enable you to pinpoint friction quickly and optimize the user experience.
Drift
Drift is dedicated to helping businesses relate better with customers. From emails to video conversations and chatbots, the platform has a suite of tools to help you communicate efficiently.
The software's dashboard is intuitive and makes it easy for teams to switch between customer communication channels. Drift also allows integration with tools like Salesforce, Zapier, Zendesk, Slack, and many others.
HubSpot
Hubspot is an integrated CRM platform with a variety of useful tools for sales and marketing teams. The software helps you to create and track emails, make online forms, build landing pages, etc. HubSpot also has a chatbot builder if you're interested in automating customer support.
Conclusion
Customer engagement is critical to retention and loyalty. The stakes are even higher for those in competitive markets where users can easily switch to a different brand when dissatisfied.
As you've seen in this article, technology helps you engage customers at scale. The right tools enable you to personalize each experience as if it were a one-on-one interaction. Customers will feel more satisfied with your product and be motivated to stay with you longer.
Ready to implement customer engagement technology? Book a demo with Userpilot to discuss your specific needs and the customer engagement strategies to help you.