9 Must-Have Features To Look For In Customer Engagement Platforms (CEPs)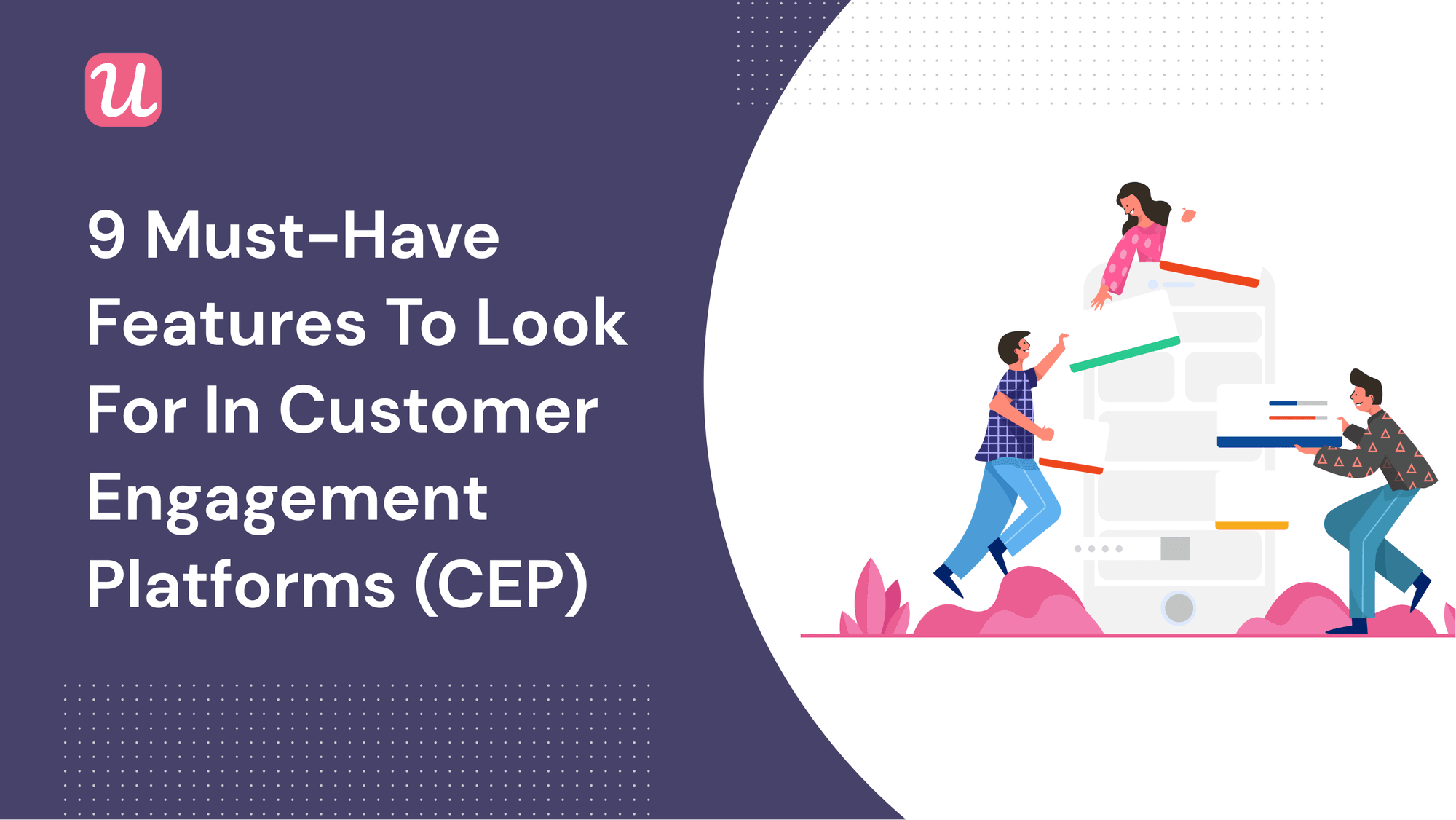 It is not enough to support your users only when they have issues with your product. You have to engage with them at various stages in their user journey for a great customer experience.
In a PWC study, more than 54% of consumers in the U.S said that customer experience at most companies needed to improve. Speed, convenience, how helpful the employees were, and friendly service were shown to be the must-dos with each being "important" to 70% of customers.
The study showed that companies that get customer success right prioritize technologies that improved customer experience. A Customer Engagement Platform (CEP) is an example of a tech solution that can help you achieve a great customer experience.
In this article, we look at how Customer Engagement Platforms benefit SaaS companies. Furthermore, we explore how to choose the best platform for your company and the must-have features for the best customer engagement tools.
TL;DR
A customer engagement platform (CEP) is software used for tracking and analyzing customer behavior in a product, and engaging with them.
Customer engagement platforms help Saas companies engage with users better hence higher customer success and happiness. This leads to low churn and improved overall growth.
They also help to reduce customer support demands by deploying self-serve customer support through resource centers, interactive walkthroughs, guides, and onboarding flows.
Lastly, improved customer experience through CEP provides companies with a competitive advantage over the competition as a result of happier customers.
To choose the best customer engagement platform, you have to understand the customer journey and stages of customer-product interaction; you also need to define the customer engagement model and know all the types of beneficial interactions for your customers.
Must-have features for a great CEP include: functionality and channels, advanced segmentation capabilities, advanced personalization capabilities, behaviorally triggered automation, analytics and tracking, integrated A/B testing, easy no-code setup, mixed support (self-serve plus human), and the ability to accept third-party integrations
What is a customer engagement platform (CEP)?
A customer engagement platform (CEP) is software used for tracking and analyzing customer behavior in a product, and engaging with them. In short, you use CEP software to manage and optimize product experiences along the user journey.
It provides companies with the capability to centralize customer interactions. By tracking and analyzing customer data, it allows you to create product experiences that improve product engagement along the user journey.
For example, a customer engagement platform helps you to:
Deploy onboarding flows when a new user signs up
Send a personalized in-app welcome message when a new user signs up
Deploy interactive walkthroughs to help users achieve a particular goal
Announce the launch of a new feature to relevant users
Send a link to new users to download a mobile app for their device
Why are customer engagement platforms so important for SaaS?
1. Revenue growth
All companies want to see revenue growth without spending more on customer acquisition. This is where customer engagement platforms are useful.
By helping you engage customers, you unlock more value for them. This leads to increased product adoption, upgrades, and more revenue.
Research by Gallup has shown that customers who are truly engaged represent a 23% premium in terms of share of wallet, profitability, revenue, and overall relationship growth.
In addition, the same research shows that companies that successfully engage their B2B customers achieve 63% lower churn, 55% higher share of wallet, and 50% higher productivity.
2. Reduces customer support demands
However, whether your SaaS product is simple or complex, your customers will always ask for help at some point in their user journey.
Supporting customers throughout their user journey is more important for product growth today than ever before.
Walker's study of 2020 found that 86% of customers valued great customer experiences. Besides, they were willing to pay more for it.
Additionally, a report by SuperOffice in 2021 found that 90% of companies don't acknowledge the receipt of a customer's email.
Customer support duties can get overwhelming. One of the main reasons most companies do not respond to a customer's email is because of the sheer volume of emails they receive.
For SaaS companies, it can be worse when customers ask questions at every stage of their user journey.
Customer engagement platforms help offset some of the support costs by allowing you to build onboarding flows, interactive walkthroughs, support centers, and native tooltips to guide your customers to find the answers themselves.
Customers who are guided ask fewer questions and send fewer emails. Consequently, SaaS companies are able to reduce customer support requests and costs. All this while ensuring more efficient customer success at scale.
3. Gain competitive advantage
More than two-thirds of marketers responsible for customer experience compete solely based on customer experience, according to the 2017 Gartner Customer Experience in Marketing Survey. Furthermore, by 2019 more than 81% of them expected to be competing mostly on the basis of customer experience.
SaaS companies that do not prioritize customer experience are losing a lot of competitive advantage. Customer engagement platforms help you build the right customer experiences. This leads to happier customers thus giving you the edge you need to beat the competition.
Now that we understand why a customer engagement platform is beneficial to a SaaS company, how do you choose the right CEP?
How do you choose a customer engagement platform?
To choose a great customer engagement platform for your users, you have to know every stage where your users interact with your team. You need to know what they want to achieve from these interactions as well.
Understanding the user journey helps you discover the customer engagement platform that would be best suited to your users.
Think of types of interactions that would be most beneficial for your customers to help them progress through the journey, from the "AHA moment" to becoming product advocates.
Try to answer the questions below as it will help you understand what type of customer engagement platform best suits your needs:
Does your SaaS tool have a steep learning curve? – you might need in-person training
Do you need to hold the user's hand? – onboarding automation tools are what you need
At which stage in the journey do you need to interact more with users? – think Pirate metrics framework here and the stage you are trying to have an impact on
What's your main mode of acquisition?– in-app, email, website, etc
If you want to build your customer journey map, follow this guide and template.
Must-have features of customer engagement platforms
To help you select the best customer engagement platform for your SaaS, here are must-have features that should be on top of your checklist.
1. Functionality and channels
Your pick for a customer engagement platform will depend on the functionality you want it to provide and the channels you need support for.
To understand the necessary functionality and channels, you need to have a clear idea of all the touchpoints in your customer journey and your goals.
A customer engagement platform that centralizes every kind of communication channel into one platform might not be the best solution. This is because if it tries to do everything, it will rarely do everything well. Therefore, it is better to pick a platform that supports one or two channels very well and integrates seamlessly into your tech stack.
Here are some examples:
Do you need to automate email? – you need an email automation tool
Do you need to engage with users on your website?– you need a chatbot tool
Do you need to personalize user onboarding?– you need an in-app onboarding tool and probably an email automation tool
2. Advanced segmentation capabilities
Dividing your users into smaller more defined categories helps you personalize communication. It allows you to deliver the right message to the right group at the right time.
Your customer engagement platform needs to have advanced segmentation capabilities that group customers based on:
Demographics – customers' company size, browser, location, etc
User persona – who the customers are and what they are trying to achieve
User journey analytics – what stage they are in the customer journey
Product usage – how they are using your product
Userpilot provides advanced audience segmentation features to engage various user segments along their customer journey.
With advanced customer segmentation, instead of broadcasting one message to everyone like a broken radio, you can be truly beneficial to different segments of customers.
Messaging them with relevant, contextual, and personalized messages at various stages of their journey will improve their experiences.
3. Advanced personalization capabilities
A lot of people think that personalization is about adding a customer's name to every email or message. It is not.
Personalization is customizing communication based on a user's needs and wants.
In summary, segment your users by what they want to do. Consequently, help them do what they set out to do.
ConvertKit is an email marketing tool for creatives that does this. When they welcome new users, they ask them if they were using another tool. They also ask whether they are moving from it or not on the welcome screen.
If they choose that they are moving from another tool, ConvertKit presents them with tool options. If they select a particular tool, ConvertKit helps them move by providing instructions and steps to get them set up faster.
To personalize your SaaS right, follow these tips:
Decide the common reasons why users choose your product
Create a microsurvey with these reasons as options in your welcome screen
Tailor the onboarding experiences based on the various reasons or options by showing your users the quickest path to achieve their goal.
Does your customer engagement platform of choice help you personalize your SaaS better?
Userpilot helps you set up microsurveys and onboarding flows without writing any code. Book a Userpilot demo today!
4. Behaviorally triggered automation
While creating basic time-based automation like sending reminders and confirmation emails is commendable, it won't move the needle as far as customer engagement is concerned.
A great customer engagement platform should help you create advanced automation that supports:
a) Contextual communication
This simply means delivering the right message at the right time to the relevant user, using the right channel.
The basic pillars of contextual communication show that you should deliver content that:
Hits the right tone
Customers want or need
Is dispatched at the right moment
Is sent out using the right channel and device
b) Behavioral messaging
Behavioral messaging involves deploying relevant and user-centric content to your users immediately after they perform certain actions which trigger specific events in your SaaS.
Why should you align your messaging to the user's actions in your app?
Make messaging relevant to your customer's experience
Ensure communication is contextual and pin-point
Make your messages timely – they reach the users just when they might take a particular action
In a nutshell, ensure your customer engagement platform supports contextual communication and behavioral messaging.
In Userpilot, you can set behaviorally triggered messages to communicate the right message at the right time. This is targeted to the relevant user segment as seen in the image above.
5. Analytics and tracking
Without analytics in your customer engagement platform, you are flying blind. At some point, you will most definitely crash.
When you have access to customer journey analytics, you make data-driven decisions. Analytics opens you up to information to build the best customer experience in your SaaS.
You can see how customers interact with your app across several channels over time. You get to know what works and what doesn't.
Tracking is crucial for collecting the right data for analytics. In the image below, Userpilot is helping track the number of events per user over time.
A good customer engagement platform should help you track the following user data:
Demographic – company size, location, browser language, etc.
Identification – who the users are (e.g frequency of logins, free or paid plan, individual or company account)
Engagement – what users do in your product (e.g. favorite feature, usage frequency, code installs, etc)
Sentiment – what users think about your SaaS (e.g microsurvey responses, NPS metric, etc)
This is useful data that helps you build the right experiences for every user of your product.
6. Integrated A/B testing
There is no better way to improve customer experience without conducting experiments to gauge performance.
In Userpilot, you can set various goals for your test and run experiments as shown below to inform your product decisions.
After the experiment, some options result in higher performance. This shows you what to implement to achieve higher rates of customer success.
We know that customer success equals happy customers. This trickles down to your product metrics like:
Lower churn
Increased retention and product adoption
Higher revenue
Low LTV:CAC ratio
7. The tech (dark) side of it
The best customer engagement platform should allow your product, marketing, and support teams to fully own the platform. This can only be achieved by ensuring that the platform does not require an engineering team to run.
The best platforms are easy to set up without coding. They enable styling customization and deployment of product experiences code-free.
The learning curve for the platform is important. As shown in the image below, your team needs to get up to speed with the platform as soon as possible. The time between inexperience to engagement needs to be short. If it takes too long, the customer experience suffers.
Always take into account the amount of time and work it takes for your team to get up to speed. If they can master the customer engagement platform in less time, then they can set up, deploy, or tweak product experiences faster every time.
8. Mixed support (self-serve plus human)
As we said at the beginning, customer engagement platforms help you to manage customer support.
For sure, not all customer support requests will be handled automatically by the platform. Some will need to be referred to a human for manual action.
The customer engagement platform has to balance self-serve and human customer support.
Simple questions can be answered quickly through interactive walkthroughs, chatbots, in-app resource centers, and guides.
For example, this is the in-app self-serve support widget in Userpilot. It helps users get those quick answers to simple problems.
More complex questions can be referred to in-person calls, live chat, or email support.
9. Third-party integrations
Ensure that your tech stack seamlessly communicates with each other. We know that data can be collected from multiple user interactions on various channels.
You don't want this data disintegrated. It results in frustrated customers.
Imagine if a customer had to explain themselves twice because they interacted with two different members of your team from different departments possibly on two different channels. This would lead to a disgruntled customer.
A customer engagement platform that integrates well with third-party apps enhances proper data utilization across multiple channels hence reducing confusion or friction.
If you're using a product adoption platform you might want to have proper integrations with your analytics platform, CRM, or email/chat support platform, right?
Top customer engagement platforms in 2022
We analyzed the best customer engagement platforms considering all the features above.
You can find the full list here.
For a quick summary, here are the top customer engagement platforms and what they are best for:
Userpilot – great for building engaging onboarding flows into your product easily without writing any code. Also has all 9 must-have features for a great platform.
Mixpanel – great for customer insights that add value to your product and improve decision-making. Heavily focused on advanced analytics
Pendo – Focuses on product experience and digital adoption. Has a robust analytics functionality to help users make data-driven decisions.
Appcues – focused on making product adoption easy through the design of personalized product experiences using their no-code builder.
Intercom – helps SaaS companies develop stronger relationships with their customers through personalized messages, live chat, and email.
Hubspot – a CRM that focuses on inbound marketing, tracking, and monitoring user engagement. Combines marketing, customer service, sales, and CRM software.
ActiveCampaign – combines email marketing and automation with CRM software to create customer experiences.
Drip – a marketing automation platform focused on automation in e-commerce by combining email, SMS, and third-party integrations to drive revenue.
Drift – combines conversational marketing and sales tools to increase revenue through live chat, email, meetings, and personalized video communication.
Conclusion
In this article, we have seen that a customer engagement platform is integral for any SaaS company that wants to scale.
It allows you to store all user interactions and gives you a way to communicate with users based on their activity. Additionally, the must-have features have shed a lot of light on what to consider when selecting a customer engagement tool for your company.
If you're ready to get started with a code-free customer engagement platform that easily fits into your tech stack, Book a demo call with our team today!