Customer Sentiment Analysis: What Is It and How To Collect Data for Sentiment Analysis [Best Tools Included]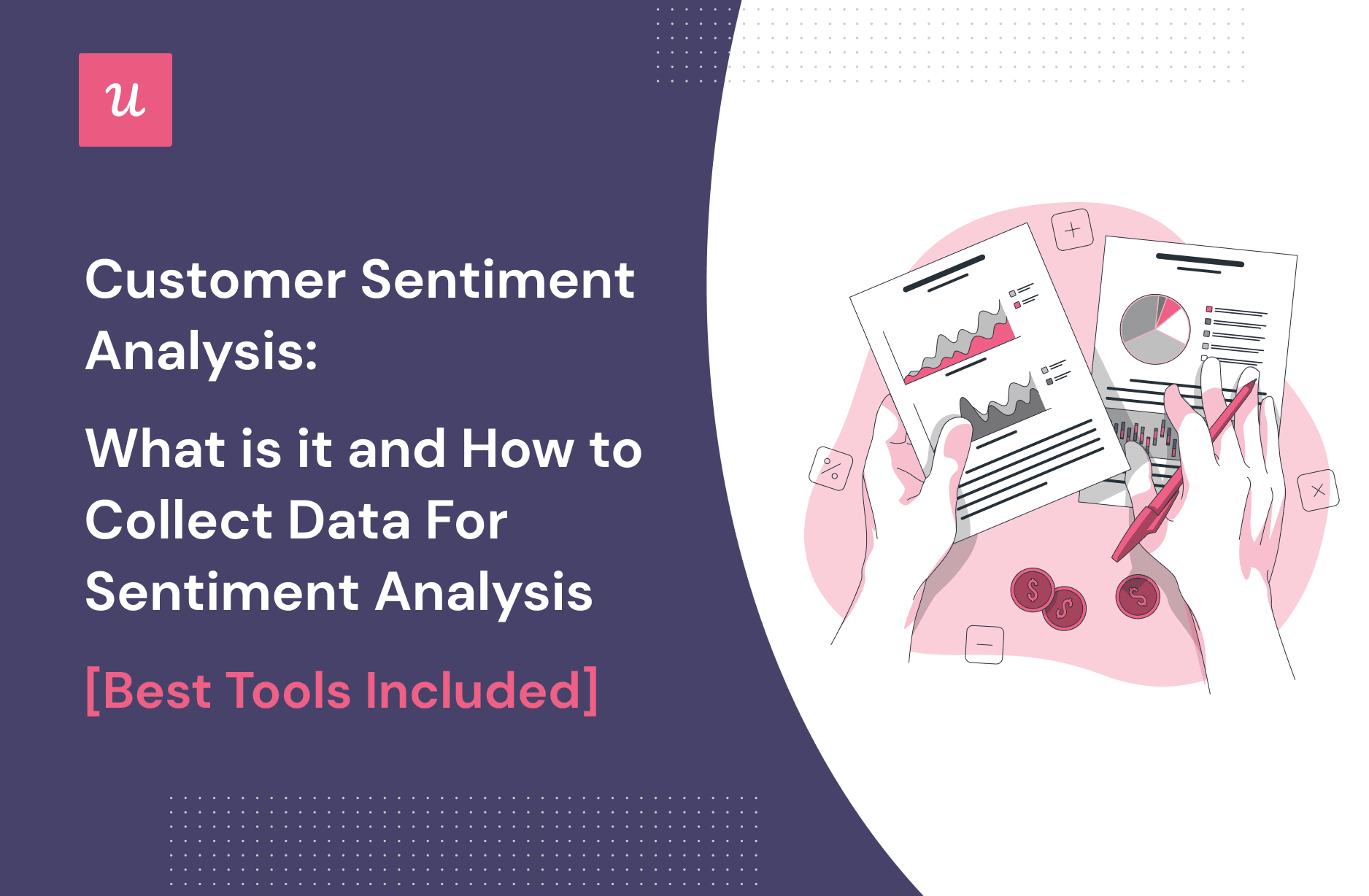 Wondering how customer sentiment analysis can improve your product's customer experience and generate more profits?
Today's businesses use numerous sentiment analysis tools to figure out the different emotions that customers go through while exploring your products and services.
Without enough sentiment data, you can't understand how your customers feel. As a result, you will be unable to identify market trends and design effective marketing campaigns.
If you want to start tracking customer sentiment and build stronger relationships with your users, you're in the right place. Read on to find out how!
TL;DR
Customer sentiment analysis consists of techniques that allow you to determine the emotions of your product's users. You can use it to understand user sentiment towards a feature, new products, or even industries.
Customer sentiment analysis helps you identify customer needs, optimize user experience, and enhance customer service.
There are different types of customer sentiment analysis models, but the most common ones are fine-grained, aspect-based, emotion detection, and intent analysis models.
With fine-grained analysis, you can determine whether a piece of content is perceived as very positive, positive, neutral, negative, or very negative by people.
Aspect-based helps you determine specific aspects or features that people are talking about.
Emotion detection analyzes texts to find out whether customers feel sadness, happiness, anger, frustration, or any other emotion.
Intent analysis helps you identify what your customers are looking for. Do they want to make a purchase, or are they just browsing around your website looking for information?
You can collect customer data using microsurveys across numerous touchpoints in the customer journey.
Conducting NPS surveys is a great way to measure user satisfaction and identify your most loyal customers.
You can conduct user interviews and start the Voice of the Customer (VoC) program to understand customer attitudes in detail toward your product.
Monitoring reviews and ratings on famous product review sites (G2, Capterra, and TrustPilot) allows you to understand the best and the worst parts of your product from the customer's perspective.
Userpilot, Survicate, and Qualaroo are some of the best sentiment analysis tools you can use to get insights into customer sentiment.
What is customer sentiment analysis?
Customer sentiment analysis involves collecting, analyzing, and leveraging data to understand how customers feel. It can help you understand user perception towards a particular feature, product, or even an industry.
Sentiment analysis can have different uses. For example, you can use it to understand whether users perceive your product as negative, neutral, or positive. Maybe you want to find out which emotion resonates with your product, or you're looking for feedback on a specific aspect of your product, such as customer service.
Typically, sentiment analysis involves going through online forums and social media networks to scan people's thoughts and understand the sentiment expressed behind their posts or comments.
What are the benefits of customer sentiment analysis?
If you want to improve your product's customer satisfaction, conducting a sentiment analysis is key. Using this, you can improve the customer journey, get a higher customer lifetime value, and enhance your brand reputation.
Here are three benefits your product enjoys when you perform customer sentiment analysis.
Identify customer needs
When you perform sentiment analysis, you get a quantitative measure of your customers' emotions. This helps you identify:
customer needs
unhappy customers
customer pain points
Then you can act on the insights to improve the user experience.
Optimize the user experience
User experience is not only about how your product solves customers' problems, but also how they feel during the entire journey with you. The best way to understand it is by analyzing customer feedback.
Using a customer sentiment analysis tool, you can act on positive and negative customer feedback. This allows you to fix the underlying issues and create a better experience for your users.
Enhance the customer service
Excellent customer service and timely guidance are essential for customer success. As a result, you will increase your customer loyalty and create a more positive customer experience. It will also boost your product's feature adoption rates, reduce friction, and boost product and user retention.
Here are three ways to improve your customer service:
Quicker response times
Multichannel support (social media platforms, email, live chat, and phone)
Self-service support with plenty of learning resources
What are the types of customer sentiment analysis?
Sentiment analysis technologies use biometrics, text analysis, natural language processing, and artificial intelligence to recognize emotions within the information.
As there are different emotions, different customer sentiment analysis models are required to deal with them. Let's look at four such ways of analyzing sentiment.
Fine-grained
This analysis model allows you to perform a sentiment analysis across 5 different polarity categories: very negative, negative, neutral, positive, and very positive. This technique is helpful when you're analyzing reviews and ratings about your product.
If your sentiment analysis is performed on a scale from 1 to 5, you can think of 1 as very negative and 5 as very positive. On a scale from 1 to 10, you can think of 1-2 as very negative and 9-10 as very positive.
Aspect-based
Fine-grained analysis helps you identify the general polarity of your customer reviews, while aspect-based analysis digs deeper. It aids in identifying the specific topics that people are discussing.
Consider this: You're the owner of an SMS marketing app, and you read a customer review that says, "The app's user interface is very clunky, making it very difficult to use."
Words such as "clunky" and "difficult to use" are negative words that show a negative sentiment towards your product's interface. Aspect-based analysis helps you identify what customers feel and why.
Emotion detection
This sentiment analysis model helps you identify emotions such as sadness, anxiety, anger, frustration, and happiness. Usually, emotion detection systems use lists of words or phrases that express certain emotions called lexicons. Some advanced systems utilize powerful machine learning algorithms.
People convey their emotions in a variety of ways, making it preferable to employ machine learning over lexicons. Moreover, lexicons can often be inaccurate. Let's look at an example.
The term "This CX software is the bomb" can be misinterpreted by lexicons in its literal sense and provide inaccurate sentiment analysis results, i.e, the product is dangerous/harmful. However, in reality, this statement shows a positive sentiment, which can be captured when you use machine learning algorithms.
Intent analysis
A precise understanding of consumer intent can help you save effort, money, and time. SaaS companies frequently find themselves chasing after clients who have no immediate plans to make a purchase. This problem can be solved through accurate intent analysis.
The intent analysis model aids in determining whether an individual is intending to make a purchase or is merely looking around.
If a customer expresses an intent to purchase, you can create targeted advertisements for them and nudge them in that direction. On the other hand, you can save your energy and resources by not chasing after those who aren't willing to make a purchase.
How to collect data for customer sentiment analysis?
To make sentiment analysis work properly for your product, you need to gather customer data in the right way. Here's how you can do it.
Use microsurveys across different stages of the journey to measure customer satisfaction
In-app microsurveys simplify the process of collecting data. Ask your customers these questions (image below) after interactions with your product to get real-time feedback.
Using microsurveys across different stages and touchpoints in the user journey allows you to accurately track sentiment and determine where users face the most difficulties.
With Userpilot, you can create different types of surveys, such as Customer Satisfaction (CSAT), Customer Effort Score (CES), and Net Promoter Surveys (NPS) surveys code-free.
Use NPS surveys to collect customer feedback and measure loyalty
NPS surveys ask your users the likelihood of them promoting your product to their friends, family, or colleagues. Those who select 9-10 are your brand's promoters and most loyal customers. Passives are users choosing 7 or 8, while detractors choose between 0 and 6.
Detractors are particularly harmful to your product as they can spread negative word-of-mouth which can damage your brand's reputation.
Identifying some of the major challenges users face with your product can be accomplished with a qualitative question like "why this score?".
Userpilot allows you to create NPS surveys code-free and send them to custom segments. You have full control over the survey's timing, frequency, and target audiences.
Segment customers by their NPS ratings and response tags
With Userpilot, you're also able to segment customers according to their NPS scores and response tags, giving you insights into customer feedback.
With this data, you can identify common patterns. For example, you can indicate that there is a major friction point when multiple users complain about the same feature.
Conduct user interviews and observe the Voice of the Customer (VoC)
One way to get high-quality customer feedback is by directly interviewing your product's users.
You can invite users for online interviews and make their voices heard with the Voice of the Customer (VoC) program. You can provide incentives, such as discounts and coupons, to encourage customer participation. When customers feel heard, they're likely to feel more valued as your customers.
Monitor reviews and ratings on product review sites
Actively monitoring SaaS product review sites is a great way to collect data. The most popular websites are G2, Capterra, Trustpilot, and TrustRadius.
You can gain a deeper understanding of how customers feel about specific features through elaborate reviews like the one below. They discuss both their favorite and least favorite aspects of the product.
These sites are also good platforms to connect with your customers. You can reply to their reviews, reassuring them that their complaints are being heard and you're working towards resolving these issues.
3 Best sentiment analysis tools in the market
Here are three of the best tools you can use for sentiment analysis. You can try each of these to find what's the right fit for you.
Let's dive deep into details!
Userpilot
Userpilot is a comprehensive product growth and product adoption tool where you can set up online surveys, such as NPS Surveys and CSAT surveys, in no time using the numerous templates available.
It is equipped with an analytics feature, providing you with a quick summary of the survey responses. You can even segment the results into different categories, allowing you to create more effective marketing strategies for different user groups.
Getting started with Userpilot is very easy, and none of the features require any coding.
The subscription packages start from $249 for Traction, $449 for Growth, and $1,000 for the Enterprise package.
Survicate
This is a dedicated customer feedback tool specializing only in surveys. Alongside basic survey design features, you can also create multilingual surveys and distribute them via emails, web, and mobile apps.
It also offers survey templates across customer experience, marketing feedback, and product feedback that let you launch surveys fast and easily.
Survicate offers 4 subscription models: Basic is free of cost, Essential costs $79/month, Professional costs $159/month, and Ultimate costs $349/month.
Qualaroo
Qualaroo is another tool that helps you gather accurate customer insights. With their AI sentiment analysis feature, you can retrieve intelligent feedback, which leads to quicker response times and more satisfied customers.
Qualaroo starts from $80 per month. The cost may exceed $200 depending on your subscription package and your product's monthly pageviews.
Conclusion
Customer sentiment analysis is a real game-changer for SaaS businesses. The main idea here is to understand the sentiment of both existing and new customers and use these insights to deliver a more positive customer experience.
Want to collect invaluable customer insights and conduct a sentiment analysis in a simple way? Get a Userpilot Demo and see how you can do it code-free.