15 B2B Marketing Strategies to Drive Conversion and Growth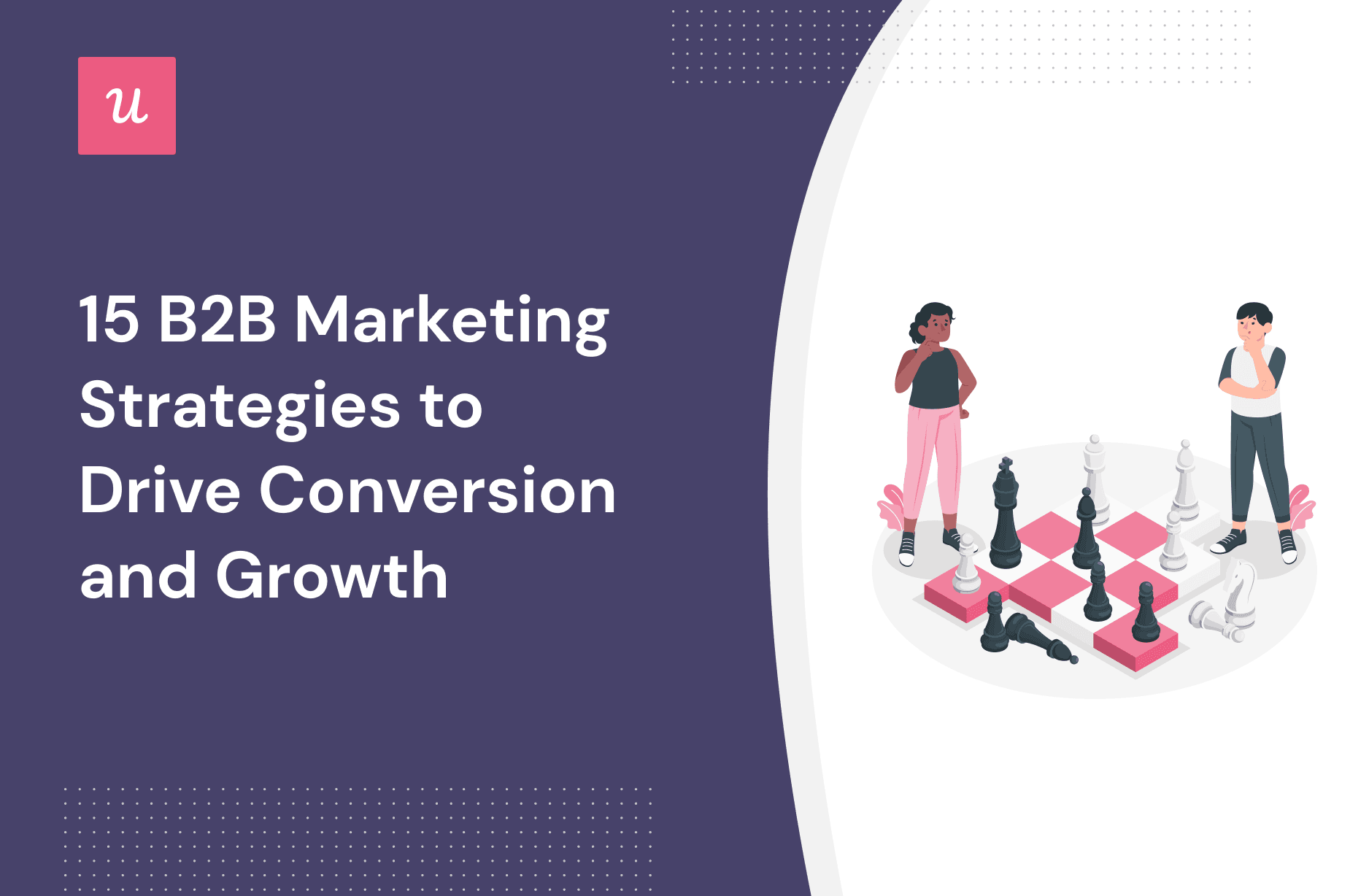 Creating buzz with consumers or even having a product go viral is quite easy in a B2C (business-to-consumer) environment. However, getting the attention of your target customers with B2B marketing strategies is a lot harder.
This article will teach you the difference between B2C and B2B marketing, go over a few B2B examples, and walk through 15 proven strategies that can take your product marketing to the next level!
TL;DR
B2B marketing targets businesses and organizations rather than individual consumers.
B2B marketing strategies tend to use a flywheel model rather than a funnel structure.
Customer acquisition costs, retention/churn rates, net promoter scores, and monthly recurring revenue growth are the main KPIs you can use to measure your B2B marketing performance.
B2B marketing expenses can vary wildly depending on whether you're building a brand on social media, investing in content, or targeting enterprise customers with account-based marketing.
Investing in a variety of content formats including articles, case studies, and video courses is the best way to cover all your bases with both users and search engines.
What is B2B marketing?
B2B (business-to-business) marketing refers to any marketing campaign, strategy, or efforts that are aimed toward businesses and organizations instead of individual consumers.
The B2B customer journey tends to be longer than that of an individual consumer. There are more steps, more parties involved, and (usually) longer billing cycles. B2B marketing strategies also tend to use a flywheel model rather than a funnel structure.
B2B vs. B2C marketing
As mentioned earlier, B2B marketing strategies focus on targeting organizations (or individuals who make purchases on behalf of their organization). Think about how Slack targets senior operations staff or how HubSpot advertises its CRM software to upper management.
B2c marketing strategies, on the other hand, target end consumers that are purchasing a product or service for themselves. Amazon, Uber, and Meta are all examples of B2C companies because they largely target the individual's buyer journey instead of aiming for larger organizations.
Certain companies can have both B2B and B2C targets in their marketing strategy — as long as each demographic has a separate sales funnel with relevant content.
Apple is the best example of a company with B2B marketing and B2C marketing. It sells millions of iPhones directly to individual customers every year. However, it also deals with corporate clients like Walmart, Bank of America, and other large organizations that need Apple products for their workforce.
While it takes more time, effort, and money to generate leads in a B2B environment, the higher costs are well worth it since the average order size with corporate clients is magnitudes higher than individual prospective buyers.
Whenever you're targeting potential customers in a B2B setting, it's essential that you optimize the customer experience throughout every stage of the buyer's journey. This will ensure that you don't lose the attention of decision-makers at any point in the longer sales cycle.
What are B2B marketing examples?
While there are countless marketing strategies that could be used to target organizations and their decision-makers, most of them fall under one of the major B2B marketing categories:
Digital marketing: Digital marketing (or online marketing) is the act of promoting brands through the internet to find potential buyers — or drive leads to your sales team through a marketing funnel.
Content marketing: Content marketing consists of publishing helpful resources (usually articles) that drive organic traffic, reach other businesses early in their buyer's journey and build loyalty amongst existing customers.
Product marketing: Product marketing is the multi-stage process of aligning your product with specific customer problems to generate sales and optimize the core offering/message over time.
Here's a quick comparison between content marketing and product marketing:
15 B2B marketing strategies worth a try
Now that you're familiar with the key goals of a B2B marketing strategy and what the marketing team should focus on when targeting organizations, let's look at 15 B2B marketing strategies that can take your lead generation to the next level!
1. Find your brand positioning
Brand identity is the first detail that you need to nail down. Finding the right brand positioning for your company and products will ensure that you're able to effectively communicate with customers and shape their perception of your brand.
Your brand positioning should clearly state which pain points business-to-business customers can alleviate by buying the product or service and mention unique selling points (USPs) that make your solution better than competitors.
Start by defining the brand positioning for yourself so you can then communicate it to your website visitors through inbound marketing tactics, paid search, and other methods like referral programs (more on that later).
2. Narrow down your target audience
You can't accurately gauge the buying process and pain points to target if you don't have a well-defined target audience. Creating an ideal customer profile with research and data will make it easier to find sales-qualified leads through your B2B marketing strategies.
Beyond optimizing your marketing strategy to generate more sales and acquire new users, segmenting your audience also makes it possible to provide a more personalized customer experience. Creating a separate user persona for each segment will help you filter through leads more efficiently.
3. Do your market research
No matter how much money you pour into your B2B marketing strategies, you'll always get subpar results if you don't do your homework. A deep understanding of your market, competitors, and any gaps in the industry is the key to successful B2B marketing campaigns.
Companies are getting smarter with their B2B marketing strategies so try to identify patterns in the channels they target or customer engagement tools they use. By analyzing what worked (and what didn't) for competitors, you'll be able to better optimize your B2B marketing efforts.
4. Measure and analyze what matters
Speaking of analysis, watching the most important metrics/KPIs will help you set goals, track success milestones, and gauge the effectiveness of your B2B marketing strategies.
The most common B2B SaaS metrics are:
Customer acquisition cost. CAC is the amount of money it costs your company to acquire a new customer (either in the form of selling a product or getting a subscription sign-up).
Retention rate. Retention rate is the percentage of your existing customers that stay with the company long-term instead of churning.
Churn rate. Churn rate — the opposite of retention rate — is the rate at which customers stop doing business with you (e.g., cancel their SaaS subscription).
Net promoter score. Your NPS score serves as a good measure of how satisfied customers are with the product or service you provide.
Monthly recurring revenue. Tracking MRR over time will show you fast your recurring revenue is growing and what return on investment (ROI) you're getting on your B2B marketing expenditure.
Remember that your KPIs and goals should come from your marketing plan, not the other way around. If you build your plan around chasing vanity metrics then you could end up spending a lot of money without getting a tangible return.
5. Wisely pick your marketing channels
There's no question that omnichannel marketing is the future but that doesn't mean you have to be everywhere all at once from the start. Start by looking at the marketing channels that your biggest competitors are using and think about where your target customer would be.
The most common channels that SaaS companies use for B2B marketing include paid advertising, social media, email marketing, and content marketing. Start with one or two channels then split-test to see which channel is driving more results.
If most of your leads and new users are coming from your content marketing efforts then it could be time to double down on search engine optimization. You could step up your keyword research efforts and try to rank on other search engines in addition to Google.
The same is true for email marketing. If you're getting a high ROI on your emails then it could be worth investing in email marketing automation that will increase the output while reducing the amount of management needed.
6. Build a strong online presence
Building a strong presence online won't happen overnight but that just means you should start as soon as possible. It will take a lot of time and effort to grow your brand on the channels you've chosen but the end result will be worth it.
Having a thriving community around your brand on Facebook groups, online forums, or even Slack channels is a great way to retain the attention of consumers so they don't jump ship over to competitors.
This is why community-led growth has been seeing an uptick in the SaaS industry.
7. Keep engaging on social media
Four and a half billion people use social media (more than 50% of everyone on the planet) so engaging on various social media channels is a no-brainer.
It's usually harder to connect with businesses on social media compared to individual consumers. But that doesn't mean you should exclude every social media platform from your digital marketing strategy. Social media platforms are a critical medium for spreading brand awareness to organizations and individuals alike.
In addition to spreading awareness, social media marketing also builds authority in your industry, humanizes the brand, and fuels word-of-mouth (WOM). Here's how Semrush engages with its audience through social media:
8. Optimize your website
Your website serves as the base of operations for all your digital marketing activities since it's the first point of contact that most leads will interact with. Having a basic website with pricing and contact information isn't enough though.
You need an optimized website with all the information necessary to make an educated purchase decision. Ensure that your website has a fast loading speed, mobile-friendly design, user-friendly interface, and SSL certificate to keep customer information secured.
Fun fact: More than half of your prospective customers may come from mobile devices since 59.6% of all traffic comes from mobile browsers.
Making a few technical SEO optimizations — like using smaller image sizes and adding a content delivery network — can increase your loading speed while also helping you rank higher in search results.
Specifically, having an optimized website will help you rank for high-competition keywords since it can serve as a tiebreaker between you and competitors with similar authority.
9. Invest in content marketing
Business owners and search engines both want the same thing: more in-depth content with valuable information. Creating actionable, high-quality content in your niche is the best way to get in front of decision-makers and help them realize the benefits of your product.
Blog articles are the most popular format for content marketing but that doesn't mean you have to limit yourself to that medium. Try publishing research reports, whitepapers, free video courses, or case studies.
You can also repurpose your webinars by breaking them up into bite-sized video content and using the recorded content as modules in a course. Investing in educational content for your knowledge base or self-service portal also makes it easier for customers to use your product.
WordStream publishes tons of free resources that educate and empower target customers:
10. Implement full-funnel PPC
While relying solely on paid advertising may not be sustainable or cost-effective in the long run, it's certainly important to have PPC as one of your B2B marketing strategies.
Spending money on paid ads without a predefined strategy is one of the fastest ways to burn through a marketing budget. That's why you should first set a fixed budget and try to figure out which form of paid advertising is the best fit for your product.
You might end up going with pay-per-click Google ads or try sponsoring YouTubers in your niche. Regardless of which approach you take, make sure you're targeting specific audience segments to ensure that your messaging is personalized and relevant to the user journey.
11. Go for account-based marketing
Inbound marketing may be the most commonly covered approach but it won't be a fit for every SaaS company. Those with a higher subscription price or enterprise-level target customers will likely need to invest in account-based marketing (ABM).
Account-based marketing makes it possible to create a more personalized buying experience for high-value clients. Instead of advertising to a demographic, it focuses on specific target accounts within the industry.
An enterprise SaaS marketing strategy can lead to a bigger ROI for every conversion but it'll also need to overcome longer sales cycles and higher customer acquisition costs. To increase the efficacy of your enterprise marketing, make sure you create user personas.
These personas will make it easier to land your target accounts and craft your messages in such a way that a conversion is almost guaranteed (given enough time). These personas will also help you engage and retain enterprise customers.
12. Have a referral program
Unlike B2C programs, B2B referral marketing has a slower sales cycle since there are more stakeholders in every transaction. That said, B2B referral deals tend to be long-term and boast higher profit margins (with better commission payouts as a result).
Much like influencer marketing, it's essential that your referral program is personalized for the type of business you're trying to attract. If you're not sure where to start, inviting existing power users to a closed beta referral program is a solid first step.
A great example of this reciprocity marketing in practice is Airtable's B2B referral program:
13. Engage leads with conversational marketing
Conversational marketing — and the software behind it — is one of the most efficient ways to engage leads. Chatbots and live assistants are much more than just support tools since they can also be used for guiding potential clients through the consideration stage.
Most leads that reach your website are already in the awareness stage of the buyer journey. These leads in the awareness phase can be considered "warm leads" or target buyers that are already familiar with the problem they're trying to solve.
To ensure they have all the data needed to make a purchase, you can direct them toward a newsletter, pricing page, or FAQ page that goes over the finer details of your professional services.
Tip: You could also use micro-videos to give them a quick overview of your product features or professional services.
Here's how HubSpot uses HubBot to land new B2B customers:
14. Don't be afraid to experiment
Many serial entrepreneurs will tell you that the only thing separating one business from another is how ready it is to try new things. Testing, analyzing, and optimizing every part of your strategy should be a tenet that your entire team follows.
Specifically, run A/B tests and marketing experiments to see which approaches drive more revenue or lead to higher customer satisfaction scores (CSAT). Be sure to set clear goals before every test to help you measure results afterward.
15. Automate what you can
Marketing automation software is invaluable since it saves your company both time and money by eliminating repetitive tasks. Marketing automation tools also tend to come with analytics dashboards that help you organize and measure every campaign.
A tool like Userpilot can help you set up your A/B tests, reveal user sentiment, add in-app messages to guide users, and create a knowledge base to help new customers get the hang of things. Our tool is 100% no-code which means you won't need to be a programmer to reap its benefits.
Conclusion
Business-to-business marketing doesn't have to be rocket science. If you build up your brand equity, optimize your online marketing, select the right B2B marketing strategies, and target business buyers with personalized messaging then you're bound to find success in no time!
The marketing world waits for no one, so if you're ready to build your online presence and start closing deals for your SaaS company, it's time to request your free Userpilot demo!