Customer Enablement Guide For SaaS: How to Empower Users Through Education and Drive Customer Success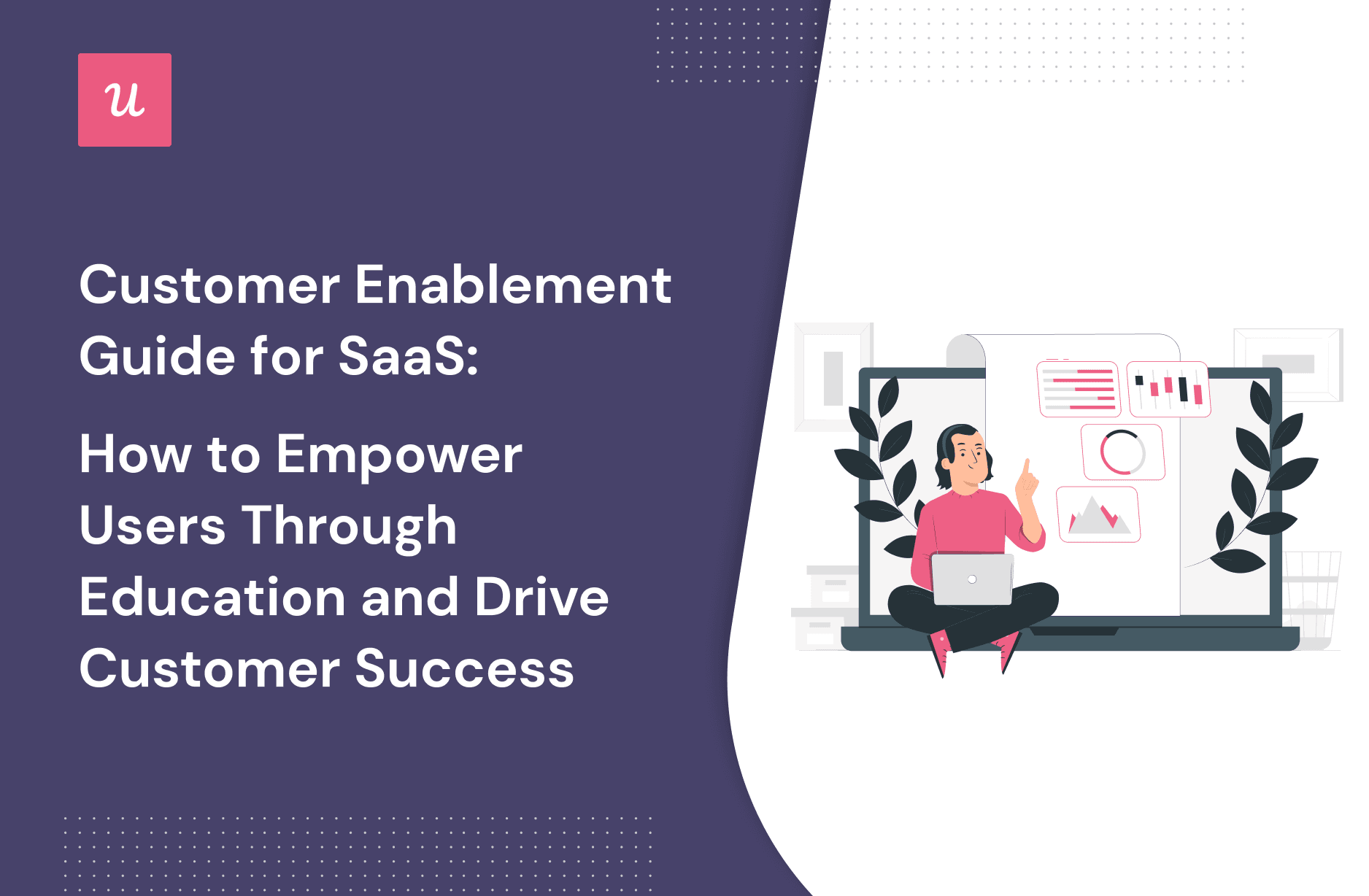 Do you have a solid customer enablement strategy that empowers customers and turns them into power users?
You're missing out on a lot if you don't. Customer enablement can be the key to driving user satisfaction, retention, and loyalty.
This article breaks down customer enablement for SaaS plus best practices to get started or improve your existing strategy.
TL;DR
Customer enablement (or customer success enablement) helps customers make the most of your tool by providing all the necessary training, tips, and resources needed for success.
Customer enablement positions you for increased customer loyalty and satisfaction. Your customer retention rate will increase as well.
Who's responsible for enabling customers? Ideally, it's customer success teams. But not every company has a dedicated CS team, so you'll sometimes see the sales or support doing the work.
The first step to customer enablement is personalization. Segment your users and provide personalized experiences suitable for their needs.
Checklists are great for onboarding because they keep users abreast of the steps needed to complete the process. Seeing progress this way helps maintain motivation.
Rather than have empty states, customer success managers can optimize the UI interface to direct users to the right resource when they get stuck.
Don't just use texts in your customer training. Video tutorials also go a long way because they're easy to consume.
Interactive walkthroughs and contextual tooltips are great for primary and continuous onboarding.
Virtual communities allow users to connect, share ideas and inspire each other. An active community facilitates customer education and even encourages new users to sign up.
Celebrate customers for completing important milestones along their journey. This will encourage them to continue.
A robust self-serve resource center means customers don't have to wait in line for minor issues. It also translates to reduced pressure on your support team.
Regularly collect feedback to gather data on customer expectations and frustrations. This will help you realize the best way to help users.
How user journey maps can facilitate customer education: List all the important touchpoints and set goals across them, then continuously analyze to find friction areas and provide solutions.
What is customer enablement?
Customer enablement refers to the processes and strategies companies use to help users get the most out of your product or service and enhance the overall customer experience.
Customer enablement helps customers make the most of your tool by providing all the necessary training, tips, and resources needed for success.
Why does customer enablement matter?
Done well, your customer enablement effort will result in more happy customers who willingly spread the word about your tool. Your renewal rates will also increase, so it's a win-win situation.
Specifically, here's why customer enablement is important:
Customer enablement results in improved customer satisfaction
An effective customer enablement strategy improves satisfaction by handholding customers, guiding them through the tool, and ensuring they get their desired results.
Customer enablement increases the likelihood of repeat business and retention
Some industry reports, including the recent Zendesk customer experience report, show customers increasingly prioritize CX over pricing, or even the product itself.
And since optimizing the user experience is a primary focus of customer enablement, it means better retention for your business.
Customer enablement drives loyalty and advocacy
Retention is a precursor to loyalty and advocacy—customers can only become raving fans after they engage with it and experience value.
Customer enablement equips your customers to get the most out of your product, which naturally increases their appreciation of your solution and brand. This turns them into loyal customers who will act as tireless brand advocates.
Who is responsible for customer enablement?
There's no single answer; it just depends on what works for you.
Some companies let their sales team handle it. In some others, it's the responsibility of the support team.
However, more mature companies have a dedicated customer success department responsible for all things customer enablement.
Irrespective of who handles this responsibility, ensure there's a strategy in place for:
Developing and tracking customer enablement efforts and
Training the team on industry best practices.
Speaking of best practices, the next section covers key ideas for SaaS.
Customer enablement best practices for SaaS companies
SaaS companies have a unique opportunity to create excellent customer experiences because users spend so much time on the platform. The tactics below will ensure customers always leave your app happier and more fulfilled than they came.
Personalize user journey from the start for a better customer experience
All your users are different and come to your app for varying reasons. Hence, the first and most important step to customer enablement is segmenting users from the get-go and ensuring they all have personalized experiences on the app.
You can segment users based on jobs to be done, NPS scores, etc.
Drive users to their activation points with onboarding checklists
Onboarding checklists help users get started and familiarize them with the product's key features.
One reason checklists work so well is that they activate a UX psychology principle called the Zeigarnik effect that states people are more likely to remember unfinished tasks.
Checklists emphasize uncompleted tasks and prompt users to take action:
Provide guidance and education through user interface feedback
User interface feedback is how your product responds to user actions. You can use user interface feedback to contextually guide users.
The page from Asana below is a good example. When a user's action takes them to an error page, Asana provides guidance and lets them know what to do next, directing them to troubleshooting resources or the support team.
Use in-app video tutorials to reduce time to value
Videos shorten the learning curve because they can compress much information in less time. No wonder UX trends this year show people are titling more toward video content.
Use short explainer videos in-app to demonstrate how your product works. Make the videos so simple that users just have to replicate your steps.
Keep customers engaged while learning with an interactive walkthrough
Interactive walkthroughs are similar to product tours but far more engaging and effective.
When SaaS companies think of taking users through their platform, they often use an automated product tour that just goes through everything at once. It's boring and doesn't engage the customer—not to mention that customers are forced to watch the whole tour just to see how a particular feature they are interested in works.
Use interactive walkthroughs when users are engaging with a new feature for the first time and guide them through the process step by step.
Drive secondary feature discovery with contextual tooltips
Tooltips are short lines of text—usually anything from one to a few sentences—explaining a feature and how it helps the user. This UI element is activated when users hover over a specific feature or click the small "i" icon next to the feature and usually disappears after a few seconds.
Tooltips are particularly useful in secondary onboarding, to introduce users to features they haven't used yet.
Build virtual customer communities for better collaboration
Communities allow users to connect, share ideas and inspire each other. An active community facilitates customer education and even encourages new users to sign up.
There are many options for community building these days. You could create groups on social media, host networking events, or have dedicated user forums.
Help users discover new features with in-app announcement modals
Not all users will notice new features on their own. And there's no guarantee that those who see your new update will know how to maximize it.
Hence, always announce when you roll out something new. You can do this through attention-grabbing modals that show the new feature and how it helps users.
Celebrate customer success and reward customers for their achievements
Celebrating customers for completing important milestones keeps them engaged and makes them feel appreciated. For this, you can use gamification elements like badges, certifications, loyalty points, etc.
Customers will feel proud and be motivated to keep using your app. Another advantage of this tactic is the word-of-mouth referrals. If your reward is something customers can share with their community, they'll gladly do so, and that will mean more people getting to know you for free.
Hubspot is a classic example in customer education badges and certifications:
Provide self-service support to help users get instant answers
Self-service is proactive, contextual, and timely. With sufficient self-service resources, customers don't have to wait in line for hours.
Also, self-service will enable customers to find their way around the product by themselves and reduce the load on your support agents.
The best way to offer self-support is by creating an in-app knowledge base and combining multiple resource formats. Resources to have include chatbots, FAQs, documentation articles, etc. It's always a good idea to group your self-serve resources into modules for better navigation.
Encourage customer success teams to host educational webinars and training courses
No matter how automated your processes are, some human touch will always be needed. And customers tend to feel more attached to your tool when they connect directly with humans than when it's always bots and automated flows.
Of course, it doesn't mean you should exert pressure on your success team and have them always show up. Just think of it as an occasional "seeing the face behind the brand." Webinars or training courses facilitated by the customer success team are good opportunities for this.
Some webinar ideas include minimal viable onboarding, product mastery, new features, etc.
Collect and implement customer feedback to improve customer enablement
A feedback survey is an umbrella term for user-generated qualitative and quantitative information. Feedback can be negative or positive, but that's not the point. The focus of feedback surveys is to uncover data that provides valuable insight into your customers' expectations.
Customer feedback surveys also reveal knowledge gaps among your customers and enable you to determine the best strategy for strengthening customer enablement initiatives.
Common channels for obtaining this data include in-app surveys (NPS, CSAT, etc.), usability tests, ratings, and reviews on third-party sites.
Map the customer journey and identify where the friction lies
Another way to know where customers need enablement the most is by mapping out their journey. List all important touchpoints and set goals across them to easily pinpoint friction.
For instance, after completing the above step, you may notice new customers don't engage with a specific feature that's critical to their job-to-be-done.
By analyzing, you'll realize they probably have difficulty understanding or using that feature. You'll then proceed to create valuable resources to help them succeed.
Conclusion
Customer enablement will unlock growth opportunities for your SaaS. It's something you should take seriously if you don't already have plans in place.
Also, it's important to track your results and make iterations. See customer education and enablement as an ongoing process rather than something you do once and leave.
Want to get started with your customer enablement strategy? Get a Userpilot Demo and learn how you can empower your user's to make the most out of your product by providing them with in-app guidance and self-service resources.