Reciprocity Marketing: How It Can Work Wonders for SaaS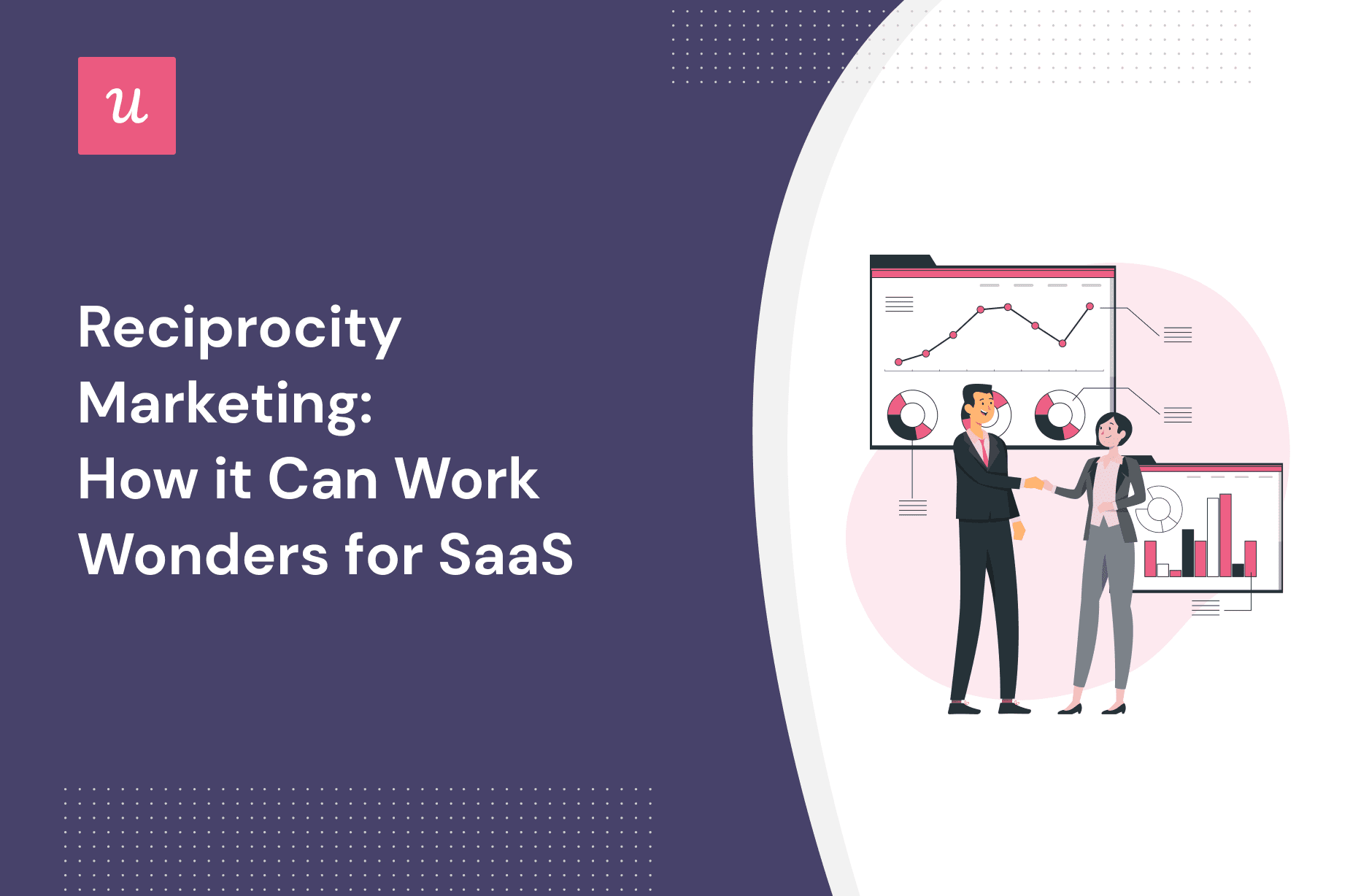 From a child reminding herself to be on her best behavior to receive mentorship in return for loyalty, we all engage in reciprocity marketing. Most things we do are motivated by the desire to return a favor or invest in people for future returns.
Bringing it to the business world, reciprocity marketing is taking proactive steps to give something that evokes a positive response in customers.
How does this help with product marketing, and what are some examples of brands that have succeeded with it? Read on to find out.
TL;DR
Reciprocity marketing is providing value upfront to motivate current and target customers to give you something in return.
Reciprocity marketing:
Helps you get closer to your audience and gain marketing data to learn more about them.
Increases interest in your brand and establishes you as an authority.
Keeps customers returning to you regularly.
Helps in developing mutual respect.
How to implement reciprocity in marketing:
Understand the psychology behind the reciprocity principle and study your user behavior.
Know what to give—it might help to conduct feedback surveys when unsure.
Add a touch of personalization.
Make it memorable.
8 reciprocity marketing examples that were a success:
Spotify: Premium free trial to let users experience the product's value.
Amazon: Free trial for Amazon Prime, a similar strategy to Spotify.
Userpilot: Educational resources to gather an audience well-educated on SaaS so they can understand the value of our products and use them.
HubSpot: Content marketing and free tools that users can use to solve problems without paying. The end goal: familiarize users with the platform and motivate them to become paying clients.
Shopify: Implements a rich academy to educate aspiring entrepreneurs on key business matters. Then leads them to start their e-commerce business by subscribing to the platform.
Surfer SEO: Free SEO tools and Surfer Academy with rich training sessions, video tutorials, Q&A sessions, and lots of tips and tricks.
Moz: Free learning resources and SEO tools to get beginners up to speed with the SEO world.
Dropbox: A massively successful referral program where both the referred and referring parties got rewarded with extra Dropbox space.
What is reciprocity marketing?
Reciprocity marketing is providing value upfront to motivate customers or prospects to give you something in return.
This marketing principle is based on our natural tendency to return a favor. Think back to the last time you gave someone a birthday present or a shoutout on your social media page. Excluding close family members, chances are you did that because they did the same for you. If you were the first to initiate it, you might even feel bad if they don't respond in kind.
Why brands use the principle of reciprocity in marketing
Reciprocity is a powerful psychological behavior that gets activated even with strangers—which is why it works well in marketing.
The first benefit is that it helps you get closer to your audience and gain marketing data to learn more about them. Your reciprocity marketing campaigns will prompt responses from your users and prospects. You can analyze this data to understand customer behavior, what people like the most about your brand, and what makes them tick.
Another benefit is increased interest in your brand. Customers will be excited to engage when the value resonates with them. That's not to mention the free word of mouth you'll get online and offline. Over time, it leads to increased brand authority, positive brand perception, and repeat sales.
Tips to help you implement reciprocity marketing
Imagine you're on an evening stroll and get stopped by a stranger. They tell you they're celebrating the launch of their bakery, give you a card with details of their social media pages, and hand you snacks they didn't know you were allergic to.
You'll appreciate them for the gift but probably won't have a bite since it's not something you like. You won't be motivated to check them out on Instagram either.
Many companies are like that stranger—they try to provide value to customers but end up not getting the desired result because they aren't doing what customers want.
For the stranger, they simply could have asked if you liked the snack before handing it over to you. For you as a brand, here are practical ways to nail your reciprocity marketing strategy.
Understand the psychology behind reciprocity marketing
As earlier stated, reciprocity is a 100% psychological response. So, investing the time to understand user behavior and motivations will help a great deal.
The reciprocity principle can be applied in sales, marketing, customer support, and every other customer-facing aspect of your business. It can be used differently for different types of customers and different product lifecycle stages.
Of course, you'll need to tailor your approach to suit the situation, but when you think through it, you'll always see how it applies.
Know what to give
While reading this, you might recall some reciprocity marketing examples from other brands and start getting ideas for yours. But the thing is, what works for brand A isn't guaranteed to work for B. Every customer is different.
We'll show you how to determine customer needs shortly. Before that, it'll interest you to know there are two main types of reciprocity marketing:
Material: This is something physical that your audience will love. As a SaaS company, you can go out of your way to provide physical value that your customer can feel and touch. But if that doesn't work, special discounts, limited deals, loyalty points, and the like will suffice.
Emotional: This involves creating an environment or doing stuff that makes customers feel good. It can be anything from thank you emails to providing positive experiences at every touchpoint in the customer journey.
Not sure what material or emotional value to give? You can use feedback surveys to ask customers directly what they need.
Here's an example of HubSpot asking its customers what content type they'll like to see more of:
Add a touch of personalization
Personalization is a great way to make customers feel valued and special. You can't go wrong with this!
Whatever gift you decide to provide, try to add a personalized touch. Giving discounts to selected users? Adding a simple note will go a long way. Rewarding active users with free credits? Don't just do it bluntly—personalize the reward to make them feel like it's an exclusive gift.
Another form of personalization is allowing users to choose their reward. They'll feel more in control that way.
It can be hard to personalize when you have a large user base. A good way around this is segmenting users based on specific qualities.
Make it memorable
You generally want to avoid cheap and flimsy gifts because they're easily forgotten.
Two things determine memorability: timing and how valuable the gift is. Consider the screenshot below.
When chatting with a support agent, the user asked for a Dream User t-shirt. Userpilot quickly made it available to him, and he was delighted. The gift was unexpected, delivered not long after he asked (timing), and it's a t-shirt, so it's something he can keep remembering for months or years (quality of value).
8 reciprocity marketing examples that were a success
Now that you know how to implement reciprocity in your marketing, it's time we go over some practical examples to keep your inspiration rolling.
Side note: The strategies below resulted from rigorous marketing experiments, so don't be afraid to do yours.
1. Spotify Premium free trial
Spotify is a great example of a product that lets users experience its value for free. The music streaming platform uses a freemium model, allowing users to listen to music without paying. But the free version means your music or podcast will be interrupted by ads now and again.
However, Spotify offers a 30-day free trial that includes full access to the premium features: ad-free music streaming and offline mobile access, among other things. This is an ingenious strategy to pull people in, make them love the product, and later convert them into paying customers.
Many users will opt to permanently upgrade after experiencing the product's value, especially considering the low price per month.
2. Amazon Prime free trial
Amazon is another popular example of reciprocity in marketing.
The platform allows users to get all the benefits of Amazon Prime for free for a limited time. Once users see the savings and convenience they get with Prime, it's unlikely they'll want to return to the regular plan.
Spotify and Amazon use a similar model to provide value and convert users. It's something you can copy if you have a premium membership or can price a higher-tiered version of your tool.
One of the most important things to consider when implementing this model is the free trial length. Don't make it so short that customers don't experience value before the free trial ends. Also, let it not be too long, or they'll take advantage of it. The common free trial lengths are 7, 14, and 30 days, depending on the product.
3. Userpilot educational resources
Userpilot is an example of how content marketing can be used to reach out to and attract quality leads.
Our content engine has a variety of SaaS-related educational content entirely for free. Think in-depth blog articles, case studies, webinars, discussion panels, templates, newsletters, etc. The goal is to gather an audience well-educated on SaaS so they can understand the value of our products and start to use them.
Content marketing is also a great way to drive WoM when users find something useful and share it with their networks.
In addition to quality education, Userpilot has a free trial and offers personalized free demos for those interested in boosting their product growth.
4. HubSpot free tools
HubSpot has free plans for all of its key products with an option to upgrade to premium.
In addition, they have quite a few tools that are completely free, like a website grader, buyer persona maker, chatbot and landing page builders, etc. The free tools are easy gateways to HubSpot's product ecosystem, so the goal is to make you gradually integrate more of their products and become a paying user.
5. Shopify Learn
What better way to provide value than letting users know you're on their side and want them to succeed at all costs?
Shopify has a smart approach to this that we all can learn from. The company lets users access online courses, webinars, and tutorials when they create a free account. Once in, you can get a variety of courses on sales, marketing, starting a business, etc., from verified instructors.
Shopify aims to educate aspiring entrepreneurs on key business matters and lead them to start their e-commerce business by subscribing to the platform. It becomes easy to succeed with Shopify and keep renewing their subscriptions since these users are pre-armed with basic business wisdom.
6. Surfer SEO tools and training
Surfer is another company that uses free tools and user training for reciprocity marketing. The free tools are AI Outline Generator and Chrome extension for effortless keyword research and analysis.
In addition, they also created a Surfer Academy that is rich with training sessions, video tutorials, Q&A sessions, and lots of tips and tricks. Part of their webinar strategy is interviewing experts on topics their audience loves.
For instance, Userpilot was featured in one of Surfer's webinars, where our Head of Marketing, Emilia, joined a discussion on content operations. Check it out!
7. Moz free resources
Moz also puts a lot of importance on educational content with its blog, learning center, academy, and YouTube channel.
In addition, the SEO platform offers free SEO tools with limited capacity for free users, but just enough to experience the product and how it be helpful.
But that's not all. Moz also has a free trial for users who want a hands-on experience with the paid version.
Undoubtedly, this in-depth customer enablement strategy contributes to the company's large user base.
8. Dropbox extra storage space
Dropbox has one of the most successful examples of reciprocity in marketing. When the company launched, it created a referral program that rewards users with an extra 500MB for referring another person. The best part was that the referred users also got the 500MB bonus, prompting them to refer others and get another.
Such referral programs are great for user acquisition and driving customer loyalty. In Dropbox's case, it contributed to acquiring millions of users in just a short period.
Conclusion
Like every other marketing strategy, you'll only succeed with reciprocity to the degree that you understand your audience and meet their needs. So, audience research is a good place if you're wondering where to start after reading this article.
Collect surveys and look into your customer behavior data to determine what customers need the most and use that to shape your marketing decisions. From the above examples, it's obvious that customer education is one of the best reciprocity strategies. See if your company can double down on that.
Make Userpilot your reciprocity marketing buddy today! You can use our software to segment users for better personalization, track user behavior, and easily send in-app surveys. Book a demo to discuss further if that sounds like something that interests you.