Product Lifecycle Marketing 101: What Is It, the 5 Stages, and Marketing Strategies for Each Stage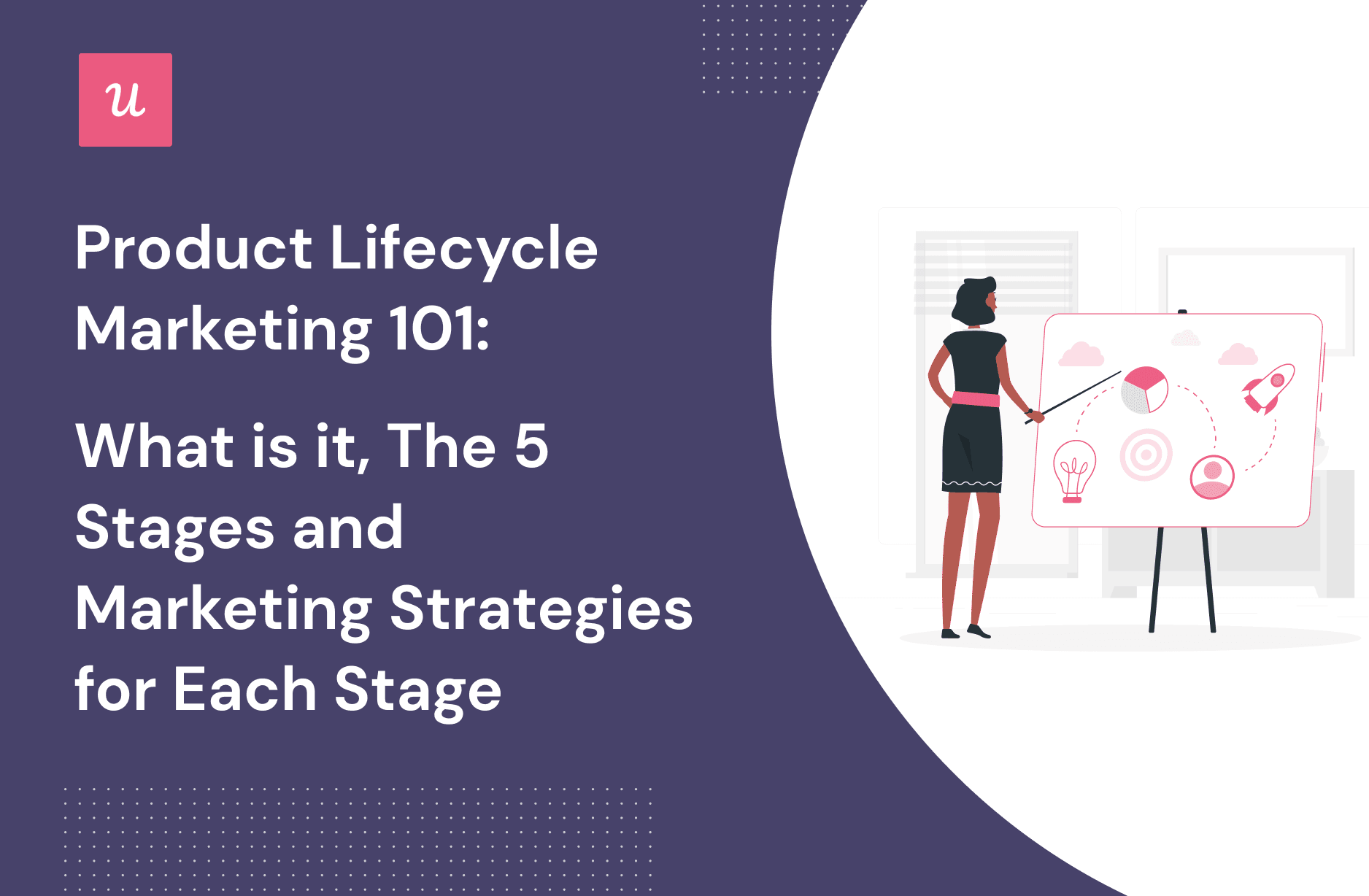 Ever wondered why product lifecycle marketing is that important for SaaS?
Every product goes through a life cycle from the moment it enters the market until the end. The marketing plan must include strategies for every phase of a product's lifecycle to be successful.
In this article, we will be covering everything you need to know about the product life cycle. Here we will examine the five stages of the product life cycle and how you can implement a product life cycle marketing plan.
Let's get started!
TL;DR
A product's life cycle refers to all the stages it goes through before it enters the market and until it exits.
There are five stages of the product life cycle: development, introduction, growth, maturity, and decline.
Although the BCG Matrix serves a similar purpose to the product lifecycle, it focuses more on the relationship between the market growth rate and the relative market share.
Product life cycle marketing (PLC marketing) aligns the marketing efforts of a product with its stage of development.
PLC marketing provides marketers with a base for long-term strategic planning aimed at elongating a product's life span.
Marketing efforts in the development stage should focus on collecting user feedback to validate and refine your product idea.
In the introduction stage, marketing efforts should aim to create a unique brand identity and generate a buzz that attracts new users.
For the growth phase, marketing should gear towards accelerating demand and profit growth through constant innovation, proper pricing, and proper messaging.
Marketing campaigns in the maturity cycle should highlight product differentiation and brand identity to maintain a market presence over the competition.
Finally, when in decline, turn to international markets, pivot your product, or adjust your pricing to aid your survival.
Userpilot gives you invaluable insights that help you identify and harness your product life cycle. Book a demo to learn more!
What is a Product Life Cycle?
A product life cycle is a series of stages that a product goes through, from conception to discontinuation.
What are the 5 Stages of the Product Life Cycle?
There are five distinct stages of the product life cycle. These include the development, introduction, growth, maturity, and decline stages.
The time spent in each stage differs from one product to another. As such, there's no definitive reference timeline to follow. Each stage of the life cycle is associated with different costs, risks, and opportunities.
Let's take a closer look at the different life cycle stages:
Development stage
The development stage is the first stage in the product life cycle. It is the beginning of your journey, with your product still in development. Your goal at this stage is to gauge the market's acceptance of your product concept and refine that concept to fit the market's needs. Expense is high at this stage, and income is non-existent.
Introduction stage
The introduction stage begins when your product launches into the market. This stage is characterized by low product awareness and sales volume, with demand building slowly. The introduction stage places a heavy focus on advertising for awareness.
Growth stage
The growth stage is marked by steadily growing demand and a fast-rising sales curve as the product gains consumer acceptance. This growth, in turn, leads to reduced business costs and higher profits. The growth stage may also see competing players enter the market.
Maturity stage
As a product enters the maturity stage, sales, demand, and profit stabilize. Low production costs and declining sales growth are features of the maturity phase. At this stage, you've either captured most of the market or lost a portion to competitors.
Decline stage
Increasing competition and market saturation eventually lead to the decline stage. It is the stage before death with shrinking sales volume and dwindling profit margins. Continued innovation, even reinvention, is required to survive the decline stage.
Product Lifecycle vs. BCG Matrix
Named after the Boston Consulting Group, the BCG Matrix is a model that classes a product according to its growth rate and market share. If this seems similar to the product life cycle model, that's because it is.
Both models track a product's growth stage, helping business management determine how to allocate resources to the product. They also follow a similar growth, maturity, and decline pattern. But that's where the similarities end and the differences begin:
The BCG Matrix features four stages instead of five: Question Mark, Star, Cash Cow, and Dog.
Each stage name refers to the characteristics of the product's growth stage rather than its position in the life cycle.
Question Mark products have a low market share but enjoy a rising growth potential.
Star products are at the peak of their powers. They enjoy both a high growth rate and a high market share.
Cash Cows are Stars that have peaked. They're still big earners with a large market share, but their growth rate may already be declining.
Poor Dogs are products that have begun experiencing a market decline. These products no longer sell well and may never regain their market dominance.
Generally, question marks and stars demand the most marketing investment, whereas cash cows can survive without any investment, and dogs may not survive even with that investment.
Stars and cash cows generate the most revenue and profits.
What is Product Lifecycle Marketing?
Product lifecycle marketing aligns a product's marketing efforts (promotions and sales) with its lifecycle stages.
As you focus on the product's life cycle stage, you'll be able to determine when it needs to capture more market share, gain new markets, or reinvigorate its existing market.
What are the Benefits of Product Lifecycle Marketing?
There are many benefits of employing the product life cycle model in marketing. This includes:
Providing decision-makers with better support
Optimization of marketing investment to match the life cycle stage
Offering better control over marketing results
Providing a better platform for long-term strategic planning
Enabling the elongation of a product's life cycle
Preparing product managers in advance to face competition
Offering managers better organization and process management systems
Next, let's consider some practical marketing strategies you can adopt for the different lifecycle stages.
Product Life Cycle Marketing Strategies for the Development Stage
The development stage involves testing the product concept and conducting consumer research. In this stage, you want to collect customer feedback as early as possible to validate and refine your concept.
At this point, your marketing strategy should consist of two components:
Run fake door tests for potential customers to validate the idea
Fake door testing is a technique used to assess the market demand for a product before investing in its development.
This technique gauges customers' interest in a product or feature that doesn't exist but may already be in development. The goal is to learn if genuine market interest exists before the product hits the market.
Social media management platform Buffer employed this technique when introducing its Tweet management tool.
Beta test your product to find bugs and detect performance issues
Beta testing involves sending your product to a limited portion of your target audience before releasing it to the public. The goal is to uncover as many bugs or usability issues as possible in a controlled setting.
As a part of your marketing strategy, beta testing helps create an initial buzz and momentum within your target market. It helps you iron out flaws, paving the way for better reception after the product is officially released.
Thankfully, finding beta testers for your product isn't too hard. Some websites where you can find beta testers include:
Product Life Cycle Marketing Strategies for the Introduction Stage
When your product is ready to enter the market, your marketing should focus on increasing customer awareness. During the introduction phase, your marketing campaigns should aim to:
Create a unique brand identity
Connect your product with the right promotion partners
Build buzz by enabling customers to test or try out your product
Identify the best price point that reflects the quality level of your product/service
Consider three strategies that can help you achieve these goals:
Launch your product on Product Hunt to attract potential customers
Product Hunt is a community-centered website that unites product developers and marketers with their first real users. Community members help push products they like by upvoting them and leaving honest reviews.
These users and their reviews help set the stage for your first marketing campaign.
Offer a limited-time free trial to show the functionality of your product
Free trials attract new customers by exposing them to the full potential of your product. A limited-time free trial allows users to explore the product for a fixed time before they commit to a purchase.
Provide users with a frictionless free trial that prompts them to keep using the product. Your goal is to get them hooked during this time so that they're willing to upgrade to the paid product as the trial ends.
As the trial period counts down, send users reminders that their trial is about to end; highlight the benefits of upgrading to the full product. Such reminders help boost your trial to paid conversion rate.
For an example, take a look at Slack's reminder modal:
Personalize the onboarding experience and prompt users to reach the activation stage faster
Personalization is key to attracting customers and moving them faster along the customer journey.
Use welcome screens in the welcome flow to greet customers and collect info about them. Ask about their roles and their goals with the product. Gather as much insight as possible at this stage without bogging down users with too many questions.
Let's take a look at how Kontentino uses a welcome screen to learn more about new users' jobs to be done.
After collecting the information, you can segment them and create personalized flows for their specific use case. Your onboarding flow can combine multiple UI patterns, including tooltips, checklists, hotspots, modals, and banners.
With Userpilot, you can create a comprehensive onboarding flow without writing a single line of code.
Product Life Cycle Marketing Strategies for the Growth Stage
The growth phase aims to increase profits. Common strategies employed during this stage include:
Improving the product's quality
Adding new features or services to capture a larger market share
Adapting the product for previously unexplored market segments
Maintaining a pricing model that keeps both demand and profits high
Adopting new distribution channels to cope with increasing demand
Switching up marketing messages from their focus on product awareness to product preference
Skimming product pricing to grow your profit if it's too low
During this stage, you'll enjoy rapidly rising product sales, profit, and market share.
Let's take a closer look at some strategies specified for this stage:
Constantly add new features and announce them properly
To ensure continued growth in this life cycle phase, your product management, and development teams should be busy optimizing the product roadmap and developing new features. Your goal is to speed up market growth by keeping customers satisfied.
Use in-app messaging modals and tooltips to announce updates and drive feature discovery. Properly announcing new product features leads to greater feature adoption levels.
You can create feature announcement modals or tooltips that match your brand style code-free using Userpilot.
Here is how Kommunicate announces a long-waited new feature.
Use tooltips to drive account expansion contextually
You can make more from your existing customers by offering them upsells and cross-sells. This should be done contextually, with messages customized for different user groups.
First, segment your users according to their in-app behaviors. User segmentation helps you understand your different user categories and determine which users need the upgrade message.
Userpilot's Smarter Segmentation tool lets you segment your users by user data, company data, features & events, content engagement, and user feedback.
After segmenting, you can create tooltips that will trigger for only that specific segment.
Run NPS surveys to collect feedback and improve product quality
Collecting customer feedback across different stages of the product is necessary but it's extremely important during the Growth stage.
NPS surveys help you measure user satisfaction with your product, gauge brand loyalty, and find friction points. You can also add follow-up qualitative questions to better understand the reason behind the provided score.
You can further segment customers using both their NPS scores and the tags you've assigned to qualitative answers. This will help you instantly identify customers who complained about a bug or requested a new feature.
Then act on the feedback, fix the issues, and update customers on the progress.
Product Life Cycle Marketing Strategies for the Maturity Stage
You know you're entering the maturity stage when the rapid growth rate slows. There is a steadying of sales volume during this stage, as competition and saturation of markets prevent further growth.
During the maturity phase, your marketing campaigns focus more on differentiation than awareness. Proper differentiation, better pricing, brand preference, and continued innovation are key marketing solutions to help navigate the maturity stage.
Let's take a closer look at some of these:
Highlight your advantages over competitors and prompt customers to switch to you
Use your product messaging to show you're different from your competitors. Highlight your strengths, the advantages of your product over the competition, and why customers should choose you.
Product analytics tool, Kissmetrics, exploits this form of messaging in its marketing campaign.
Turn power users into advocates and position yourself as a market leader
During the maturity phase, your power users are a valuable resource because they are the ones who use your product the most. Establish a strong relationship with them and earn their trust.
Besides word-of-mouth marketing, ask power users to review your products on sites like G2, Capterra, and Trustpilot.
Product Life Cycle Marketing Strategies for the Decline Stage
As the maturity phase fades away, you'll notice a decline in sales and profit. To stay ahead in the decline phase, you may need to adopt lower prices, pivot the product's primary use case, reduce expenses on promotion and distribution, or harvest the product before discontinuing it.
For many businesses, using any of these strategies in the maturity stage may keep them from entering the decline stage. But there's no guarantee of success when already in the decline phase.
Expand into international markets and localize your product
One way to beat market saturation is to find new markets internationally. When heading into foreign markets, ensure the product is ready for localization. Note that you may also need to tweak/add features to the existing product to prepare it for the new market.
This was what Joanna Drabent, CEO and co-founder of Prowly, found out when launching her PR software in the US market. Previously only in Poland, she learned that US customers expected the product to contain a media database – as was the case with similar US PR companies.
Watch the video below and learn how she found a product-market fit.
Adjust your pricing strategy and offer discounts
The biggest weapon in your arsenal in the decline phase is your price. Low production costs allow you to lower your prices while retaining a healthy profit margin. You can also offer discounts to attract new customers and maintain market share.
It might be a good idea to offer a lifetime deal as well. There are many websites to promote your lifetime deals. One of the most popular ones is Dealify.
Conclusion
Adapting to the ever-changing market is crucial to creating successful products in the modern business world. By understanding the different stages of the product life cycle, you will be able to position your product for success at all stages.
Want to acquire invaluable insights at every stage of your product's life cycle and understand your customers better? Book a demo with Userpilot today and get started right away.