What Does a Product Manager Do? 7 Key Responsibilities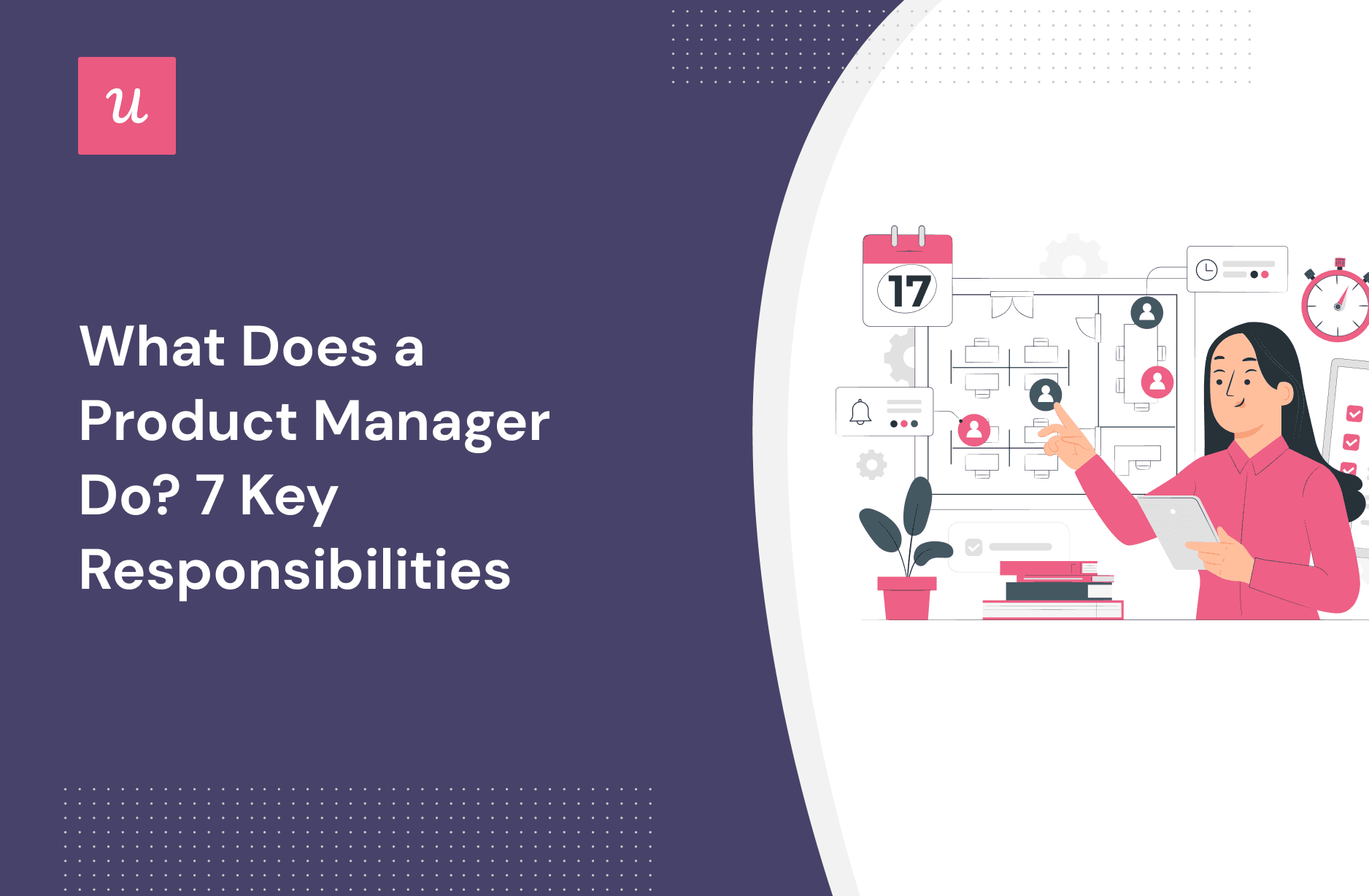 What does a product manager do?
This is the key question we explore in this article! We look at:
7 key responsibilities of product managers.
Things that they aren't responsible for (or shouldn't be anyway).
Different kinds of product manager roles.
Qualities of a good product manager.
How to start your PM career.
Let's get right to it.
TL;DR
A product manager is in charge of the entire product lifecycle. They oversee the development, design, and delivery of the product and its further growth.
The product manager's responsibilities include conducting market and customer research using primary and secondary sources like interviews, surveys, or industry publications.
Based on the research, PMs develop the long-term product vision and product strategy that are aligned with the overall business strategy.
Next, they lead the ideation process and prioritize product and feature ideas. This is essential to build a roadmap that drives the product strategy.
PMs collaborate closely with teams from across the organization, like the engineering team, and liaise with senior leadership.
Collaboration with the marketing team during the whole product life cycle is essential to develop and launch products that satisfy genuine market needs.
When the product is ready, PMs use customer feedback and product analytics to track product performance and inform its future innovation.
Product managers aren't directly involved in product coding, project management, or marketing.
Technical product managers are responsible for developing technically complex products.
The growth product manager focuses on improving customer acquisition, retention, and other important KPIs.
AI product managers specialize in developing and implementing AI-powered solutions.
Product launch manager plans and oversees product and feature releases.
Product owners act as the voice of the customer and are responsible for particular features rather than strategic initiatives.
To succeed, PMs need a combination of skills, including basic technical knowledge, business acumen, communication and leadership skills, and customer empathy.
To become a product manager, start building essential skills and experience by working in related roles like sales, marketing, or customer success. Finding your first gig may be easier in startups than in enterprise organizations.
Book the demo to see how Userpilot helps PMs at every step of the product development process.
Who is a product manager?
A product manager is an interdisciplinary role that is responsible for building products that satisfy customer needs and drive business objectives.
To develop successful products that delight users, product managers need to wear many hats. They are strategists, planners, negotiators, mediators, leaders, customer advocates, storytellers, and change agents – to name just a few.
What does a product manager do? Key responsibilities
The actual product manager's role will depend on the company size.
In smaller companies, a product manager might be juggling multiple tasks at once along with the responsibilities of an analyst, strategist, project manager, or marketing manager.
In larger companies, on the other hand, they may be responsible only for a very specific aspect of the product management cycle.
Here are a few typical responsibilities that you can find in a product manager job description.
1. Conduct market research and user research
The product management process starts with market and customer research.
Its goal is to gain a deep understanding of customer needs and wants, and the competitive landscape. In this way, PMs can identify gaps in the market and opportunities to outcompete rivals.
User and market research normally relies on primary and secondary sources. These include;
Customer interviews and focus groups,
Surveys and questionnaires,
User and prototype testing,
User recordings and observations,
Web and product analytics,
Competitor analysis,
Market reports,
And, industry benchmarks.
2. Create the product vision and product strategy
Product managers use customer and market research data to inform product vision and product strategy.
Product vision is the overarching long-term goal you're aspiring to achieve. It shows the product team how you imagine the product in the future and guides their work.
Product strategy is a high-level plan of how to deliver on the product vision. It outlines the direction and goals for the product and informs a roadmap for achieving them.
PMs need to ensure that the product vision and product strategy are in line with organizational goals on the one hand and customer needs on the other.
3. Brainstorm and prioritize product/feature ideas
A big part of the product manager's role is generating and prioritizing ideas on how to satisfy customer needs.
When it comes to ideation, there are some quick fixes like following feature requests or copying the functionality of competing products.
However, the most successful product managers avoid merely chasing feature parity or fulfilling all customer requests. Instead, they focus on developing unique solutions that address customer needs and pain points in innovative ways.
Prioritization of the feature ideas is equally important. You can't solve all the customer problems or implement all features. It's simply not feasible and would in fact have a detrimental effect on user experience.
4. Develop the product roadmap
After brainstorming and prioritizing product features, it's time for the PM to turn them into a roadmap.
A roadmap is basically a visual representation of the product strategy. It outlines the key milestones as well as features and updates and includes a timeline for their delivery.
Roadmaps are essential communication tools. They allow PMs to keep internal stakeholders on the same page and communicate the product direction to current and prospective customers.
5. Collaborate with cross-functional teams and stakeholders
Product management is not a one-person show. Product managers work closely with experts from other domains:
6. Collaborate with product marketing on product releases
One particular aspect of the PM's role that requires cooperation with the marketing team is product or feature releases, especially major ones.
At the pre-launch stage, they help with product positioning and messaging to best highlight the product's USPs to the target audience. This involves customer segmentation and the development of marketing collateral and release notes that reflect the brand image.
At the launch stage, they define the release timelines and coordinate all the activities required to successfully bring the product to market, like the Product Hunt launch.
Once the feature is out, they track its adoption and work to optimize the user experience for better customer satisfaction.
7. Track progress toward achieving product and business goals
As product managers are accountable for achieving product goals, a big part of their job involves tracking its performance.
The two main sources of insights are product analytics and customer feedback but the support tickets and feedback from the customer success and sales teams are also extremely valuable.
The most common metrics that PMs track include:
What a product manager does not do?
To enable product managers to fulfill their key responsibilities like product discovery, vision development, or roadmapping, there are things you shouldn't ask them to do.
Project management – product and project management are often confused but they are very different. PMs are responsible for managing product development at the high-level and not the micro-level.
Product development/feature development – while PMs need to have a basic understanding of the dev process, it's not their job to write code.
Product marketing and sales – working with marketing and sales is essential for PMs, but they don't get involved directly in their process. In fact, the PM and the sales role could be disastrous as the two have sometimes conflicting priorities.
Types of product managers in tech companies
Tech businesses, especially larger ones, often have specialized product management roles. Let's look into them in detail.
Technical product manager
A technical product manager is responsible for overseeing the development and management of technically complex products.
They possess a deep understanding of the underlying technology and collaborate closely with engineering teams to ensure the delivery of technically sound products.
As subject matter experts in their field, they promote the technologies across the organization and help other teams understand their benefits and limitations.
Growth product manager
A growth product manager's role focuses on improving customer acquisition, retention, and other important KPIs.
It typically includes experimenting with customer segmentation for targeted in-app experiences, optimizing the customer journey through A/B testing, and identifying new opportunities to improve customer acquisition strategies.
Growth PMs also work on user onboarding to enhance customer engagement and adoption. Their goal is to ensure that users experience the product value and start using the product habitually to solve their problems.
AI product manager
AI product managers specialize in developing and implementing products that use artificial intelligence (AI), machine learning (ML), and Natural Language Processing (NLP).
Besides traditional PM responsibilities like market research, AI product managers are also responsible for building and managing AI models, identifying opportunities to embed AI technologies in the product, and ethical considerations related to AI adoption.
Product launch manager
Product launch managers are responsible for product and feature releases.
To do so, they coordinate the work of the product, development, marketing, sales, and customer success teams.
Key responsibilities of the job include market research, developing the GTM strategy, identifying the best marketing channels to promote the new product, and developing the launch roadmap.
Once the product is out, they monitor its performance and look for opportunities to increase customer engagement and satisfaction. Moreover, they constantly evaluate and refine the launch practices to improve their effectiveness in the future.
Product owner
A product owner is a Scrum role with responsibilities partly overlapping with those of a product manager.
In general, they act as the voice of the customer and stakeholders on the team and make tactical product development decisions. They work closely with the development team to define product features, write user stories and prioritize them in the backlog.
What makes a great product manager? Key skills to have
A successful product manager requires a diverse skill set. Some of the key skills include:
Technical product management – many good product managers come from technical backgrounds which enables them to effectively communicate with the engineering teams and translate customer requirements into technical specifications.
Business acumen – to develop products that not only solve customer problems but also drive business goals.
Strategic thinking – for long-term planning, risk management, and ensuring alignment between product and company visions.
Good communication – to ensure that stakeholders from various backgrounds understand the product strategy and vision; it plays a key role in customer research, conflict resolution, and negotiations.
User empathy – to address user pain points and satisfy their needs and wants – product managers need to put themselves in the shoes of the customers.
Strong leadership – to effectively deliver product initiatives, PMs need to be able to build effective product teams and motivate them on a daily basis.
Agile mindset – the ability to iterate on data insights and constantly adapt to new challenges is essential to build successful products in the disruptive startup space.
How to become a product manager?
According to Glassdoor, the average product manager salary in the US is $146,888 per year and the demand for PMs is growing year on year.
How do you get a slice of the pie?
While there are a number of decent product management courses and programs, nothing trumps practical experience when looking for product management gigs.
One way to gather the necessary experience is by joining a product company. In particular, look for roles in sales, marketing, and customer service.
They will allow you to learn about the product and gain an understanding of the customer and their needs. You will also have a chance to work with and learn from colleagues on the product team.
Alternatively, you can look for a junior product manager role in a startup. They usually can't afford the salary of an experienced PM, so such jobs may be easier to secure as long as you have the right attitude and are keen to learn.
Conclusion
There's no simple answer to the question 'What does a product manager do?' because it depends on the product and the organization they work for.
In general, product managers are responsible for designing, developing, launching, and growing products.
If you want to see how Userpilot helps product managers make informed decisions and drive product engagement, book the demo!