Market Research Survey Questions Examples to Include in Your In-App Surveys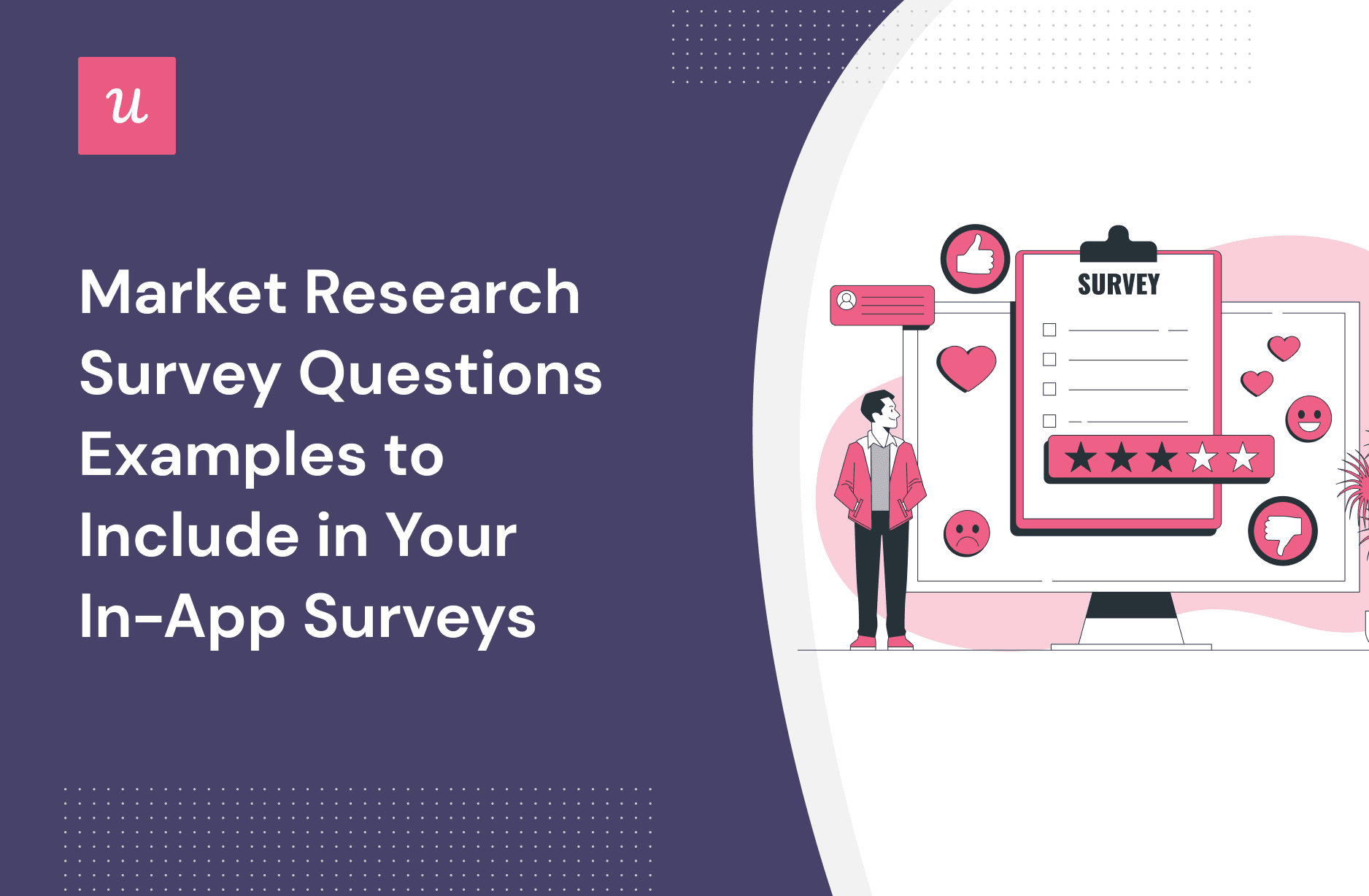 Have you ever wondered if you are wasting your resources because you don't know your customers well enough? Some good market research survey questions examples can help you understand your customers better.
Market research survey questions are the key to thoroughly understanding user sentiment. With the help of market research, industry and company-specific data can be analyzed to obtain valuable insights.
In the article, we'll discuss how you can create the right market research survey questions and 40+ market research questions you can ask your target audience.
TL;DR
Market research is an organized effort to collect information about your ideal customers and their needs and preferences.
Market research questions are questionnaires sent to potential users or existing customers to collect feedback.
Market research surveys help you better understand your target market, optimize pricing, gain insights, learn about market trends, and do competitive analysis.
To write survey questions, set clear market research goals, write straightforward questions, and send targeted surveys at the right time.
The market research survey questions examples discussed here are used for knowing the demography, understanding brand perception, collecting user feedback, doing competitive analysis, prioritizing product development, and analyzing product pricing.
Userpilot lets you create various in-app surveys code-free, trigger surveys across different stages of the user journey, and analyze responses.
What is market research?
Market research, or marketing research, is an organized activity of collecting information about your ideal customers and their needs and preferences.
Market research helps businesses identify and understand their target audience. It's crucial for developing business strategies and creating a competitive advantage. For example, user feedback on a new product helps in improving the product's design.
What are market research questions?
Market research questions are a questionnaire sent to potential users or existing customers to get their feedback on a specific topic.
Whether you want to identify your target market, get customer feedback, or understand user perceptions about your brand or product, market research questions offer the best insights.
Why do you need market research surveys?
Market research surveys offer a multitude of benefits. They allow you to:
Better understand your existing customers and your target audience: This helps in product development and improvements to boost customer satisfaction.
Optimize your pricing for your target market: Market research helps you know the expectations of your target market to create optimal pricing strategies.
Gain customer insights regarding your product or service: Both prospective and existing users provide their feedback on your product or service and may also share their opinions on what needs to be improved.
Learn about market trends: You can stay updated on relevant trends in the market to upgrade your product and develop marketing campaigns accordingly.
Perform competitive analysis and work on your unique value proposition: Market research lets you assess your strengths and weaknesses relative to competitors and develop a unique selling point for your product.
How to write market research questions?
If you ever struggle with writing market research questions or need to refresh your memory before getting started, you can always refer to this post. You only have to follow three simple rules.
Set clear market research goals
The first step is to set clear market research goals. Since there are multiple types of market research surveys, it's imperative to stay aligned with specific research goals for each survey.
Once you identify the problem you want to solve, a goal-setting framework helps to frame how the market research questions are written out.
For example, you may want to get customer feedback and thus create a market research survey to gain customer insights into improvement areas. You ultimately want to increase conversion by 10% by the end of the year.
SMART goals are a highly structured framework for establishing clear, precise goals. It takes a systematic approach to focus your strategies in the right place and improve your productivity.
The SMART acronym stands for specific, measurable, attainable, relevant, and time-bound.
Write clear market survey questions
Keep your questions short and simple to ensure high response rates. The answer options should also be easy to understand.
Use close-ended and open-ended questions to collect quantitative and qualitative data, respectively.
Don't use biased or leading questions by designing them in a way where you expect a positive or negative response.
Moreover, it is best to avoid double-barreled questions. Here's an example: "How do you think this [feature name] improves the usability and competitiveness of this product?"
This reduces the quality of the feedback because people would give the same answer for 'usability' and 'competitiveness' although they are two different issues.
Ask the right market research questions at the right time
Make sure you ask the right market research questions to the right audience at the right time. Surveys should be contextual so users don't feel bombarded with questions irrelevant to their use case.
Customer segmentation lets you understand how different users interact with your product. Therefore, segmenting users based on shared characteristics will help you send targeted survey questions at the right time.
Suppose you want to survey your new users. Since they are at the initial stage of the customer lifecycle, it's best to ask them demographic questions in the welcome survey included in the welcome screen.
In another example, you can ask product experience questions after a specific interaction with the customer support team to measure customer satisfaction.
40+ Market research questions to ask your target audience
Now let's check out the market research survey questions examples. There are six major types of market research questions.
Demographic questions
Demographic questions are used to learn about your target market's age, gender, occupation, company role, etc. These questions help you segment target customers based on their user persona or jobs to be done.
Here are some examples.
What is your current occupation?
What is your job title?
What is the name of your company?
Please specify the number of employees that work in your company.
Please specify your age.
Marketing survey questions to understand brand perception
These questions are needed to gauge brand awareness and how customers perceive the value of your brand. One example is an NPS survey to understand user sentiment and loyalty.
Some examples of marketing survey questions are:
Describe [brand name] in one sentence.
How do you feel about this brand?
Do you currently use the product of this brand?
Which of the following products have you tried? (Select all that apply)
How did you hear about us?
Would you recommend [brand name] to others based on our current features and attributes?
On a scale of 1 to 10, how likely are you to recommend this brand to colleagues or friends?
Of all the brands offering similar products, which do you feel is the best brand?
Please specify what makes it the best brand for you in the category.
Marketing research questions to collect feedback regarding your product or service
These questions help you understand user perception and identify the necessary changes to be made in the product development cycle. This lets you improve your product and in turn, enhance the customer experience.
For instance, you can use a customer satisfaction score (CSAT) survey to know how satisfied customers are with your in-app self-service support.
Examples of marketing research questions include:
Have you heard of [product name] before?
How would you feel if [product name] was no longer available?
What feature did you expect but not find?
How are you planning to use [product or service]?
How satisfied are you with the product?
How disappointed would you be if you could no longer use [product/feature name]?
Rate our product based on the following aspects:
Have you faced any problems with the product? Specify below.
According to you, In which area is this product/service lacking the most? Specify below.
Please rate the following product features according to their importance to you.
How often do you use [product name]?
How long have you been using [product name]?
When was the last time you used [product name]?
How does the product run after the update?
Questions to ask existing and potential customers to perform competitive analysis
These market research questions enable you to analyze your relative position to competitors and devise strategies to gain a competitive advantage.
Examples include:
Which product/service would you consider as an alternative to ours?
How would you compare our products to our competitors?
Rate our competitor based on the following:
Compared to our competitors, is our product quality better, worse, or about the same?
Have you seen any website/product/app with a similar feature?
Please list the top three things that persuaded you to use us rather than a competitor.
Why did you choose to use our [product] over other options?
Which other options did you consider before choosing [product name]?
According to you, which brand best fits each of the following characteristics?
Market research questionnaire to prioritize product development
To prioritize product development, you must work on new features your target customers will love. For instance, you can send a feature request survey to know how you need to improve your value proposition and match key consumer trends.
Some examples are:
Would you purchase this product if it were available today?
What feature would you like to see in the product?
Would implementing [this feature] increase the usability of the [product name]?
Which feature do you think will help improve the product experience for you?
Please let us know how we can further improve this feature.
What was your first reaction to the product?
Of these four options, what's the next thing you think we should build?
What feature can we add that would make our product indispensable for you?
What problem would you like to solve with our product?
Questions to analyze your product pricing
You can ask the following market research questions to analyze your pricing strategy. Thus, you can set optimal, competitive prices for your subscription plans.
According to you, what should be the ideal price of the [product name]?
According to you, what is the ideal price range for the product?
Would you purchase the product at [price]?
Is our product pricing clear?
How to create market research surveys in-app with Userpilot
Userpilot is a product growth that includes onboarding, product adoption, and product analytics as its major functionalities. So let's see how you can create in-app market research surveys with Userpilot and get actionable insights.
Create different in-app surveys code-free
Userpilot lets you create a wide variety of in-app surveys, such as CSAT, NPS, PMF, and feature request surveys. You can even customize these surveys to reflect the style and colors of your brand, all code-free.
With Userpilot, you can add both close-ended and open-ended questions. For example, you can add qualitative follow-up questions to NPS surveys to know the reasons behind a particular score.
The image below shows a product-market fit (PMF) survey. You can add different formats to each survey for customization.
Trigger surveys at any point in the customer journey
You can send automated surveys by setting triggers at different stages of the customer journey.
This allows you to identify friction and drop-off points and address these areas to improve customer satisfaction. Moreover, you can analyze user perception at multiple stages, e.g., during awareness, conversion, and loyalty campaigns.
Use custom events to group several events together. It lets you trigger the survey after a custom event has been completed.
Collect feedback and analyze responses
Userpilot lets you tag and analyze qualitative responses in their dashboard. It offers in-depth insights into your target customers.
Below, you can see the various NPS response tags and the score for each of them.
Wrapping up
Want to get started with market research? Get a Userpilot demo and see how you can use these market research survey questions examples to analyze data and create effective marketing strategies.