More Than Just Words: Product Vision Examples That Define Great Products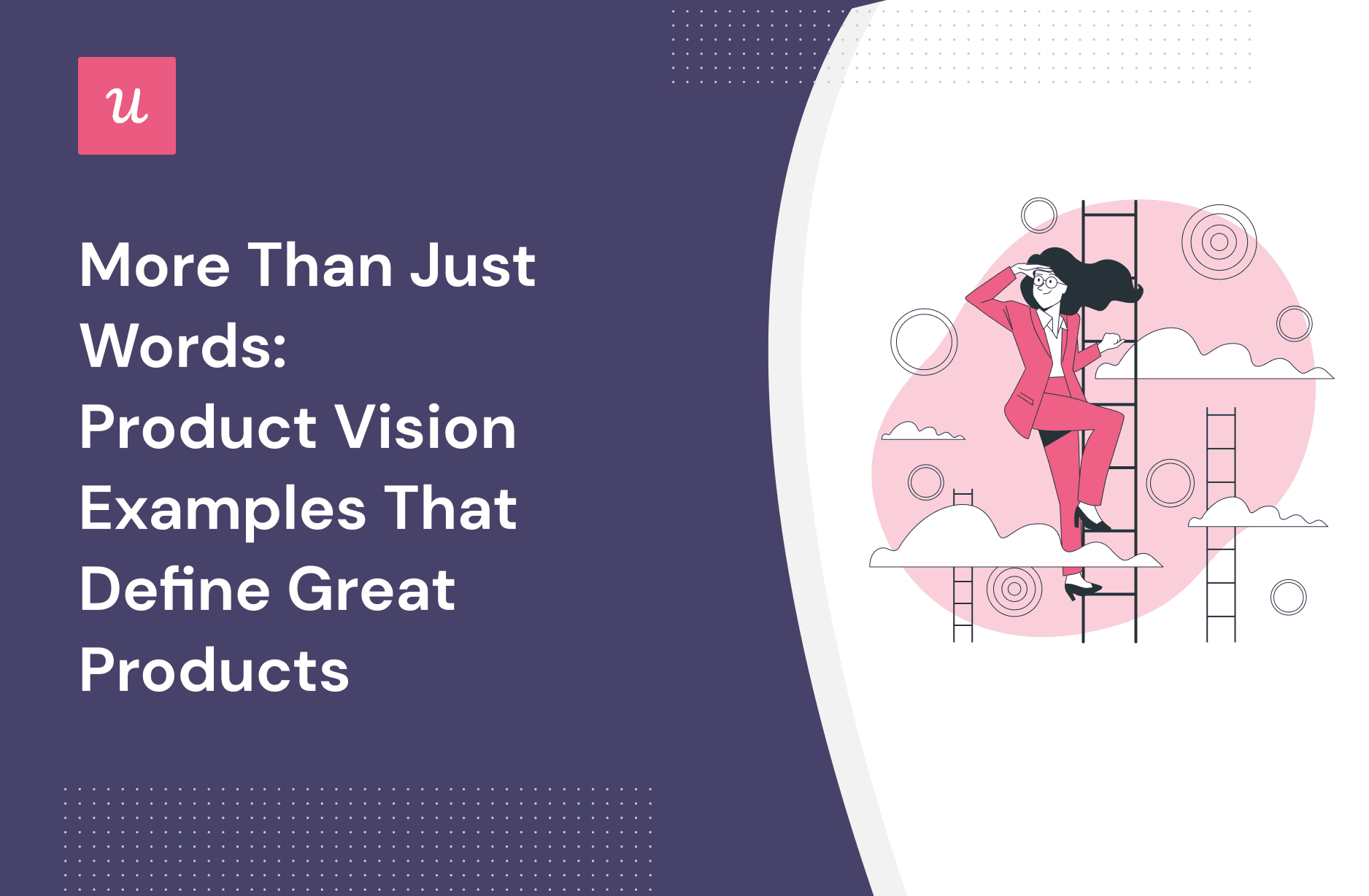 What are some good product vision examples? How is the product vision different from the company vision? What makes a great product vision? How should product managers develop effective product vision statements?
If you're after the answer to the question, we've got you covered!
So, find a comfy spot, grab a tasty drink and let's dig in!
TL;DR
Product vision is the long-term objective for the product and serves as the North Star for the product team.
A product vision statement describes the product vision to the internal and external stakeholders and customers.
Product vision and company vision overlap in single-product organizations. In companies with multiple products, the scope of the company vision is wider and the product vision falls under it.
Product managers have the necessary understanding of the market and organizational landscapes to own the product vision.
A solid product vision increases the productivity and efficiency of the product team because they understand the goal better.
For the product vision to be effective, it can't constrain the teams' freedom to come up with the best solutions.
Best product vision examples focus on delivering value, are clear, and inspire the team and customers. They are also in sync with the company's vision and shape the product strategy.
A product vision statement template will help you focus on the key pieces of the puzzle you need to figure out.
These factors include who the key customer is, what their needs are, what solutions are already available, and how your product could beat them.
Product vision development takes a few iterations. As you get more data, you are able to narrow down your focus.
Visual tools like Miro can help teams take stock of all the ideas when they are trying to organize them into a concise product vision statement.
Gong has an inspiring product vision "to enable leading revenue teams to get the unfiltered truth about their customer interaction, their deals, and transform the way they go to market".
LinkedIn realizes its vision "to create economic opportunity for every member of the global workforce" by creating a platform where people can develop their professional networks and look for employment opportunities across the globe.
Userpilot's vision focuses on developing a product that helps the best teams grow their own products and enables them to achieve their objectives.
Want to see how successful Userpilot is at realizing its vision? Book the demo!
What is a product vision?
Product vision describes how you imagine the future state of the product.
For the product team, it is the goals they aspire to achieve in the long run – their North Star that guides their work. More specifically, it shows what problem the product solves, who the target customer is, and what's unique about it.
It also communicates to your stakeholders why the product is worth supporting.
What is a product vision statement?
A product vision statement is an actual statement that communicates the product vision to the outside world.
It is succinct and hardly ever longer than just one or two sentences. In many ways, it resembles a positioning statement and in fact, many teams use the same templates to create both.
Product vision vs company vision
Whether there is a difference between product vision and company vision depends on the size of the business and how many products they have in the pipeline.
For a single-product company, the product vision will be the same as the company vision. All their efforts are on developing the product and making it succeed.
In multi-product companies, each of the products contributes to the realization of the overall company vision.
For example, Disney aspires to be "one of the world's leading producers and providers of entertainment and information", and they have a vast portfolio of products that they use to realize the vision.
Who owns the product vision?
It's either product managers or product owners who are in charge of creating and delivering the product vision, depending on the organization.
However, of the two, product managers are in a slightly better position to do so effectively.
To start with, product managers better understand the market and know how the product fits into it.
To develop a sound product vision, teams from across the organization need to contribute. Insights from the sales, marketing and engineering teams need to be considered when forming the vision.
Product managers have more seniority than product owners. As a result, they can take better advantage of the insights to make informed decisions about the product vision and its realization.
Why a product vision is more than just words
A product vision statement is why more than just a catchy slogan.
First, it gives the team the overall direction and a common understanding of their goals.
If your product team has a clearly defined goal, it increases their productivity and helps them achieve their objectives faster.
It also helps product managers make sure that all stakeholders are on the same page. When all the key players across the organization buy into the product vision, it takes less time to work out how to implement it.
In practice, this allows easier and quicker feature prioritization, road mapping, and backlog refinement. This means shortening the time to market considerably and launching your MVP in time to beat the competitors.
However, while a clear product vision is important, remember that's just overall guidance. It shows the teams what problems they need to be solving and not the solutions.
Trust your team and give them the freedom to use their expertise and creativity to come up with the best ways to satisfy user needs.
What makes a great product vision?
Let's explore the qualities that make great product visions.
A good product vision aims to provide value
First, the product vision needs to be customer-focused.
Your objective needs to be to satisfy the genuine needs of your customers and develop a product that they find valuable.
Is aligned with the company vision and mission statement
As we mentioned, each of the company products needs to contribute to the realization of its overarching long-term mission.
That's why the product vision needs to be in line with the company vision.
Best product vision fuels the product strategy
Your product vision also needs to inform the product strategy.
While product vision is the overall objective your product aspires to achieve, the product strategy is the plan which outlines what needs to be done for the product to reach the goal.
How important is this? Very.
Having a product strategy that is based on a solid product vision enhances the process of setting more granular product goals.
As product differentiation is an important part of the strategy, product vision also needs to take into account. This means outlining how you would like your product to stand out on the market.
A good vision statement is clear and inspires
Finally, a good vision statement needs to be clear.
Your team needs to be able to easily visualize the outcome they are working to achieve. This is necessary to ensure that they are all on the same page. Also, it enables more effective product positioning.
The best product vision statements inspire teams with their bold aspirations. If the goal is too easy to achieve or not very innovative, they simply don't motivate enough to extraordinary performance needed to create exceptional products.
At the same time, the goal needs to be achievable. Out-of-reach objectives often mean out-of-touch management and have a bad impact on team morale.
How to nail your product vision statement as a product manager
As we mentioned, product teams often use positioning statement templates to formulate their product vision statements. An example could look like this:
For [the target customer], who [the need], the [product] is a [product category] that [unique selling points]. Unlike [competitors/alternative solutions], our product [key differentiating factors].
While templates are normally useful at the final stage, using the template could guide you through the process of creating a product vision statement.
Use the product discovery phase to collect data
That's why developing a product vision should always start with product discovery.
First, identify your target customers. For a SaaS product, you are likely to have different kinds of users. Focus on how they are different from each other and create a user persona for each of them.
One of the key aspects when creating a user persona is their needs. What are their jobs to be done? What are their pain points?
Once you have these down, look outside and see how well your competitors meet these needs. What features that do the job are already available? Is there a better way of doing it? If not, is there perhaps a way to improve the usability or the overall user experience?
Answering these questions will help you crystalize your unique selling points (USPs) and define your product positioning strategy.
Narrow down your product value and differentiators
Creating your product vision statement is an iterative process. It takes time to develop and product managers agree that the process shouldn't be rushed.
During the subsequent iterations, as the data collection continues, you should be able to narrow down your product value even further and identify more factors that differentiate your product.
Looking back at the business goals of the organization could help you formulate your product vision.
How does the data you've just obtained fit into the bigger picture? This is important to ensure the alignment between your product vision and the overall business vision and strategy.
Put it all together in a clear vision statement
The amount of data that you collect can be overwhelming.
To aid the process of formulating your product vision statement, you could use tools like Miro to visualize the data. This will allow your team to see all of the information in one place and make it easier to work with.
Finally, it is time to create the final product vision statement. To do that you can use the template introduced above, and here are a few other good examples.
We believe (in) a worldwhere [target consumer] can [action + goal/objective], for/by/with [key differentiating factors].
To [action: unlock, enable, create, etc.] [target consumer] to [action + goal/objective].
Our vision is to [action: build, design, etc], the [action + goal/objective], to [verb: support, enable, etc…] [target consumer].
Product vision examples from successful companies
Let's have a look at some great product vision examples from the most successful SaaS businesses out there.
Userpilot
Userpilot is a market-leading onboarding and product adoption platform. It offers users product usage analytics and enables them to create interactive in-app onboarding experiences to increase user retention and satisfaction through improved product adoption.
The key focus of Userpilot's vision and mission is on developing and constantly improving the product to delight users, help them grow their own products, and enable them to achieve their objectives.
This is how Andy Shamah, the Head of Product at Userpilot, formulates the company's product vision:
Every day I wake up with one goal in mind – empowering our world-class teams by a powerful and robust platform with delightful user experiences helping them build exceptional products that achieve their goals and accelerate their growth.
And here's how he summarizes the Userpilot mission:
We're on a continuous daily mission that we're passionate about – figuring out the right puzzle pieces to put together the best product that better serves our customers' needs…
Gong
Gong is a platform that uses AI to analyze the recordings of the interaction of sales, customer success, and customer support teams with their customers.
The algorithms help managers and coaches identify trends and patterns which they can use to improve the quality of the service.
Gong's product vision is "to enable leading revenue teams to get the unfiltered truth about their customer interaction, their deals, and transform the way they go to market".
Asana
Asana is a project management and productivity platform. Asana's mission is to revolutionize the way teams organize and prioritize their work.
Their 'vision for the future of work' is built around features like:
increased integration with other products to allow prioritization of all tasks within Asana
focus mode that will allow you to cut out the distractions that reduce your productivity
Huddles with the virtual assistant to streamline meetings and replace the need to take notes or minutes
workflow stores to find the ideal workflow for each team and role
Goals, which are already available, and which allow linking objectives with the organization's strategy
highly automated status reports which require little human input
LinkedIn
LinkedIn is an online product that focuses on business and employment.
LinkedIn's product vision is "to create economic opportunity for every member of the global workforce."
This product vision example is short but powerful. It refers to the future, it's inspirational and has an emotional appeal too.
How do they realize the vision?
LinkedIn enables users to establish and develop their professional networks, develop their skills and look for new employment opportunities. It's also widely used by recruiters and businesses seeking to increase their online presence.
The key to the success of the platform is that it allows users to access opportunities all over the world. This evens the playing field for job seekers who would otherwise have no access to such opportunities because of their geographical location.
Conclusion
A sound product vision drives effective product strategy and guides the product team. It improves their efficiency and focus and allows them to build products that satisfy user needs.
It also communicates to the outside world your objectives and aspirations and inspires.
If you would like to see how Userpilot can help you refine and implement your product vision, book the demo!