In-app Customer Needs Assessment 101: How to Collect and Act on Data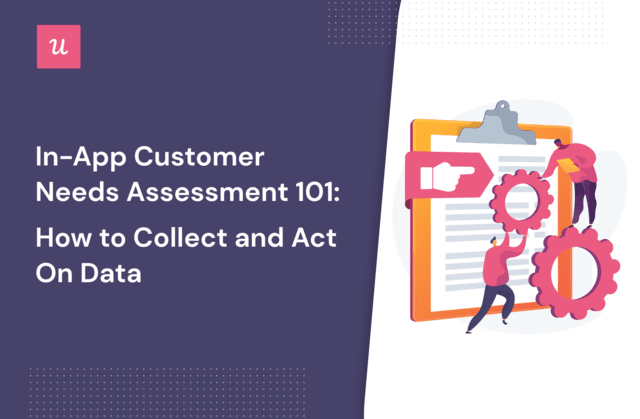 Ever conducted a customer needs assessment? Why not?
Any forward-thinking company realizes that market success rests solely on customer experience.
But how can you optimize customer experience without understanding their needs?
This article simplifies the process and benefits of collecting and acting on customer data for business growth.
Ready? Let's go.
TL; DR
Customer needs assessment is a deep dive into customer data to understand their challenges with your product or service.
Customer needs analysis helps companies make informed decisions and create action plans that improve the overall customer experience.
With in-app needs analysis, you can get targeted feedback on specific product features and more accurate responses.
To attain customer satisfaction, you must consider the seven most common customer needs.
Segmentation of your customer base is the first step in analyzing customers' needs.
The survey assigned to each segment will differ based on where they are in their journey.
Data analysis is essential to understanding the results obtained from the surveys.
Action taken in response to customer feedback signifies the closure of that feedback loop.
Pair product usage analytics with survey data to get a 360 view of customer pain points.
What is customer needs assessment?
Customer needs assessment is an analysis performed in order to understand what customers expect of your product and services.
This analysis provides a clear picture of customers' challenges with your product and gives pointers on what to improve.
Equipped with valuable insights from customer feedback, you can proceed to enhance existing products, tweak market strategies, and upgrade other services to meet customer expectations.
Customer needs assessments are only successful when they:
pinpoint your customers' most critical needs
determine the best approach to fulfilling those desires
Why is conducting a customer needs assessment important?
Assessing customer needs is vital to building an impressive brand perception and a sticky product. That's because customers' perception of your company is only as good as the quality of their customer journey.
Customer needs analysis is an opportunity to study your target market, identify friction points in their journey, then adopt strategies that will eventually lead to a positive customer experience.
Feedback insights from users can help you refocus your product management process, intensify customer service, and optimize your marketing strategy to retain old customers and attract new ones.
How an in-app customer needs assessment can help get better data
Traditional methods [such as external research, personal interviews, and long unsolicited customer feedback surveys] are undoubtedly time-consuming.
Not to mention less effective.
But in-app needs surveys eliminate all the cons associated with obtaining customer feedback.
Here are a few reasons why in-app surveys can help you get better data:
Targeted feedback on specific features: keeping survey questions within usage context shows the product team if a feature meets customers' expectations.
Higher accuracy of responses: feedback received while a customer is actively using your product is typically more accurate than one gotten hours or days later.
Increased response rate: customers are more likely to respond to your in-app micro surveys because they know it won't take much time or effort.
Get responses faster: in-app surveys allow you to identify customer pain points quicker since survey questions are automatically triggered as the customer interacts with a new feature.
Continuous customer feedback collection: as long as your micro survey remains active, you can stay in regular contact with your customers, thus accumulating more valuable insights over time.
Can easily A/B test surveys and questions: in-app analysis ensures that you test and modify your survey questions to drive more feedback without necessarily creating another survey.
What are the 7 types of customer needs?
There are seven types of customer needs your product should cater to, and you expect users to have one or multiple of the needs listed below:
Price: the price point promises value for money and sets expectations
Functionality: customers can get their job done
Security: transactions and personal data are safe
Usability: easy, straightforward and intuitive product
Support: swift and empathetic customer service
Reliability: customers can depend on your product being online and constantly updated and improved
Effectiveness: customers expect to get the job done in the most effective way with minimum resources
How do you conduct a customer needs assessment in-app?
When collecting in-app feedback, you should be engaging your users contextually.
Here's how to do a customer needs analysis, step by step.
Start with customer segmentation
Decide on the type of survey for each segment
Understand customer data
Close the feedback loop
Step 1: Start with customer segmentation
Feedback is only relevant if it comes from the right user, so customer segmentation is the first phase of your customer needs analysis.
If you want feedback on a specific feature, then you have to separate those who interact with the feature from those that don't.
But if you feel user engagement is low, you can ask the non-users why they don't interact with the feature.
You can segment your users using different yardsticks such as user behavior, role, engagement with other in-app experiences, and even their NPS Scores.
After segmenting your customer base, you are ready to launch targeted in-app surveys that are going to be contextual and relevant.
With a tool like Userpilot, it's easier to segment your customer base and trigger targeted in-app micro surveys.
Step 2: Decide on the type of survey for each segment
As you know, there are various customer satisfaction surveys that you can use to collect user sentiment and feedback. The kind of customer survey you send out will ultimately determine the feedback you receive.
So, the second phase of your customer needs assessment is deciding on which survey type is relevant for which user segment depending on the data you need and where the customer is in their journey.
Here are the main types of surveys you should be using:
Customer satisfaction survey [CSAT]
Use a CSAT survey to gauge overall satisfaction with your product and company. This can be sent to any user who has interacted with the product at any point.
Trigger this survey during onboarding to find out if new customers need help and after they reach specific milestones in their journey.
If you want to collect qualitative insight too, add open-ended questions, asking users what made them choose a specific score.
Feature feedback survey
Using this survey after the user utilizes an existing feature for the first time will gain more specific feedback.
In order to get more feedback on a new feature, make it available only to your power users using segmentation. Then, you will get better insights on how to improve the feature for the rest of the users to best suit their needs.
Net Promoter Score [NPS Survey]
NPS surveys help measure customer loyalty to your product or services.
However, this survey will only be relevant to customers who have had time to engage with your product and form independent opinions.
Product feedback widgets
These widgets allow you to collect feedback on-demand, giving users the power to communicate and provide valuable insight whenever they choose. The widget works because it's visible but not actively soliciting customer feedback.
Jira uses a static feedback widget in-app, placed in a visible location on the screen.
A micro survey pops up when the user engages with the widget, with survey questions customized to fit the feature you were engaging with. The contextuality of this survey leads to more specific and accurate responses.
Step 3: Understanding customer data
Collecting data is easy, but analyzing it is more challenging.
Using in-app surveys makes it easier compared to traditional long survey data where you'd probably need to recruit a customer survey expert to visualize customer data and oversee your entire feedback management system.
To gain an understanding of how well you cater to users' needs, you need to examine quantitative data like NPS or CSAT scores.
But it's qualitative data that can provide the most insights.
For example, if you used an NPS survey and asked the follow-up question, you would be able to tag the responses and identify the main patterns that determine the score.
It is best to choose a tool that has this functionality, as not all tools that allow you to build NPS surveys will do this.
Step 4: Closing the feedback loop
After collecting, visualizing, and analyzing customer feedback, the last step is to act on it.
You want your customer to feel seen and heard, so action is necessary after the analysis.
Based on customer survey responses, you can:
improve product features
streamline customer touchpoints
offer solutions to frustrated users
or optimize your marketing strategy
The feedback loop can only be closed when you have gone the extra mile to meet customer needs.
Bonus: Get actionable insights using product usage analytics
Survey responses provide practical insight, but when paired with how a user engages with your product, there's a lot more information you can work with.
For instance, a user might complain that your product doesn't have the required functionality due to the absence of some core features.
However, the product may indeed have that feature, but the user has yet to discover it.
How do you fix this?
Simply point them in the direction of those features they need.
Understand how users engage with your product
Click tracking analytics provide a detailed look at users' interaction with your product.
Using a product adoption tool like Userpilot, you can set up tracking for any UI element, entirely code-free.
Then tag the features you're tracking and see how many users engage with each of them.
For a better perspective into the user flow, use heat maps and recordings to view user interactions with your product in real-time and uncover friction points in your app.
Use in-app guidance to improve customer experience
Having identified friction points in your product and the unsatisfied user segments, you need to smoothen out every bump that's frustrating your customers.
It's easy. Focus on feature discovery and value demonstration.
Leverage in-app guidance such as tooltips, modals, checklists, and even interactive walkthroughs to help users navigate and adopt the product with less friction.
With the right tools, you can help disgruntled customers discover new features and derive value from engaging with them.
Conclusion
To rise above the competition in your market, your company must constantly be conducting a customer needs analysis.
Want to get started with in-app feedback collection? Get a Userpilot Demo and see how you can better understand your customer's needs and help them get more value from your product.