The 3 Critical Product Launch Phases: How to Plan a Successful Product Launch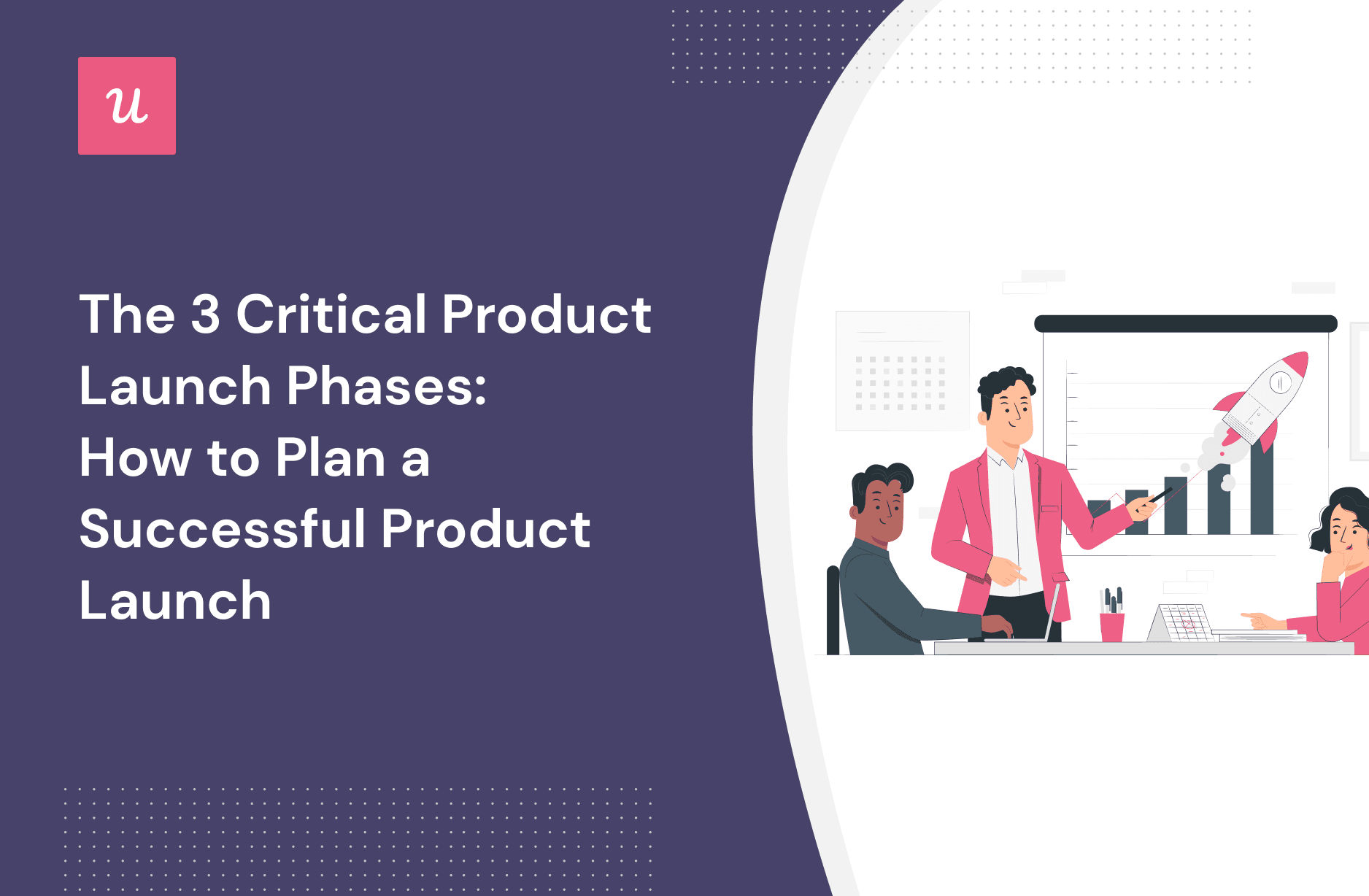 What do you need to successfully navigate the different product launch phases? What will it take to turn your product into a bonafide growth engine?
Whether you're launching a new product or releasing a new feature/version of your product, this article will guide you through the different launch phases and help you create an effective product launch strategy.
TL;DR
A product launch is a three-step plan (pre-launch, launch, and post-launch) to successfully bring a new product to market.
There are different types of product launches. A soft launch releases the product to a limited audience, a minimal launch releases only a limited feature set, and a full launch releases the full product to everyone.
The pre-launch phase establishes the groundwork for a successful launch. It involves market research, goal setting, and the development of your go-to-market strategy.
The launch phase, on the other hand, is your time to execute and implement your marketing strategy.
Meanwhile, your post-launch phase is about evaluating your launch success and driving sustained product adoption.
Choosing the right tool to work with can make your life easier. Userpilot, for example, helps you to onboard users, segment them, and collect relevant user data through surveys and in-app analytics.
To learn more about how Userpilot can help every aspect of your launch, book a demo today!
What is a product launch?
A product launch is a coordinated three-phase plan to successfully introduce a new product to the market. A successful product launch strategy creates a substantial buzz around a product and attracts the right kind of customers.
Different types of product launches
Each product launch is different.
The target market, launch timeline, distribution channels, and even marketing channels will differ, making every launch unique in its own right.
Still, most product launches fall under three main categories.
Soft launch: Also called a 'dark launch,' it involves launching a product or feature to a limited audience before everyone else. The goal is to validate the idea by testing it in the real world with minimal risk. It enables you to collect user feedback and make improvements before a full launch.
Minimal launch: Unlike soft launches, a minimal launch limits the scope of a product launch by unveiling only a limited set of features and functions. The goal is to get the product out sooner and at a lower cost, collect user feedback, and improve the product to the desired standard.
Full-scale launch: This is the most common form of product launch, involving a complete release of a finished product with all its features and functionalities. Because the product is already mature during release, you'll have a better reach.
What are the 3 key product launch phases?
A product launch plan is a visual reference point outlining a company's steps to introduce a new product to the market.
It has three notable phases – the pre-launch, launch, and post-launch phases.
Pre-launch stage
Also known as the launch planning stage, the pre-launch phase is the stage where you set your launch date and prepare for a successful product launch.
This is the stage where you define your launch strategy, get to know your target audience, align expectations, and set team goals. Your goal here is to understand your market and define your go-to-market strategy before you start.
Launch stage
Also known as the execution stage, this is the time when your product is formally released to the public. This is when you engage your marketing channels and networks to create and maintain a buzz around your launch.
As a result, this stage spans through your actual launch date and the subsequent weeks where you try to maintain momentum.
Post-launch stage
Finally, your marketing efforts will grind to a halt into a never-ending post-launch phase – a stage for continuous analysis and growth.
Now's the time to put the data collected during the launch stage to use. Assess your performance, determine whether KPIs and other goals were met, identify what went wrong or didn't, and gather valuable information for future launches.
Pre-launch phase: Product launch planning
After a rigorous development process, your product is ready for the market. Now, you need to gather all relevant info, devise a marketing plan, and prepare to release your product into the wild.
Here's how to prepare for what's to come.
Perform market research persona development
The first step for any new product launch is to understand the market. The better your understanding of the market, the better your competitive advantage.
Market research teaches you about your competition and your audience. Through competitor analysis, you'll learn the strengths and mistakes of your competitors and find opportunities for differentiation.
Next, you have to dig into your potential customers:
Who are they?
What are their challenges and pain points?
What are their motivations?
How can your product help them?
Conduct user persona surveys, host focus groups, and gather data through research to answer these questions. Your answer(s) will enable you to create a detailed user persona(s) of your target customer.
Note: If you are only launching an update to your product or releasing a specific feature, you'll only need to define which persona will benefit from that release.
Set goals and KPIs for your product launches
To enjoy a successful product launch plan, you must have a clear goal for your launch. Goals and KPIs help you define what a successful launch will look like for you.
A good goal ties your launch to your business objectives. It is also clear and measurable. For example, you might set a goal to increase sales or boost your monthly recurring revenue (MRR).
KPIs, on the other hand, help you track how well you've achieved your goals. As a result, they should directly represent your end goals. They must also be measurable. Common KPIs to help you measure success include:
Choose the type of product launch
Part of your pre-launch duties include deciding how extensive you want the product launch to be.
Do you want a minimal or soft launch that delivers only essential features or releases the product to only a handful of customers? Or would you prefer a full-scale launch that releases the final product to all customers at once?
If you already have your MVP and need to validate your idea through feedback from early adopters, a minimal launch is ideal. Likewise, both the soft and minimal launch plans are suitable if you're on a budget.
If your product is already fully developed, though, and money is no object, then you can afford to generate maximum awareness with a full-scale launch.
Your goal at this step, therefore, is to examine your product's development stage and budget and decide on the best approach.
Decide on the launch date, timeline, and budget
Now it's time to flesh out the details of your launch plan. This step is crucial as it enables you to identify any blockers in your path early on and chart a course around them.
Create a budget to ensure you're managing costs efficiently and properly allocating resources. You can start by listing out all the activities needed for your chosen type of launch and determining the resources (money and people) they'll need.
Next, set a realistic launch date based on the tasks above and create a project timeline around that date. Be sure to identify key milestones necessary for the launch and estimate how much time they'll require.
Finally, ensure you consider task dependencies in your scheduling. Some tasks simply need to come before others, and scheduling them to run together can lead to avoidable problems.
Create a product launch checklist and assign roles
From your marketing teams to your sales teams, product teams, and more, your product launch will involve a wide variety of individuals and groups.
The product development team, for example, needs to have the product working and bug-free. The UX team will need to create the digital marketing materials while the marketing team prepares the press releases and other marketing content.
To ensure everyone is always on the same page, you need a product launch checklist that tracks tasks, milestones, and timelines.
Break down broad timelines and goals from the step above into smaller tasks to be handled by individuals or teams. Then, assign the individual or team responsible for the task and set completion dates.
Develop a product launch marketing strategy
You're finally ready to start developing your marketing strategy. You understand your target audience, your value proposition, and more. Now it's time to put all that information together into an actionable plan.
Your marketing strategy should answer the following questions:
What marketing channels will I use?
How much will I spend on each channel?
How much focus will I give to paid advertising versus organic campaign?
Which influencers, if any, will I work with for the launch?
Plan different marketing campaigns for different channels
Finally, you need to look closer at the different marketing channels in the step above. What will your campaign on each channel look like?
For social media platforms, for instance, you'll have to create social media posts and visuals to promote the product. Even then, different platforms may require different forms/styles of content.
If you plan to send out press releases, this is your time to get it ready and determine where, when, and how you'll release it. Similarly, you may also need promotional content for your blog and email newsletter.
By the end of this step, you should have a working go-to-market strategy ready for your launch.
Launch phase: The launch plan
You've carefully prepared the launch plan, now it's time to execute it. For a feature launch, launching the feature in-app may be enough. A new product launch, though, is often the most difficult.
Your first step will be building anticipation through the channels (ProductHunt, Twitter, Reddit, etc.) outlined in your plan. This is your time to release promotional content, newsletters, etc.
Everything leads to the big day when you finally make the product available to the world. In the days and weeks after the launch, maintaining momentum will be key. The more awareness you generate, the better.
Post-launch phase: Measure the product's success
Finally, you've gotten the product in front of users, and the sign-ups have started rolling in. Now, it's time to move on to the post-launch phase – a time for reflection and consolidation.
Evaluate the performance of your marketing campaigns
Thanks to the addition of modern software and technology, analyzing your marketing campaigns is a lot easier than ever. This important post-launch step helps you determine whether your campaigns were successful.
For example, you may have set a target of 1000 sign-ups within 30 days of launch, or a goal for 15% conversion on your ad campaigns.
This is the time to compare your performance to your targets. Did you achieve your goal? If not, dig deeper to find the flaw(s) in your strategy. Perhaps you may need to change your messaging, channel, format, etc.
Implement in-app onboarding to improve product adoption
Consolidation involves holding on to the success you've enjoyed. To do that, you must ensure that your new sign-ups fully adopt your product, becoming loyal, long-term customers.
One way to do this is by segmenting users early on. Use a welcome survey to collect valuable user data. Who are they? What is their goal for your product? In what capacity are they using the product?
Using the information the user provides, add them to the right user segment and personalize their onboarding.
Use an interactive walkthrough to show them the features they need to achieve their goals. Guide them to the activation stage with a targeted checklist. And lead them to a resource center for more information.
Collect customer feedback
Another important aspect of consolidation involves receiving insights from users and acting on them to improve the user experience.
Collect direct user feedback by asking them what they think (like/dislike) of the product, what challenges they face using it, and what features or functionalities they'd like you to add.
This way, your entire product roadmap will be driven by actual user needs rather than a simple gut feeling. In addition to boosting customer satisfaction, a good feedback loop also improves customer loyalty.
Monitor in-app customer behavior for more insights
Finally, you need to monitor how customers engage with the newly launched product/feature. In-app customer data provides a unique window into the challenges and successes of the users of your product.
Where do users drop off in their journey? Which features or buttons cause the most friction? What is the most adopted feature?
All of these numbers provide actionable insights that you can act on. Usage frequency, for example, can tell you if a feature/product is adopted or not. Likewise, identifying drop-off points can help you find causes of friction.
Whether they're positive or negative, numbers provide clues for further investigation, helping you learn more about your users and your product.
Tools for planning a successful launch
Product managers require the right set of tools to successfully plan and execute product launches. Thankfully, there's no shortage of them, with a variety of tools available for even the most complex product launch campaign.
Askattest for pre-launch stage
The success of your pre-launch phase depends on how well you understand your market. In-depth market research will help you understand who your users are, what they need, and the exploitable gaps in the market.
Askattest enables you to collect relevant consumer research data and make sense of it in no time. They provide you with a bank of survey questions for your needs and connect you with the right target audience for your market.
They also provide an interactive results dashboard to help you easily identify trends and patterns in the data and make confident, data-driven decisions.
Content Cal for the launch plan
The launch phase is all about generating awareness and announcing your product to the world. Content Cal ensures that your promotional campaigns are timely and effective.
It offers a combination of social media scheduling and content calendar planning to help your team send out all relevant content at the right time. By scheduling everything in advance, you can manage multiple platforms at once. You also don't need to hit publish each time.
Content Cal also provides helpful analytics. Whether that's insight on the best promotional channels or content performance, it guides you to a successful launch phase.
Userpilot for post-launch stage
Finally, for the post-launch phase, you need a powerful tool to drive product adoption. Userpilot is just the tool for you – a no-code tool with a variety of features and functions that drive product stickiness.
Some of its functions include:
User onboarding: Choose from a variety of UI patterns, including modals, tooltips, slideouts, and checklists, to onboard users. Provide relevant information and drive them to take certain actions.
Segmentation: Create fine-grained user segments based on your user's industry, job title, in-app behavior, and more. Trigger bespoke experiences for users according to their user group.
Survey: Choose from a sprawling library of survey templates or create one from scratch. Set triggers for the survey or decide exactly when and where to launch them.
Feature tagging: Tag features (buttons, forms, elements, etc.) and track users' interactions with them. Combine distinct in-app events into a larger custom event and track users' in-app behavior.
Conclusion
Your product launch has to be near-perfect, but it shouldn't be scary. The information in this article should help you create a winning product launch strategy that drives you to success.
If you want to learn more about Userpilot's role in your after-launch phase and beyond, book a demo call with our team today.