New Product Launch Checklist: How to Plan a Successful Launch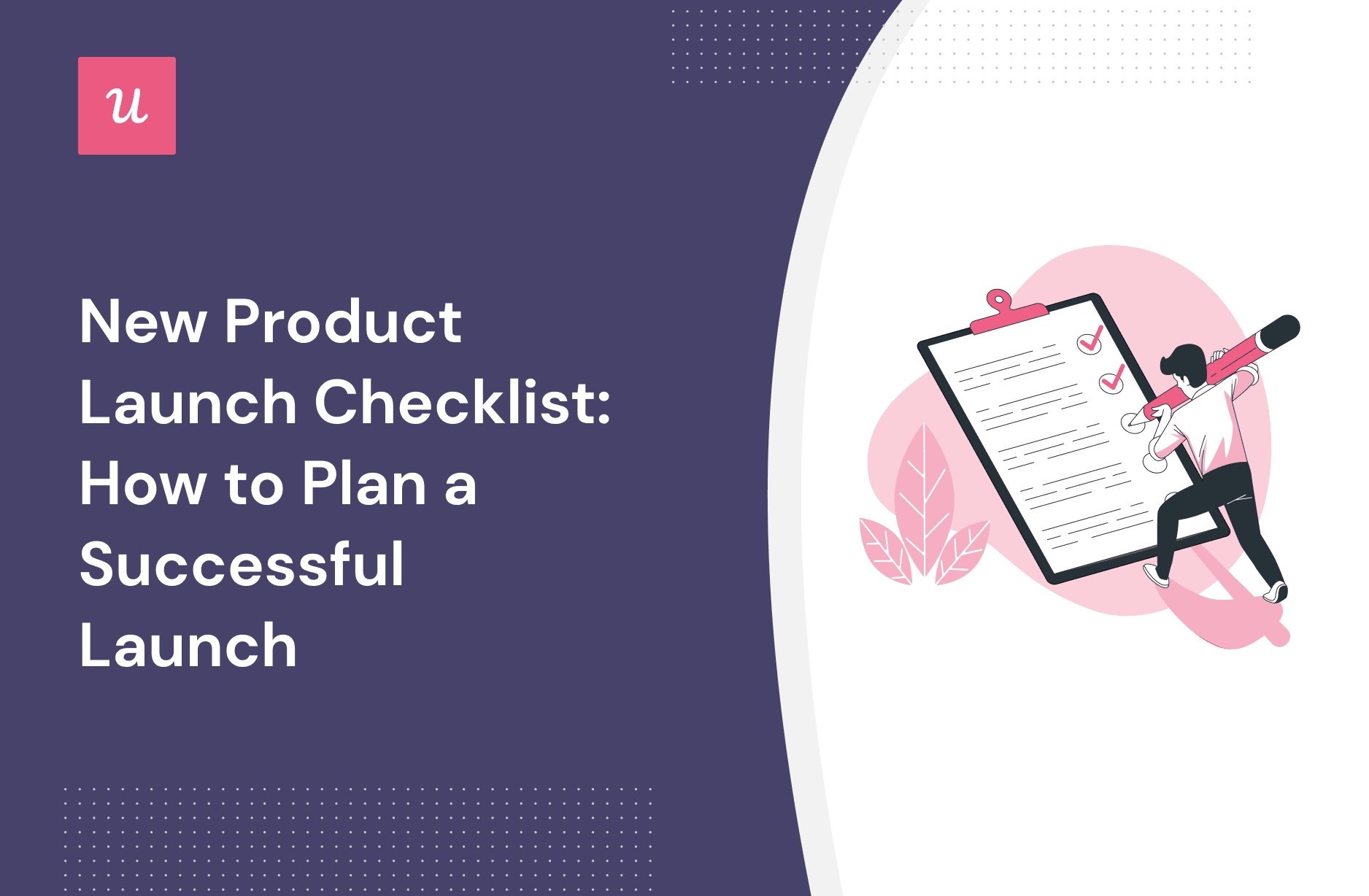 Every new product launch is equal parts intimidating and exciting. As the market becomes increasingly saturated with similar SaaS products, your product launch can easily get lost in the noise.
Therefore, you need a solid product launch plan to ensure your product isn't among the 95% of new products that fail each year.
In this article, we take a deep dive into the technicalities of a product launch. We provide a product launch checklist to ensure you launch successfully and consider examples of successful SaaS product launches.
TL;DR
A product launch refers to all of a company's coordinated marketing efforts to bring a new product to the market.
A new product launch should be planned well in advance of the launch day. A typical launch plan includes everything from the ideation phase to the conceptualization and testing of your ideas.
An effective product launch checklist includes the following:
Define your target audience and build out your user personas.
Conduct market research to identify competitors and determine avenues for product differentiation.
Craft your product positioning statement.
Create and release your MVP with only core product features.
Create a targeted go-to-market strategy for your launch plan.
Choose the appropriate marketing channels to reach your target markets.
Launch coordinated product marketing campaigns to reach your audience.
Ensure your teams are aware of your goals and their roles in them.
Launch your product.
Measure the success of your launch by tracking relevant product metrics.
Collect user feedback and see how well your product was received.
For your launch to be successful, you must carefully identify the best time to launch, build hype around the launch event, leverage social proof to drive marketing, and work with a detailed checklist.
Userpilot empowers SaaS your product team to run in-app marketing campaigns, collect customer feedback, and analyze users' interactions with your product. Book a demo to learn how it works.
What is a product launch?
A product launch is a company's coordinated attempt to bring a new product to the market.
It includes every action and event designed to build awareness and excitement around a new product and ensure it achieves early success.
When should you start working on your product launch plan?
A successful product launch is planned ahead of time, in coordination with the product, marketing, and sales teams. In fact, we can divide every product launch into three stages: pre-launch, launch, and post-launch.
Pre-launch activities precede the actual launch date, often including product ideation, proof of concepts, and testing. It may also include a soft launch designed to seek early feedback from pilot users.
Apple's product launches, for instance, often include publicized leaks of the product specs and a well-advertized launch event that attracts attendances in the millions.
How to plan a successful product launch strategy?
Every product launch comes with its own unique set of challenges. However, following the right product launch checklist can provide the structure and direction needed for success:
Define your target audience
To successfully market your product, you must know your target audience. You need to know your audience's preferences, who they are, how they think, and why they need your product.
Thankfully, you can get all the data you need by speaking to your existing customers or those of your competition.
Then, use the data you acquire to create your ideal user persona. These personas should capture the customer's demographics, pain points, and how your product aims to help them.
Conduct market research
Now that you know your customers, it's time to research your competitors. First, you need to identify all the companies (or, at least, the major ones) whose products solve the same problem as your product.
Next, analyze their product, brand, and marketing strategy. A thorough market research should reveal:
The overall competitor landscape.
What each company offers and their different prices/pricing plans.
The mistakes and successes of each company's business strategy.
How you can differentiate your product from the competition.
Your unique value proposition.
Put simply, your goal at this step is to understand what your competitors sell, how they sell it, and how you can outmaneuver them in the market.
Decide on your product positioning statement
Armed with the information from your market research, you're now ready to craft your positioning statement.
Your statement should identify who needs your product, what it does, and what differentiates it from other products in the market.
Good product positioning helps the customer understand your product and how it satisfies their needs. It creates the right setting for your product, delivering crucial information about the product to attract the ideal customer.
Create your MVP
Before launching your product, it's important that you first get some responses to gauge how it will be received in the market. This is where your minimum viable product (MVP) comes in.
An MVP is essentially a prototype of your product, with a minimum subset of the features required to demonstrate your product's primary use case.
Because it is a lightweight version of the final product, MVPs allow you to test and validate your product ideas before committing precious time and resources.
This testing will help you discover defects/strengths in your idea and build on them. It can also reveal whether you've chosen the right target audience for your product and how best to align your marketing efforts with their needs.
Create your go-to-market strategy
A go-to-market strategy is a comprehensive roadmap for bringing your product to prospective customers. It details all that you'll do to lay the groundwork for a successful business well beyond launch day.
Your go-to-market (GTM) strategy will combine all of the information you've learned in the previous steps into a robust market entry roadmap. This roadmap should generate demand for your product and mitigate any product launch risks.
A good GTM plan spells out your chosen product launch strategy, value proposition, and when/how you intend to bring the product to the customer.
It should propose an overall timeline for your launch, up to the launch date, and highlight what "success" means for you and how you will measure it.
Choose your marketing channels
The success of any new product launch lies in how much buzz you can generate pre-launch. Thus, the final piece of your GTM strategy is the selection of the most effective channels for promoting your product.
Use everything you've learned about your customer in the steps above to determine where they are located and how you can reach them effectively. Also, ensure you diversify your marketing efforts to reach different customer segments.
Promote your product with marketing campaigns
It's now time to set your product launch marketing plan in motion. This is the time for your marketing teams to step in and produce content that will support and align your pre-defined marketing strategy.
Of course, there are many different things you can do at this stage to generate the required buzz. This includes:
Social media posts: Use your social media platforms to tease your new product and its features. You can also reach out to influencers, journalists, and others in the industry with large followers to spread the word.
Press releases: Create and share an embargoed press release with as many media outlets as possible so that they're all talking about your new release on launch day.
Email campaigns: Use captivating emails with compelling CTAs to nudge your email list to check out the new product. Good email campaigns use a combination of a catchy subject, visually appealing body content, and compelling call-to-action to get users to sign up for the new product.
Ad campaign: Ads are expensive, but they can also be very rewarding. If your budget allows it, create ads for the key channels you identified while crafting your GTM strategy.
Make sure your teams are aligned with your goals
Successful product launches are the result of coordinated teamwork. For that to happen, your goal must be clearly spelled out, with everyone's role at each stage of the launch properly defined.
For example, your marketing team needs to know when to release the different promotional materials they've created. Likewise, your customer service team should work with your product team to understand the product's features and how it works.
Use memos, presentations, and emails to keep different internal teams up-to-date on their role in the launch process.
Launch your product
Finally, it's launch day! It's time to generate as much excitement as possible and gather as much attention as possible for your product. This is the time for your press releases and promotional content to fly.
To be successful on launch day, you must equip your sales and marketing teams to spread the word about the product. They should understand the value the product brings and be prepared to share that message with their audience.
The customer service team must also be on high alert. They should understand how the product works and be equipped with the resources to answer any questions customers throw their way.
Measure the success of your product launch
Your work doesn't end after launch day. With the day behind you, it's time to take stock and track your performance. Your goal here is to understand whether your marketing efforts were successful or not.
So, look back at your goals and see how well you did. How many people…
Saw your promotional posts and messaging?
Signed up for a free trial?
Reached out to your sales team?
If the launch didn't meet your expectations, try to track down what went wrong and adjust your go-to-market strategy accordingly. The data you gather will also be helpful in future product launches.
Collect customer feedback post-launch date to improve your product
The final part of your post-launch strategy should be to hear what users think of the product itself. Customer feedback is an invaluable ingredient for continued long-term growth.
Collect customer feedback from users with email and in-app surveys, using their responses to improve your product.
The feedback you receive from users will tell you what features they need, the challenges they face with the product, and how you can improve the product to match their expectations.
You may also find that there are other market segments where your product may enjoy even greater success, or learn of better ways to position your product.
Best practices when launching a new product
Now that you know what your launch process should look like, you can ensure it's effective by keeping to the following best practices:
Listen to the market to identify the best time to launch your product
There is a science to determining your new product launch date. To have a successful launch, you must pay attention to every possible market factor.
For example, you don't want to launch your product on the same day a well-known competitor is launching a product. Instead, you need to either launch before them or wait for the buzz around their launch to die down.
Despite its mega success over the years, Google learned the importance of paying attention to market factors the hard way when releasing Google Glass. With privacy as a major concern at the time, spectacles with cameras didn't feel right. At $1,500, it was also too pricey for most.
The result? Google Glass was very poorly received. Despite its many futuristic features, the product failed spectacularly and was finally killed for good earlier this year.
Display social proof to frame your new product positively
Consumers love to see that others have succeeded after taking the risk to purchase your product. Thus, the use of social proof on your landing page is a necessity as it gives others the confidence to trust you.
Thankfully, getting social proof isn't a complex process. As part of your pre-launch phase, beta-test your product with existing customers or others who have shown interest.
Have them use the product for a while and share their insights with you. As they do, collect their positive feedback and showcase them in your product launch marketing campaign.
Build hype pre-launch date
Build up anticipation within your target audience by creating an air of suspense and mystery around your product. You can do this by teasing about the product early without going into detail.
This is what makes every Apple new product launch so exciting. They keep key details about the product secret, sending users into an overdrive of speculation long before the product is even announced.
Apple is also great at using little "leaks" to keep anticipation for new products high before launch. In addition to teasing your product's core features, you can also use influencers to test out the product and build up the hype around it.
However, always ensure that the hype doesn't become bigger than the product, or your brand may never recover from the resultant negative market perception.
Have a checklist to monitor the product launch process
Finally, always work with a checklist to ensure you don't miss anything. For instance, your pre-launch checklist may look like this:
Are all team members meeting their milestones and deadlines?
Have you tested the product with target customers in a controlled setting?
Have you acted on the feedback from your tests?
What product launch event type will you use?
Is everyone aware of the launch date?
Have you trained internal teams on the new product?
Are all marketing materials ready and distributed to the teams that need them?
What metrics will you use to measure success?
When will you begin analyzing product metrics results and who will be in charge of it?
How will information flow to the right people and departments through the launch?
Have you gone over the final launch itinerary and timelines with the team?
Examples of successful product launches from various industries
Thankfully, there are several product launch examples you can look to for ideas. Consider a few:
Chat GPT
OpenAI released a demo of ChatGPT on November 20, 2022. Although this was the third iteration of the GPT (GPT-1 was released in June 2018), it was only with this release that GPT went truly viral.
ChatGPT enabled users to interact with the AI and test out its capabilities for themselves. Users quickly began sharing what it could do – article writing, poems, coding, etc. on social media. In just five days, ChatGPT had attracted over a million users.
The secret? A masterful launch strategy that got influencers to try out the product, speak about it, and get others to try it out, too. It also helped that the chatbot was very impressive.
Notion AI
On February 22, 2023, digital workspace provider, Notion, announced the release of the highly anticipated Notion AI. At the time of its release, nearly two million people had already signed up for the alpha waitlist ten weeks prior.
How did Notion achieve such success? Like OpenAI, it created a buzz ahead of time. Notion leveraged social media channels to build anticipation around the integrated generative AI.
But it didn't stop there. Notion leveraged in-app modals and email campaigns to introduce the feature to its already large user base. With anticipation at an all-time high, the product was released with great success.
Userpilot's AI writing assistant
On May 2, 2023, Userpilot email subscribers received a mail announcing the launch of a new feature – Userpilot AI Writing Assistant. But users were already in anticipation of it.
The feature was first introduced in-app and released to beta testers to provide market feedback and insights. Once it was ready, the product was teased on social media before it was released on Product Hunt.
Social media posts directed users to the Product Hunt announcement where they caught a glimpse of the product and could leave upvotes. The writing assistant is also featured in Userpilot's onboarding, ensuring new users know how to get the most out of it.
RobinHood
The commission-free stock trading platform, RobinHood, acquired almost a million users before it launched.
The secret? A masterclass in product launches and referral marketing. First, the app landing page clinically displayed its unique selling point – $0 commission trading!
Next, RobinHood ensured the signup process was seamless – gain early access by providing your email address. Finally, those who signed up were incentivized with a shorter wait time to refer others.
How Userpilot can help you with your new product launch strategy
With Userpilot, creating your new product launch doesn't have to be tedious. Userpilot helps you to:
Build product marketing campaigns with different UI patterns
Userpilot enables you to build and launch complete in-app product marketing campaigns without writing code.
You can create a slideout, modal, banner, or tooltip to inform users about new features or key changes to existing features. In addition to text content, you can embed videos and images to demo the feature.
Collect customer feedback in-app
Learn what users think of your new features with automatically triggered in-app surveys.
From user experience surveys to product research and customer satisfaction surveys, Userpilot provides a variety of templates to help you feel your users' pulse. Or, you can design one from scratch, code-free.
You can choose when and where each survey appears and customize everything, including its appearance and content.
Analyze customer interactions and identify friction points
Go beyond what users say and watch how they interact with the new feature. Are they using it often? Does it work as it should?
Analyzing users' in-app interactions can reveal a lot about how the feature is received. It can also help you identify and fix any friction points early.
Conclusion
Every product or new feature launch is a big deal that only happens once. This is your one chance to ensure your product hits the ground running, and with the right launch strategy, you can do just that.
If you would like to learn more about how Userpilot can simplify this process for you, book a demo today!